Album review: Olivia Rodrigo's 'GUTS' soars with snark, self-reflection and social critique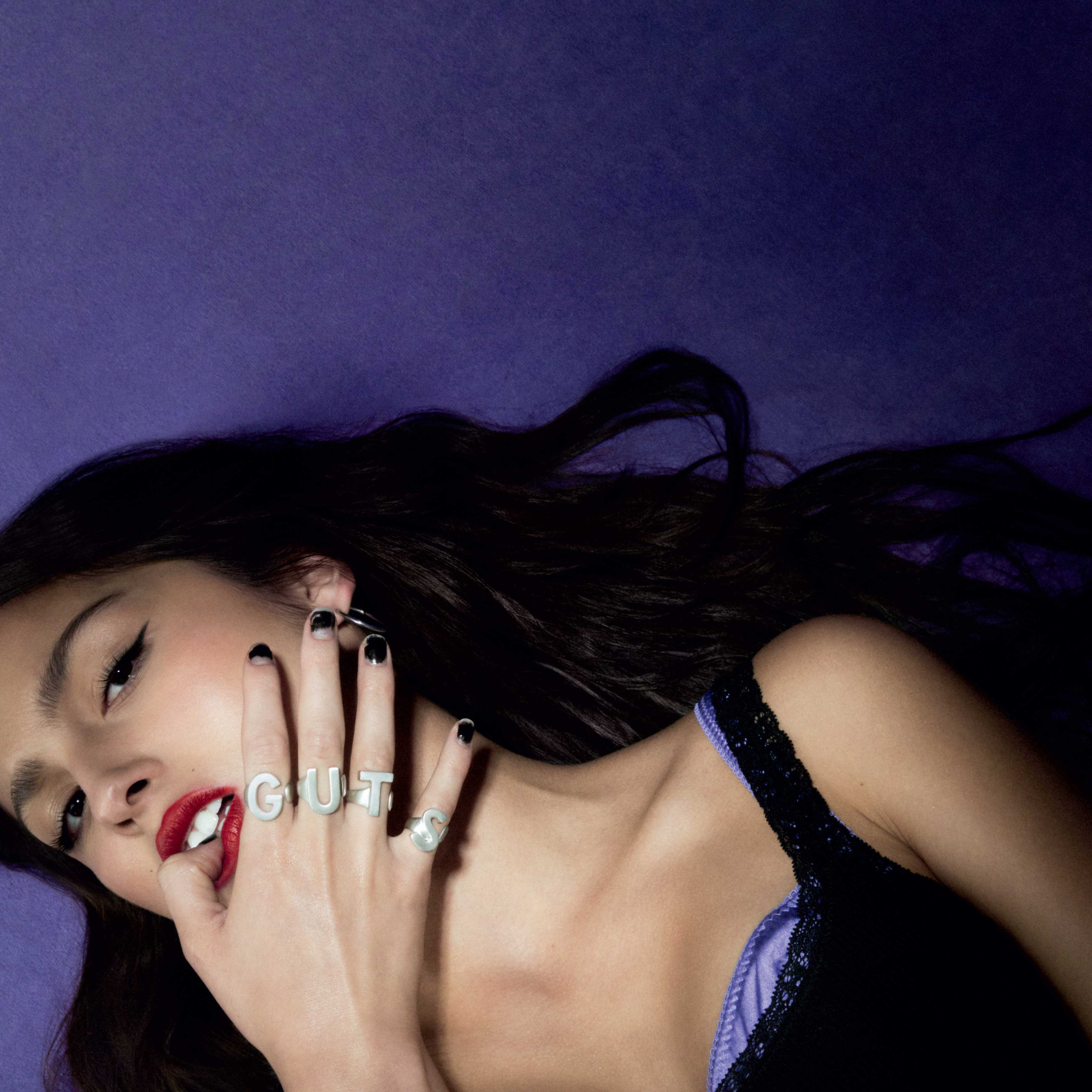 Lying on a purple backdrop, Olivia Rodrigo bites her thumb and displays four rings spelling out the title "GUTS" on the cover of her newest album. Released Sept. 8, the singer-songwriter's sophomore album includes the singles "vampire" and "bad idea right?" – a power ballad and retro-inspired pop anthem, respectively. (Courtesy of Geffen Records)
"GUTS"
Olivia Rodrigo
Geffen Records
Sept. 8
From daringly cheeky lyrics to vulnerable vocals, Olivia Rodrigo has proved she has guts.
20-year-old pop sensation Olivia Rodrigo's newest album, "GUTS," presents an ambivalent picture of sarcasm and sensitivity, a mix inherent to growing up. Though mirroring her debut album, "SOUR," she has taken the raw spirit of her past music and thankfully left the borderline victimization behind. With inspiration from Taylor Swift, Rodrigo has embraced her own "reputation" era, interlocking hard-hitters such as "get him back!" and deep self-reflection with "making the bed." From rocking guitar to soft piano, the album weaves a delicate stream of emotions – for who isn't a tiny bit sad when they're angry?
Her opening track, "all-american bitch," sets the tender and grungy tone of the album. Veering dangerously close to the dainty country guitar and airy vocals of "SOUR," Rodrigo quickly descends into pop-rock angst with a sarcastic snarl. With lyrics such as "I got class and integrity / Just like a goddamn Kennedy, I swear" and "I make light of the darkness / I've got sun in my motherfuckin' pocket," Rodrigo addresses the unachievable 1950s American ideal for women, especially those in power. Smashing this stereotype in the bridge, she screams, "With perfect all-American lips / … I know my place and this is it," claiming in a brash but empowered tone that she is in fact perfect.
"vampire," the single that released June 30, creating buzz for "GUTS," brings back the vulnerable and heartfelt tone that won "SOUR" its Grammy Award for Best Pop Vocal Album. The song follows the symbolism of a vampire sinking his teeth into Rodrigo and bleeding her dry. Echoing the heartbreak embedded in her debut piano ballad "drivers license," "vampire" also dabbles in crashing drums to convey her regret and anger at the relationship. The instrumentation creates a poplike upbeat backdrop to the dark theme of the song, which illustrates how normalized exploitive relationships have become.
[Related: Q&A: Tessa Violet conveys her hopes for the in-person tour of her album 'MY GOD!']
Rodrigo sticks to her snarky guns in "get him back!" and "bad idea right?," giving listeners a much-deserved cheekily comedic take on toxic men. "get him back!" is a song that could seamlessly soundtrack the '90s mean girl, preppy aesthetic of movies such as "Do Revenge." With similarly deadpan humor and violent Linkin Park-like rock riffs, "bad idea right?" is a clever satire on the infamous "returned to the ex" storyline, meticulously outlining why that is a seriously bad idea.
Straying from the betrayed yet vengeful tone, "lacy" presents a relatable concoction of awe, hatred, desire and jealousy that comes with idolizing another person. Reflecting inward, Rodrigo grudgingly laments, "I despise my jealous eyes and how hard they fell for you / Yeah, I despise my rotten mind and how much it worships you." The line "Dazzling starlet, Bardot reincarnate" likens "lacy" to 1950s sex symbol Brigitte Bardot, a possible extension of the feminine ideals Rodrigo simultaneously longs for and wishes to protest throughout the album. A song filled with wispy harmonies, "lacy" provides respite in an ocean of angsty titles.
Rodrigo's musical maturation comes to a head in "making the bed" – a standout song smack in the middle of the album. Written entirely about her own self, the song details the often isolating feeling of growing up and shaping your own life. In a bout of self-realization, she acknowledges this loneliness is of her own doing in the lyrics, "Push away all the people who know me the best / But it's me who's been making the bed." Taking accountability for her dissatisfaction with her life, this raw ballad of self-inflicted retribution conveys a bitter truth: Sometimes we are our own worst enemies.
[Related: Second Take: Parasocial relationships rising, fueled by unhealthy celebrity obsessions]
Where "all-american bitch" slammed female stereotypes, "pretty isn't pretty" and its raspy vocals expose the self-depreciative mindset drilled into women's brains right from childhood. From beauty standards to constant media-driven insecurities, the song's patriarchal defamation recognizes the struggle of reconciling self-love with the misogynistic pressures of today's society. Rodrigo's frustration culminates in the bridge where she proclaims the pointlessness of adhering to societal norms, set to loud, rhythmic drums that punctuate the lyrics like a crowd chanting in chorus.
Continuing the soulful, reflective tone, "teenage dream" wraps up the album with whispering vocals and heartfelt songwriting, expressing the turmoil and anxiety of growing up. The song, and by extension album, concludes with a baby's laughter, perhaps symbolizing Rodrigo's desire to return to the carefree bliss of childhood.
With "GUTS," Rodrigo has churned out yet another album to soundtrack jealousy, betrayal and infinite late-night drives. Rodrigo is unapologetically herself through every song, even taking shots at those who deemed her "great for (her) age." Taking her music past breakup anthems to intimate themes of self-doubt, "GUTS" is sure to strike a chord with audiences much beyond her teenage core demographic. While the future tone and style of her music are uncertain, this unfurling hurricane of uncensored emotions will serve to make listeners feel seen in their own struggles.
Saying goodbye to her teenage dream, Rodrigo has made her bed with brash hatred for society's guts.