Q&A: Tessa Violet conveys her hopes for the in-person tour of her album 'MY GOD!'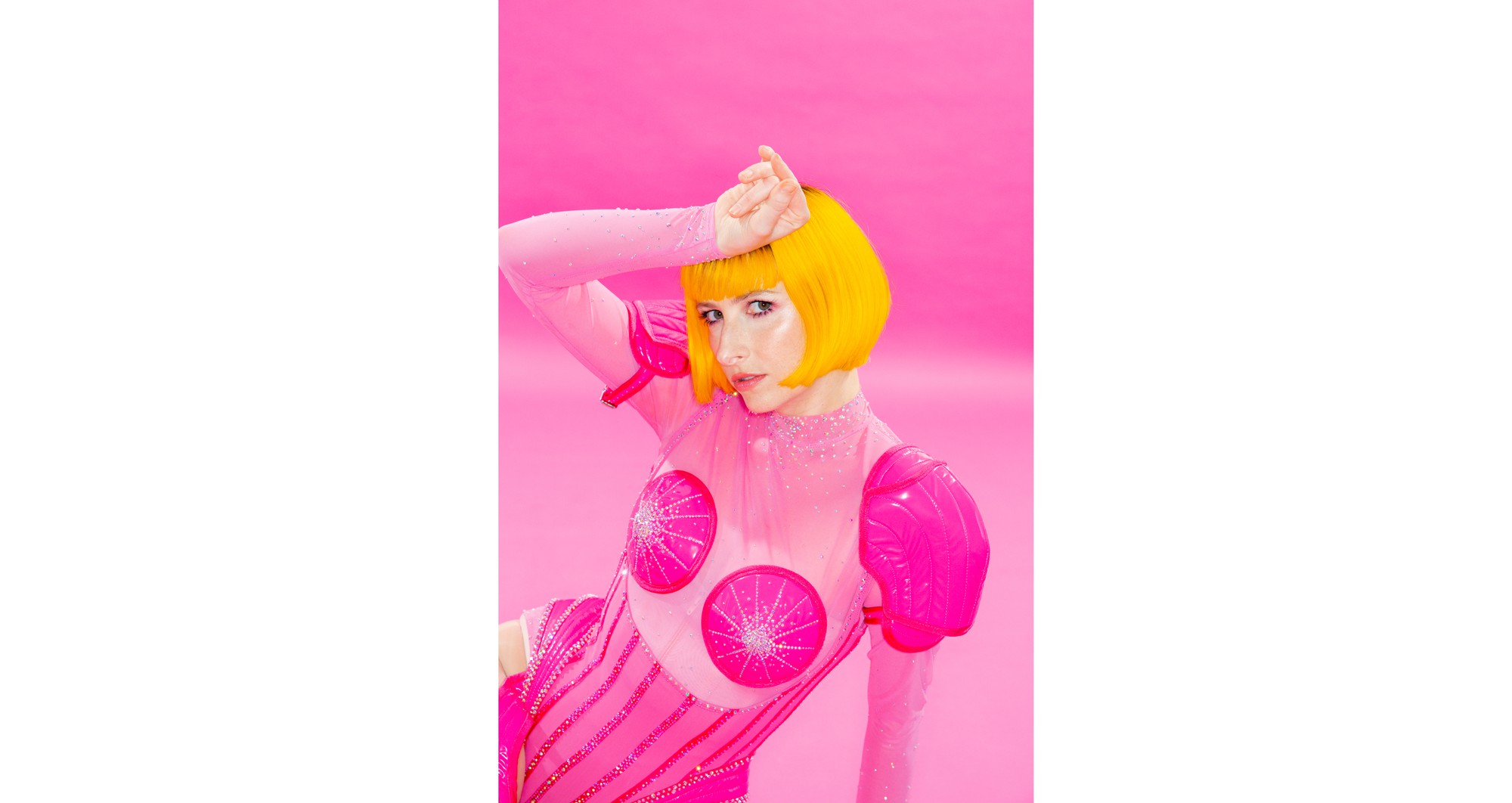 Tessa Violet holds her hand up to her head while donning a bedazzled, neon pink mesh bodysuit. The "Crush" singer will perform at The Fonda Theatre this Wednesday for the tour of her latest album, "MY GOD!" (Courtesy of Sarah Pardini)
"MY GOD! THE TOUR"
Tessa Violet 
The Fonda Theatre
Sept. 6
Tessa Violet is connecting with her fans when the curtain falls.
Singer-songwriter Tessa Violet rose to fame for her pop anthems "Crush" and "BAD BITCH" and the viral TikTok trend "YES MOM." Following the recent release of her latest studio album "MY GOD!," Violet will take the stage in Los Angeles at The Fonda Theatre on Wednesday as a part of her North American tour.
Violet spoke with the Daily Bruin's Kaycie Rippe about embarking on a full tour and engaging with her audience regarding their desires.
This interview has been edited for length and clarity.
[Related: Q&A: Artist Regina Spektor discusses fiction writing, capturing the spirit of songs]
Daily Bruin: Your latest headlining tour, "The Something To Look Forward To Tour," was performed virtually because of the COVID-19 pandemic. How does it feel to return on the road for a full-length, in-person tour to usher in this new album after its release?
Tessa Violet: (It's) so much fun. Something that is different is that before the pandemic, I feel like I didn't really know my fans. But through doing "The Something To Look Forward To Tour," which was the twice-weekly livestream, I feel like I did get to know people.
There's a point in the show where I ask people, "What are you grateful for?" Some nights I'm like, "You in the purple, what are you grateful for?" But last night, I knew the names of everyone in the front row. So, that's really fun to have a different experience with playing live where it's not just like, "Oh there's everybody," but it's like, "Oh my god.​​ There's these people that I'm familiar with and think are funny and are grateful that they're a fan of my music."
DB: What changes can your fans expect in this tour compared to other shows you have done in the past?
TV: New costumes, and I mean, the banter is always different every show. I do love the banter. I'm talking a lot about being curious about what you want in life because if you don't know what you want, you don't know what direction to go in. This is your life, so it's best to not spend it wandering aimlessly toward your deathbed, being like, "Oh, I could have done what I wanted, but I didn't. I wasn't willing to be curious about what I want because that was too scary." So, I talked about that on stage.
Besides that, it's just a celebration of the new record. I play all the songs in the new record, but I also play the hits from the last one. We got to have the hits too. But that feels fun to celebrate "MY GOD!," this project that took four years.
[Related: Concert review: Beyoncé showcases stunning skills at spectacular SoFi Stadium show]
DB: Since you mentioned the importance of knowing what you want, what do you want? What do you hope for in the future?
TV: I just want to have a positive impact on people. I want this album to matter to people. It is such an honor when someone connects with the music and it's meaningful to them. I'm most shy about that desire. When you asked me what I wanted, I knew that was my truth right away, though I didn't want to say it out loud. But I want people to connect deeply to the music. I want them to come to the show and know every word.
DB: What do you want your audience to get out of your performance and your album?
TV: I've been thinking a lot about how songs are spells. I can change how you feel based on what I say to you. I think that's really powerful, and I'm thinking about that within my songs. When I listened to the song "YES MOM," I was headed to my music video for "BAD BITCH," and I was not feeling very bad bitch that morning. Then, I listened to "YES MOM" on the way and the second verse, "Push me down and I bounce right back / Trampoline and it's in my past / Rising like a phoenix making fire from the ash," and I'm like, "Wow, it's like this person wrote this song for me."
I hope people feel good about themselves from the show and start questioning, "What do I want in my life?" and "Can I make changes to go in a different direction?" The answer is always yes. You always have a choice. You're on a train right now. And it's very comfortable to stay on that train. Maybe the train is going in a direction you want, but if not, it's really uncomfortable to get off that train. You might need to literally jump out of a moving vehicle and roll down a hill. But if you don't do that, you're just carried along to a destination you might not want to be at, and I want people to feel empowered to move in the direction they want to move in. Even if that is a lot harder at the jump. Eventually, with enough time, things do become easier.