Emma Fiske-Dobell wins college comedy award for script 'Shakespeare's Sister'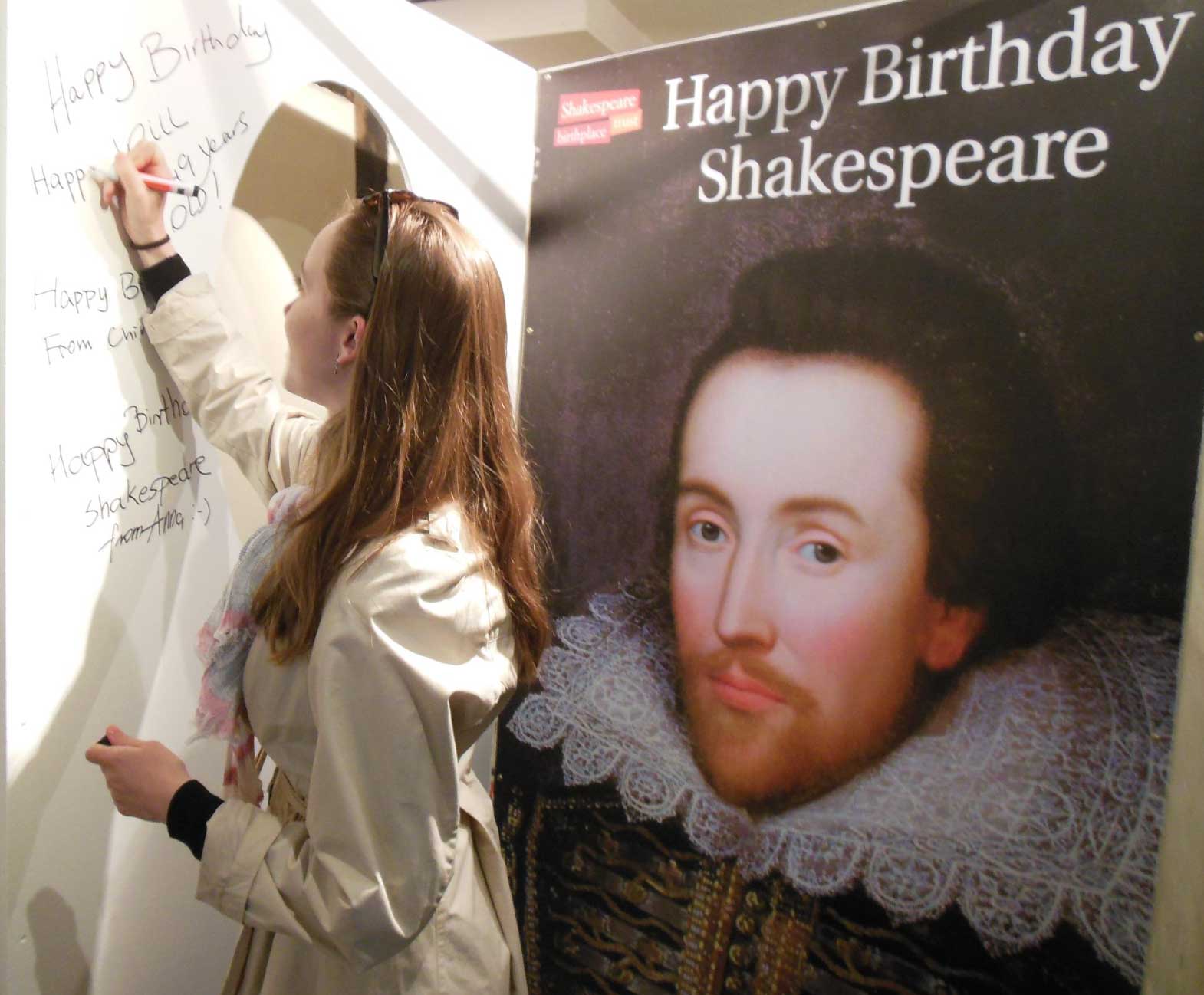 Emma Fiske-Dobell writes a message in celebration of William Shakespeare's birthday while visiting his birthplace, Stratford-upon-Avon. The Professional Writing Program student said her childhood affinity for the playwright eventually inspired her award-winning script, "Shakespeare's Sister."(Courtesy of Emma Fiske-Dobell)
Correction: The original version of this article incorrectly stated that the story in Emma Fiske-Dobell's script takes place in 1952. In fact, it takes place in 1592. The original version of this article also incorrectly referred to the Professional Program in Writing for Television as the Professional Writing Program in Writing for Television.
This post was updated Sept. 27 at 8:32 p.m.
Emma Fiske-Dobell's newest script is allowing the fictional Judith Shakespeare to shine alongside her brother.
The School of Theater, Film and Television"s Professional Program in Writing for Television student Fiske-Dobell recently won the Humanitas David and Lynn Angell College Comedy Award for her television script "Shakespeare's Sister." Fiske-Dobell's story takes place in 1592 Stratford-upon-Avon amid the William Shakespeare mania as his bitter sister Judith plots to free herself of the incessant comparisons to her brother. Fiske-Dobell said even in her early childhood, she experienced a strong affinity for Shakespeare, which inspired subsequent curiosity about the existence of a fictional sister.
"My birthday is April 23, which is the day that Shakespeare's birthday is celebrated," Fiske-Dobell said. "When I was growing up, my dad was involved in theater and so he and his friends would always make me feel really special that I had the same birthday. Also, when I was growing up, there was this boutique in my neighborhood which was called 'Shakespeare's Sister.' I was really fascinated by the name of that store, and I was like, 'Who is Shakespeare's sister? I want to know her.'"
[Related: 'Sister From Another Planet' shines spotlight on self-discovery journey]
The script follows Judith as she navigates cementing her own creative identity apart from her brother's by writing the last words of accused witches in her community, all while he establishes a name for himself in London. However, Fiske-Dobell said the true complexities of the story unravel when two untimely arrivals join Judith in Stratford-upon-Avon – her brother who escapes the London plague and her soon-to-be husband who also happens to be a William Shakespeare super-fan. Ultimately, Fiske-Dobell said Judith functions as a Jeanie Beuller-coded archetype from "Ferris Beuller's Day Off," as audiences are granted exclusive exposure to her divisive persona through a "me against my brother" trope.
While Fiske-Dobell said her spark for Shakespeare ignited earlier in her life, reading Virginia Woolf's "A Room of One's Own" in college also aided in inspiring Judith's narrative. In the book, Woolf entertains a thought experiment in which William Shakespeare has a sister named Judith who is just as gifted – but there's a stark contrast between Judith's projected life outcomes and William's, Fiske-Dobell said.
"Her argument is that even if that person (Judith) had existed, she never would have actually been able to become Shakespeare because her society would have destroyed and hated her," Fiske-Dobell said. "I felt like I wanted to take that thought experiment and give it a little bit more of a fun and hopeful angle."
Timothy Stack, instructor from the Professional Writing Program in Writing for Television, said "Shakespeare's Sister" was written during three 10-week classes in which students are prompted to write three scripts. With assistance from peers and seasoned writers while participating in lectures from industry professionals, aspiring students of theater, film and television are prepared by the program for industry roles, Stack said.
He aspires to enable students' visions and provide structural guidance for screenwriting rules, Stack said, and had the pleasure of having Fiske-Dobell in his "Writing a Spec" class. The course focalizes script-writing for a previously written show, which in Fiske-Dobell's case was Mindy Kaling's "Never Have I Ever."
"It (Fiske-Dobell's script) was funny, and I thought she captured the characters and had a very compelling story," Stack said. "I've taught a lot of students, and she's clearly focused and has the drive. That's something you can't teach. She's dialed in."
[Related: Q&A: Emma Seligman shares evolution of 'Bottoms' from pure camp to the middle ground]
What distinguishes Fiske-Dobell from other screenwriters is her comedic acuity – her natural sense of comedy without overwriting, Stack said. It was her nuanced exploration of the human condition that made her a good candidate for the Humanitas David and Lynn Angell College Comedy Award, said Executive Director of Humanitas Michelle Franke.
Humanitas is a nonprofit organization that honors and empowers screenwriters across film and television, Franke said, recognizing excellence in several categories. Among a wide range of written components that can advance writers in the selection process, Franke said it is new angles to seemingly traditional narratives that tend to produce considerably more engaging scripts, like "Shakespeare's Sister."
"We want to make sure that the types of stories (Humanitas) is particularly interested in continue to make their way into the world, and sometimes that means just making sure that people have the resources to be able to write them," Franke said.
Franke said the David and Lynn Angell College Comedy Award was introduced in 2003 to honor the loss of the couple aboard American Airlines Flight 11 on Sept. 11, 2001. David was a well-known and beloved comedy writer, she said, and his wife Lynn was a librarian and philanthropist. She said the award functions to commemorate them, their legacy and the value of comedy. With the honor of being granted the award, Fiske-Dobell said the personal validation she gained for her writing skills significantly bolstered her confidence in the field of screenwriting.
"I'm grateful because I really needed that encouragement and that sense of motivation to keep going," Fiske-Dobell said. "In that personal way, that's the most important thing to me. But it also comes with a cash prize so I'm definitely planning to use some of that to continue furthering my education, to take another class and maybe make a short film at some point."