'Sister From Another Planet' shines spotlight on self-discovery journey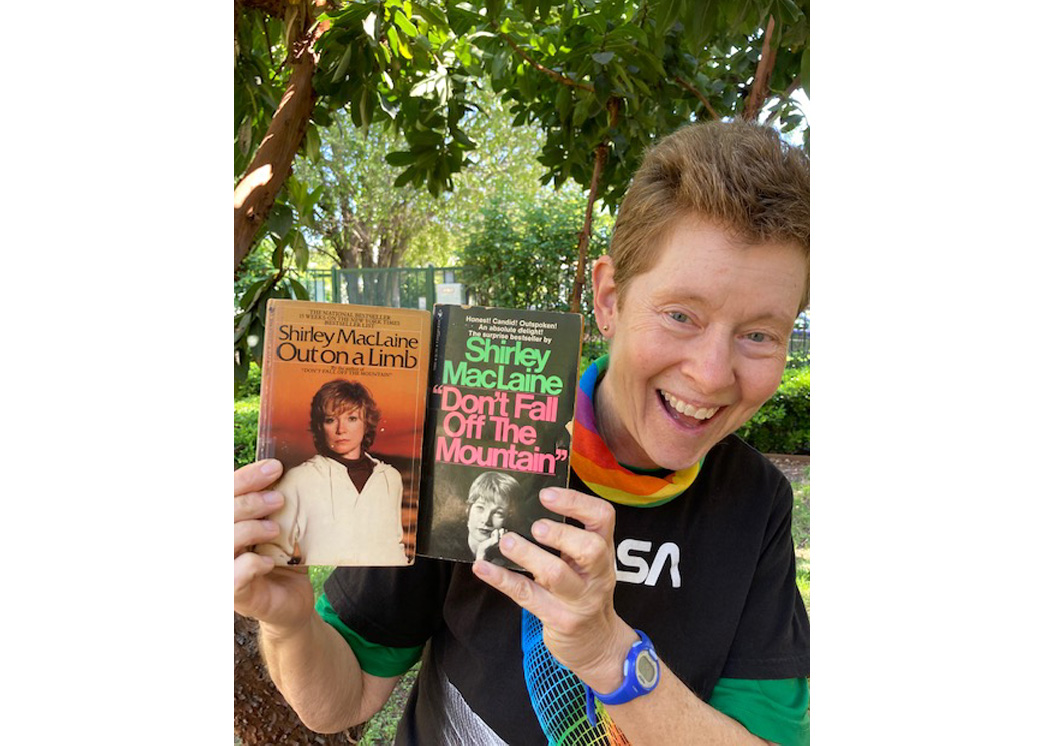 Writer and UCLA staff member Nancy Beverly smiles with two books. The themes of Beverly's one-person show, "Sister From Another Planet," stem from Beverly's experience of self-discovery in Eagle Branch Library, Beverly said. (Photo by Carol Becker/Courtesy of Nancy Beverly)
"Sister From Another Planet"
June 3 - June 22 
Zephyr Theatre
$15
This post was updated April 4 at 8:42 p.m.
Instead of trying to fit into society's boxes, Nancy Beverly produced a new world.
As a writer and staff member of The UCLA Foundation's accounting and treasury teams, Beverly wrote, produced and will star in the one-person show "Sister From Another Planet" that is premiering at the Hollywood Fringe Festival on Saturday, Beverly said. A prominent element of the play, Beverly said, is Beverly's own journey of self-discovery, especially in regard to personal and societal interpretations of gender.
"It (the play) started as an eight-to-ten-minute monologue, … and it was just about Eagle Branch Library," Beverly said. "The starting point was just talking about that, and how it was this wonderful world where I would go and be able to check out books on a whole bunch of things and discover them."
[Related: Love is inclusive and not so alien in the intergalactic musical 'Come Get Maggie']
As a child, Beverly said the library became a second home and served as a source of information about the greater world. Beverly said gaining these insights kickstarted a journey of self-discovery by enabling Beverly to understand that the world was diverse and accepting of people's differences. After writing the monologue, Beverly performed it over Zoom for the playwright group Fierce Backbone during the COVID-19 lockdown, and then later adapted it into a full-length play, Beverly said.
Upon seeing the performance of the original monologue, Matt Kamm, Fierce Backbone's Writer's Unit leader, said countless other women on the Zoom found the monologue relatable through its focus on the line between femininity and masculinity. After turning the monologue into a one-person show, Fierce Backbone provided Beverly with a grant to aid in its production, Kamm said. This financing enabled Beverly to enter into the Hollywood Fringe Festival, which Kamm said is a central movement in support of theater that takes place in Los Angeles throughout this month.
"Beverly's story is very much unique to (Beverly's) own situation, but elements of it are so universal," Kamm said. "That tells me the magic of theater."
The focal point of the story is the confusion Beverly experienced as a child when asked if Beverly was a boy or a girl, Beverly said. In the original monologue, young Beverly looked in the closet and saw boys' clothes on one side and girls' clothes on the other, which evoked a sense of uncertainty, Kamm added. Growing up in a time when the term "nonbinary" was not yet developed, Beverly said it felt overwhelming to try and fit into these socially defined boxes. Beverly still feels this way, not to use pronouns because using "they" does not feel right, Beverly said. This initial question of gender ultimately steered Beverly toward the journey of self-discovery that Beverly said is highlighted throughout the play.
Beverly said one of the most rewarding parts of the creative process was working with the director of the show and fellow member of Fierce Backbone, Carol Becker. Beverly said she thoroughly enjoyed working with Becker on the show, as their relationship was very collaborative and reciprocal. One ubiquitous theme in Beverly's play is the idea that humans have spirit guides that help steer them down certain life paths, Becker said.
"At the end of the day, this piece asks, 'who are you?'" Becker said. "And maybe you don't necessarily know, and maybe that's okay to not know who you are. And maybe not having a concrete definition is okay, too."
With "Sister From Another Planet," Becker said there is a major vulnerability factor in performing a one-person show. She said getting on stage in front of an audience without the support of other cast members can be daunting and requires a lot of hard work. As the play ultimately focuses on Beverly's own story, Beverly said it was a relatively easy decision to make this a one-person production as opposed to having other characters present.
[Related: 'Driver's Seat' challenges conventional portrayals of queerness, mental health]
Beverly is eager to see how the show, which premieres in the upcoming weeks, resonates with the audience, Beverly said. As a performer, Beverly said connecting to the audience is one of the main motivations for getting up on stage, especially for a solo show. Beverly said through the play's central theme of self-recognition, audiences are able to understand the broader implications of the individual in relation to societal constraints that go beyond Beverly's personal journey.
"I hope that when people come and see it, they are open to some of the more far-out ideas, because this goes beyond just gender identification. This goes into a lot of metaphysical stuff," Beverly said. "I hope people come in with an open mind and an open heart."