Members of UCLA community comment on Hurricane Hilary, coinciding earthquake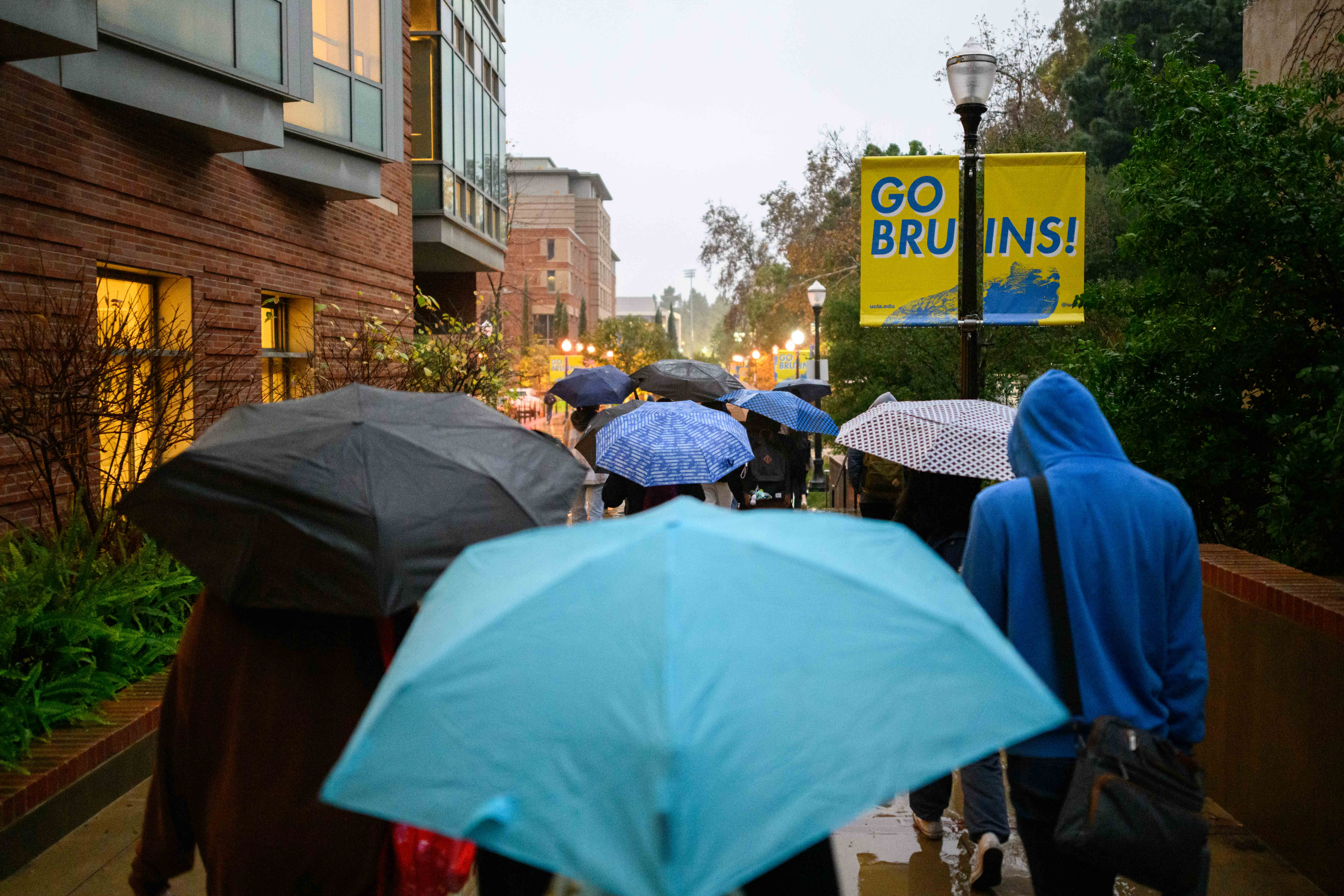 Pictured is UCLA's campus in the rain during a storm earlier this year. Similar rains were seen during Hurricane Hilary. (Jeremy Chen/Daily Bruin senior staff)
This post was updated Sept. 4 at 10:52 p.m.
Members of the UCLA community felt underwhelmed at the hurricane and earthquake that hit Los Angeles on Aug. 20.
Hurricane Hilary, a Category 4 hurricane, was the first tropical storm to occur in California since September 1939. The storm led to increased rainfall with minimal disruption to campus activities, according to an emailed statement from the UCLA Office of Emergency Management.
[Related: Southwestern US braces for rare tropical storm as Hurricane Hilary makes landfall]
Sam Frazer, a rising fourth-year communication student who is living on campus for the summer, said he expected the hurricane to be worse, particularly because he is from Australia, where hurricanes are also infrequent. However, he added that the weather disrupted his plans by preventing him from going to visit Griffith Observatory.
"It wasn't too bad when I got out in the morning," he said. "But then as the day went on, it started to get a lot worse with the winds and the trees going everywhere."
Elena Allen, a rising third-year psychology student and a New Student Advisor, said the storm also didn't impact her too heavily. Most people she knew around the campus felt the impacts of the rain but weren't majorly disturbed in their daily routine, she added.
While NSAs at the freshman orientation session running that week were initially worried about the impacts of the hurricane, very few changes were needed, Allen added. At the session, some meetings usually held outdoors were moved inside, and the check-in period was extended to accommodate individuals with travel problems, she said.
However, Allen said she was worried about the impacts of the hurricane before it first hit because she hadn't experienced one before.
"I had never been through a hurricane before," she said. "I know a lot of people and some of my friends were buying a lot of water and extra snacks just because people were worried that it would be a lot worse than it ended up being."
While campus operations and students were majorly unaffected, some faculty members living in the wider LA area said the storm greatly impacted their lives.
Carlos Santos, an associate professor in the Department of Social Welfare in the Luskin School of Public Affairs, said his apartment was flooded by the storm, causing major damage to his belongings and leaving him unhoused.
"It was devastating to see all your personal belongings become damaged and your living quarters to be turned upside down," he said.
Santos added that the storm will have a particularly negative financial impact on him because he is a homeowner.
"In my case, what happens is I'm both unhoused and also expected to maintain mortgage payments," he said. "I'm expected to basically carry two apartments – my own home, and another one that I can live in."
Beyond the LA area, Hurricane Hilary also impacted the site of UCLA's UniCamp, an organization that provides reduced-cost summer camps to underserved communities in the LA area. Although UniCamp had already finished its sessions for the summer, the site it owns was damaged.
According to an emailed statement from UCLA UniCamp, parts of the access road to the site have been damaged, a bridge over the Santa Ana River has been covered in debris, and the maintenance building has severe leaks.
In the statement, UniCamp also said its water treatment facility suffered extensive damages. It added that it hopes the campsite will be operational again by summer 2024.
A roughly 5.1 magnitude earthquake also hit near Ojai, California, during the storm. Although Rieber Terrace was evacuated for a fire alarm at the same time as the earthquake, the two events were not linked, according to an emailed statement from UCLA Housing.
[Related: Roughly 5.1 magnitude earthquake felt in Westwood]
According to a written statement from UCLA's Office of Emergency Management, the university has a number of plans and protocols to prepare for natural disaster events.
"OEM has established written plans and protocols that address managing a wide array of situations, including but not limited to earthquakes, flooding, wildfires and other natural disasters," the office said in the statement.