Southwestern US braces for rare tropical storm as Hurricane Hilary makes landfall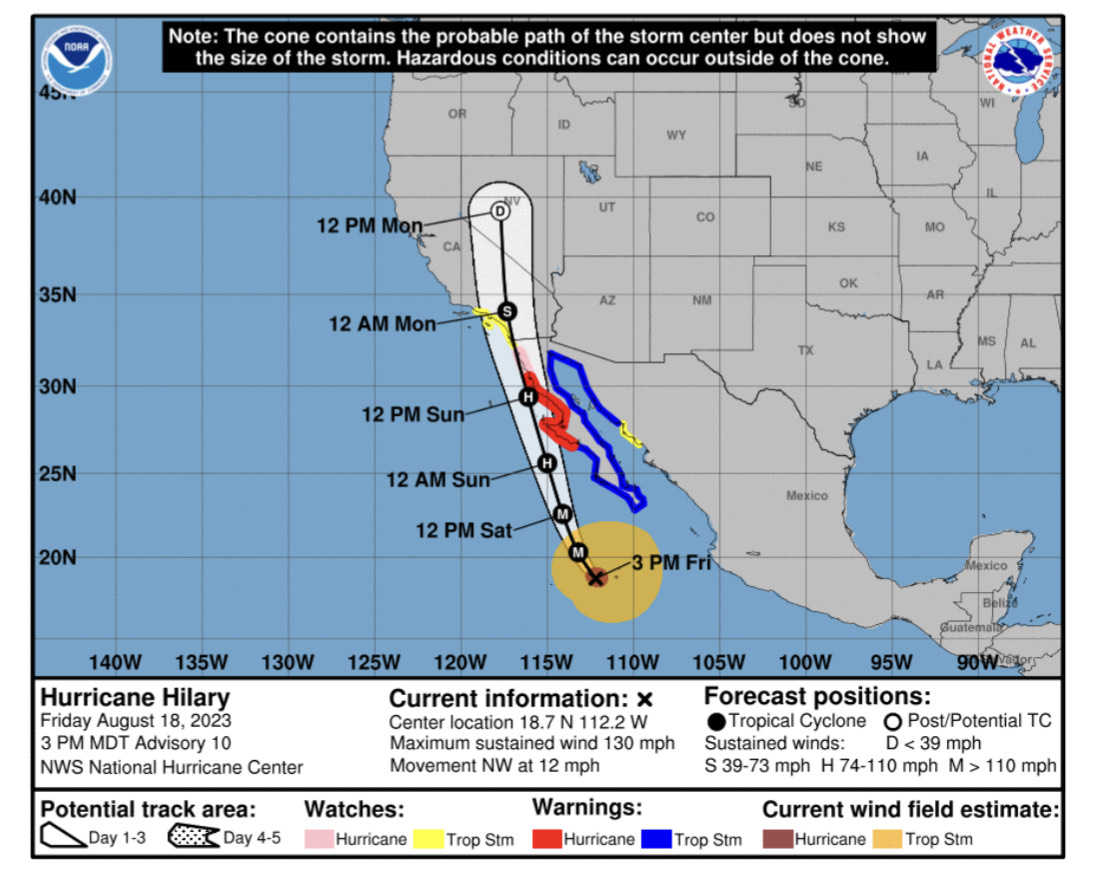 Hurricane Hilary is predicted to cause heavy rainfall and high speed winds in the first tropical storm in the southwestern United States in 84 years. (Screen grab by Christopher Buchanan. Courtesy of the National Weather Service)
This post was updated Aug. 20 at 9:35 p.m.
Weather experts predict that California will be hit by a tropical storm for the first time in 84 years.
Hurricane Hilary, a Category 4 hurricane in the Pacific Ocean, has made landfall in the southwestern United States as a Category 3 hurricane. The hurricane – which has reached speeds up to 130 miles per hour – is likely to slow and produce a tropical storm with historically excessive rainfall, flash floods and potential landslides and debris flows in several Southern California counties, including Los Angeles, Riverside and San Diego, according to the U.S. National Weather Service.
The last tropical storm to occur in California was in September of 1939. The storm, called El Cordonazo, hit Long Beach and San Pedro and saw wind speeds of 65 miles per hour and torrential rain, resulting in the deaths of 45 individuals.
LA could experience three to six inches of rain, with other areas in Southern California experiencing up to 10 inches, according to an NBC report.
The Office of the Administrative Vice Chancellor sent out an emailed statement to warn the Bruin community of a possible emergency because of the expected extreme weather conditions. The statement added that emergency preparations had been made – such as additional support staff, emergency response plans and emergency communications – and also encouraged students and faculty to monitor weather conditions.
According to predictions from the National Hurricane Center and National Weather Service, Hilary was expected to make contact with the Pacific coast of Baja California, Mexico, on Aug. 20. The storm may slightly ease the next day to heavy rainfall and high-speed winds from Southern to Central California. It will then weaken further north to Nevada, which is currently on flash flood watch.
The National Weather Service advises that during a tropical storm, individuals not ordered to evacuate should monitor weather conditions, avoid glass doors and windows and put as many walls between themselves and outside as possible, according to its website.