Q&A: Rebel Wilson discusses '90s nostalgia, new creative role in 'Senior Year'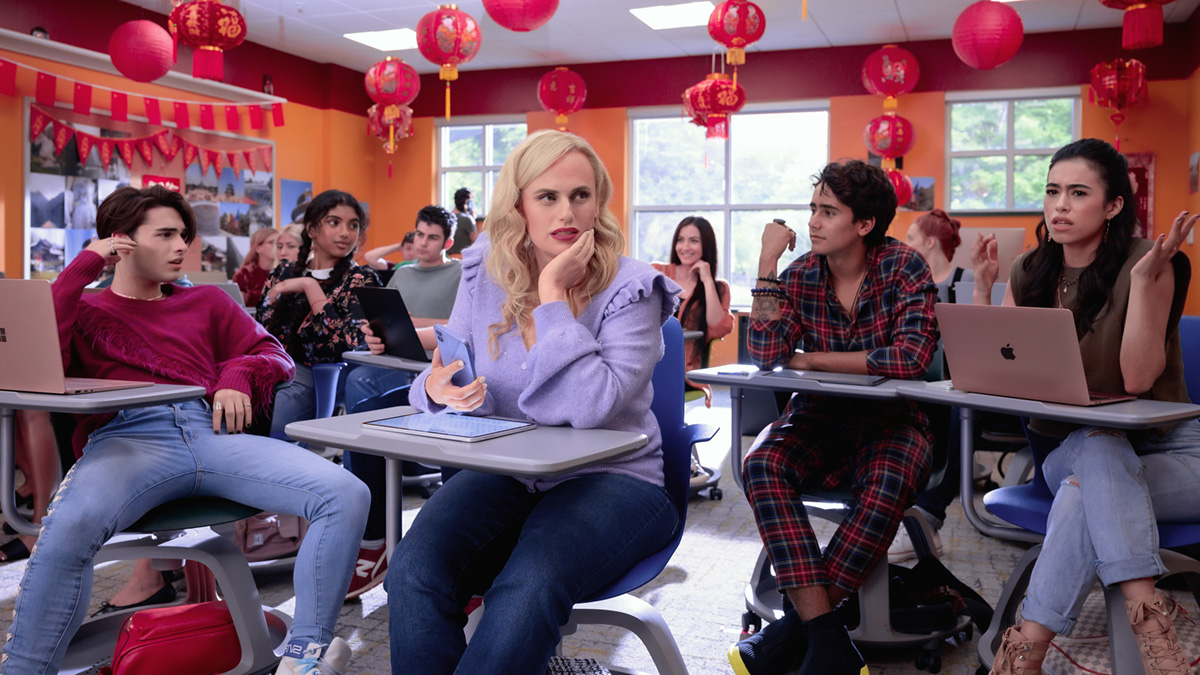 Rebel Wilson plays Stephanie Conway in Netflix's "Senior Year." (Courtesy of Boris Martin/Netflix)
"Senior Year"
Directed by Alex Hardcastle
Netflix
May 13
This story was updated May 15 at 10:40 p.m.
In terms of nostalgia, "Senior Year" is making the grade.
The teen flick follows 17-year-old Stephanie Conway (Rebel Wilson) as she cheerleads her way to the top of her high school's social hierarchy in the early 2000s. When a tragic accident leaves her in a coma for 20 years, the newly awakened 37-year-old returns to her alma mater in hopes of reliving her glory days. But instead, she humorously navigates an entirely different modern popularity landscape in which social media reigns supreme.
In a virtual roundtable hosted by Netflix, Rebel Wilson spoke with the Daily Bruin's Natalie Brown and other college journalists to discuss her nostalgic return to the '90s and taking on more creative responsibilities in the production of "Senior Year."
This interview has been edited for length and clarity.
Daily Bruin: As a revamped '90s high school comedy, 'Senior Year' really draws a stark comparison between modern life and the 1990s. What do you think is so compelling about the '90s that this film and other writers, artists and audience keep turning back to this iconic era?
Rebel Wilson: It was a fun time in the '90s. I was graduating high school in the '90s, and there was lots of fun stuff happening in music and in pop music, which we put in the film. I noticed the fashion is coming back now, so all the kids are now wearing the '90s fashion – girls wearing pants like what TLC used to wear back in the day and things like that. But maybe (people turn back to this era) just because we've had a pandemic, and people want to reminisce about happier times.
DB: Did you draw inspiration from any leading lady icons like Cher from 'Clueless' in the construction of your character, Stephanie?
RW: For me, 'Clueless' was such an iconic film and one that I watched obsessively. It was really interesting when Alicia Silverstone came on set, just (getting) to talk to her about the process of making that film and all the other gossip behind it.
It's weird, though. When I looked at Alicia Silverstone back then, I never thought I could play a character like that. I never thought I was that type, so I just channeled a young person but no one in particular. But when I was on set, I would say, 'Oh, my God,' all the time – it just got me into this kind of youthful kind of way because my character is 37, but she's still mentally 17.
Daily Texan: What was it like juggling the producer hat and the acting hat all at once – how did that work?
RW: It can get hectic. I'm yet to do directing and acting, and I'd like to try that in the future as a next challenge, but I had a great producing partner on this in Todd Garner who has done hundreds of awesome movies.
I say a lot (to the crew) in preproduction and postproduction, but sometimes during filming, I have to just be like, 'OK, I am the lead actress,' and really just focus on that. I was doing dance rehearsals on Sundays just to fit them in, we would do script meetings or meetings with the director on Saturday to prepare for the next week, and then Monday to Friday sometimes I'd have to go have a nap in my trailer because it's a lot.
The Panther: This being director Alex Hardcastle's first feature film, what was it like working with him since you have a number of features under your belt? Could you assist him in any way?
RW: Alex is a friend of mine, and I'd gotten him in to do an episode of my TV show back in the day, 'Super Fun Night,' and I was like, 'This guy should be doing movies.' But it's really hard to get a movie studio to invest millions of dollars into you, and even though he had done every then-big comedy TV show by that point, he hadn't done a movie. So I'm so proud that he got to do this one and absolutely knocked it out of the park.
The main way that I contributed is my background in mainly doing musical comedy and being on movies like 'Pitch Perfect' – knowing the process of how to rehearse the numbers and some of the angles you want to get when shooting it.