Q&A: Alumnus Carol Spencer discusses career designing timeless Barbie fashion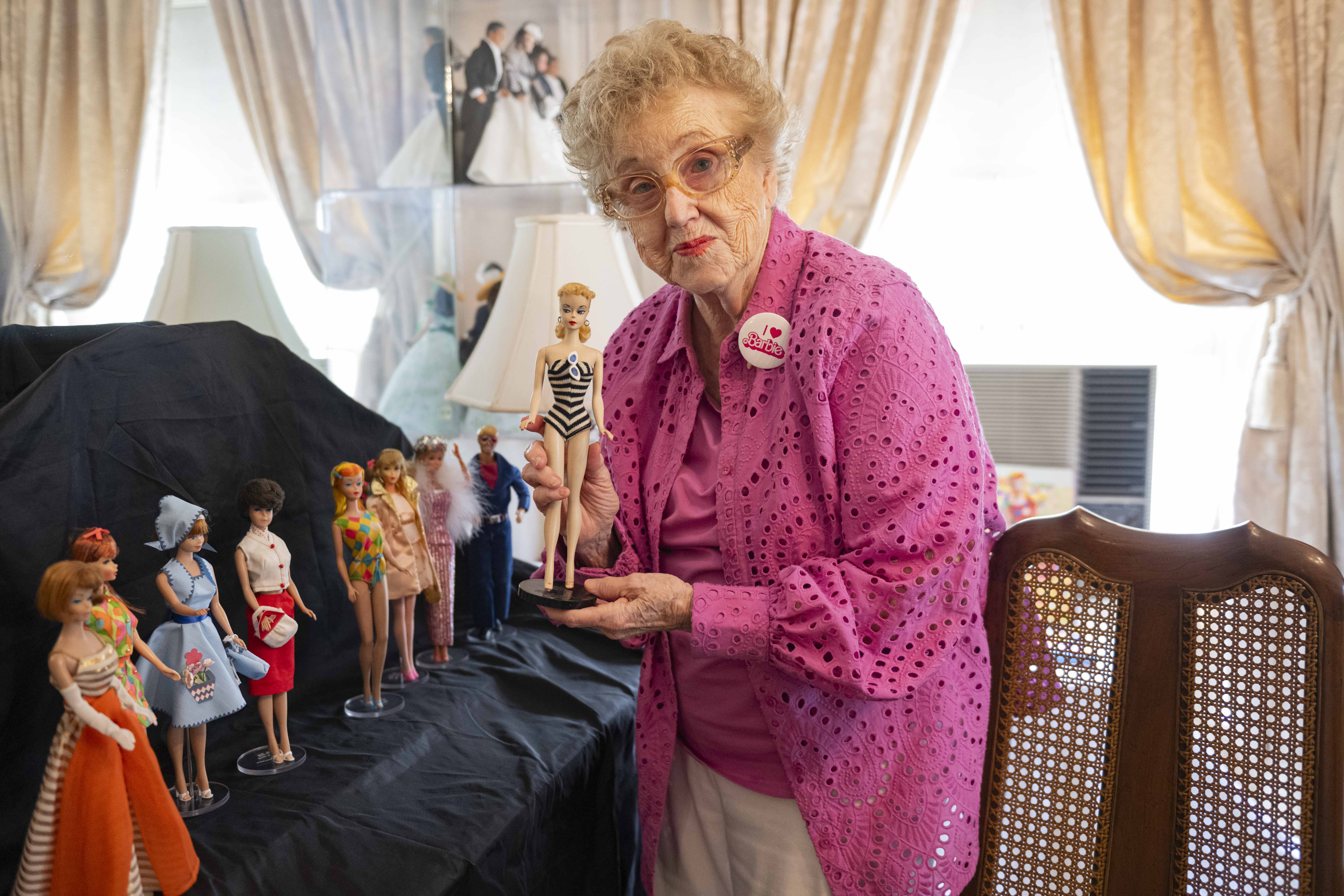 Donning pink, Spencer stands with some of her Barbie dolls. The former designer worked at Mattel for over three decades. (Jenny Xu/Daily Bruin)
This post was updated Aug. 20 at 8:54 p.m.
Like all great ideas, Carol Spencer's Barbie designs will live forever.
From 1963 to 1998, the alumnus fashioned some of the doll's most famous outfits, including the best-selling Barbie doll "Totally Hair" Barbie. To further illuminate her experiences at Mattel, she recently wrote the book "Dressing Barbie: A Celebration of the Clothes That Made America's Favorite Doll and the Incredible Woman Behind Them."
Spencer spoke with the Daily Bruin's Sanjana Chadive about her design journey and the timelessness of Barbie.
This interview has been edited for length and clarity.
[Related: Film review: Life in plastic may be fantastic, but 'Barbie' connects through the human struggle]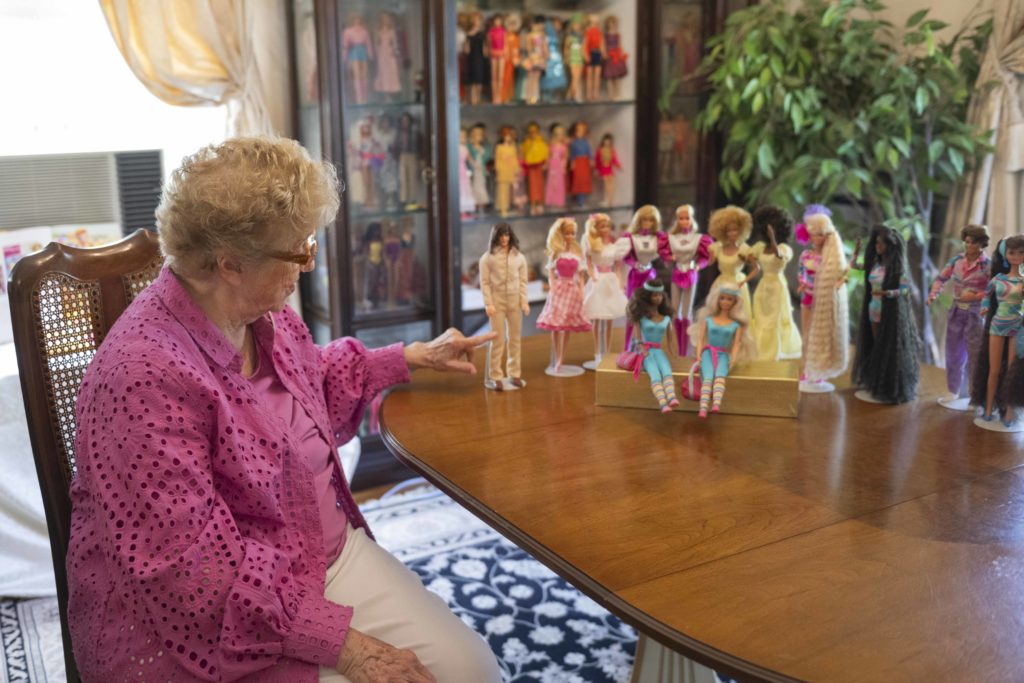 Daily Bruin: How did you get your start at Mattel?
Carol Spencer: I started when Barbie was roughly four or five years old, in 1963. That was when both Ruth and Elliot Handler were still with the company. It was Ruth Handler's decision to create a doll that would be in the image of the paper doll, and I had grown up playing with the paper doll. We did that throughout World War II when we couldn't get things, and they always had some paper dolls printed alongside the comic strip. So I knew the paper doll pattern very well.
The industry in downtown LA felt that I might not have the "California look" because I was from the midwest. (During the interview), they handed me a Barbie doll. It was a Bubble Cut, and they said, "I want you to create a fashion for her, actually make the patterns, keep track of the time it took you and come back in two weeks." That told you two things – first of all, it told the person whether they wanted to do the job. Then, it told them (Mattel) what you were capable of doing. When I got back, I actually got the job.
DB: Can you describe your creative process?
CS: It's mostly dreaming or thinking within my mind. I work things out before I actually execute it, and that's kind of the way I started out. I graduated (high school) in 1950. Back then, they schooled women so that they could become a secretary, a teacher, a nurse, a wife and mother or a clerk. I was not cut out to be a secretary, which is what my family thought I should do. So I had to go out on my own and find the direction, find the place where I could learn what I needed to learn in order to do what I was interested in doing.
DB: How did different fashion trends influence Barbie's outfits?
CS: In the '60s, when I first started at Mattel, it was what I call the "couturier period." We were influenced by the fashions starting in the high fashion houses of Europe, and then that would come and trickle down into the states. Ruth Handler's plan was to have us use fashion that was understandable to a child, and it also had to have play value. So when the fashion was appealing and had the right play value, that was what we used for the line.
But then, things slowly began to change in the mid '60s and the music scene (was used) for inspiration – Bing Crosby and Frank Sinatra changed to Elvis Presley and The Beatles. There was a whole change and also young British fashion, the 'mod' fashion, came in. That was a wonderful change for Barbie, so that gave us play value in different ways. We watched what was happening throughout the years. I know we had an oil embargo in the early '70s (and) you couldn't get certain fabrics. So we started (taking inspiration from) what people in the music scene were wearing – the long dresses, the peasant dresses. It was a different era. When that was over, the glamour came back.
[Related: Q:A: Alumnus Zudairah Washington talks role at Otrium fashion marketplace]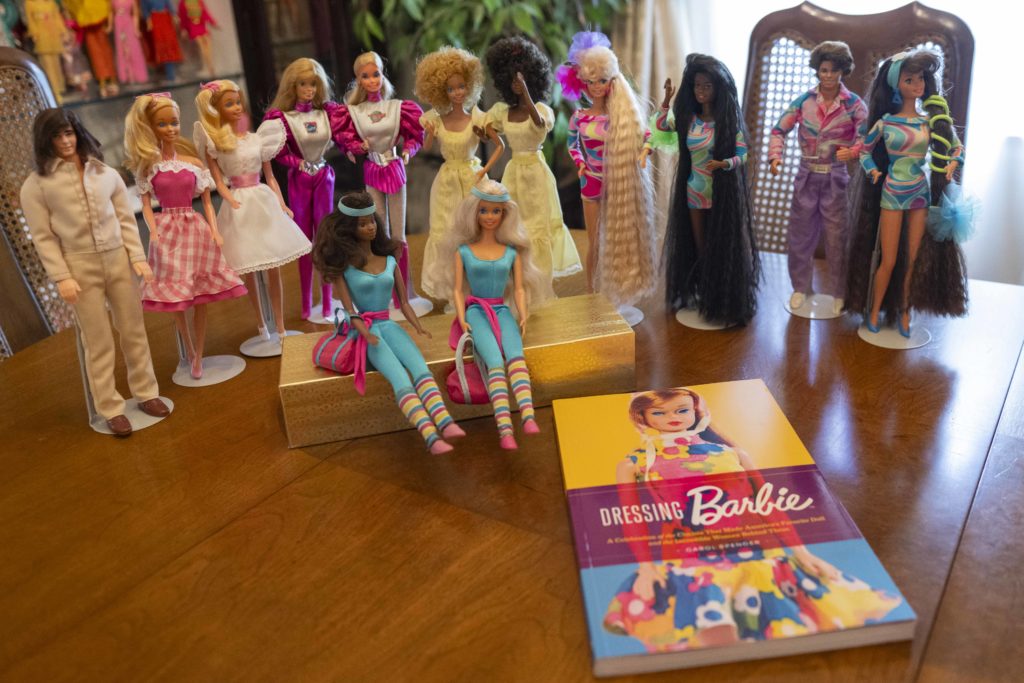 DB: Why do you think Barbie's popularity has endured 64 years after her introduction to the world?
CS: Barbie was created by Ruth Handler, and her play pattern was to be open-ended. We could give her a wedding gown, but she was never destined to get married because that would change the play pattern. With an open-ended play pattern, where the child actually played out different scenarios – whether it be their dreams or their problems – Barbie became their best friend, their teacher or their parents. With that, people have their favorite Barbie girls. It's a very personal experience when someone plays with a doll.
Email Chadive at [email protected] or tweet @SChadiveDB.