Second Take: YouTuber Colleen Ballinger's ukulele apology shows Miranda shouldn't sing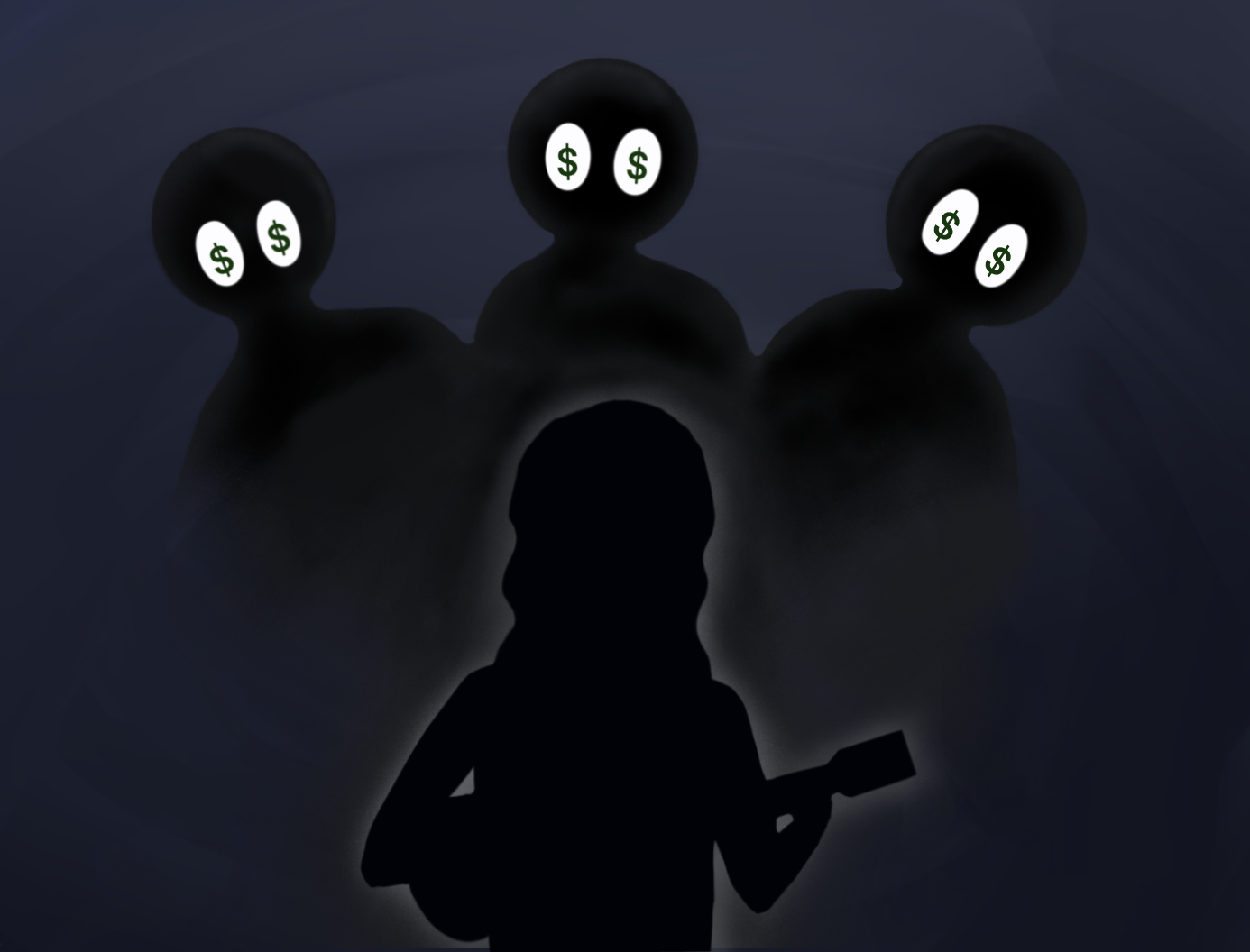 (By Ashley Ko/Illustrations Director)
This post was updated July 16 at 4:21 p.m.
The only thing Colleen Ballinger is sorry about is not posting her "apology" earlier.
At the start of June, former fans began alleging that the YouTube creator, who is best known for her internet persona Miranda Sings, groomed individuals and initiated numerous inappropriate interactions with them over the internet while they were underage. Ballinger then posted a 10-minute video titled "hi." in which she played the ukulele and defended herself against the accusations. The insensitive response justifiably received ample backlash, with viewers questioning how Ballinger thought she could sing herself out of the situation. Consequently, she has come under fire for racist behavior and leaking OnlyFans photos of fellow YouTuber Trisha Paytas without her consent.
However, such tone deafness may have been intentional. Since the mid-2010s, YouTuber creators have taken advantage of the high viewership associated with apology videos by filming increasingly ridiculous responses. Whether they acknowledge it or not, the general public also embraces this content, creating a corrosive environment where accountability is never truly held.
The most prevalent criticism Ballinger received for her video was its out-of-tune execution. Even when her legal team advised her not to, she still publicly addressed the allegations. Not to mention, Ballinger most likely sang her defense so more people would be discussing how she went about it as opposed to what was actually said. In doing so, she further downplayed the harm she inflicted upon her previous fans.
With that being said, "hi." is far from the first apology video to be abhorrently executed. In 2017, fashion YouTuber McKenna Kaelin recorded a spoken-word poem to express her remorse for plagiarizing another artist's work. More recently, TikTok influencer Sienna Mae Gomez filmed an interpretive dance performed to Sam Smith's "Young," in which she seemingly implored viewers to excuse her alleged sexual assault of fellow influencer Jack Wright because she was a teenager.
These two responses, along with Ballinger's, may have been poorly executed in order to draw more attention to themselves. After Ballinger posted her "apology," people who did not even know who she was began watching some of her older videos to figure out why she would sing her response in the first place. Regardless of whether the public is positively or negatively consuming content, higher viewership is often associated with higher revenue. Therefore, even though more people are aware of the bigoted content she's made in the past, Ballinger is still making money.
[Related: Second Take: Parasocial relationships rising, fueled by unhealthy celebrity obsessions]
Furthermore, creators themselves have poked fun at apology videos in the past. Three years ago, popular beauty YouTuber James Charles received backlash for providing contestants tips to film their own apologies on his web series "Instant Influencer." He defended his actions by saying he was critiquing cancel culture. Ballinger herself took part in this conversation during the 2022 Miranda Sings tour when she performed a skit making various jabs toward the insincerity associated with this content. The self-awareness of the disingenuous nature of these pleas for forgiveness automatically discredits any subsequent attempts at accountability.
Another criticism Ballinger faced for "hi." was its extended length. Despite having 10 minutes to own up to her actions, she draws out the video and fails to do this. However, Ballinger most likely filmed for as long as she did for monetization purposes. Various sites have found that videos eight minutes or longer are likely to generate more revenue. This tactic has been observed in other creators' apologies as well. Many people at the time dismissed beauty YouTuber Tati Westbrook's 2020 video addressing the predatory allegations she made against Charles, citing that she may have dragged it to be 40 minutes long in order to make an extra buck or two.
Needless to say, apology videos have truly become their own genre over the last few years – one that has cultivated a rather large audience. Anytime a prominent creator is subject to a major controversy, the public eagerly waits for their response to evaluate how nonsensical it is. For example, in the wake of Ballinger's "clapback," numerous TikToks and other longer videos were made spoofing it.
[Related: Second Take: Fans have the ability to hold artists accountable and should do so more frequently]
Even high-profile celebrities, such as Howie Mandel, filmed their own parodies of "hi." Additionally, creators have started making tier-lists ranking apologies over the years. Some YouTubers have also developed channels dedicated to breaking down such responses. More than anyone, they look forward to videos like Ballinger's because they otherwise would not have content.
Although tearing apart poor apologies might be entertaining, the ill-intentioned creators who make them are not actually facing negative consequences – if anything, they are only benefitting. Ballinger, for instance, is still receiving views because of "hi." and hasn't actually suffered any of the legal ramifications her alleged actions entail. In order for people like her to truly be held accountable, the public should stop engaging with such content entirely and begin reporting harmful behavior to authorities. By doing so, creators who may pose a danger to society will no longer have the means to do so.
At the end of the day, YouTubers are the ones conducting the "toxic gossip train" – and viewers should stop boarding it.