Spring Sing 2023: Dakota Dry explores electric sound in folk style for upcoming performance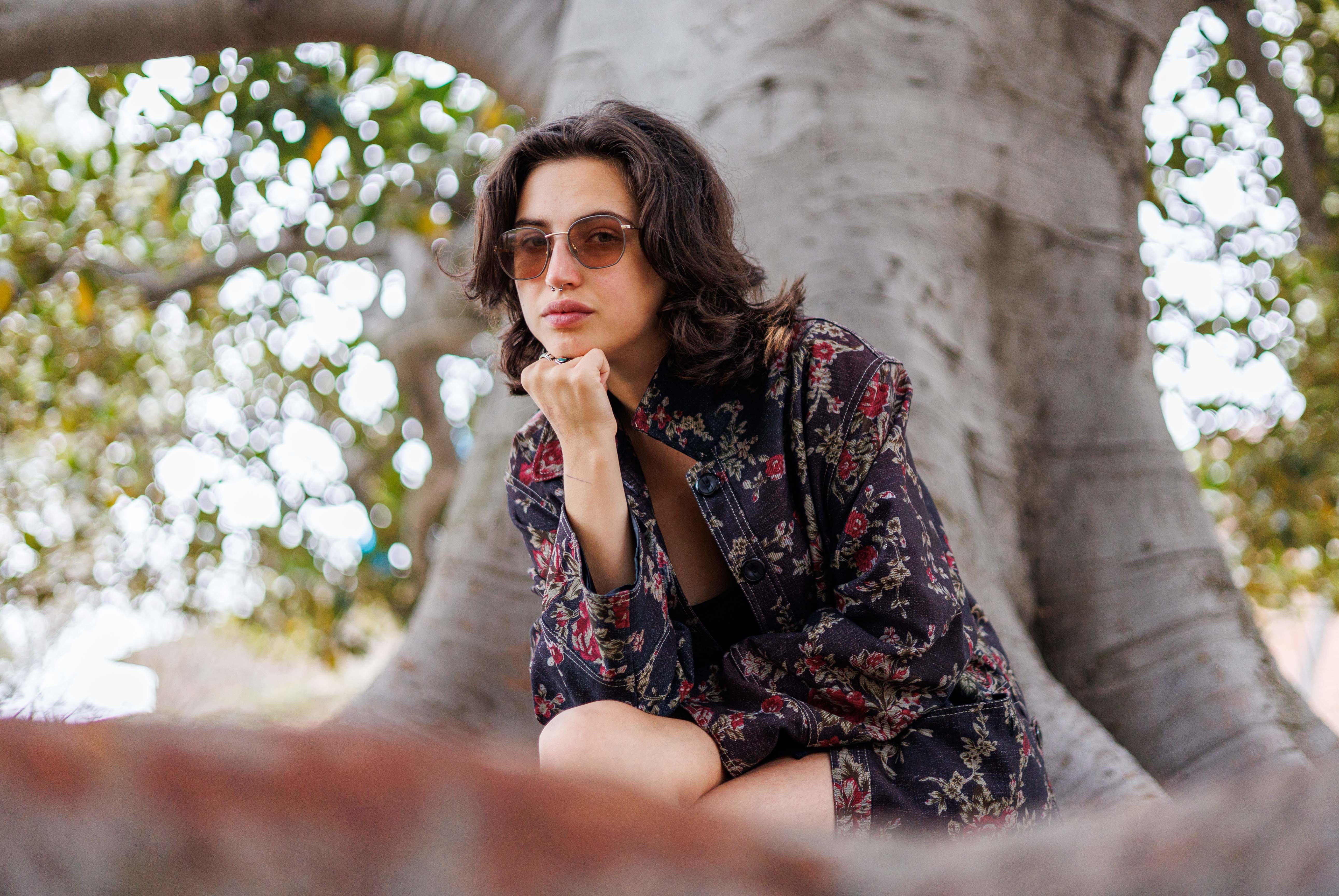 Dakota Dry sits at the base of a tree. The third-year ethnomusicology student will perform alongside her band at Spring Sing on Friday. (Shane Yu/Daily Bruin)
Dakota Dry is retuning her folk sound for Spring Sing.
Taking the Spring Sing stage for the first time, the third-year ethnomusicology student is leaving her acoustic guitar behind to launch her new single, "Minefield." Dry said the original song, which has been continuously reworked since she started writing it in 2020, was initially a folk song with a pop-rock introduction. Her father, who is also a musician, was the first to hear "Minefield," and he advised her to stray from her usual folk style and rewrite the song with an electric guitar. Although this song is outside of her usual genre, Dry said its lyrics still follow an emotive, semi-autobiographical story structure.
"The storytelling that exists in the song is very much in line with the music that I like to write," Dry said. "I definitely center my songs around the lyrics."
[Related: Spring Sing 2022: Mellowood hopes to highlight evolution in dreamlike debut performance of 'Lucid']
In tandem with the Spring Sing performance, Dry said she has been recording "Minefield," her second single after "Hopelessly," at DAZEYCHAIN RECORDS, a UCLA alumnus-owned studio in Sherman Oaks. She plans on releasing the song on June 24. Dry said she gets nervous to release her songs, but she is excited to share "Minefield" with her Bruin family before she shares it with the world.
"I've been really grappling with putting songs that feel like pages from my diary into the world," Dry said. "It is a really scary process but also really rewarding in terms of getting to hear people's reactions to them."
Although the lyrics in "Minefield" do not reflect a specific period of her life, Dry said she sought to tell the story of what it feels like to be in a toxic relationship and carefully tread around someone else's unpredictability. Dry said the song's story arc tackles a challenging topic, but she hopes to use her lyrics to encourage people to step into their power. Her band creates an engaging contrast in the song to mirror the story's structure, allowing for strong builds, intimate silences and explosive energy, she said.
Ditching its usual folk music in exchange for a more lively piece, Dry said the band will be leaning into new aspects of visual performance, including blocking and costuming. The group hopes to achieve a dark, dramatic aesthetic that parallels the subject matter of "Minefield," she said, while also staying true to the upbeat and confident nature of the music. The band is also learning to block out its movements on the stage for the first time, Dry said, and she chose not to play an instrument so she can focus on her stage presence.
"I didn't realize until starting this practice process how rusty I am in terms of being able to perform without an instrument and use movement," Dry said. "It's definitely pushing me out of my comfort zone, especially performing something where I really want to embody the confidence that this song is trying to communicate."
Comprising two guitarists, a pianist, a violinist, a drummer and a bassist, the band is excited to take the stage in its biggest performance yet, Dry said. Hannah Searles, bassist and second-year public affairs student, said joining Dry's band was her return to jazz music. She said she appreciates the artistic freedom original songs give the ensemble, such as composing the bassline for "Minefield."
Henry Baskin, guitarist and third-year global jazz studies student, said the band members weave improvisation into their planned performances to keep each other alert and make every show different. Because the band includes a wide range of instruments, Searles said it also experiments in practice and stumbles upon new compositions.
"It's a pretty big band, but we're all very comfortable with one another outside of music," Searles said. "So we are down to be vulnerable with one another when we're playing music, which makes it fun because then we can try things and see what happens."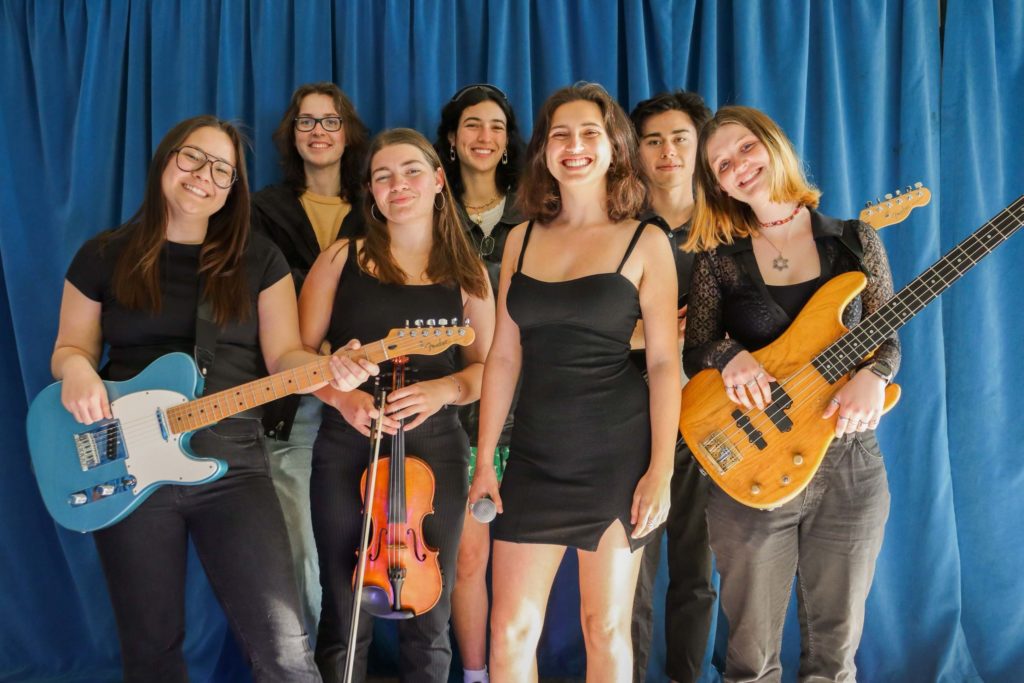 Drummer and third-year global jazz studies student Dash Goss-Post said he was a late addition to the group, but learning "Minefield" was straightforward because the group was already familiar with the song. Goss-Post said he was able to offer constructive advice on how to master the beat. He added that the group has had frequent meetings and gigs to prepare for Spring Sing, and he hopes to bring his personality into the performance.
"I've started to really lean into the joy of the performance and try to not filter any emotions that I'm feeling while I'm playing," Goss-Post said.
[Related: Student Dakota Dry tackles complex emotions with unique style of folk music]
Overall, the band is thrilled to be a part of the time-honored tradition of Spring Sing, Dry said. As a proud member of the tight-knit music community at UCLA, Dry said she is friends with many of the other musicians performing, including Sophia Bacino and many members of Outspoken, and she cannot wait to cheer them on backstage this year. Aiming to create something new from what she has done in the past, Dry said she hopes Bruins will be affected by both the sonic and visual aspects of the band's performance.
"I hope the audience will feel like the song is unique and intriguing and that it will make them feel powerful," Dry said.