Spring Sing 2022: Mellowood hopes to highlight evolution in dreamlike debut performance of 'Lucid'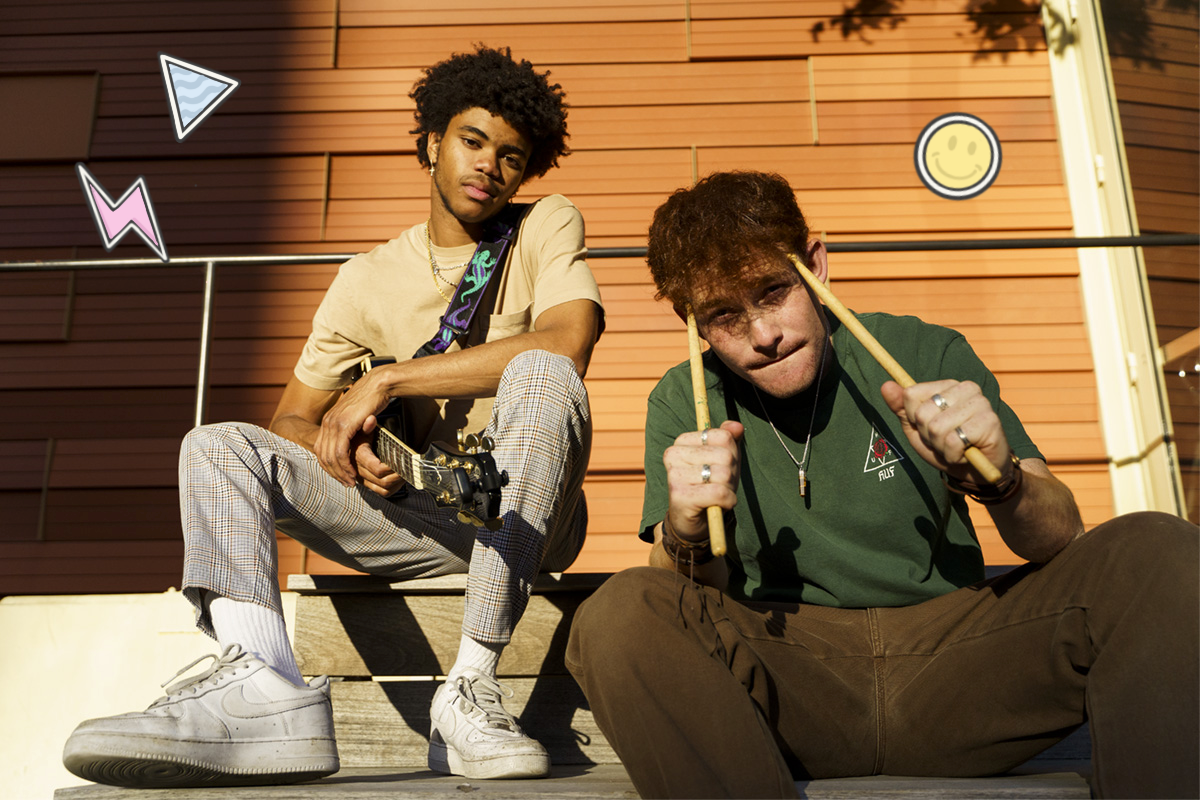 With guitar in hand, Trent Lawson (left) sits with Luca Filiz (right), who poses with drumsticks. Making a return to Spring Sing after competing in 2021, the two second-year theater students compose alt-R&B duo Mellowood. (Photo by Nina Morasky/Daily Bruin. Photo illustration by Ashley Shue-Lih Ko/Daily Bruin staff)
This post was updated May 19 at 1:00 a.m.
Mellowood makes music a mission beyond a passion.
The eclectic musical duo was formed by second-year theater students Trent Lawson and Luca Filiz, who will take the stage for Spring Sing on Friday and perform their new track "Lucid." Last year, they debuted a music video for their song "Wake Up," and even though they were not able to perform the song live, Lawson said meeting other musicians and watching people react to their video for the first time was an invaluable experience.
"Reaching out to friends to help us out, people that we'd met through orientations and stuff, friends who knew certain areas around the Bay that we could film, it all just came together," Lawson said. "We were able to come down to LA and see it on a big screen, and to meet everyone that was part of the whole Spring Sing show was really special."
With "Lucid," Mellowood hopes to showcase its sonic evolution through a performance that stands out distinctly from last year's, Filiz said. Taking inspiration from alternative R&B artists who make tracks that oftentimes lack defined choruses and verses, such as Verzache, Filiz said, their show this year will highlight a very different side of the group. Filiz said they also paid close attention to how their new release would sound in a live setting, specifically on how they could spice up their performance with added instrumental flourishes. Keeping this in mind, Filiz said "Lucid" was a natural choice given its rich soundscape, laden with synths and acoustics.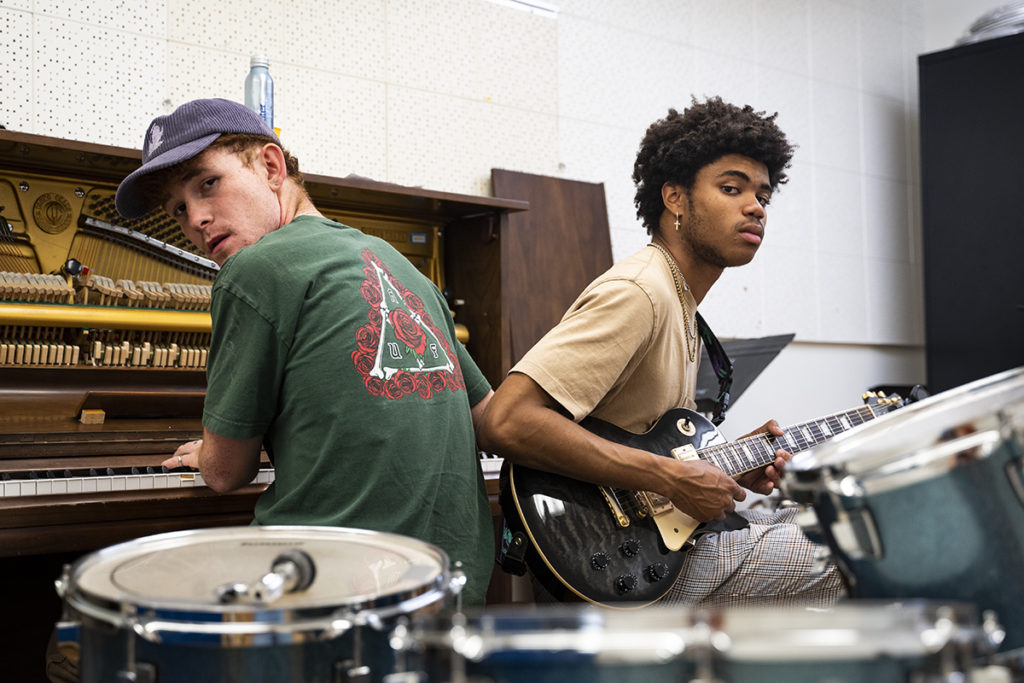 [Related: High school friends aim to give memorable, visually rich performance as Mellowood]
Although they will only be performing one track, the song is structured into three parts, Filiz said. The first part is about being trapped in a dream, the second is waking up unsure if you're still in the dream, and the third is coming to terms with the futility of trying to escape. Lawson said he appreciates that events such as Spring Sing exist to provide indie artists like them a platform to express their creative vision and reach more individuals than they would through a regular song release. Lawson said the event also offers artists a chance to experience every part of the process of being an artist outside of songwriting and recording.
"For an artist that's kind of nervous or creates great music but doesn't meet a lot of the other areas, Spring Sing is a perfect trial by fire to throw themselves into the world of entertainment, into how performance works and how preparing for performance and advertising works. And having important people watch you and judge you, … it's a whole thing," Lawson said.
In contrast to high school, Lawson said it's been a challenge finding ample time to record in the hustle and bustle of college. Creativity has never been the issue, he said, since Mellowood always writes from experience, and college has given him and Filiz plenty. However, Lawson said they've had to treat songwriting as a commitment akin to a class or club, making an action plan of items they want to get done each week and sticking to it.
[Related: Music students combine compositions, visual components in virtual spring showcase]
The process can be frustrating and grueling, Filiz said, with there being nights during which he and Lawson had to lug their guitar, amp and keyboard all the way across campus for rehearsals. Band manager Andrew Huang said Filiz and Lawson's commitment to recording music is an inspirational process to watch and speaks to their passion. Oftentimes, Huang said the duo would spend hours and hours recording and rerecording their music, investing a lot of time and money into their vision.
Ultimately, Filiz said Mellowood finds its motivation by grounding the pair's struggles in the struggles of others, fueled by the fact that its music is able to touch the hearts of its listeners. Since they formed the duo in high school, Filiz said he and Lawson have used music to unpack their life experiences, sharing their truth through their lyrics. Filiz said he hopes with their performance of "Lucid" at Spring Sing this year, their open and honest songwriting will strike a chord with listeners.
"The stuff that we feel, … we're able to roll it up into something that makes sense to people," Filiz said. "It's a very magical thing and an ability that we possess, and we want to make the most of that. And we think that, with these songs, we're doing that."