Student Dakota Dry tackles complex emotions with unique style of folk music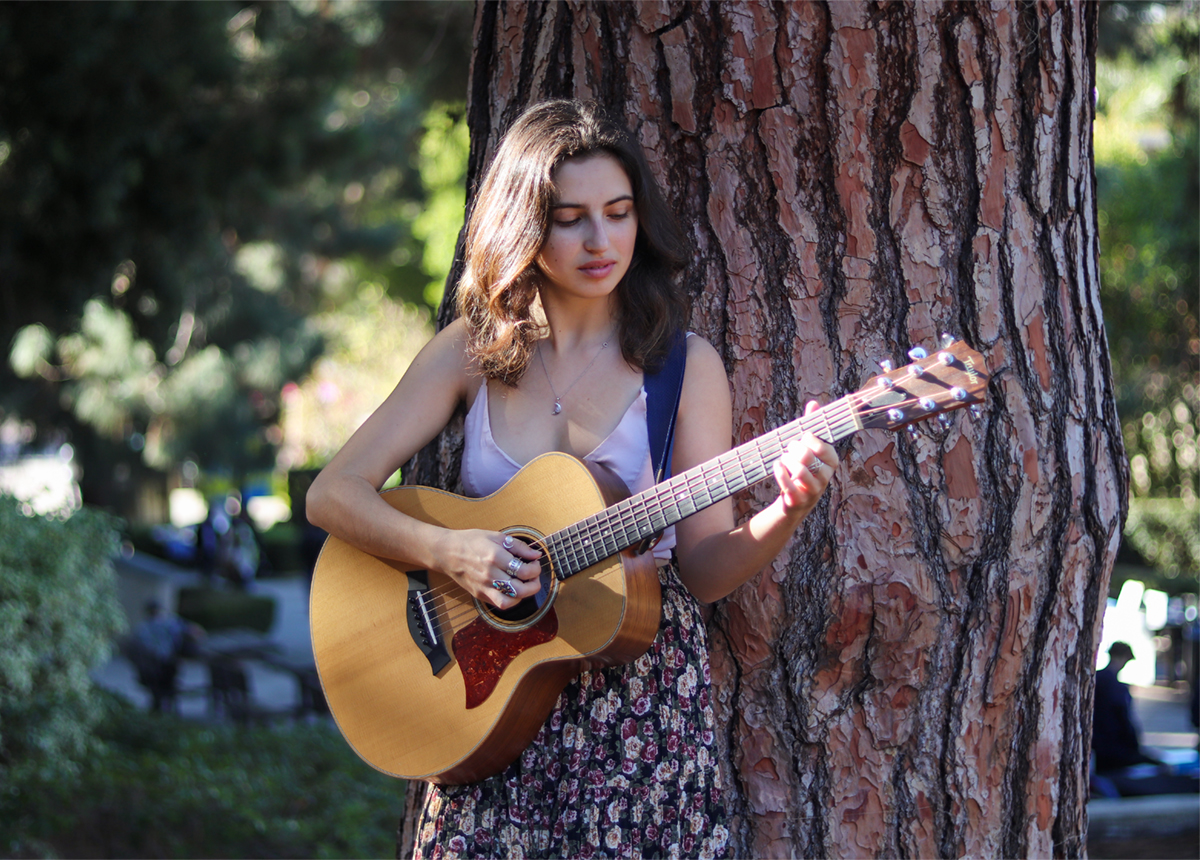 Dakota Dry plays her guitar in front of tree trunk. The third-year ethnomusicology student said writing songs has helped in tackling complex emotions and experiences. (Eden Yu/Daily Bruin)
This post was updated Nov. 27 at 8:14 p.m.
Dakota Dry is singing what others have trouble saying.
Inspired by the Laurel Canyon folk scene of the 1960s, the third-year ethnomusicology student said she writes songs to express her feelings about difficult subject matters, such as seeing loved ones live with mental health conditions and generational trauma. Making music primarily serves as a way to communicate her emotions when she is unable to talk about them, she said.
"Music is my medium to express whatever I'm feeling or going through, especially songwriting," Dry said. "Songwriting is always that thing to make beauty out of whatever struggles or pain or truth or joy too."
Dry said she was exposed to music at a young age, as her father is a musician and her mother also loves singing. Dry said that as a child, she would spend time in her father's makeshift studio in their basement, helping him record songs while trying to write her own. When she was 10, they began a father-daughter folk duo in which they performed at open mics.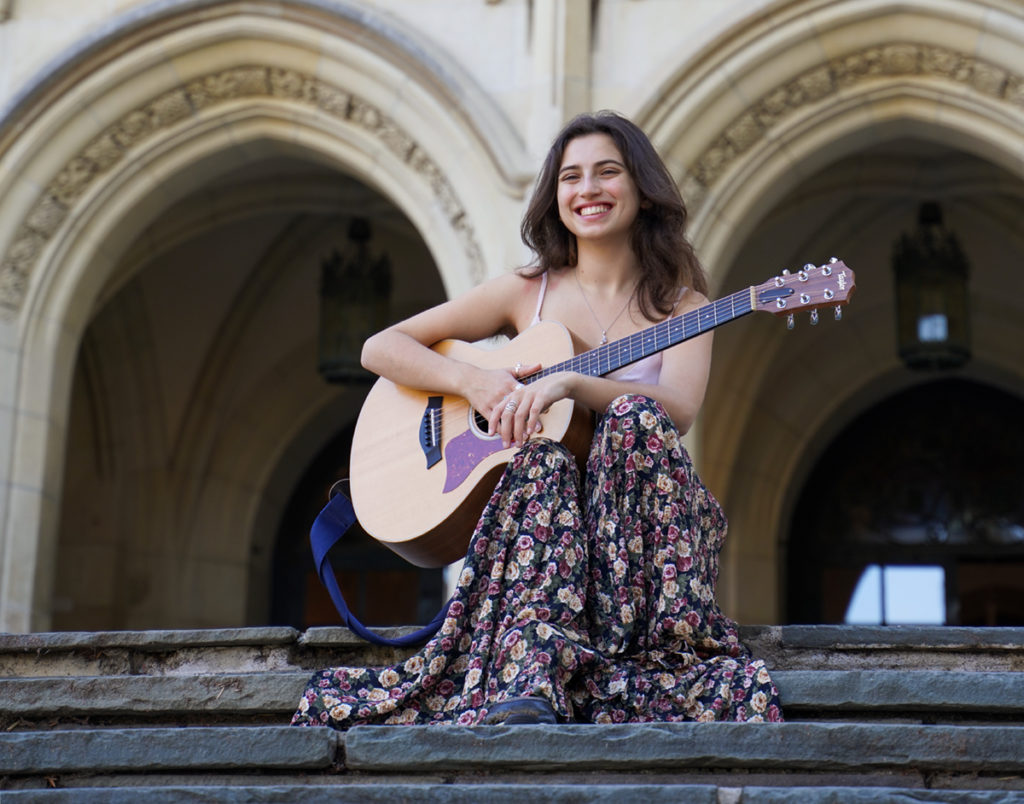 [Related: Spring Sing 2022: Carly Wood strives for solo success through stripped-down setup]
Initially a theater student at Oakland School for the Arts for middle school, Dry said she later transferred to the school's vocal music department for high school, where she would immerse herself in theory classes and choir for 2 1/2 hours a day. The time she dedicated to her studies made Dry realize she wanted to pursue songwriting seriously, she said.
Ezra Hapner, Dry's friend and a third-year ethnomusicology student, said he finds her music genuine and refreshing because of its poetic exploration of emotions. Moreover, Hapner said she uses unique wordplay to express her feelings instead of saying them directly. He said he respects Dry because she is not writing songs for mass appeal.
"If you want to make a career out of music, you kind of have to cater to what is 'popping,' for lack of a better word," Hapner said. "So I think it's refreshing because she is writing songs the way she wants to."
Citing some of her personal lyrical influences as Joni Mitchell and Stevie Wonder, Dry said her songs emphasize storytelling. She said many of her songs revolve around the theme of generational trauma experienced by herself and others. In one of her songs, "Harshness of Movement," Dry tells a story of a daughter who has witnessed her mother's suicide attempt. Although it was not a direct experience of her own, Dry said she wrote the song because she wanted to illustrate how children process their family members' mental health conditions.
"It wasn't necessarily a specific experience of mine, but it was kind of written like that," Dry said. "The main chorus lyric is … 'Oh, my mama / Why did you poison my brain with those memories of you in so much pain.' There are a lot of family members of mine that have dealt with mental health struggles and knowing for myself how that it is, to experience as a child watching."
Although her primary instruments are the piano, guitar and ukulele, Dry said she has learned basic erhu, a Chinese string instrument, and tabla, an Indian percussion instrument, for her ethnomusicology studies. She said she has also incorporated more classical instruments into her music. Raina Markham, a third–year music education student and violin player, said she respects the value Dry places on non-traditional band instruments.
In addition to songwriting, Dry said she has performed her music on campus through various student organizations. For example, she has played her music for the Campus Events Commission, Student Committee for the Arts and Westwood Food Cooperative. She said she has also taken the stage at Harvard and Stone, a bar in North Hollywood.
"I kind of lose myself completely and at the same time, am myself fully," Dry said. "I definitely think performing allows me to just be fully present in the moment."
[Related: UCLA student Jack Drinker strikes a chord with authentic songwriting skills]
Hoping to share her experiences with others, Dry said she wants to release some of the songs she has written, as she believes they are timestamps on pivotal areas of her life. She said another goal is to integrate herself into the Los Angeles music scene more and collaborate with other musicians. However, Dry also said she finds herself most content writing personal songs that resonate deeply with her emotions and experiences.
"When there's nothing else to turn to, music will always be there. … It is my support system and my passion," Dry said. "It's become my whole life, basically."