Oscars 2023 Q&A: Multiverses, glass ceilings cannot contain Best Actress Michelle Yeoh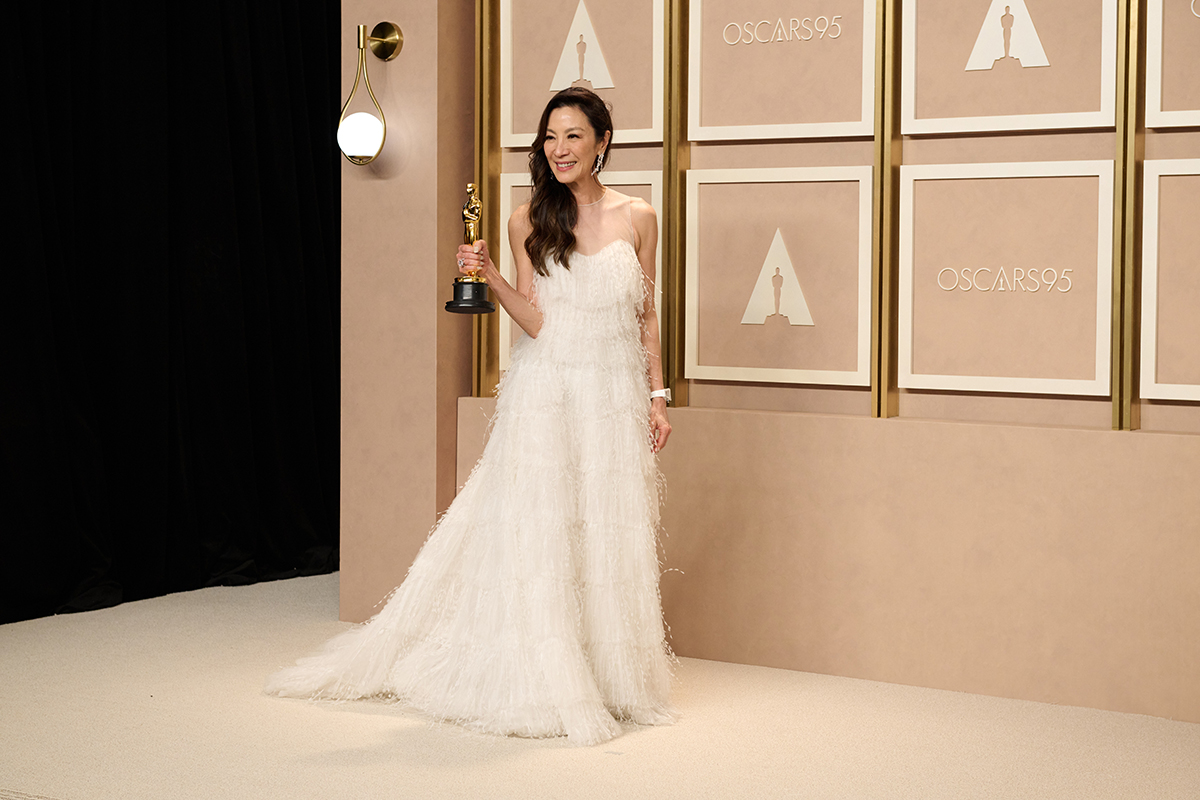 Michelle Yeoh poses with an Academy Award at the 95th Oscars. Yeoh is the first Asian-identifying woman to win Best Actress. (Courtesy of Michael Yada / ©A.M.P.A.S.)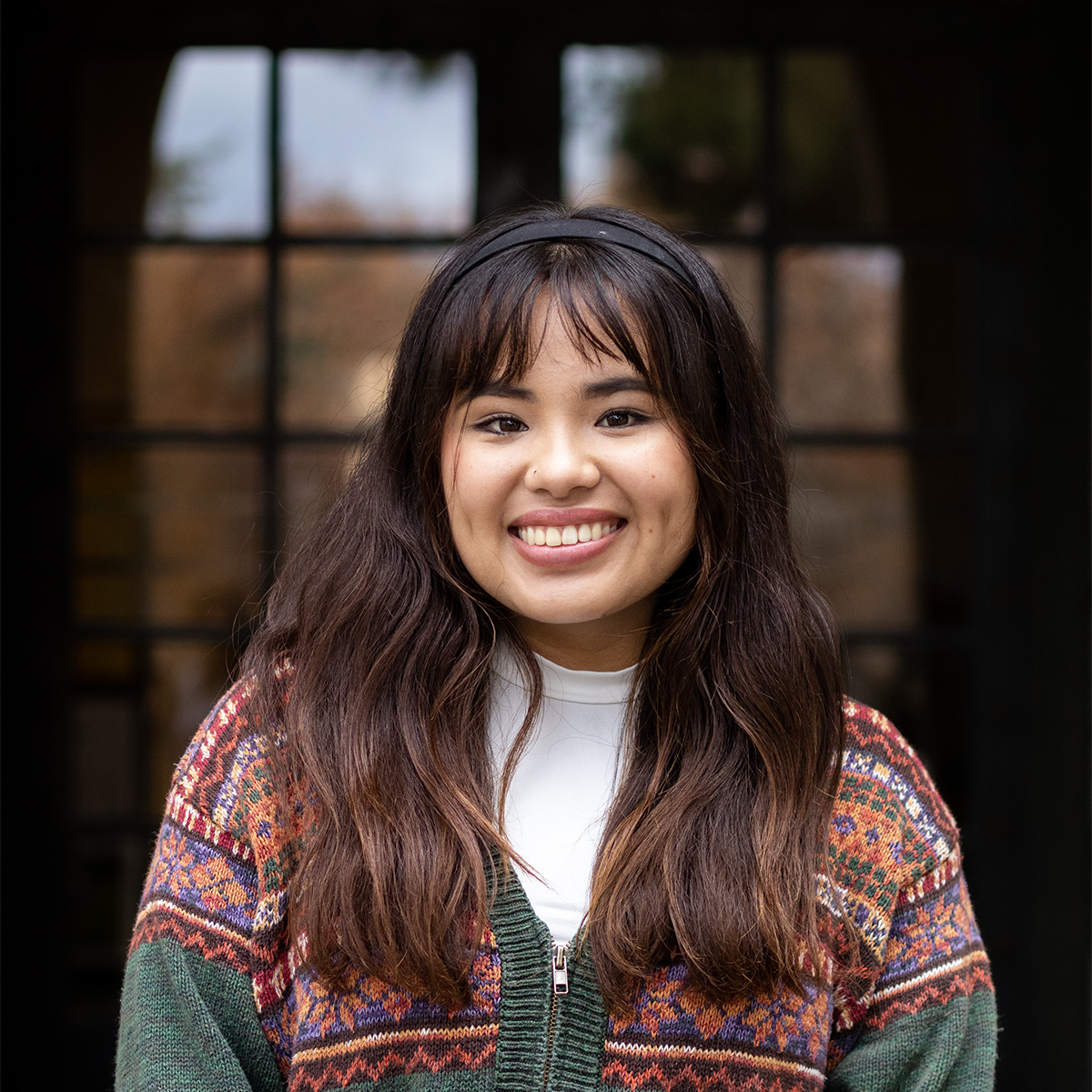 Through googly eyes and hot dog fingers, Michelle Yeoh is paving the way for Asian representation in film.

At the 95th Annual Academy Awards, Yeoh was crowned Best Actress in a Leading Role for her portrayal of Evelyn Wang, an overwhelmed, multiverse-jumping laundromat owner in "Everything Everywhere All at Once." Yeoh is the first Asian-identifying woman and the second woman of color to achieve this title.
After the ceremony, Yeoh spoke to the Daily Bruin's Talia Sajor and other journalists in the press room located at the Loews Hollywood Hotel about her historic win for the surrealist science-fiction film.
This interview has been edited for length and clarity.
[Related: Oscars 2023: Historic wins for diverse set of nominees mark 95th Academy Awards]

Daily Bruin: What does this win mean to you in terms of Asian representation both on screen and within the entertainment industry as a whole?
Michelle Yeoh: This is actually a historical moment, so I really have to thank the Academy for acknowledging and embracing diversity and true representation. I think this is something that we have been working so hard towards for a very long time. And tonight, we broke that glass ceiling.
We need this because there's so many who have felt unseen, unheard. It's not just the Asian community. This is for the Asian community, but (also) for anybody who's been identified as a minority. We deserve to be heard, we deserve to be seen. We deserve to have the equal opportunity, so we can have a seat at the table. That's all we are asking for: Give us an opportunity. Let us prove we are worthy.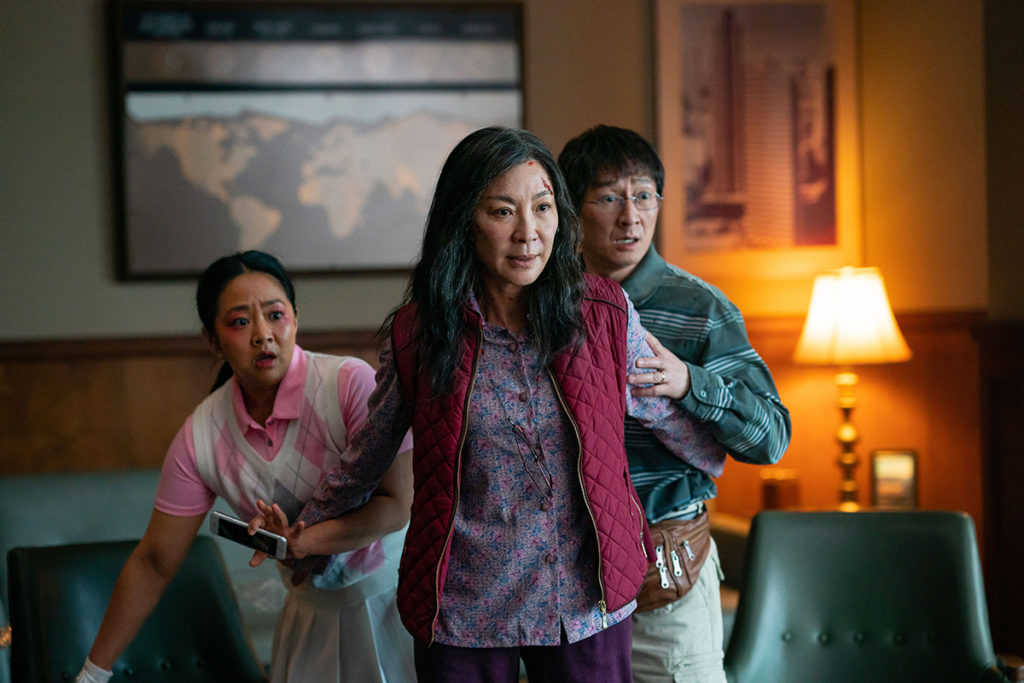 BuzzFeed: Being a woman of color, in any space but particularly in Hollywood, you can sometimes be made to feel like (an) other, and that maybe you don't belong in a certain role or even in a certain room. Have you ever felt like taking a step back from acting? And because you stayed, what advice would you give to people who are afraid to take up space?
MY: You should never be afraid. If this is your passion, this is your love, you have to stand up for yourself and for what you love and for what you want to do. And I think that is what it is. I'm still here today, finally after 40 years, I get this (Academy Award). It just goes to show we will win the battle, and that's what we're doing. So don't give up, never give up. Because once you give up, then it's a loss. That's total loss.
Don't let anybody put you in a box. Don't let anybody say, "Oh, you're past your prime." No, because we are proud, we believe in what we do, we love what we do. So light that fire in your soul, and stay on the path. Believe, dare to dream because if you don't dream, then it's impossible. But nothing is impossible (because) look at me, I'm here.

[Related: Oscars 2023: Daily Bruin staff predicts 95th Academy Awards winners for film's biggest night]
The Philippine Star: Yesterday was exactly a year ago when "Everything Everywhere All at Once" premiered at the South by Southwest Festival. Can you take us back to that date of last year and reflect on that day to how you are feeling today?
MY: Why do we make movies for the cinema? We want a collective experience where we want to enjoy, share that laughter, crying, or whatever it is – together. That is what the magic of being at the movies.
At South by Southwest, it was the first nonvirtual festival, and we were so blessed that everyone came, and we were blown away. You give your heart and soul to a movie, but when you put it up in the sky, (you say,) "Please don't fall flat on your face." And I swear to God, it is all of you (the audience), because you made it interesting. You made it wild and wacky to people who hadn't had an opportunity to watch it. You made it so interesting. They had to come to the cinemas to watch this because you didn't want to be left out of the conversation. So in that way, thank you to all of you. You propelled our little gem of a film. Yes, we had a huge beating heart, but you propelled this to the skies, and the world embraced us.
I am really grateful because this movie has helped in some healing process. This movie had has helped in communication. This movie has helped to open hearts between families, whether it's husband and wife, daughters and mothers, daughters and artists, but just simply family. And we never give up on each other, so I thank all of you for helping us do that.
Sajor is the 2022-2023 theater | film | television editor. She previously served as an Arts contributor from 2021-2022. She is a second-year communication student.
Sajor is the 2022-2023 theater | film | television editor. She previously served as an Arts contributor from 2021-2022. She is a second-year communication student.