Oscars 2023: Historic wins for diverse set of nominees mark 95th Academy Awards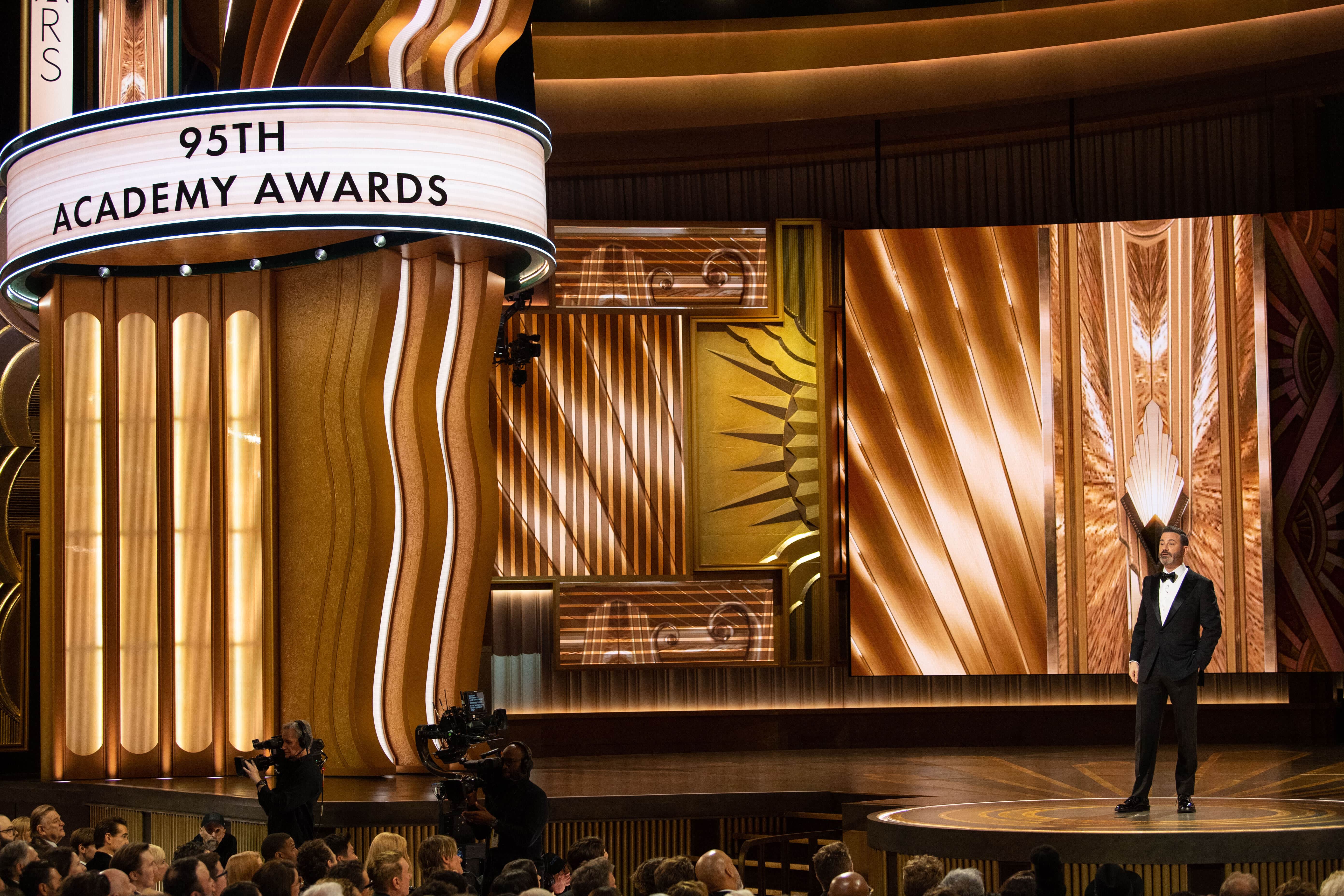 Jimmy Kimmel stands on the Dolby Theatre stage. He hosted the 95th Academy Awards this year, his first time hosting the event since 2018. (Courtesy of Blaine Ohigashi/A.M.P.A.S.)
The stars shone bright for this year's Academy Award nominees.
Hollywood's biggest night returned to the Dolby Theatre once again. In his first time hosting since 2018, Jimmy Kimmel opened the ceremony with a monologue highlighting this year's first-time and returning contenders before recognizing the global diversity of the nominee pool.
Picking up the first award of the night for Best Animated Feature for his stop-motion film "Pinocchio," Guillermo del Toro spoke on the importance of animation as an art form. Following del Toro's win, Ke Huy Quan was named Best Actor in a Supporting Role – the second man of Asian descent to win the category.
"My journey started on a boat," Quan said. "I spent a year in a refugee camp. And somehow I ended up here on Hollywood's biggest stage. They say stories like this only happen in the movies. I cannot believe this is happening to me. This is the American Dream."
Later on, director Daniel Roher dedicated his Best Documentary Feature Film win for "Navalny" to Alexei Navalny, who is currently imprisoned in Russia, and political prisoners around the world. He went on to express how people should not be afraid to oppose authoritarianism or any other forms of oppression.
Commemorating the 100th anniversary of Warner Bros. Studio, Margot Robbie and Morgan Freeman previewed a montage celebrating its greatest films, from "Casablanca" to "The Shining." Subsequently, Ruth Carter won her second Best Costuming award for "Black Panther: Wakanda Forever."
"Thank you to the Academy for recognizing the superhero that is a Black woman," Carter said. "She endures. She loves. She overcomes. She is every woman in this film. She is my mother. This past week, Mabel Carter became an ancestor. The film prepared me for the moment. Chadwick, please take care of my mom."
After winning its first award of the night for Best Cinematography, "All Quiet on the Western Front" then earned Best International Film, making it the third German film to win. It was also awarded Best Production Design and Best Score later on, making it the second most decorated film by the end of the ceremony.
Exchanging her red carpet dress for a simpler look, Lady Gaga performed a stripped-down version of Best Original Song nominee "Hold My Hand" in honor of the late Tony Scott, the director of the first "Top Gun" film.
"We need a lot of love to walk through this life, and we all need a hero," Lady Gaga said. "Sometimes there's heroes all around us in unassuming places. But you might find that you can be your own hero – even if you feel broken inside."
Later on, Rihanna sang fellow Best Original Song Oscar nominee "Lift Me Up," which was originally dedicated to the late Chadwick Boseman. Afterward, past acting nominees Andrew Garfield and Florence Pugh presented Best Original Screenplay and Best Adapted Screenplay, nabbed by "Everything Everywhere All at Once" and "Women Talking," respectively.
History was made once again when "Naatu Naatu" from "RRR" won Best Original Song, marking India's first Academy Award win. Soon after, Lenny Kravitz performed his song "Calling All Angels," beginning the In Memoriam program. Honored in this year's tribute were Ray Liotta, Olivia Newton-John and Angela Lansbury, among others.
As the night came to a close, Brendan Fraser won his first Oscar for "The Whale" and expressed a newfound gratitude for his career in his acceptance speech. Michelle Yeoh then cemented her name in cinematic history as the first Asian-identifying woman to win Best Actress.
"This is a beacon of hope and possibilities," Yeoh said. "This is proof that … dreams do come true. And ladies, don't let anybody tell you you are ever past your prime. Never give up."
Continuing its sweep, "Everything Everywhere All at Once" won the top prize of Best Picture, which was the final award of the night. By the end of the ceremony, the film won seven of its 11 nominations: Best Actor in a Supporting Role, Best Actress in a Supporting Role, Best Editing, Best Original Screenplay, Best Director, Best Actress in a Leading Role and Best Picture.
All at once, the Academy Awards cast a beaming spotlight on historical wins.