Messaging app Zapshot brings a voice to daily communications for Generation Z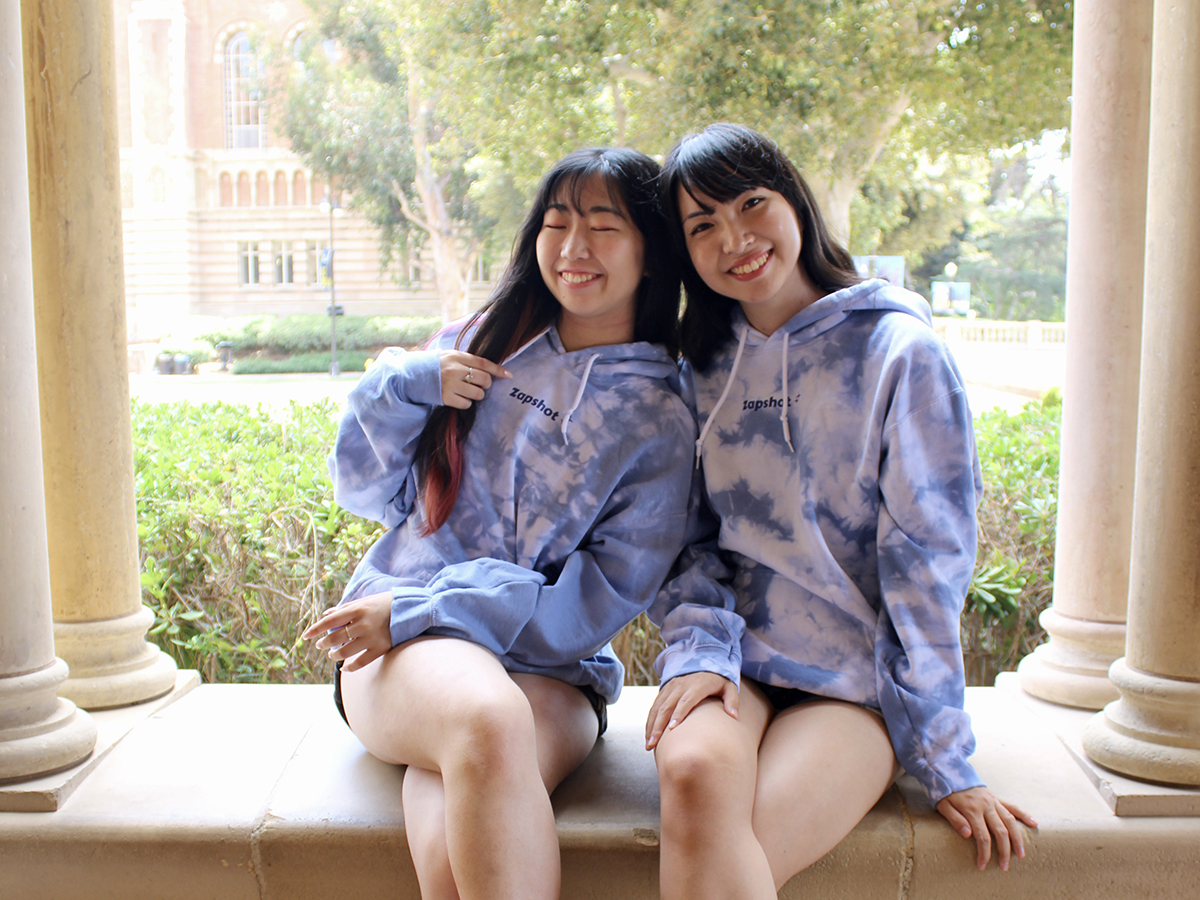 Two women wearing blue tie-dye Zapshot hoodies smile together. Ruka Nagashima (right), an alumnus, is the lead marketing intern for the new social media app, which uses voice messaging instead of traditional text chats. She said Zapshot aims to reach a Generation Z audience at UCLA. (Courtesy of Ruka Nagashima)
This post was updated Feb. 28 at 9:06 p.m.
A new app is zapping the gap between the internet and interpersonal communication.
Developed by Justin Liao, vice president of parent company Ph7, Zapshot aims to eliminate the time spent typing messages online, creating a way for a new generation of social media consumers to more efficiently and intimately communicate, Liao said. The app allows its users to quickly send a voice memo that its recipient will immediately hear as a push notification without having to unlock their device.
"The combination of 'zap' and 'shot' suggests something fast and spontaneous and exciting," Liao said. "(This) can attract young people, which is our target."
With Zapshot, Liao said social media users can enjoy more personal lines of communication without giving up the convenience of sending a text message. As users go about their day, Liao said he wants to enable them to share their happenings and emotions without the lag that comes from having to type them out on a keyboard or capture them all in a photo.
[Related: Student-run app Poppin aims to make UCLA party scene safer, more reliable]
Zapshot will send a vocal sentiment that doesn't prompt users to open a generic message notification like many of its counterparts do, Liao said. He said he believes users must experience being immersed in the app firsthand to grasp the benefit of incorporating voice communication in connecting with others via social media.
"From a young age, we learn to communicate with our parents or our peers with our voice," Liao said. "We use our voice to express a wide range of emotion and convey information and build connections with others, so we believe … audio-based social media is the future."
Before launching the app, the team workshopped many versions through trial and error, Liao said. Though his team initially played around with a more conventional chat app, Liao said they quickly became enthralled with the idea of playing with voice technology and turning that into a means of creating personal, productive push notifications.
The app's marketing team has long been based at UCLA's campus, Liao said. Currently, alumnus Ruka Nagashima serves as the marketing coordinator and is working to bring the app to the Westwood community. Nagashima said she researches the successes of leading social media apps and takes inspiration from their accomplishments. She said thinking outside the box is necessary to produce successful marketing strategies for the upcoming app, such as a recent collaboration with UCLA's First Thursdays events in Westwood Village.
Nagashima said she hopes to expand the app's presence at UCLA, effectively targeting a Generation Z audience. She said the app has already appeared at UCLA's First Thursdays in December and February, with plans to return in March. Nagashima said she took the initiative to communicate with the events' organizers, become an official partner and plan a giveaway campaign – all in hopes of encouraging UCLA students to try out the app despite its standing in a saturated market of internet communication.
"We're targeting high schoolers and college students, but hopefully it can be used by people of many ages," Nagashima said. "We hope that people can use it regularly while they're doing things, making their lives easier, and being able to communicate and connect easier through that."
[Related: Social connection app bLinkup launches UCLA ambassador team]
Joining Liao and Nagashima, iOS developer Mihai Svet said he finds the most interesting aspect of Zapshot to be the novel push notification system. Svet, who works to build and fine-tune the app for Apple platforms, said the entire team fosters a friendly, comfortable environment. Despite having encountered technical challenges along the way, he said the team remains a stable, united front.
Contributing to the team's environment, Liao said, the UCLA students and alumni he has worked with have proven to be creative, passionate and intelligent. He added that he looks at UCLA as the app's base camp, but is open to expanding to other campuses as the app gains traction. Embarking on this venture will always entail some uncertainty, but Liao said he is looking forward to a promising future and embraces the risk.
"You have to take risks," Liao said. "(We don't see) the miracle of life if we don't allow the risk."