Theater review: Tense family dynamics, secrets boil over in 'The First Deep Breath'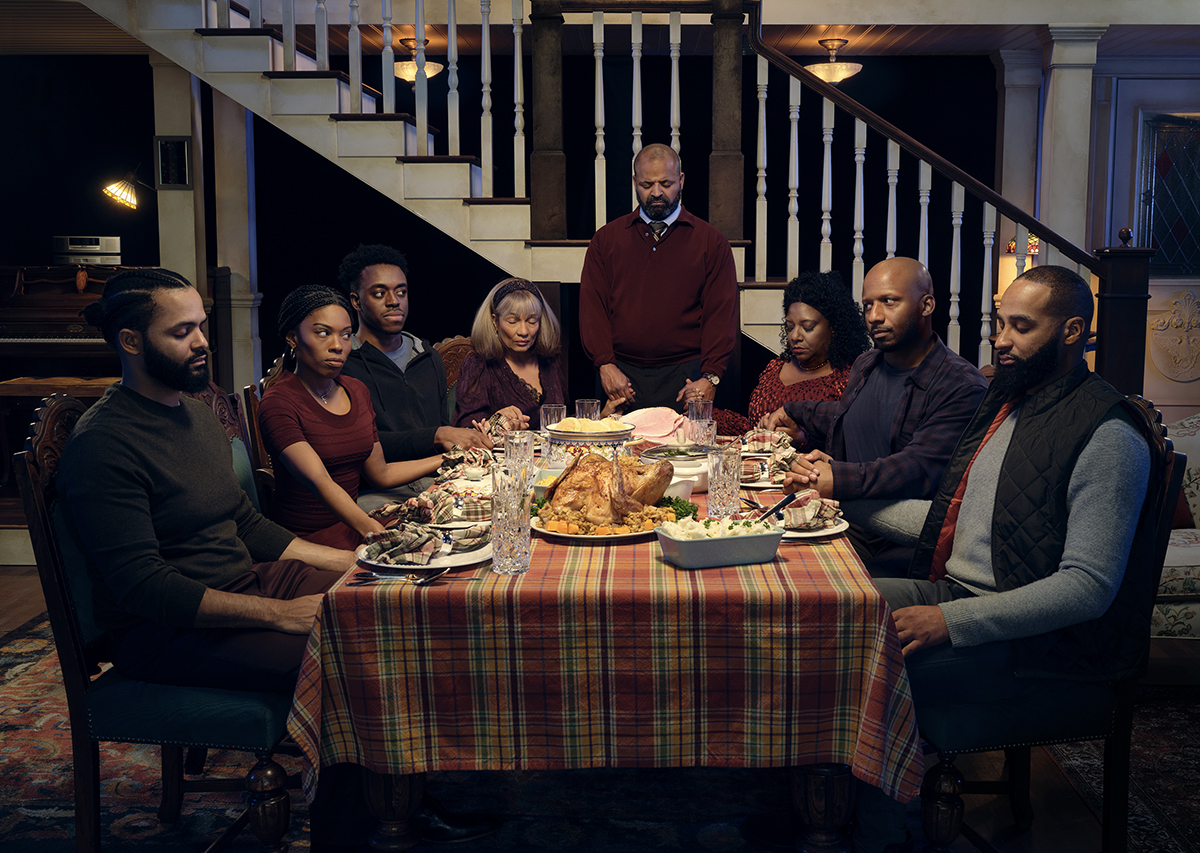 The cast of "The First Deep Breath" surrounds a dinner table. The play will run until March 5 at the Geffen Playhouse. (Courtesy of Justin Bettman)
"The First Deep Breath"
Feb. 1 - March 5 
Geffen Playhouse
$39 - 129
Correction: The original version of this article incorrectly referred to the character of Pastor Jones as Pastor James in a sentence.
This post was updated Feb. 22 at 6:25 p.m.
Warning: spoilers ahead.
"The First Deep Breath" is leaving audiences gasping for air.
Running at the Geffen Playhouse until March 5, Lee Edward Colston II's epic family drama sees a pyramid of world-shattering revelations happening at a blistering pace. Pastor Albert Melvin Jones III (Herb Newsome), the patriarch of the religious Jones family, is forced to welcome his firstborn son, Abdul-Malik (Lee Edward Colston II), back into their stifling home in Germantown, Philadelphia, after he returns from a six-year prison sentence for his conviction of a sexual crime that, unbeknownst to the family, he did not commit. Through its rich writing, the play reveals gripping messages of the age-old debate of good versus evil within the human psyche, as the family's polished character begins to give way to a boiling pot of pent-up anger and buried secrets.
The play opens with Pastor Jones delivering an incredibly incandescent sermon in which he continually refers to his late daughter Diane. Right away, audiences are taken aback by the breadth of Newsome's emotional intensity and hair-raising vocal power as he speaks about his newly conceived ploy of transforming Mother Bethel Baptist Church into a megachurch in his beloved small town. While this undertaking initially sounds positive, the characters quickly begin to crumble under the lasting effects of Diane's death, individual identity crises and a multitude of skeletons in their family's closet – effectively wreaking havoc on the whole endeavor.
[Related: Theater review: 'Man of God' utilizes realism to shed light on sexual assault]
Upon Abdul-Malik's return to the family's home, the shifted dynamic ushers in an astonishingly suffocating tension through strained interactions with his angry family members, squeezing all sides of their deep-rooted familial issues and twisted history. For instance, his brother AJ (Opa Adeyemo) has been secretly exploring his creative passion, while Abdul-Malik has submerged the truth surrounding his relationship with the Jones' family friend, Tyree Fisher (Keith A. Wallace), in hopes of appeasing their scathing father.
Alongside them, Candace Thomas gives an incredibly poignant performance as Pastor Jones' daughter Dee-Dee, during which she silently grapples with the devastation of losing her identical twin sister to alcohol abuse. All the while, Deanna Reed-Foster's tactical, devastating breakdown portrays the crushing hardship of Aunt Pearl, who lives a thankless, completely unfulfilled life as a caretaker and mother figure to an immediate family that's not even her own. The biological mother of the three children, Ruth Jones (Ella Joyce), suffers from early-onset Alzheimer's disease and has almost wholly lost touch with the reality of the household – an unfortunate fate that sends the Jones family's stress levels through the roof thanks to her tremendously labored performance.
The scenic design – a layout of the family's classic Germantown home – upholds the image of a multigenerational home through its antique-looking woodwork and vintagelike upholstery. The careful set design both physically and emotionally traps audiences in the quarters of this toxic family but not without nimbly capitalizing on the opportunity for dramatic flair. For example, act one ends right as Dee-Dee discovers Abdul-Malik's secret identity, propelling him to chase after her. Unfortunately for him, his frantic sprint results in an epic face-plant as Dee-Dee slips out the front door and the lights go black.
The end of act two, similar to the end of act one, capitalizes on the dramatic tension, as Ruth spirals into a full-blown tirade at the Thanksgiving dinner table and ultimately divulges AJ's closeted creative ambitions and Dee-Dee's pregnancy out of wedlock. As pandemonium ensues, it is revealed that Ruth's high-and-mighty husband Pastor Jones had scandalously disobeyed the holy word himself with the help of her sister – a grand culmination only possible through wickedly pointed writing.
Further asserting his literary prowess, Colston's inclusion of canny extended metaphors and captivating melodramatic monologues heightens the enthrallment with the piece. On top of that, he makes room for comic relief with bits such as Aunt Pearl dancing quite provocatively as "F.N.F. (Let's Go)" by Hitkidd and GloRilla plays aloud.
[Related: Theater review: 'Power of Sail' at Geffen Playhouse deftly conveys harmful effects of ignorance]
While the play holds a beautiful collection of brilliant detail, it wasn't quite worth the cost of the almost four-hour runtime. No matter how invigorating the final product is, spending all that time in the name of experiencing the play may not be a feasible undertaking when the lack of exciting conflict in act one definitely causes it to drag at points.
However, there is much to be said about the honest, evocative portrayal of the detriment of trapping a human psyche and waiting for it to boil over. Comparing parenting to a cooking skill set, Colston reveals that Pastor Jones likely thought he was doing good by his children, only to discover the germs covering the pans and rotten ingredients. "The First Deep Breath" is a riveting exploration of the duality of good versus evil, demonstrating all the ways in which human intention is a labyrinthine mix of both.
Upon entering the Jones' home, viewers will need to take a deep breath before committing themselves to its distressing, addictive immersion.