Reika Goto offers custom jewelry, embroidery through her business Laurei Designs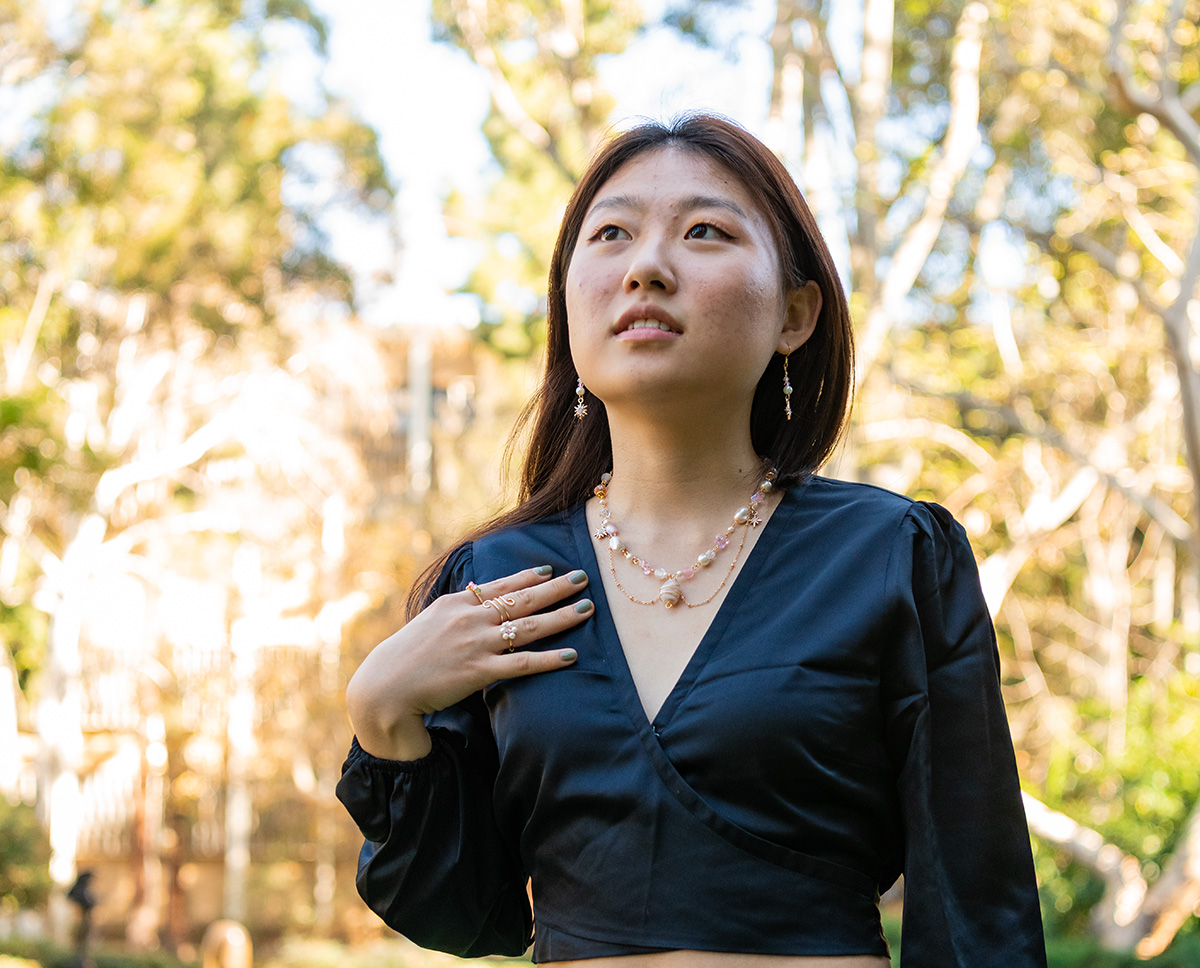 Reika Goto shows off her beaded jewelry. The second-year communication and psychology student runs an online business called Laurei Designs where she sells beaded products, including necklaces, rings and earrings. (Ethan Manafi/Daily Bruin staff)
This post was updated Feb. 14 at 8:39 p.m.
With each bead and thread, Reika Goto is crafting both the ethereal and the whimsical.
The second-year communication and psychology student is the owner of Laurei Designs, a small business that sells handmade jewelry and customized embroidery pieces. Goto said she began crafting avidly during the pandemic, eventually making a TikTok to showcase her work. After Goto was asked several times if she was selling her pieces, she said she made her Etsy account in February 2021.
"Being able to be a part of people's life stories and where my art can merge with that is just really fulfilling," Goto said. "That's something I really, really cherish as a small-business owner."
Most of the products sold on Laurei Designs have a dainty and elegant aesthetic, Goto said. When looking for inspiration, she said she usually turns to color palettes on Pinterest. Second-year human biology and society student Sydney Singal, who is Goto's roommate, said Goto's pieces are also inspired by classical art and popular media. Two examples include a pair of earrings based on the painting "Venus on the Waves" and a collection of rings inspired by the Hogwarts houses from the "Harry Potter" series, Singal said.
[Related: UCLA student sells custom art through small businesses Onsen Soup, Slow Bump]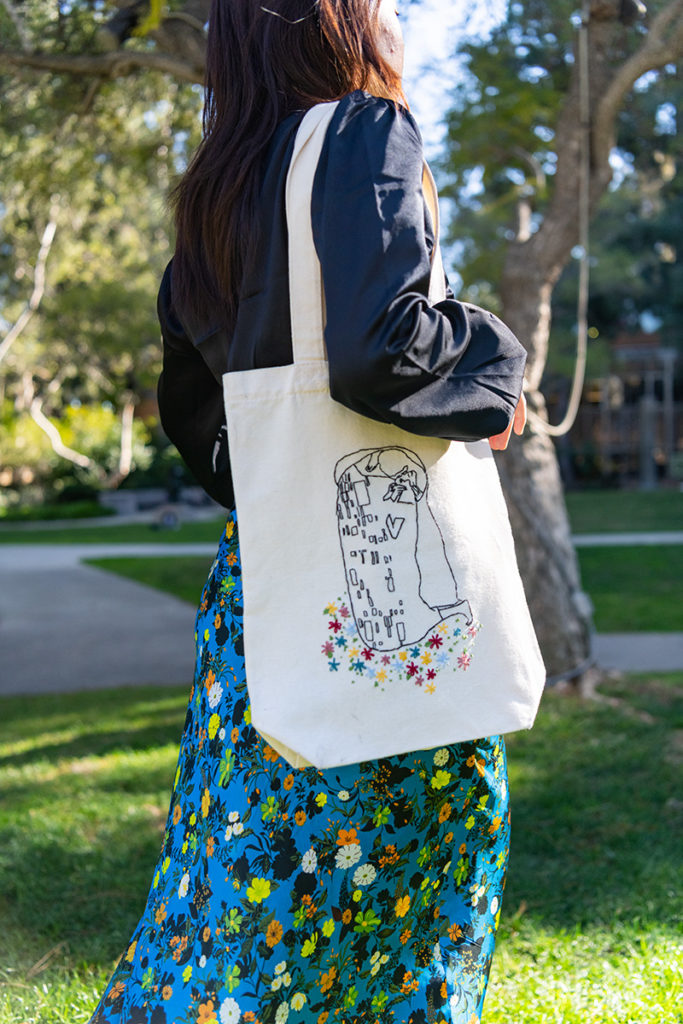 Furthermore, Goto said she continuously applies her coursework to her design process. For example, she said she still employs relevant material, such as the relationship between color and perception from a high school psychology course, when choosing backdrops or fonts to advertise her pieces. In addition, Goto took a computer-mediated communication course in the fall, where she could relate to some of the readings as a small-business owner, she said.
"There's definitely both psychology and communication relevant in what I do, and I feel like it can be seen in a lot of my details," Goto said. "I'm conscious about what kinds of words I use as well. That channel of communication is definitely important."
Once Goto conceptualizes an idea for a jewelry piece, she said she looks for other materials she already has before drawing out the design on paper, lining it up with the beads and stringing them through. To make the whole purchasing experience memorable – from ordering a piece to finally receiving it – she said she includes a handwritten note, a "Thank You" discount, candy and stickers in all of her packages.
Out of all the products from Laurei Designs, Goto said the most popular one is the dainty pearl ring. Made with a simple gold band and three pearls at the center, the ring has been shipped to different states across the country, including Florida and Maryland, she said. While the dainty pearl ring is the most purchased product, Goto said her favorite items to make are embroidered tote bags because the time-consuming process grants her an elevated sense of fulfillment.
Moreover, Goto said she loves hearing the story behind each order. Stella Huang, a second-year computational and systems biology student and Goto's friend, said she remembered Goto being excited to make a customized engagement ring for a couple. Additionally, Huang admires Goto for balancing her personal style with the customizations she receives, she said.
"Something that really drew me to Reika's designs is just how delicate and fairylike they are," Huang said. "They added kind of an elevation to my outfits and kind of an elevation, by extension, to my confidence."
[Related: Pulseritas by Kayla ties in Mexican culture through stylish jewelry]
As for the challenges Goto has faced while growing her small business, she said dealing with customer service online can be frustrating, especially because of shipping to different states. Although she acknowledged seeing customers in person would be easier, Goto said she is still grateful that people nationwide are ordering her products.
In the future, Goto said she hopes to expand on the selection she already has and possibly shift from platforms such as Etsy to either Depop, Shopify or her own website. Doing so would give her more creative freedom, she said. Goto is also considering posting tutorial videos of her crafting her creations and showing her face more to build trust with customers, she said. However, Goto said she is very much content with how Laurei Designs is going right now.
"It's honestly not for the money for me," Goto said. "I'm just glad that I can share my pieces and see people around enjoying my designs."