Pulseritas by Kayla ties in Mexican culture through stylish jewelry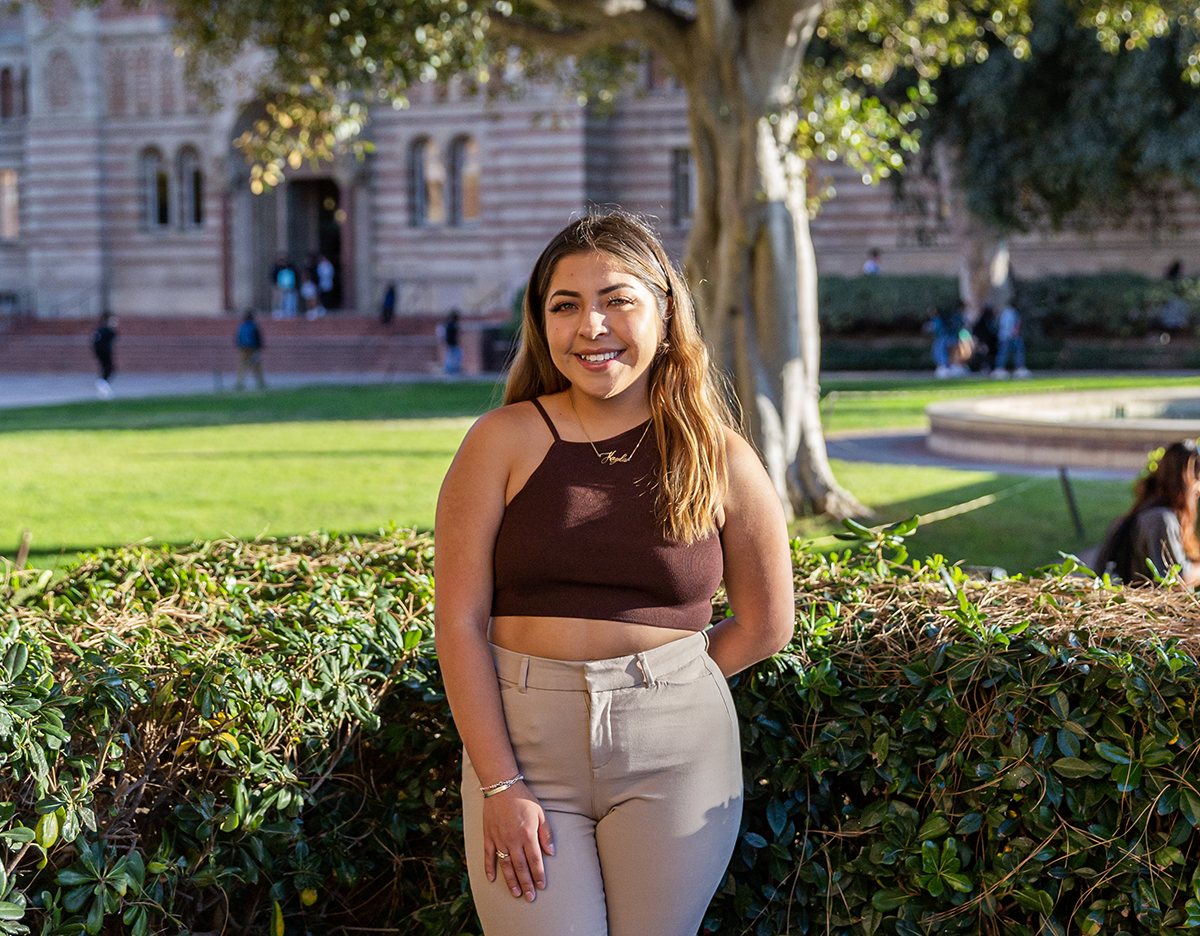 Kayla Murillo stands and smiles under a tree. The second-year sociology student runs Pulseritas by Kayla, a small business that sells bracelets. (Jenny Xu/Daily Bruin)
This post was updated Nov. 30 at 8:44 p.m.
Kayla Murillo is stringing culture and business together.
The second-year sociology student said she uses her business, Pulseritas by Kayla, as an opportunity to connect with her customers and her Mexican heritage by crafting handmade jewelry. Through Instagram and her newly established website, Murillo sells handmade bracelets made from small, colorful beads along with spiritual pendants. Murillo said she started the business in March to connect with her culture and customers through a shared love for quality jewelry.
"A part of the Hispanic culture and being Mexican is … accustomed to wearing jewelry since you're a baby," Murillo said. "So, I've always worn earrings and escaladas, which are bracelets with your name on them, (and) religious jewelry like necklaces and stuff like that. I've always loved jewelry, and it's something that connects my culture."
Despite growing up always wearing jewelry, Murillo said she was never able to find pieces that she thought fit her perfectly. She started making her own jewelry to fulfill all of her stylistic desires, and people started to ask where her bracelets came from. From there, she realized she could make a business out of it. She was happy that it was something that could help her easily stay connected with her culture, she said.
When she first started her business, Murillo said she was more reserved and did not consistently promote her products. However, she said that in July, she decided to devote her efforts to growing her business. She worked to rebrand her business by creating a new logo, restyling her Instagram aesthetic and launching a website, Murillo said.
[Related: Student repurposes items to craft distinctive designs in business Pearly Rights]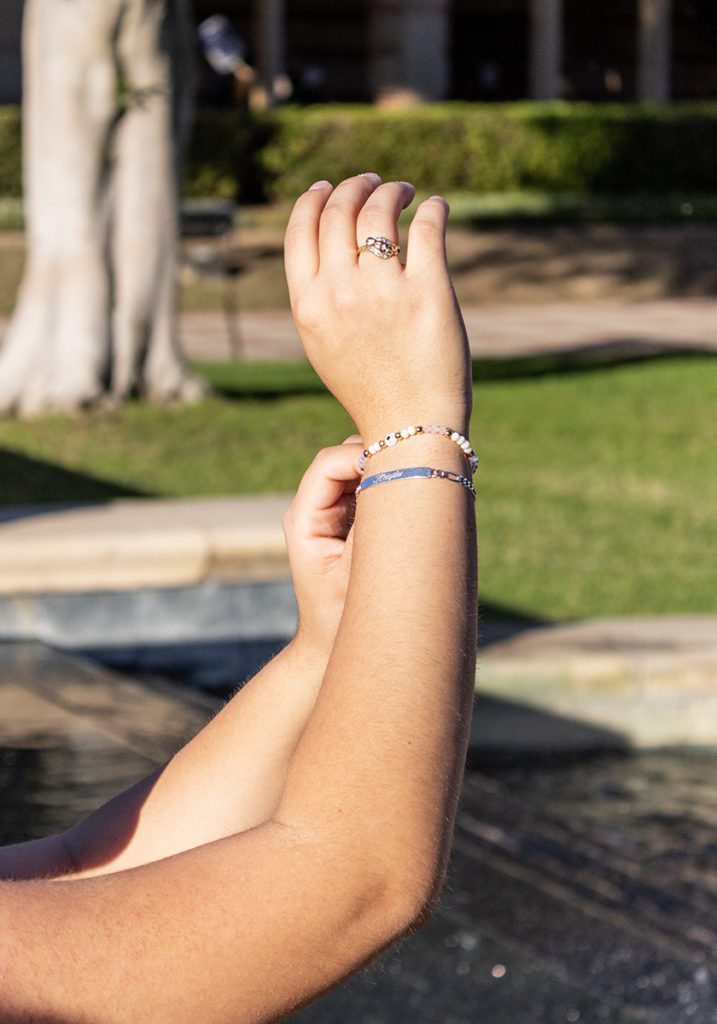 Murillo's friend, second-year biochemistry student Savannah Tran, said Murillo focuses a lot of her time and energy on her social media and online presence, specifically the professional look of her website and content creation on TikTok and Instagram Reels to promote her brand. Another of Murillo's friends, second-year undeclared life sciences student Kaitlyn Medvec, said Murillo integrates her personal values into her business's overall image and aesthetic by including posts with motivational quotes along with bright colors and a clean look.
Additionally, Murillo said she likes how her Instagram and website allow for a more efficient and professional experience for her customers. The website was originally an idea to expand the business. However, she said she sometimes misses having personal connections with her customers. She said it was easier to engage with customers through her Instagram sales using direct messages, but now, most of the connecting is done through the actual jewelry.
"My whole thing is handmade with love," Murillo said. "When I do get an order, I feel like I'm connecting to them (the customers) through the jewelry because I am making their order specifically to them."
Pulseritas by Kayla has provided Murillo with business experience, Tran said. Specifically, Tran said she saw Murillo become significantly more organized after starting her business, as she meticulously plans out her weekly and monthly schedules, using whiteboards to plan when she will buy materials and make bracelets. Tran said she has seen Murillo grow overall in her creativity, responsibility and organization.
"Everything she does is all on her own," Tran said. "She's the one talking one-on-one to her customers. She picks up every single bead for every single bracelet – she makes them all. She puts so much thought and care and love into her business, and it's such a great representation of who she is as a person."
[Related: UCLA student crafts jewelry business Venitulz to sell handmade pieces]
Murillo said an important part of Pulseritas by Kayla is sharing spiritual jewelry with her customers. She said she sells three types of spiritual jewelry: healing gems, Evil Eye pieces and religious pendants. Murillo said she likes that everything she sells has a deeper meaning behind it. This presents another opportunity for her business to connect her with her Hispanic heritage, Murillo said. For example, the religious pendants she uses originate in Mexico, while Evil Eye pieces are popular in most Latin American countries, Murillo said.
Since beginning her business, Murillo said she has enjoyed connecting with her customers and her culture. While she does not know exactly where she will take her passion for her culture and jewelry making, Murillo said she wants to continue working on her business to improve her customers' experiences.
"I want my business to be more professional and have a bigger picture, but I still want to tie in my values and my culture," Murillo said. "I'm just glad that I'm able to grow my business but at the same time keep those values."