UCLA student sells custom art through small businesses Onsen Soup, Slow Bump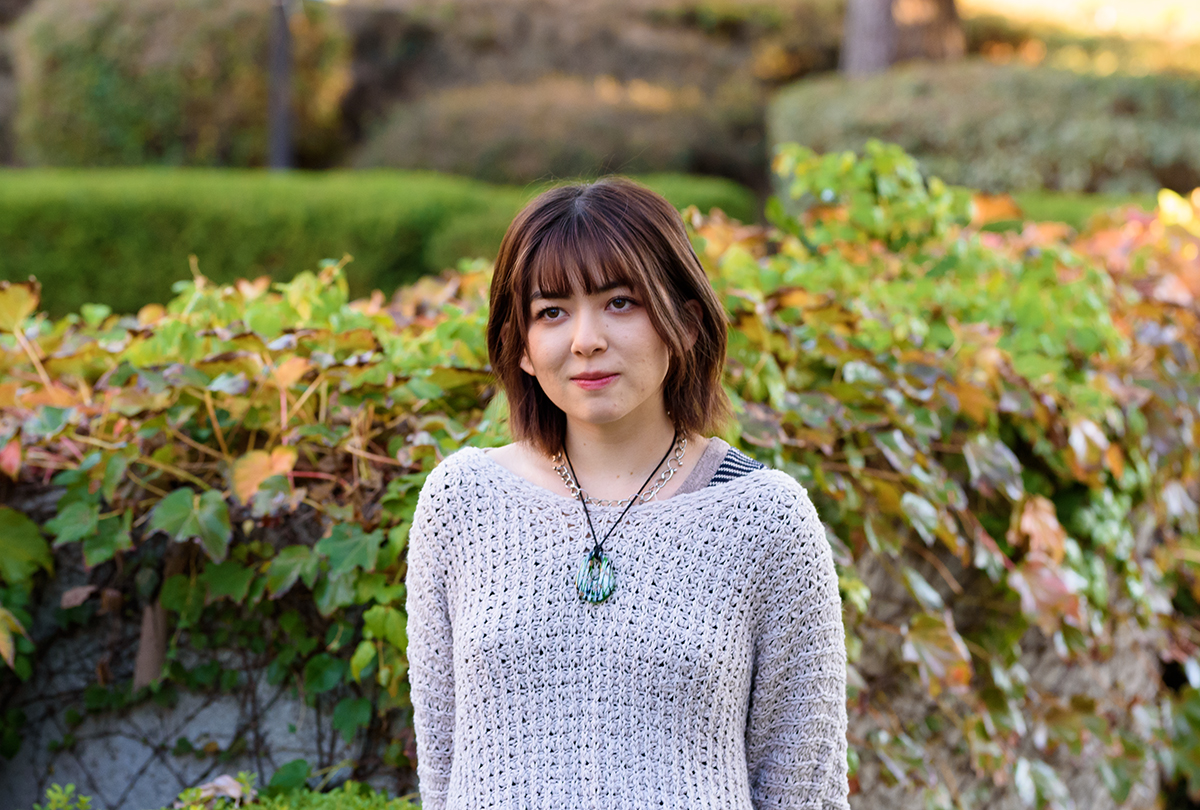 Wearing a necklace with a turquoise pendant, Mona Moshfegh stands in front of greenery. The fourth-year student runs two small businesses, Onsen Soup and Slow Bump, on Instagram. (Evangeline Bodhuri/Daily Bruin)
This post was updated Nov. 30 at 8:47 p.m.
Mona Moshfegh is taking things slow with her new small business.
The fourth-year Japanese language and culture and psychobiology student is the artist behind two small businesses, Onsen Soup and Slow Bump. She said she started the former after the start of the pandemic to sell hand-painted anime phone cases because she enjoyed recreating a case she saw on TikTok. After over a year of painting cases, she said she wanted to try jewelry-making, something she had seen others in the phone case art community do.
"The phone case community is like internet friends," Moshfegh said. "We just hype each other up a lot. It's just full of so much positivity and … small businesses have their own struggles that they all understand as well."
She began creating jewelry in March and said she developed Slow Bump as its own separate brand when she returned to the activity in September. Aside from motivating her to make jewelry, Moshfegh said her pursuit of art for stress relief and enjoyment is also part of the reason she does not accept repeat commissions for her phone case business, preferring to work on a variety of new designs.
Onsen Soup orders are almost exclusively commissions, which Moshfegh said ensures that she can spend her time painting designs on the correct case for each customer's phone model. Each phone case, she said, takes her anywhere between an hour and a half to four hours, and her pricing factors in the level of detail as well as the numbers of characters and colors. On the other hand, she said her jewelry is priced lower because she wants to keep things affordable as she builds a customer base.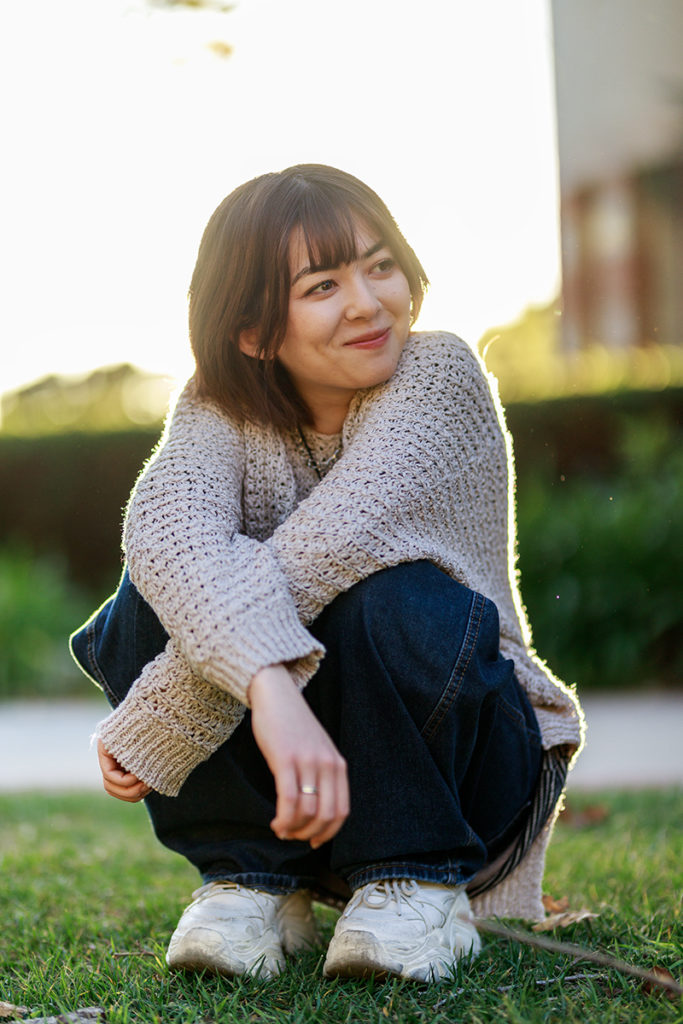 When it comes to the designs for Slow Bump, Moshfegh said she likes to create jewelry inspired by anime characters in addition to taking custom orders. She created a Vivienne Westwood-inspired necklace worn by the character Shinichi Okazaki from the manga series Nana by surrounding a bead with rings of wire, she said. Moshfegh said she also draws inspiration from the color schemes of paintings and scenery, such as when she used leafy beads to create the tone and appearance of a rose garden.
[Related: UCLA students strings beads with business network through jewelry shop]
"I make it really open. They (My customers) can give me inspiration from all kinds of things," Moshfegh said. "They can just give me a line of emojis, … or they can send me a Pinterest board of all kinds of pictures, or … the atmosphere they want me to base it off of."
Moshfegh's friend and UCLA alumnus Brittney Prusty said Moshfegh is able to incorporate other people's suggestions and energies into her jewelry design in unexpected ways, such as creating a necklace that matches Prusty's outgoing personality. Prusty said the necklace has a cohesive red, white and pink color scheme with mushroom and heart beads. Prusty said by running Onsen Soup and Slow Bump, Moshfegh has been able to make time to do the art she loves, which has helped her become more joyful and relaxed.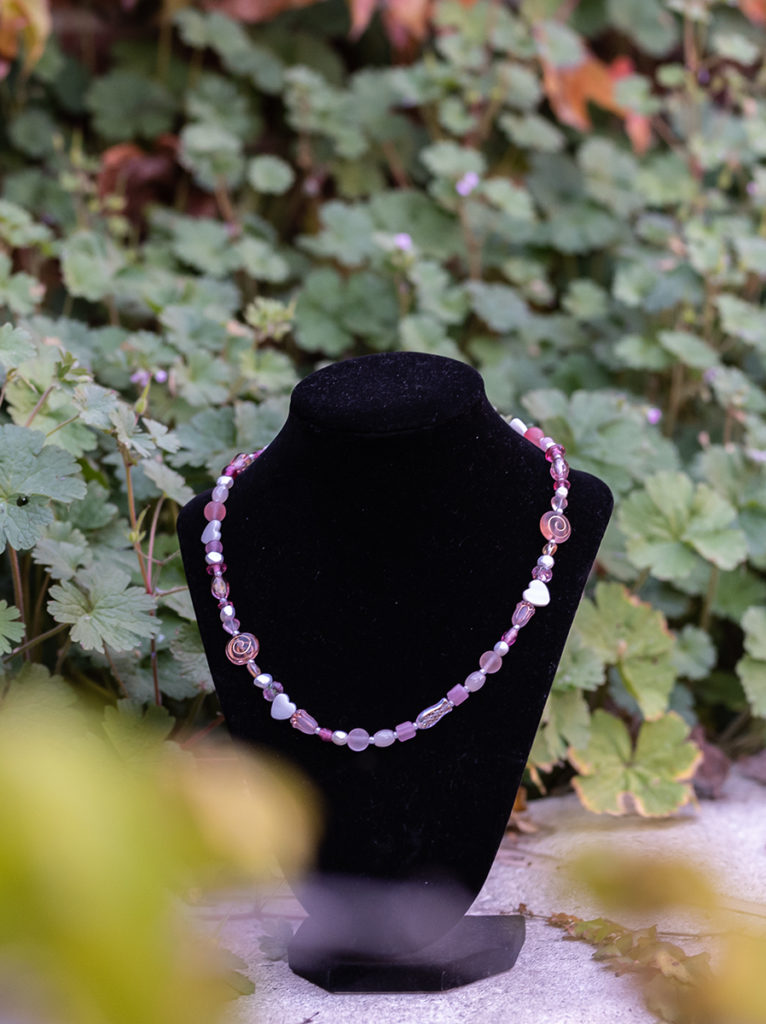 Angela Dugan, an alumnus and friend of Moshfegh, said they would often talk about art, but she did not know about Onsen Soup until her fourth year when she received a follow request from the account. Dugan said she was one of Moshfegh's first customers when she initially started selling jewelry on Etsy. Seeing Moshfegh take on this new art form resonated with Dugan because she loves Moshfegh's personal style. Dugan said she is inspired by Moshfegh's immersive posts, which are created by taking cutouts of her jewelry and layering them over an image that matches the tone.
[Related: Student-developed social media platform Cobble supports creative collaboration]
Recently, Moshfegh attended a small business art fair hosted by Cobble, a UCLA student organization, and said she enjoyed selling there because it was her first time having a physical booth. She said it was interesting to see what pieces customers were drawn to and had fun prepping for the fair by creating individualized, handwritten tags for her products. Going forward, she hopes to keep selling at art fairs or farmers' markets. She said that doing art, in whatever form, will likely continue to be a side hustle for her.
"I get really bored of stuff easily," Moshfegh said. "That's why I think if I had a regular job and then did these art stuff on the side, … (it's) a really nice balance for me. In the future, I see myself continuing this way."