Student-led showcase 'Metamorphosis' explores transformation, interpretation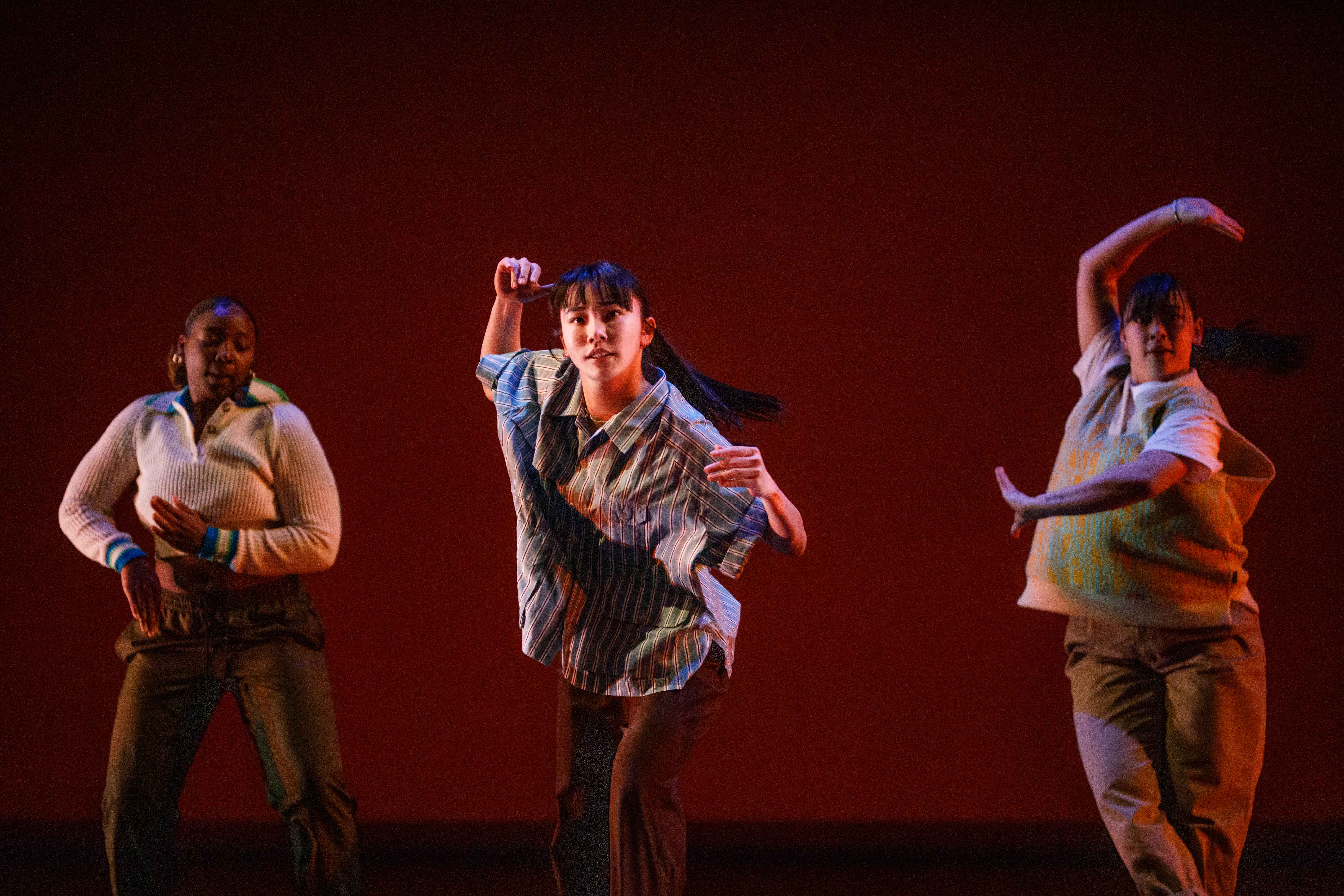 From left to right fourth-year dance and anthropology student Cheyenne Dixon, fourth-year dance student Amane Hirano and first-year dance student Maddie Skowronek move in different positions in a rehearsal for this year's WACsmash. (Grace Wilson/Daily Bruin)
"WACsmash 2023: "Metamorphosis""
Kaufman Hall
Feb. 3 to Feb. 4
WACsmash 2023 is undergoing a metamorphosis on both a personal and global scale.
An amalgamation of visual, performance and interactive art elements, this year's student-led WACsmash, "Metamorphosis," will be presented live in Kaufman Hall on Friday and Saturday, supplemented by a quarter-long gallery. Acting as one of the producers and creators of the event, fourth-year dance and psychology student Sophie Fouladi said the showcase's theme serves as an ode to each contributor's transformation during their time at UCLA.
"We were really excited to see where the creators would take the theme because we thought it was something that was broad enough to encapsulate a feeling, but also specific enough that the creators could take it and run with it in whatever direction they wanted," Fouladi said.
In line with the social justice core of last year's performance, "To Whom it May Concern," she said the event aims to provide students with a platform to interpret the theme and express their personal evolutions alongside greater manifestations of change through art. Fouladi added that they aspired to cultivate a seamless connection between the audience and the performer by incorporating interactive components in the show to have the most impact.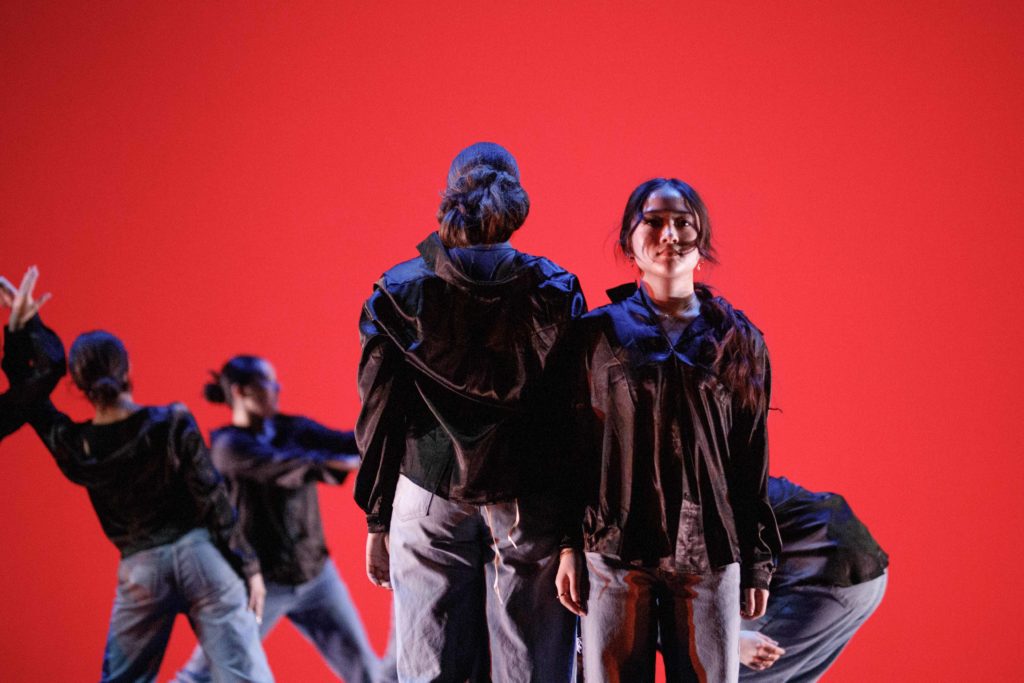 [Related: Student-led event 'To Whom It May Concern' embraces social justice through art]
Titled "Azadi," meaning "freedom" in Farsi, Fouladi said her project is a multimedia art experience that hopes to magnify the voices of Iranian creators amid the current revolution – a historical metamorphosis. Given that narrative storytelling and art are key aspects of Persian-Iranian culture, she said she explored this multimedia piece via a collage of Iranian poems, letters, paintings and music, alongside a dance film showcase.
As an Iranian American herself, Fouladi said the inclusion of oppressed Iranian creators in the project was important to her because she wanted to bring their muted protests to a larger platform. To achieve this, she said she included interactive social media curations of their art expressions, several of which are deemed illegal in Iran.
Utilizing film and photography, second-year dance and education and social transformation student Simon Chernow said his project "Cycles" explores the role of ancestors in the formulation of our identities. In his interpretation of metamorphosis, Chernow employed the visual imagery of bicycles in motion, which he said seeks to represent the unstoppable wheel of inheritance and familial change.
The project consists of photographed stills, video footage shot on a Super 8 camera and a song written by second-year undeclared student Bishop Freeman – all demonstrating the magnitude of ancestral cycles, Chernow said. When describing a photo that depicts a bicycle hanging from a basketball hoop with its wheels in motion, he said it conveys the almost invisible yet crucial force of family in the actions of an individual.
"We always carry part of our family with us, even if we can't tell. And there's some things that can't even be seen, or mathematically figured out or genetically figured out, but are in our essence, and in our character and in our development," Chernow said.
Fourth-year world arts and culture student Brianna Spiker Ruiz said she has created an immersive experience that highlights the cruciality of art education and the post-pandemic change in this field. The first of its kind at WACsmash, Ruiz said her project "Creat(e)ion Myth" combines an interactive segment with a dance act choreographed by Ava Boehm, a fourth-year student double majoring in sociology and a self-designed curriculum entitled Language and Power. Opening with a pot-making seminar, Ruiz said this interactive component mimics the evolution of art, with the transforming clay symbolizing a tangible metamorphosis.
"Coming out of the pandemic, people (are) trying to learn how to interact with one another and just come together as a people," Ruiz said. "I think we're realizing that the arts (are) important."
Ruiz said the dance piece intends to depict the relationship between performing and teaching, blending poetry recitation with the choreography. She said it references Proposition 28 of last year, which advocates for funding arts and music education in California's public schools. Drawing inspiration from Bessel Van Der Kolk's book, "The Body Keeps the Score," she said she hopes this experience helps audience members fully feel the meditative moment and reconnect with themselves and their bodies.
Since the annual event is to be presented in a post-pandemic world, the show also includes a virtual screening to accommodate audiences at home, Fouladi said. However, she added that she is excited to seize the physical stage once more and create an event alongside the family-like group of artists.
[Related: Student-run WACsmash event brings dance, art into digital space]
Emphasizing the beauty in interpretation, Chernow said the very purpose of art is to spark a feeling in an onlooker and allow them to question their struggles and identities. Over the past few years, Fouladi said the world itself has metamorphosed, and she is eager to see the audience connect with the work this community has created and internalize its message.
"We're hoping that these themes of transformation will really resonate with the audience members and provide them with a moment of reflection," Fouladi said. "That's ultimately the goal of what we're doing. … I hope that (people) walk away feeling like they were part of this communal reflecting sort of experience."