Mae Noland paints whimsical creations to contrast a technological world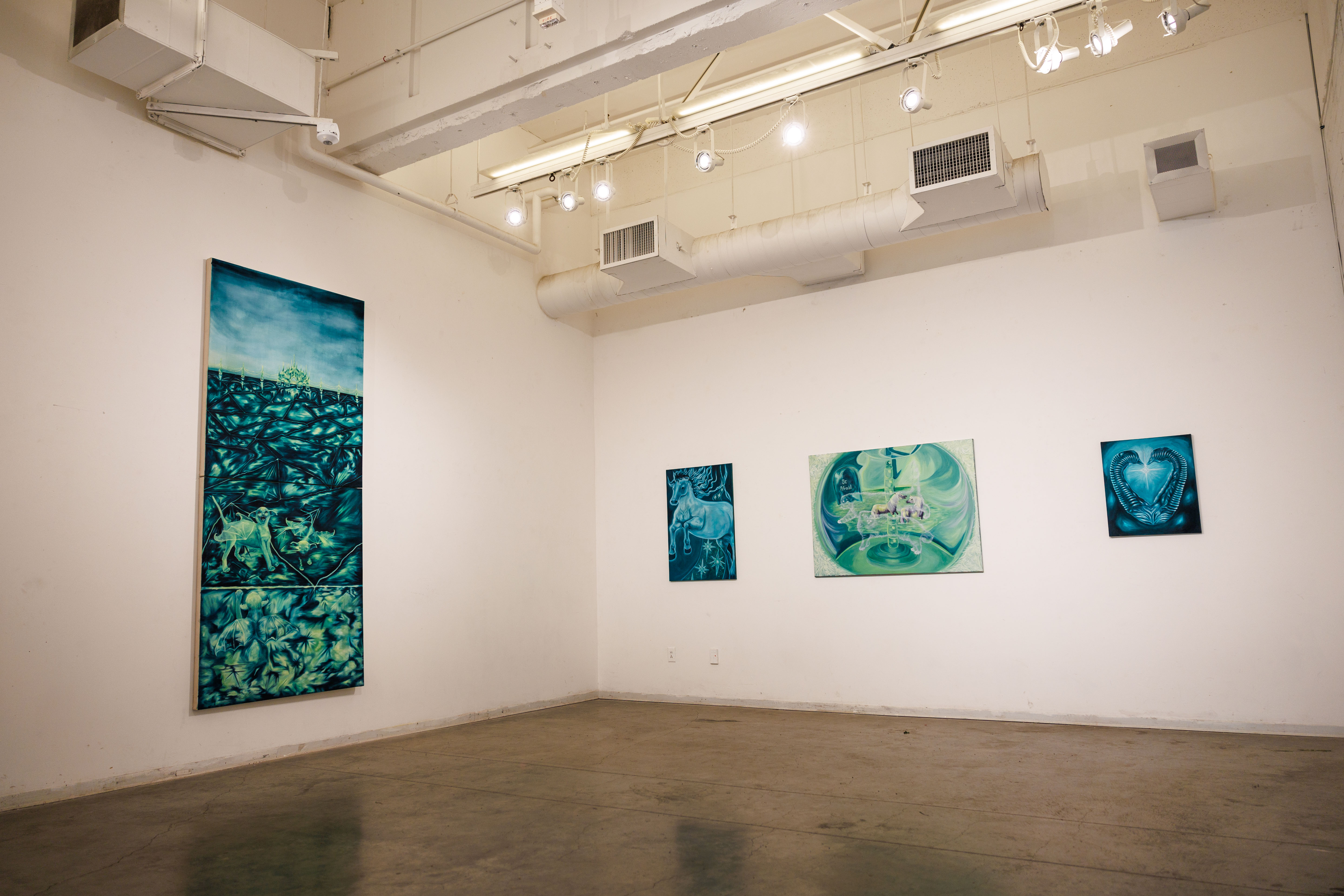 Four paintings filled with varying blue and green hues are displayed in a gallery. The works by fourth-year art student Mae Noland will be on display in the UCLA Little Gallery until Jan. 22. (Anika Chakrabarti/Photo editor)
This post was updated Jan. 22 at 8:31 p.m.
Mae Noland's mystical, monochromatic paintings mesmerize.
The fourth-year art student creates whimsical works that utilize nature and creatures as the main inspirations to contrast society's constant use of technology. As computers and the internet are more consistent in people's lives, Noland said she seeks to counteract this prevalence with imaginative works centered on nature and creatures.
"I find that kind of scary, and I've noticed it a lot more in other people too and even in other generations. We're getting more and more laced," Noland said. "A lot of my works deal with that feeling. It's almost fear."
A core theme of Noland's works is containment, she said. For instance, Noland said to symbolize the way in which people become engulfed in their phones, she depicts creatures in containers, such as in "Fallen Soldiers," which depicts cat-gargoyle creatures frozen and trapped under ice. Noland said the creatures represent the innocence and naivete of being unaware of looming consequences.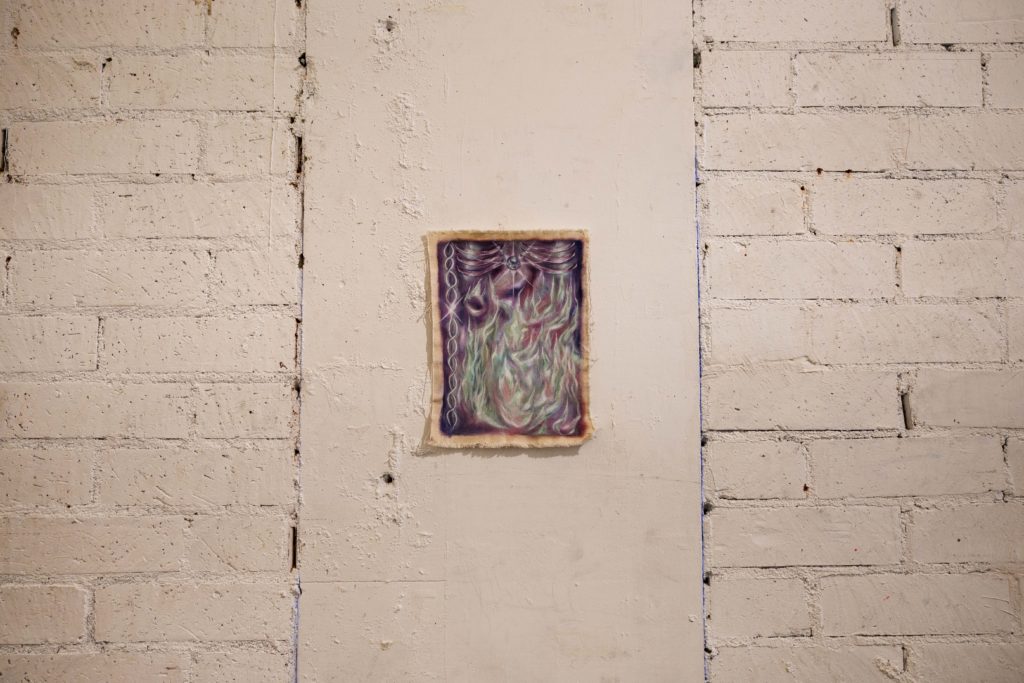 [Related: Maker's Medium: Art student explores precision, permanence through printmaking]
Regarding her style, Noland said her pieces are inviting through their whimsical nature but also aim to leave viewers with unanswered questions because of their more obscure, odd qualities. Aesthetically, she said she uses varying shades of the same color in order to achieve a glow effect in her works. She has also recently gravitated toward blues and greens, as they have a mystical quality, she said.
At the moment, Noland said her favorite painting is called "He's In There." It depicts a cat inside of a star and trapped and pressed up against glass. She said the painting was a pivotal point in her artistic journey, as she became aware of her artistic path of dealing with themes, such as containment, as well as the direction of her future work.
In addition to her cat, Noland said her artistic inspirations are a combination of reality and fantasy by way of her experiences and imagination. For example, when she was younger, she used to draw fairies, as escapism has always been part of her art, she said. As she has evolved as an artist, Noland said she now aims to merge whimsical elements such as mystical creatures and themes, with elements of reality and modernity, such as technology.
"I also like anything that I feel is fantastical," Noland said. "I really like being able to create something that's mystical or something otherworldly. That really gets me excited about painting."
Fourth-year art student Jacob Fenton said Noland's personal aesthetics and interests influence the fantasy in her paintings. For example, he said her pieces "A Horse Named Disappeareth" and "Fallen Soldiers" are inviting to viewers and remind him of an ideal dream. Fenton also added that although she uses dark colors, her pieces still maintain an optimistic and moving mood through her blending and use of texture.
"The environments and perspective that she presents as environments is very unique," Fenton said. "It has a world of its own that feels particular to Mae and her imagination. That mostly comes through the perspective and a lot of her paintings. It seems that it's both scenic and aerial and doing a lot of things at once. That's different."
[Related: Henry Baldwin finds fulfillment in creating patterned, multi-material paintings]
Additionally, fourth-year art student Karina Remer said Noland's work is surreal and ephemeral, particularly through its frequent inclusion of mystic and mysterious enclosed figures. Noland's character traits of being meticulous, thorough and caring are visible in her art, she said. In addition to the empathy with which she treats her paintings' central characters, Remer said she also sees humor in Noland's paintings, as she occasionally references memes in some of her work, allowing her comedic personality to shine through.
Several of Noland's paintings are currently on display at the UCLA Little Gallery in the Broad Art Center in a showcase titled "If Only He Could Speak." The ode to Noland's cat and her affection toward him opened Thursday and will be open throughout the weekend. For Noland, painting allows her to reflect her internal world on a canvas, and she hopes the characters and worlds found in her works can be immersive for others as well. Exploring her train of thought through painting is therapeutic, Noland said. Art can also help her process information and experiences and can serve as a conductor for thinking, she said.
"Being able to put what I am thinking about on a canvas and being able to share that is really important," Noland said. "I love being able to think of something and then to be along for the ride of the evolving result of a work. My silly little pictures is everything to me right now."