Henry Baldwin finds fulfillment in creating patterned, multi-material paintings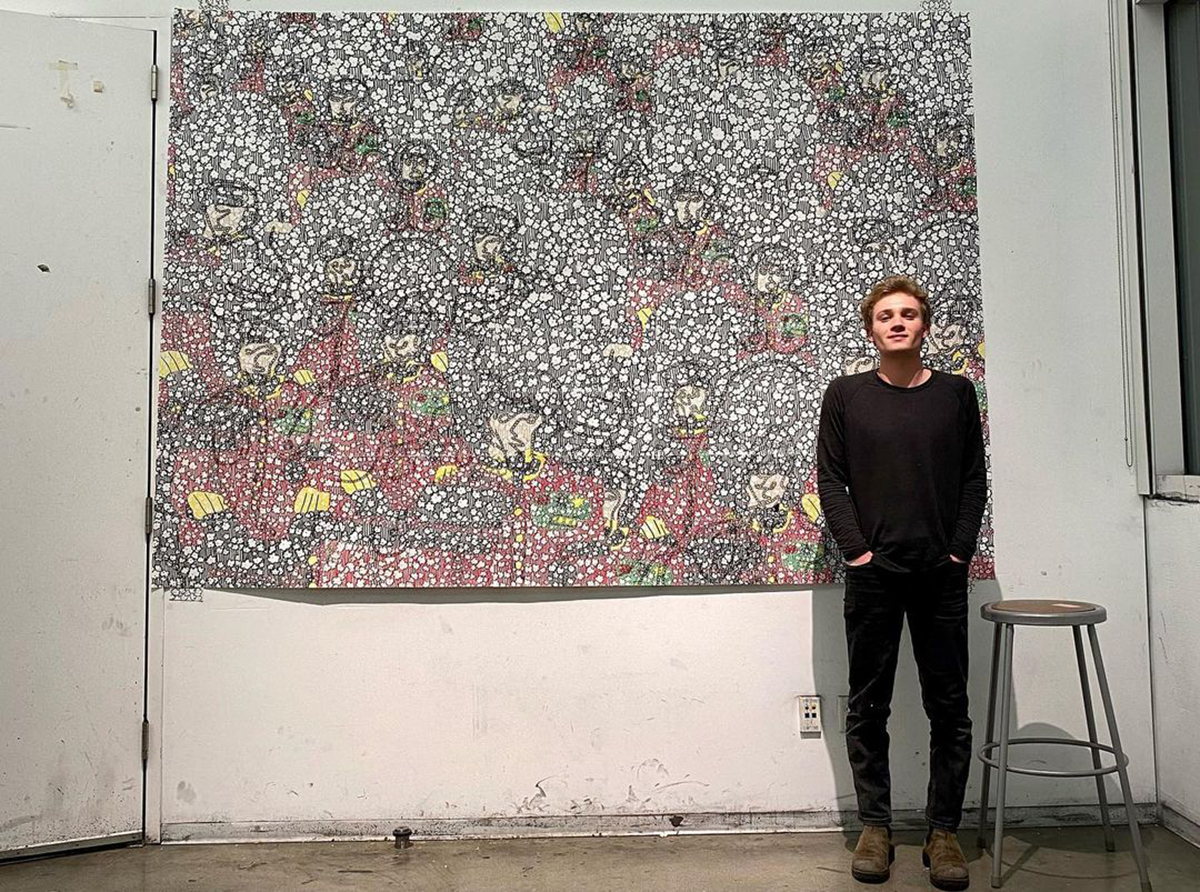 Henry Baldwin stands in front of his 77-by-110-inch work, "The Queen's Guard." The rising second-year art student said he has found creative fulfillment through large-scale and multi-medium patterned pieces. (Courtesy of Henry Baldwin)
This post was updated Sept. 29 at 8:37 p.m.
Henry Baldwin is layering meticulous patterns in his mixed-media art.
The rising second-year art student finds fulfillment in creating large-scale paintings and artwork that contain the layering of many materials, including plexiglass, canvas, wood, charcoal, and oil and acrylic paint, he said. While he has enjoyed making art since elementary school, Baldwin said he took it more seriously during his sophomore year of high school. During this period, he said he had a creative burst and spent most of his time spontaneously drawing and painting.
"I've always been creative, and I decided I should focus more on my creativity," Baldwin said. "Once I started painting, I became obsessed, and I thought it was my purpose, and I was going to do it every day."
Many of Baldwin's pieces feature intricate and detailed patterns from drawing the same iteration for hours, he said. In describing his art, Baldwin said his work serves as a translation of his memories and emotions. He said he is inspired by history, objects, everyday life and his experiences, such as fly fishing with his dad or his journeys to Japan as shown through his flower patterns. He added that he is influenced by the work of Takashi Murakami, a Japanese artist who also uses floral patterns, and even attended his art show in Japan when he was younger.
Ever since he made one of his first large paintings, "Be Unique," Baldwin said he has used a technique in which he layers materials with plexiglass. He wanted to create a fluid, crisp white line on top of the scenery, so he said he used plexiglass to provide his desired clear lines. He layers the plexiglass over the work and uses mostly white acrylic paint to illustrate patterns, faces or objects, he said.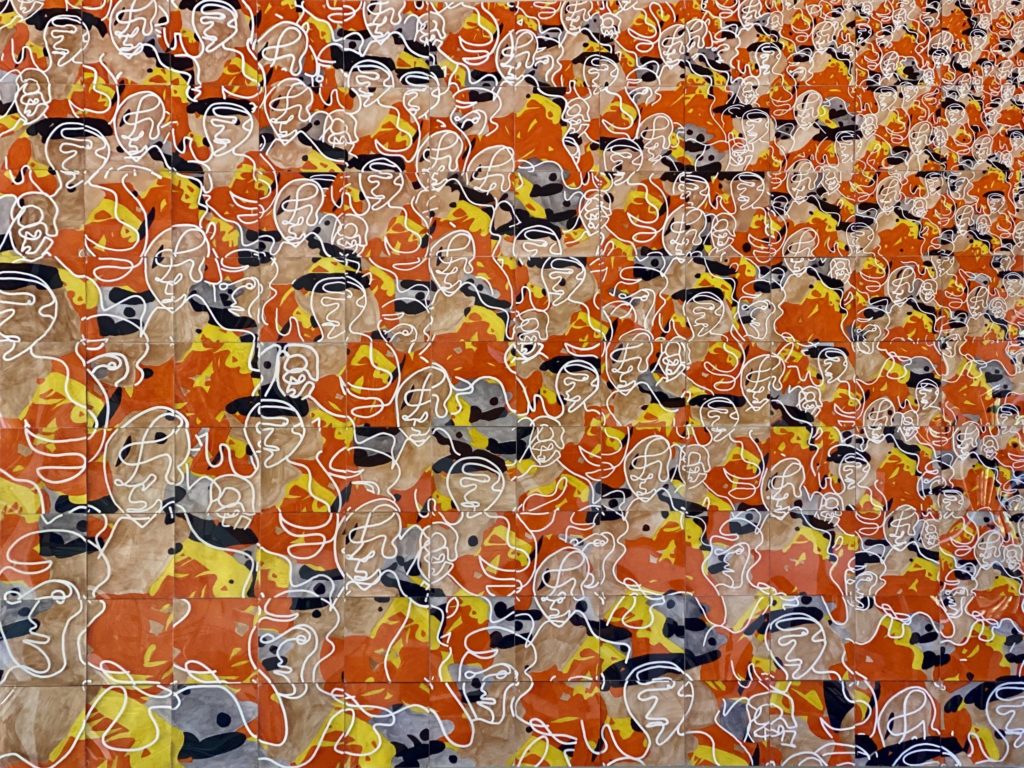 [Related: UCLA student Raina Markham finds spontaneity, flexibility in unconventional art]

On average, Baldwin said it usually takes him one to two months to complete a piece, a timeline that varies based on the size of the work. For example, a 4-by-12-foot piece titled "Wild Horses" took about three or four months to finish, he said. With a project of that large a scale, he said he approached it methodically by drawing a rough draft on an iPad, writing down steps and planning how long he would work on it each week.
Regarding "Wild Horses," rising second-year communication student Mia Lee said the first time she saw it she was impressed by the details and precision – from the colors to the layering of materials. She said when others see Baldwin's pieces, they are immersed in them and will always find new meanings or details within the layers.
"I remember walking in the room, and the light reflected off of it, and it was beautiful," Lee said. "I thought I was in a different dimension for a second because I was just blown away. … That's what I love about his art."
Lee said Baldwin loves being creative and that his art is distinctly his own. Each piece has a backstory and reflects different points and emotions in his life, which she said allows viewers to see how Baldwin's life progresses throughout his work. His work captures viewers' attention and compels them to learn more and look deeper because of his ability to translate his visualizations into a work of art, Lee said.
Additionally, Lee said Baldwin creates his art with dedication, love and intention. Similarly, rising third-year business economics student Gavin Rivas said Baldwin does not take creating art for granted, as he spends a great amount of time and effort making each piece. Rivas also said his style of layering material is distinct because he uses many different materials, such as acrylic paint and plexiglass.
"It's meaningful because it's very genuine to him," Rivas said. "He thinks of a cool idea or sees something in the world that inspires him … and makes an entire piece out of that one inspiration or that one meaning. Because he's not trying to emulate something (and) because it's coming from his day-to-day life, I think it makes it unique and special to him."
Out of all the art he has created, Baldwin said his favorite is "Cellular Monks" because it confuses people. "Cellular Monks" is a remix of "Be Unique," and Baldwin said redoing the piece when other people cannot tell they are related is fascinating to him. He said it requires focus and attention, demonstrating both the subjectivity of art and how different people will find diverse meanings within the same work.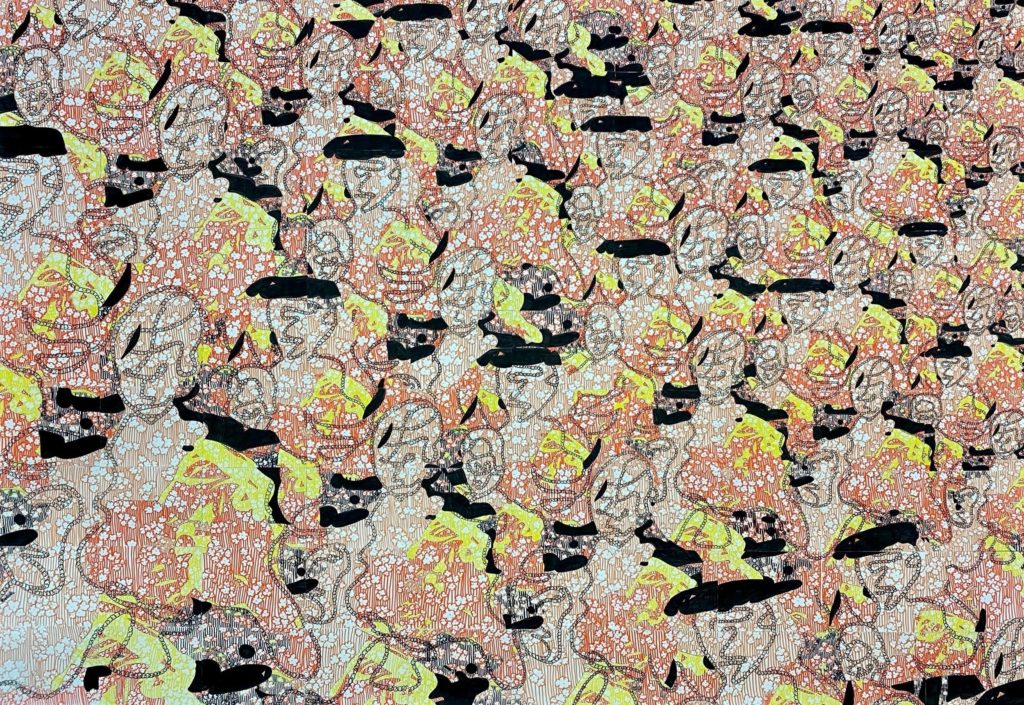 [Related: UCLA student's diverse art portfolio champions sensitivity, reminisces on memories]
In the future, Baldwin said he hopes his art impacts pop culture and extends beyond painting, such as making clothes or translating his patterns onto dresses, shirts, shoes or bags. He said he also would like to start making more sculptures. Ultimately, Baldwin's goal is to make the world a better place through his art because there can never be too much art in the world, he said.
"My art's just meaningful to me because I feel like it's my purpose," Baldwin said. "If I was doing something else, I don't think I'd be as happy with myself."