Maker's Medium: Art student explores precision, permanence through printmaking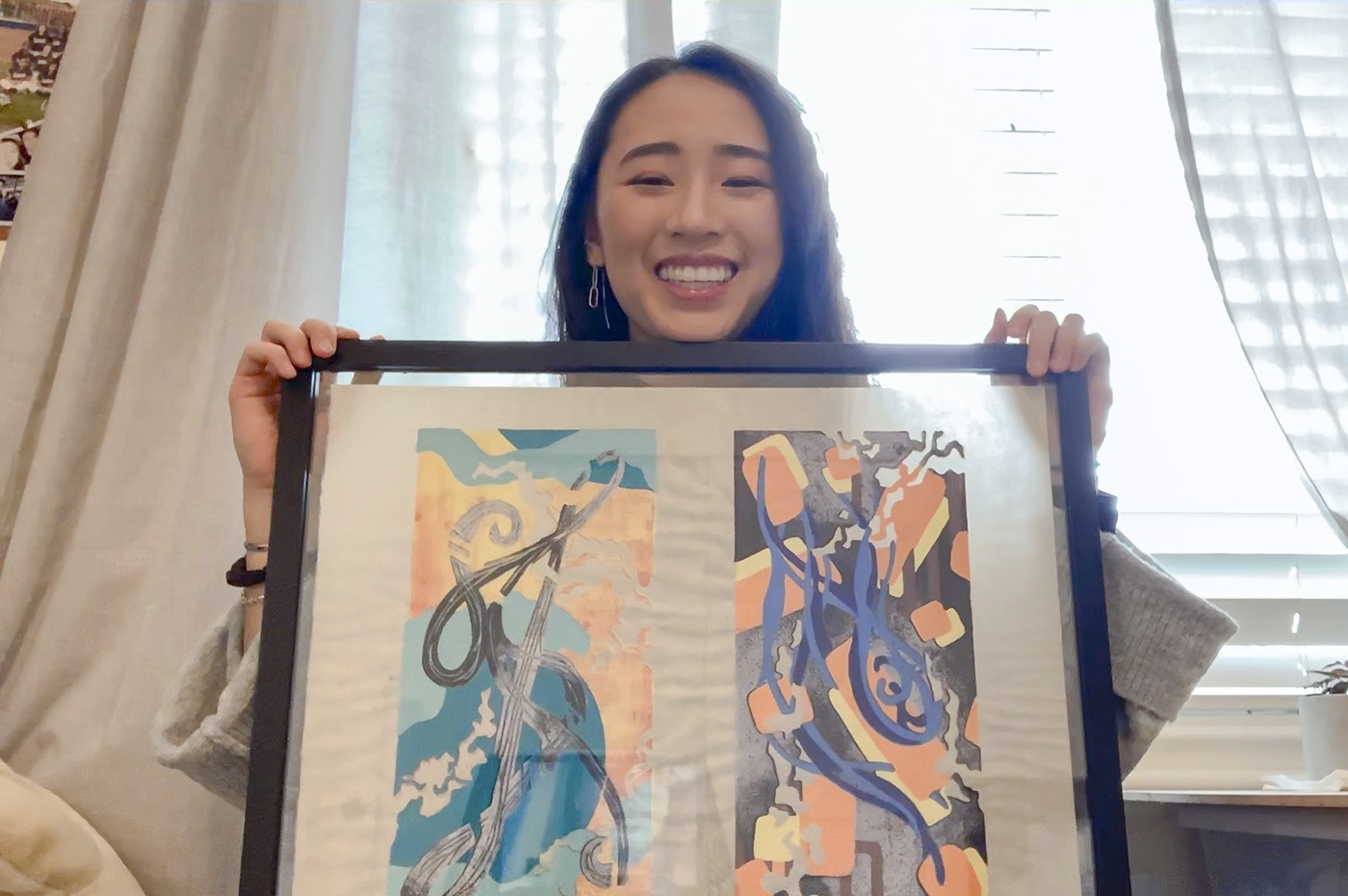 Fourth-year art student Chereen Tam started off as a sculptor but is now a printmaker. She prefers the medium for its ability to produces many identical copies of one piece. (Ariana Fadel/Daily Bruin)
The mastery of materials is fundamental to the artistic process and the career goal of any artist in their chosen medium. Every method requires a different skill set and can evoke different reactions in viewers. Follow columnist David Egan in "Maker's Medium" as he highlights the mediums of the fine arts by profiling a different undergraduate art student each week.

Chereen Tam is putting in the hours to reap printmaking's reward: replicability.
A fourth-year art student, Tam began printmaking last spring. Despite making sculptures since her sophomore year of high school, she said she wanted to explore printmaking but had to wait until the class opened up. Art 140: "Advanced Printmaking" is solely taught by continuing lecturer Jacob Samuel, who said some students appreciate that printmaking is a more traditional medium with little use of digital technology.
"The process itself that we do – etching and aquatint – are 600 years old," Samuel said. "There are so many steps to every single process that we do and every step requires very precise attention to detail."
The first printmakers used the medium for the same reason artists use it today: to produce multiple identical images with a single plate or block. Printmaking technology first emerged in the 15th century and initially spread because of a demand for playing cards, religious devotional images and book illustrations. Renaissance artists like Rembrandt and Piranesi popularized the technique intaglio, a process in which lines cut into a metal plate are filled with ink.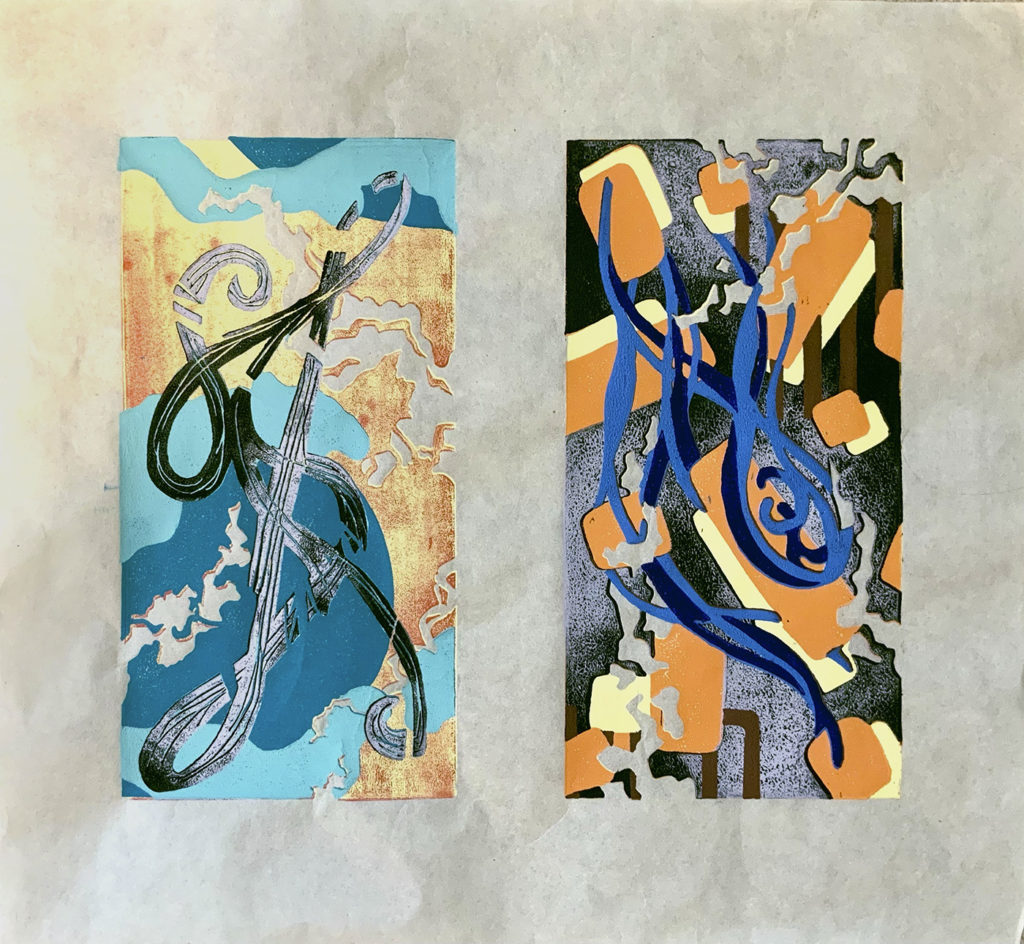 [Related: Maker's Medium: Student uses black and white photography to explore psychological spaces]
While some students have used lithography, silkscreen and woodcut, Samuel said UCLA focuses on this intaglio process of etching, specifically using the techniques drypoint and aquatint, as well as another form of the medium called relief block printing. Drypoint etching, which Tam said she uses in her work, is achieved by using a sharp point to scratch lines into an acrylic sheet. Ink is pressed into the lines, and the artist later wipes away excess from the plate. A sheet of paper soaked in water is then pressed to the plate, transferring ink from the etched lines to create an image. Tam said this drypoint process is almost opposite to the other technique she uses, relief block printing.
"In drypoint, you draw in the lines that you want to show," Tam said. "But in linoleum block printing, you're cutting away the lines that you want to show."
With relief block printing, Tam said an artist applies paint to a linoleum block – though wood or rock can be used – and presses paper onto it. While Tam uses both drypoint etching and relief block printing, Samuel said the limited studio space and quick-paced quarter system mean most students learn just one technique during the class. Teaching the class on Zoom this year, Samuel said the rolling presses, oil-based inks and metal plates of the print studio have been replaced with nontoxic materials of water-based inks and acrylic plates that students can use at home.
The labor-intensive process of printmaking pays off in the multiple copies of an image that can be produced, Tam said. Additionally, she said a print can create a more cohesive and controlled illustration than an ink drawing, which may expose the lines drawn in the process of creating the image. Tam said she uses the human body as well as personal experiences for thematic inspiration, evident in one drypoint etching titled "Florence, Italy."
"That one was actually a photograph that I took when I was in Florence, Italy," Tam said. "I thought to recreate the experience of the time I was there. … I've always been into ink drawings, but I wanted to be creative and also to always able to duplicate it whenever I wanted."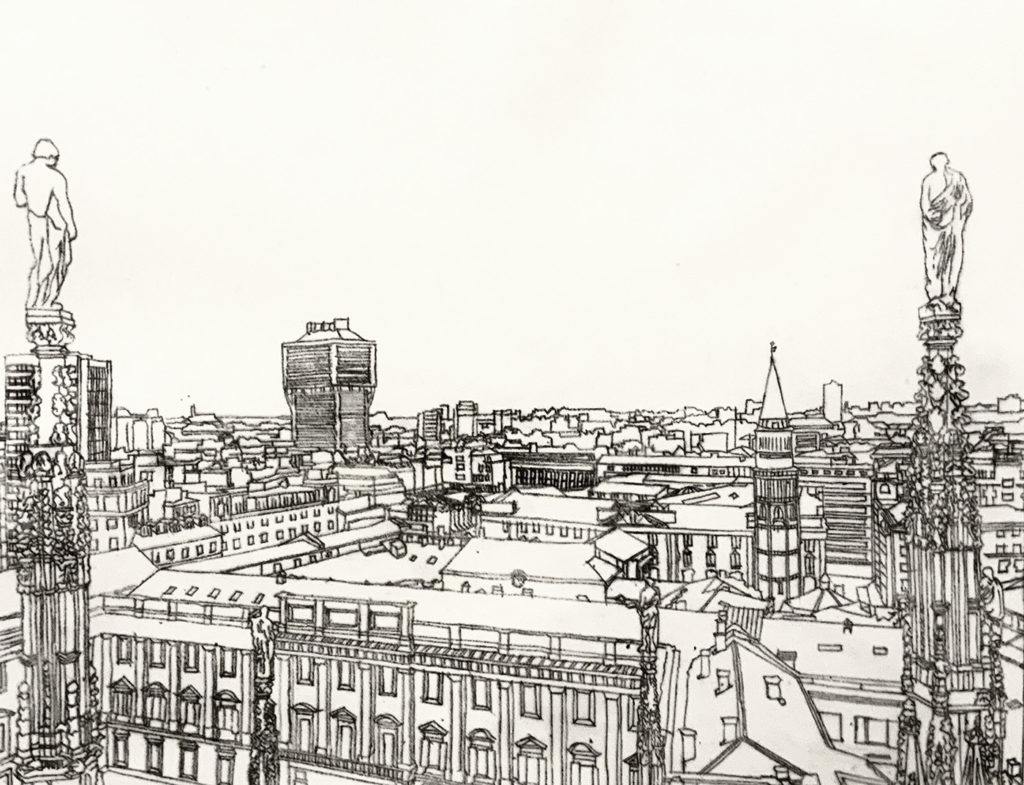 [Related: Maker's Medium: Art student explores the wonders of watercolor through familial portraits]
For Samuel, the piece exhibits keen precision and clean detail, elements that are hard to achieve on an acrylic plate. Contrasting areas of close lines and open space create depth in the print, he said. While "Florence, Italy," is a drypoint etching, "Pas de Deux," another of Tam's prints, is a linoleum block print. Samuel said she used reduction linoleum cut for this print, a process utilized by Picasso in the early 1950s to streamline production: One block is carved, inked and printed, then carved again with a repetitive process that Tam utilized six times.
Evident in the less linear forms of the linoleum cuts, Tam said she took inspiration for "Pas de Deux" from the elegant flow of a dancer's body. She sought to emulate the beauty of a dance performance through the flowing nature and presentation of the figure. The flowing nature of works like "Pas De Deux" contrast with Tam's drypoint etchings, said painting and drawing professor Patty Wickman.
"The etchings are all about line," Wickman said. "And the linoleum cuts allow her to … (work) more with color and with the application of the ink or paint."
Recently, Tam said she has been using the method of relief block printing more often. Through the process is replicable, it also has a permanence, Tam said. Making prints forces her to let go of her sense of perfectionism because once she has applied the ink or paint, she has to move on.
"When it comes to printmaking, … I have to accept what I've made and really just move on," Tam said. "There's a beauty in something that's not perfect as well."