Graduate student Saskia Baden's photo collections explore duality of femininity
Three photos are displayed on the white walls of a gallery. The three works by fine arts graduate student Saskia Baden are part of a series of photos examining the complexity of oceans, mythological creatures and feminity. (Courtesy of Saskia Baden)
This post was updated Jan. 18 at 8:08 p.m.
Saskia Baden's imaginative photo collections capture attention.
The fine arts graduate student engages with unconventional subject matter and materials in their photography collections. Baden's father first introduced her to photography, and she said this way of connecting with him eventually evolved into her own language of expression. When Baden first began photography, they said they captured their surroundings, viewing their camera as an extension of themself. Now, her work revolves around creating her own worlds and capturing them, a process she said is akin to writing a story.
"It's so rare now that I photograph something that I happen upon. I'm out in the world observing and photographing things that already exist," Baden said. "I'm so much more building things for an image – even if I'm making a portrait, even if it is not me creating a scene – it still feels so much like I'm dealing in a fictional way with photography."
Working alone is essential to maintaining the playful element of their work, as they feel greater liberation to experiment during this time, Baden said. However, Baden added that working with other people is equally important because interacting with and photographing other bodies challenges her and pulls her out of periods of isolation. Baden's friend Virginia Lopez said a large part of Baden's work involves intricate preparation and confronting difficult subject matter.
"(Baden's work) is about the weight of many things, including a process that is investigative and also open to challenges," Lopez said. "From what I've seen in the recent years of Saskia's work, she is really dedicated to the landscape that she's in and really deliberate in what she seeks out."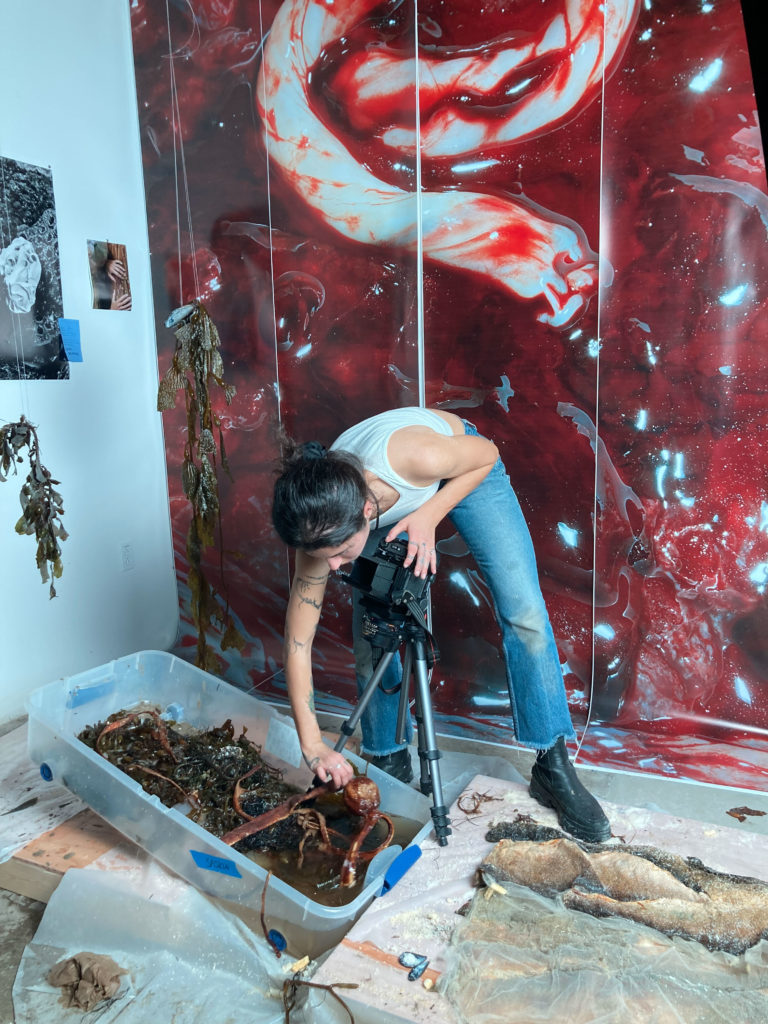 [Related: MFA student Jackie Amézquita's mixed media art sprouts ideas of regeneration]
When they felt stuck creatively, Baden began photographing snakes, a subject matter that intrigued them, as they said the creatures evoke intense feelings in people. Many people either experience strong fear or attraction toward snakes, and Baden said she experiences both of these opposing feelings toward them simultaneously. For their cold-blooded collection, Baden photographed snake owners they had connected with through Craigslist as an exercise to push themself photographically, which they said then became a distinct project. Working with snakes opened the door for her to photograph other creatures – both real and supernatural – such as fish and mermaids, she said.
Upon photographing portraits of people who cosplay as mermaids, Baden said they further explored a theme that frequently shapes their work: the relationship between appeal and disgust. Baden eventually decided to photograph herself in a mermaid tail she had created from fish skins, as she said she pushes herself in ways that she cannot with professional subjects, who tended to portray mermaids as solely desirable. Baden aimed to capture the duality of mermaids as grotesque yet intriguing creatures, which they said is representative of a greater paradox of femininity.
"The mermaid became important to me because of the desirability that it holds mythologically," Baden said. "It's the strength and vitality of that desirability, but also this negation of human genitalia. It's this disgust and desire — all these different things that the mermaid holds — that feels really important to me in this investigation of female sexuality."
For Catherine Opie, the chair of the UCLA Department of Art, Baden's work maintains an immersive and deep quality through its exploration of themes, such as the metamorphosis of nature and the female body. She said Baden's portrait of their mother elicits feelings of vulnerability, as the work is an intimate expression of a woman's connection to her mother. The work shows scarring on her mother's body, representative of the challenges she has undergone, Opie said.
"It's just all about the circle of life," Opie said. "Her work is phenomenal to look at, but then it gives you such a deep thinking and relationship to what humanity is and how we're functioning as people in this world."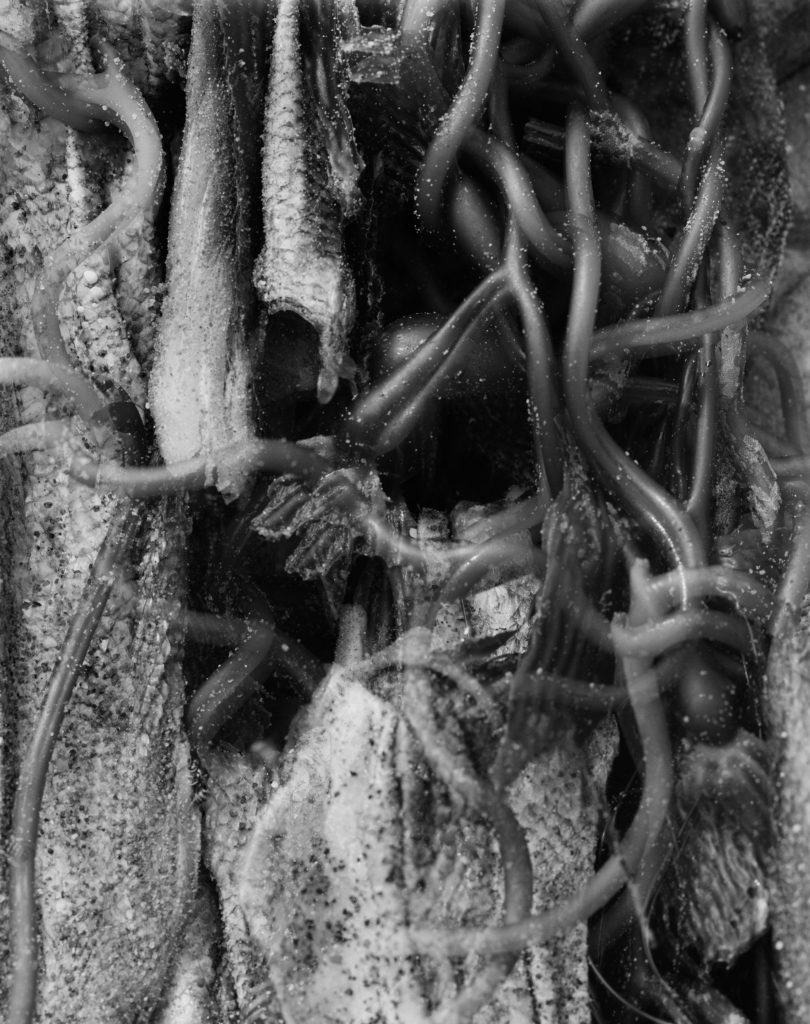 [Related: Student crafts personal empowerment through fashion focused on the feminine]
The ocean is a central theme in Baden's work because of its connection to femininity, as well as its personal significance since their move to the West Coast, they said. For instance, when they photographed her friend's birth of her first child, Baden said the nurse compared the scent of her friend's amniotic fluid to the saltwater of the ocean. For Baden, scent elicits strong associations and feelings, and she hopes to incorporate smell and other senses into her future bodies of work.
"How do I bring these other bodily sensations and experiences into the work that I think photography alone for me right now can't do?" Baden said. "That's where I see (my work) branching out – how do I make this a fully embodied experience to look at this work?"