MFA student Jackie Amézquita's mixed media art sprouts ideas of regeneration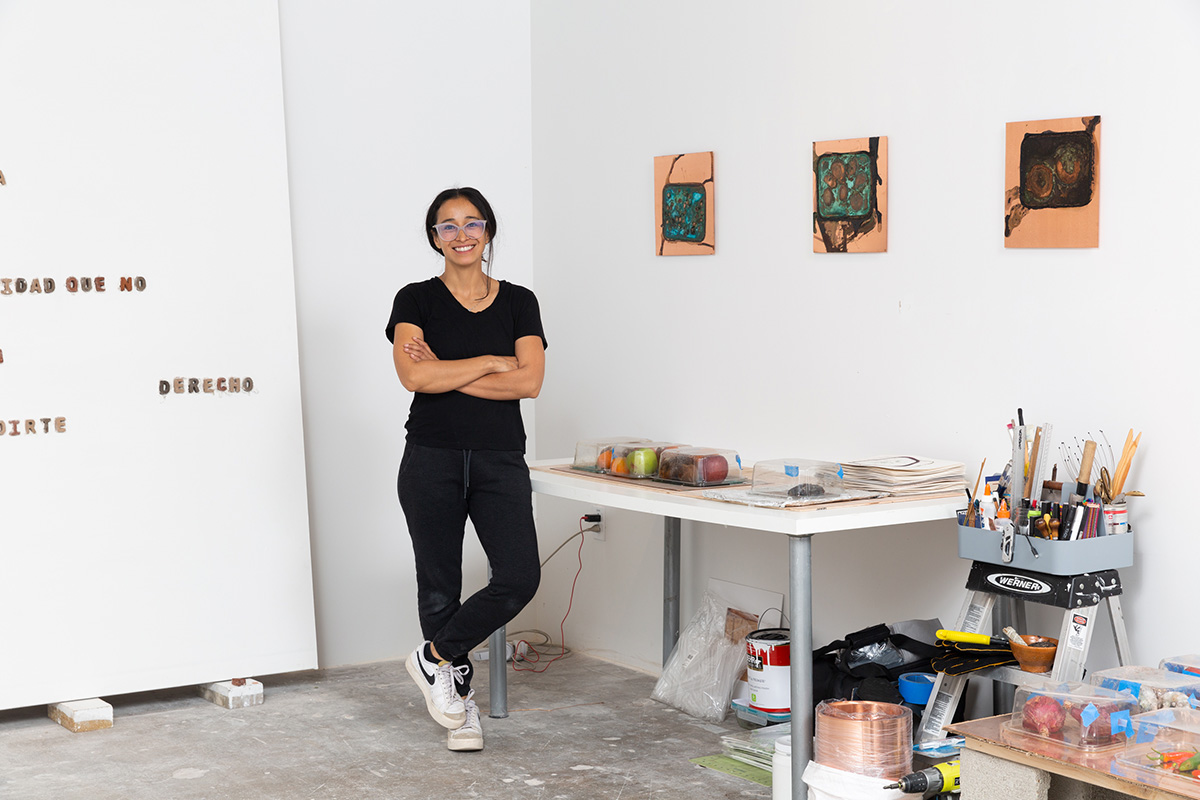 Fine arts graduate student Jackie Amézquita stands in a studio space surrounded by various materials and pieces. Through mixed media art, Amézquita creates works centered on regeneration, growth and the experiences of migrants. (Courtesy of Ian Byers Gamber)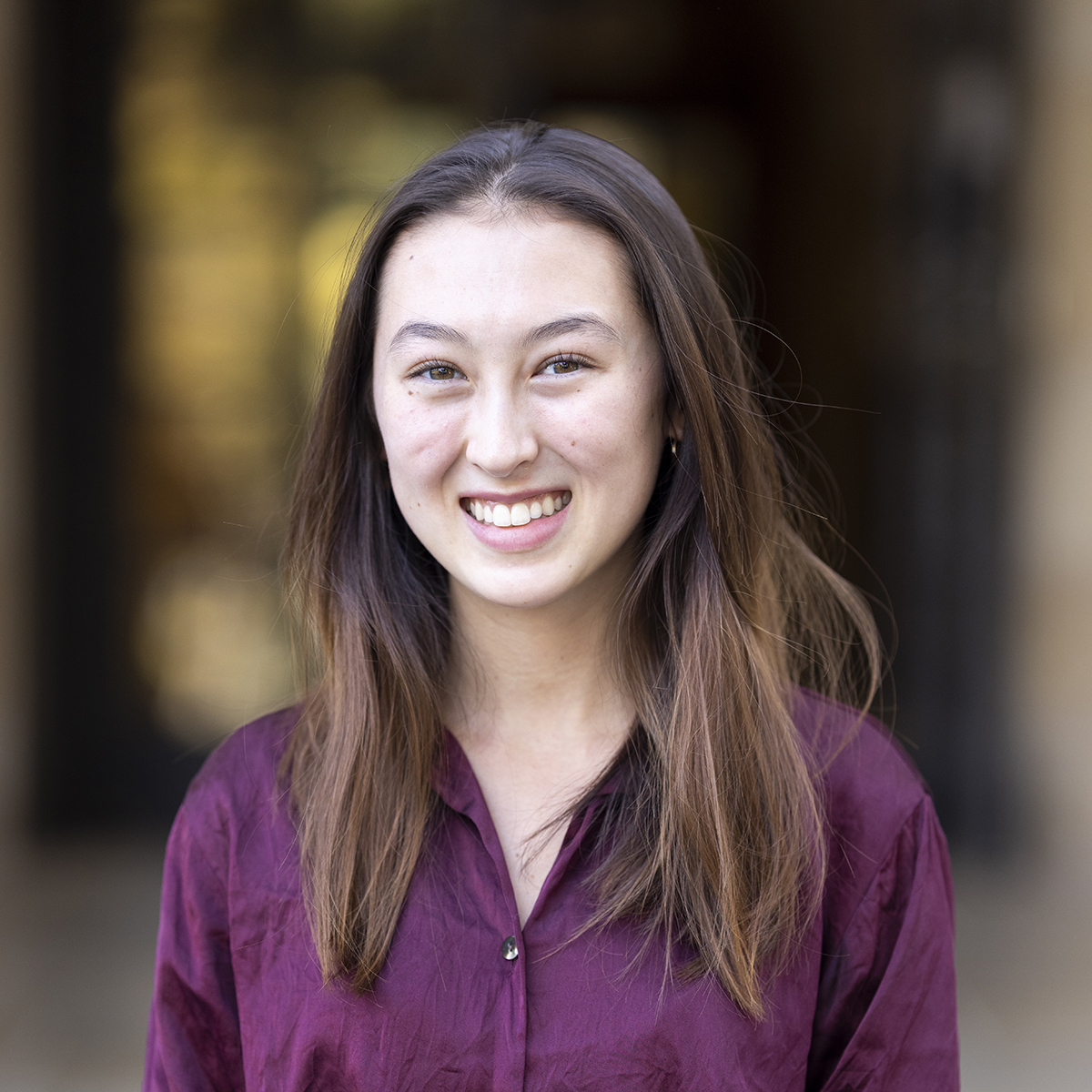 Jackie Amézquita is grafting her past experiences with new growth.
Utilizing natural materials such as produce and soil, the graduate student in fine arts said her mixed media work is closely linked to her personal memories, from her childhood in Central America to her migration experience as a teenager. With art that stems from ideas of immigration, growth and decay, Amézquita said her use of products derived from the earth, such as fruit and copper, aims to convey the regenerative nature of life.
"It's up to the new life that has formed in this environment to navigate, to be fluid between spaces," Amézquita said. "This is something that I'm trying to talk about in my work – how fluidity, migration and mobility are fundamental aspects of all living things, human and nonhuman."
Born and raised in Guatemala, Amézquita said she was always surrounded by produce and the natural world. As an artistic child without traditional art supplies such as paint and canvas, she said she turned to the earth, crafting sculptures from mud and the masa used to make tortillas. Years later, she said these materials still remain her medium of choice.
Another medium Amézquita said she employs is metal, specifically copper, for its healing properties. In one project titled "Beyond the Kings of Confinement," she said she placed produce on copper enclosed in plastic casing, connected by thin tubing. The food was then left to decay, slowly spawning flies that she said represented cyclical regeneration in a non-verbal way. These flies could then pass through the plastic tubing and intermingle, she said, transcending boundaries left untouched by the stationary fruit and vegetables.
"The work with the produce speaks (to) how me and my family have reintegrated into the systems that have confined us," Amézquita said. "How we found gaps in between the tubes in the plastic containers to navigate the system and then how we reintegrate into these new environments."
[Related: MFA candidates showcase artwork inspired by unique backgrounds and interests]
In addition to being a hallmark of her childhood and an integral part of the decomposition cycle, Amézquita said produce and its journey from location to location are intimately related to migration. With the structure of our current food systems, she said vegetables and fruits are constantly being shipped across the border along the same paths migrants walk.
Tanya Aguiñiga, a friend and collaborator of Amézquita, said the piece with copper and produce also makes her think of labor, as the encasing of the food emulates how farmworkers are often viewed as a commodity for consumption, as opposed to people with rights who place care and time into working the land.
One project that intimately concerns immigration is Amézquita's 2018 performance piece titled "Huellas que Germinan," during which she said she walked 176 miles from Tijuana to Los Angeles in silence over the course of eight days. This journey retraced the path she took across the border when she immigrated to the United States at 17 years old, where she was held in a detention center for a handful of days as her body was physically unable to proceed. Though her body remembered the trauma as she retraced her steps, Amézquita said her privilege as a green-card holder also empowered her in a different way than when she navigated the border undocumented.
"(Now) I can re-empower myself and reclaim the spaces where I was not allowed to be in," Amézquita said. "By stepping on the land, on the soil and dragging all these different soils on my shoes from one city to another, I was crossing all these political boundaries."
Years later, Amézquita said soil from the border made a reappearance in her thesis project. The soil was pulled from the soles of her shoes and formed into letters on gypsum to spell out the names of migrants who died in detention centers at the border, she said. Mixed with other natural materials and baked in an oven, she said this regeneration process intertwined her own migration experience with those of the individuals who never completed their journey. Along with the names of adults who died in detention centers, she said she also included the names of children whose deaths are unrecorded on public records.
Amézquita's thesis advisor, Rebecca Morris, said the thoughtful and intentional nature of the project continued beyond Amézquita's multiyear artistic process, extending to the staging of the pieces in her exhibition space. She said Amézquita's attention to detail, such as her choice to lean her pieces against the wall as opposed to mounting them in the studio space, further grounds her projects to the earth and the natural environment. In addition to this format, the gypsum boards wrap the room of the gallery, which she said creates a feeling of nearly overwhelming intimacy that she has watched bring people to tears.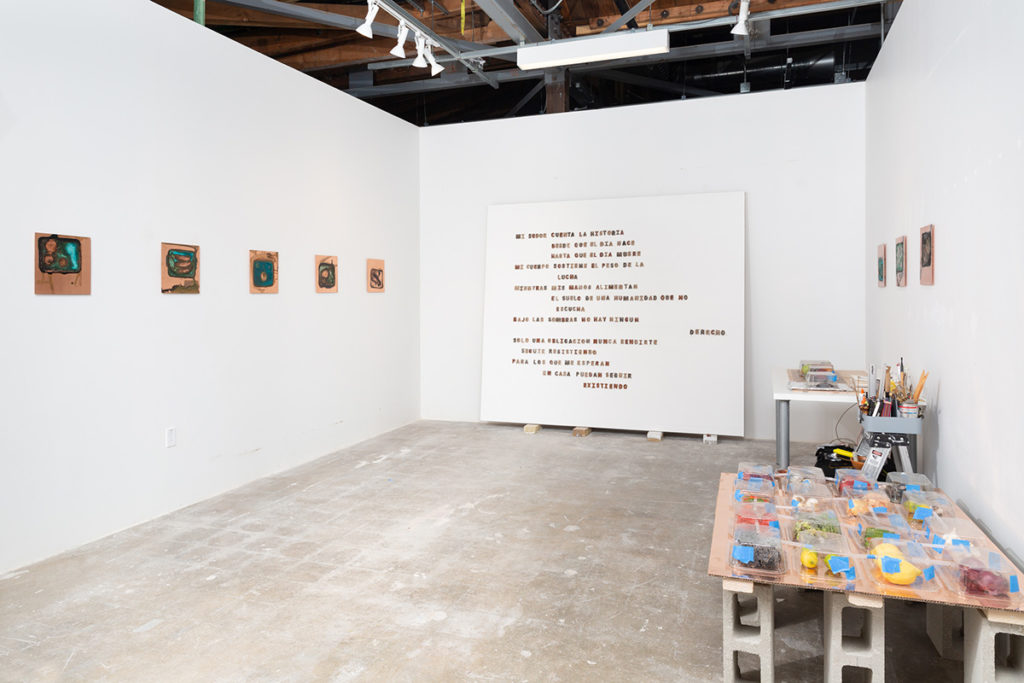 [Related: UCLA professor, students create project to honor deaths of migrant women]
The sentimental nature of the piece is evident in its craft, as Amézquita said she worked on this project while reflecting upon her own experience of being separated from her mother and the experiences of other members of her family at the border. By utilizing the dirt from the border where people passed, she was able to honor these names by giving the material a new life, an act which Amézquita said is at the center of her projects. Although her work typically channels heavy topics and faces mortality head-on, Amézquita said she also hopes to show a transformative flip-side of hardship.
"There's a lot of death in my work, but there's a lot of regeneration and life," Amézquita said. "How our past experiences can work as catalysts and how they can help us find that little bit of light that sometimes we need to sprout – and I think a lot of these things I'm able to convey through art."
Finn is a senior staff writer for Arts & Entertainment and PRIME. She was previously the Lifestyle editor from 2021-2022, an Arts reporter from 2020-2021 and a member of PRIME's first intern class from 2019-2020. She is a fourth-year neuroscience and public health student from San Francisco, California.
Finn is a senior staff writer for Arts & Entertainment and PRIME. She was previously the Lifestyle editor from 2021-2022, an Arts reporter from 2020-2021 and a member of PRIME's first intern class from 2019-2020. She is a fourth-year neuroscience and public health student from San Francisco, California.