UCLA student Jack Drinker strikes a chord with authentic songwriting skills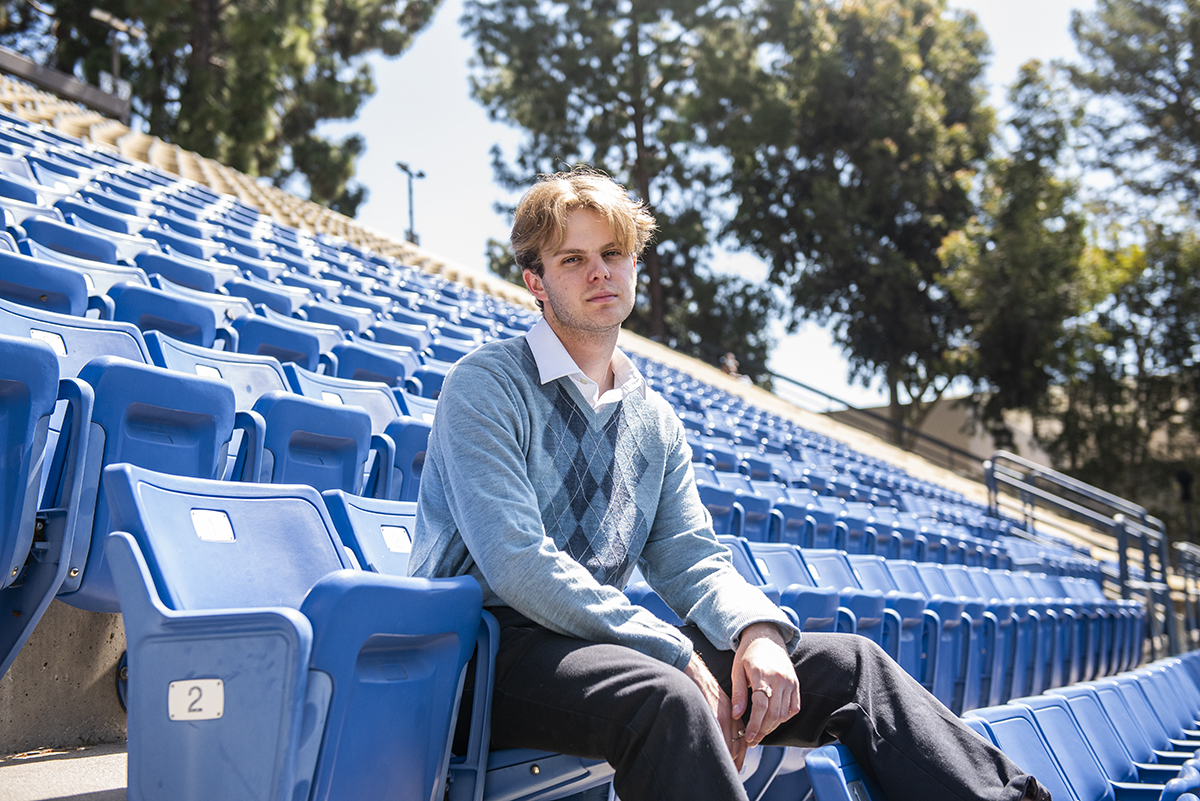 Fourth-year music history and industry student, Jack Drinker sits in a row of blue bleachers. As a musician and songwriter, Drinker has created works highlighting personal growth and mental health. (August Suchecki/Daily Bruin)
Jack Drinker strives to remind the world that no one is alone.
With roots stemming from choir and musical theater, the fourth-year music history and industry student said he has immersed himself in music since he was a child. Drinker said he began songwriting for his own personal enjoyment in fifth grade, when he was a part of a makeshift band. After a few years of taking a break from writing, he resumed toward the end of his high school career, starting with poems and then segueing into full-fleshed songs, he said.
"I feel like those (junior and senior years) were very formative years in my life where I started to feel like the only way for me to express myself was by writing," Drinker said.
Drinker said that over the course of his writing career, he has found the translation of his thoughts into words to be a natural process. He said he finds writing to be a form of catharsis, so much so that his first instinct after going through a notable experience is to write – whether it is a sculpted lyric or a single sentence. Drinker said the work he is most proud of comes from a place of unrestricted thought where he simply writes whatever comes to mind.
[Related: Student Allie Schulz finds voice with self-produced EP 'Flash Fiction']
Throughout his lyrics, Drinker expresses his own personal experiences with mental health, heartbreak and romance. He said that by shining a light on these topics, he hopes to bring solidarity to those who are on or may have gone through a similar journey. As demonstrated in his recently released single "Who Is This Person?" Drinker said he exerts his feelings of being disconnected from his identity while tackling his experience of altering his physicality to feel accepted by those around him.
"(The new single) felt like the first time that I really put my feelings of my mental health struggles and my struggles with depression and body image," Drinker said. "It felt like I really put it into words exactly the way that I wanted it to."
Another important factor of Drinker's artistry is his sexuality, he said. Self-identifying as queer, Drinker said his capstone project, created in a yearlong course specifically for his major, focused on the history of mistreatment of queer artists within the music industry. While he does not currently plan on releasing them, he produced several songs incorporating this research, which he said he finds integral to his voice as an artist.
Accompanying the lyrical aspect, Drinker said he utilizes specific production elements to help draw listeners into his musical narratives. He said that in "Who Is This Person?" he incorporated sounds of rain and thunder in the beginning to solidify the raw and candid tone of the song. Instruments also play a key role in establishing the mood of his songs, he said, using strings or a piano to convey a somber emotion or the experimentation of an electric guitar for upbeat songs.
As Drinker strives to present undiluted musical narratives, music producer Steve Ornest said Drinker's authenticity is what initially caught his attention. In addition to his writing, he said Drinker has a specific tone to his singing voice that further emphasizes the truth within his music. The pairing of Drinker's vocals and lyrics is what he finds the most intriguing about Drinker as an artist, he said.
"Everything that he says is believable to me," Ornest said. "I think part of it too, is the way that he writes his lyrics, and it feels like it comes from the heart. It's not contrived. As soon as you hear what he's thinking about, you believe that this is a story about something that he went through."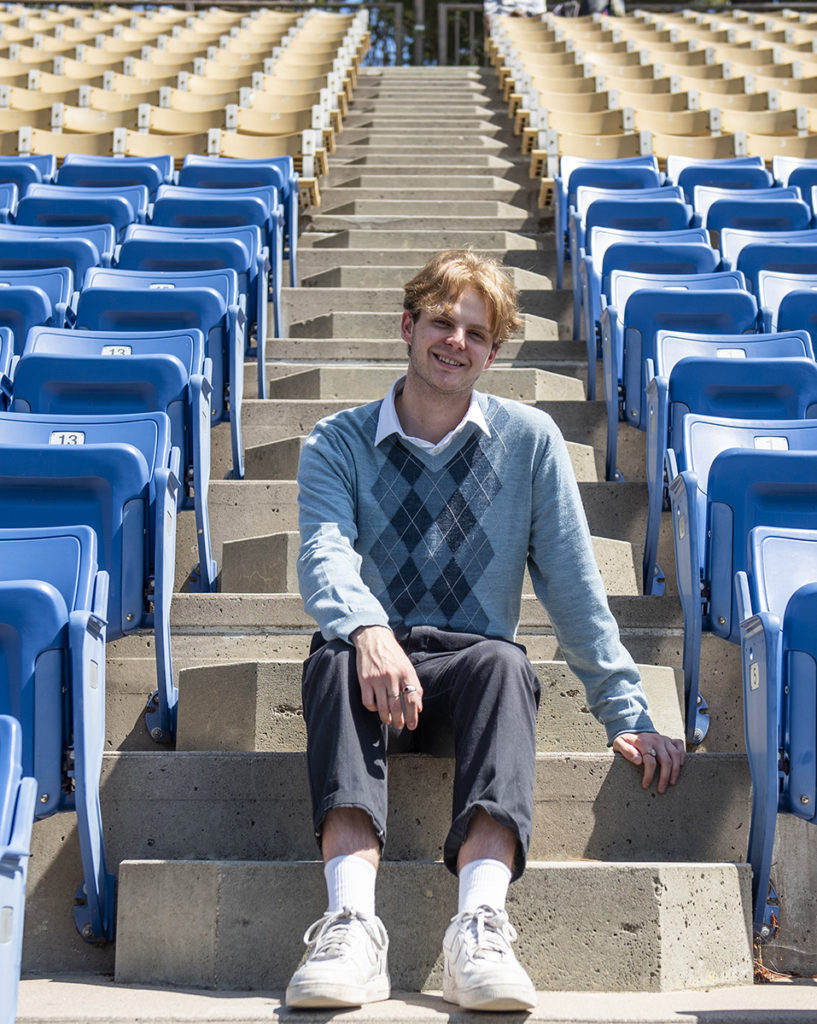 [Related: Duo's Spring Sing song to highlight importance of reaching out during hardship]
Drinker's childhood friend Savana Huskins said that along with drawing inspiration from his real life, he has recently begun branching out by writing more abstract, conceptual songs. She said these songs paint an imaginary scenario created by Drinker that allows for a broader range of emotions and topics to be explored and experienced.
To add to his discography, Drinker currently has an EP in development, which he said is planning to debut this summer. Not wanting to confine himself to one particular genre, he said the EP will contain an array of musical styles including indie pop, R&B, pop punk and his signature melancholic ballads. The project, he said, discusses and centralizes on his abundance of relationships – with himself, friends and romantic encounters – to highlight their effects on one's well-being, emphasizing his overall mental health journey in his music.
"It's a take on … the ups and downs and the roller coaster of emotions that you go through in these types of relationships," Drinker said. "It's really just a culmination of what I've experienced in the last four or five years of my life, all coming to get together, so I'm really excited about it."
Sajor is the 2022-2023 theater | film | television editor. She previously served as an Arts contributor from 2021-2022. She is a second-year communication student.
Sajor is the 2022-2023 theater | film | television editor. She previously served as an Arts contributor from 2021-2022. She is a second-year communication student.