Spring Sing 2022: Carly Wood strives for solo success through stripped-down setup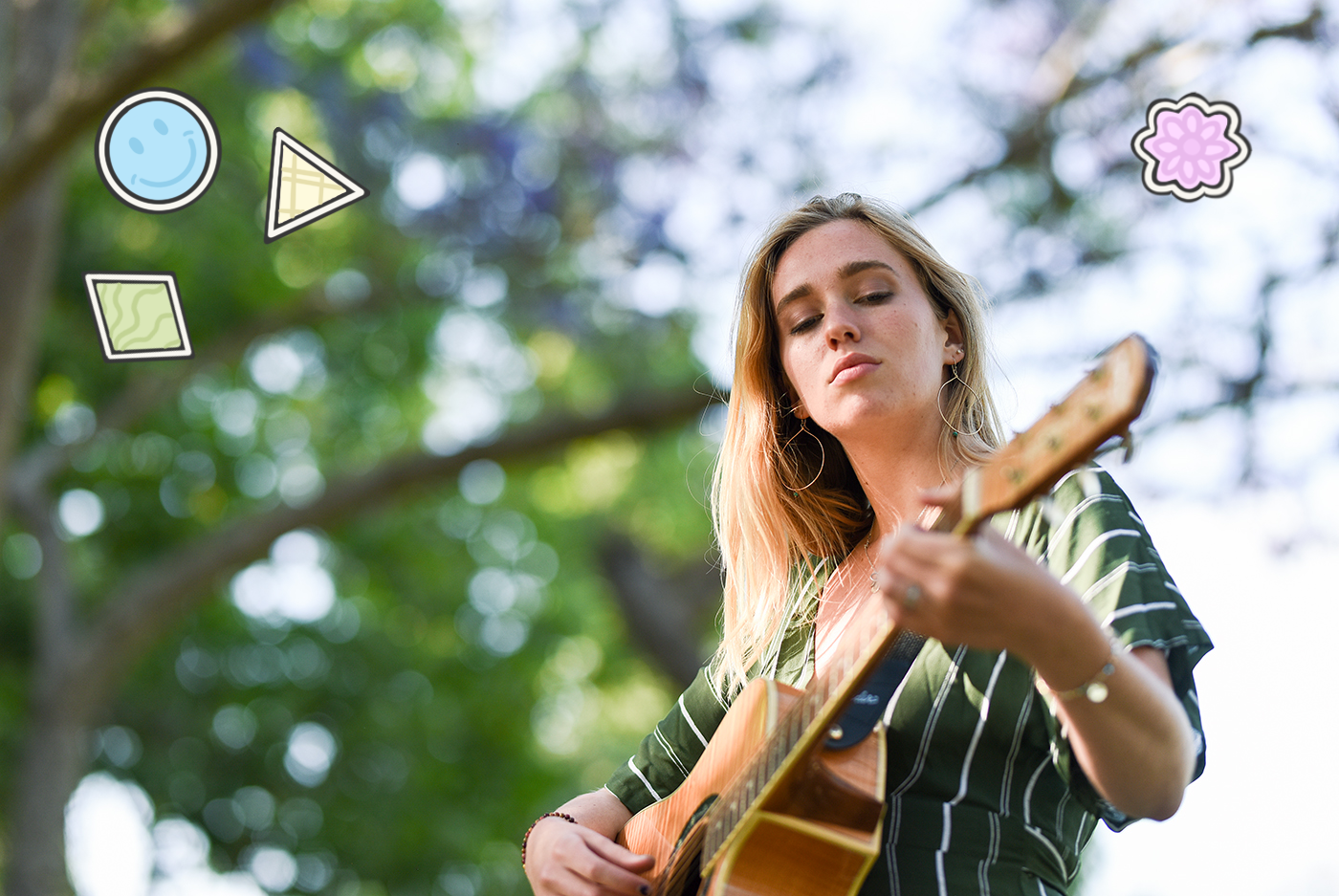 Fourth-year musical theater student Carly Wood strums her guitar beneath a tree. The solo musician will perform her original song "flowers and champagne" at Spring Sing – a departure from past musical exploits in a cappella and theater. (Photo by Ariana Fadel/Daily Bruin staff. Photo illustration by Ashley Shue-Lih Ko/Daily Bruin staff)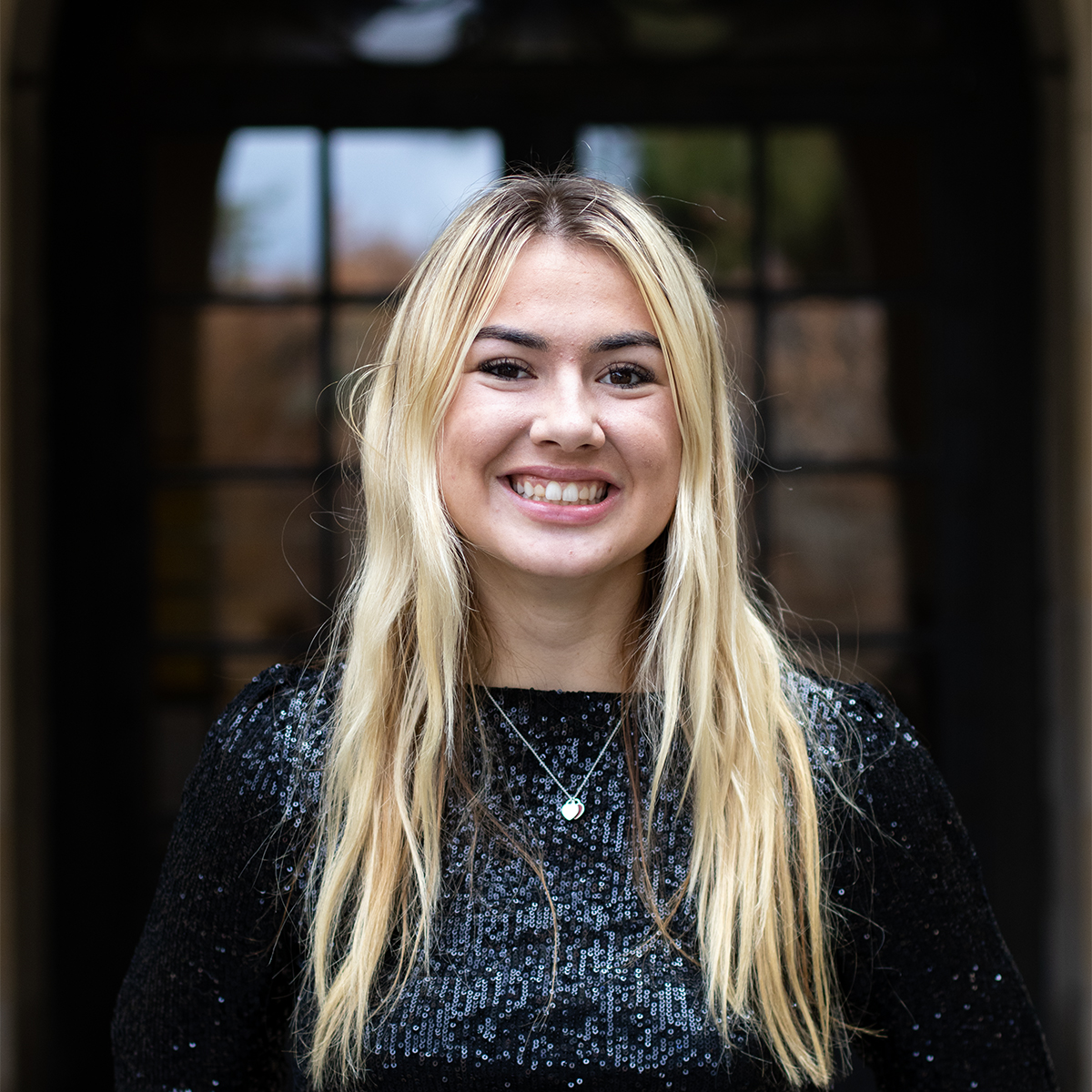 This post was updated May 19 at 12:45 a.m.
Guitar in hand, Carly Wood is prepared to shine as a single voice.
Participating in a UCLA tradition she knew she wanted to be a part of since her freshman year, the fourth-year musical theater student will take on Spring Sing solo, performing an original song centered on themes of love and loss. Wood said despite frequently performing in theatrical involvements and as a part of a cappella group ScatterTones, taking the stage alone marks an exciting step beyond her comfort level. Though singing as a medium provides more stylistic freedom for soloists, Wood said, she hopes her Spring Sing performance can provide a level of interconnectedness mirroring her favorite elements of group performances.
"It (performing solo) still feels like a form of collaboration because the audience will be there, and we'll be sharing in this cool experience," Wood said. "The difference is just that I'm alone on stage, but it still doesn't feel like an experience of being alone."
[Related: ScatterTones hopes to strike chord with judges in collegiate championship final]
While Wood's familiarity with singing and songwriting started at a young age, when she constructed imaginative songs about her surroundings, she said time at home during the pandemic increased the frequency with which she was able to produce new pieces. Wood said that during this period of creativity, she looked to the natural world as inspiration, leading to her development of "flowers and champagne," the song she will perform at Spring Sing.
With the goal of finding inspiration for a new piece, Wood said "flowers and champagne" began by the ocean when she was experimenting with different melodies on her guitar. She said that as she strummed, a man approached her to graciously thank her for the company of her music, explaining how he was there to honor the anniversary of his mother's death.
Wood said the title was inspired by the gifts the man brings with him each year – flowers and champagne – and the poignancy of the moment led her to interpret the conversation's vulnerable themes through song. Despite the piece originating with a specific relationship in mind, Wood said she hopes the emotional threads of "flowers and champagne" will be accessible to a wide range of listeners through its alignment of life and death with the rise and setting of the sun.
"I feel like the music that means the most to me is just any song that connects me to my heart and reminds me that I'm a feeling person," Wood said. "My hope is just that it (the song) moves people in some way and somehow connects them to their own hearts."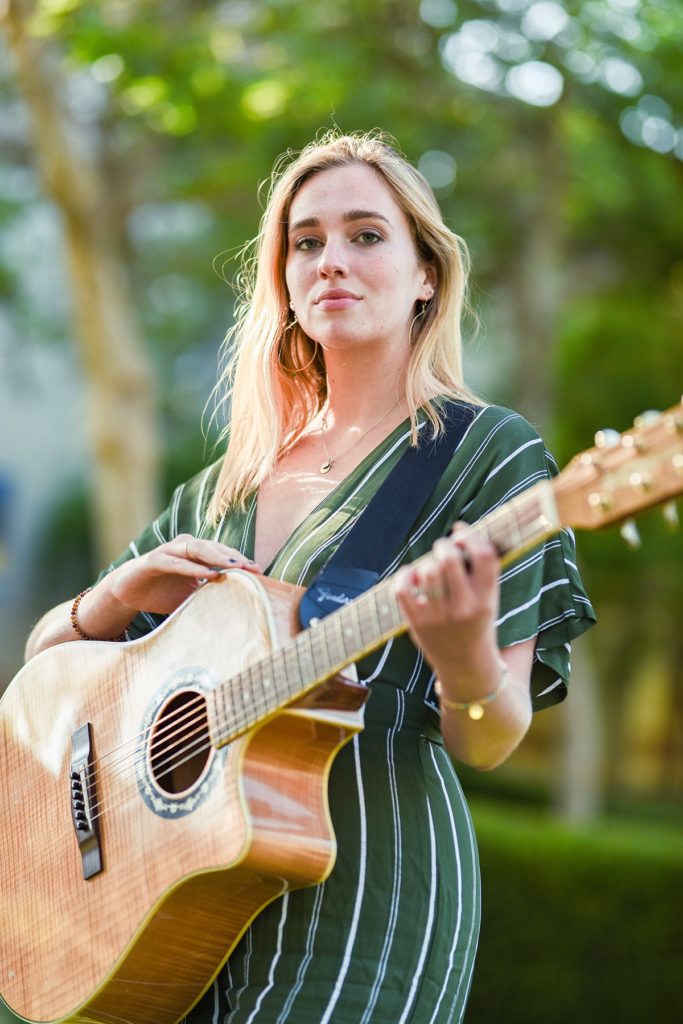 Wood said both the piece's raw nature and lyrical structure led her to select "flowers and champagne" as the song she will perform at Spring Sing. Through its content and themes, the track also reflects her specific style of musical storytelling, as she said the pairing of natural elements and human emotions has been a key trait of many of her past songs. Ava Eucker, a close friend of Wood, said she has witnessed Wood's creativity when the two spent several months in Hawaii, where Wood often explored their new surroundings equipped with her journal and guitar.
"Carly's just a really empathic person as well," Eucker said. "She has such a strong way of connecting with people that then she can pour that into her passion for music and for lyricism and for storytelling."
While Wood said both the structured nature of her performances with the ScatterTones and classical level of her theatrical involvements contrast greatly with the stripped-down, folk style of her performance, all musical mediums have helped her practice and experiment with different vocal styles. Ben Rosenbaum, a friend who first met Wood at an a cappella intensive, said he has seen the impact of these stylistic influences through Wood's sense in finding harmony and constructing arrangements.
[Related: 'Sing (to me)' harmonizes theme of understanding others with humorous style]
To foster a level of intimacy with members of the audience, Wood said, visual details surrounding her performance, such as stage design and outfit choice, will be kept minimal to ensure vocals remain the central focus of her act. In particular, Wood said in using guitar as a supplement and her voice as the performance's main storytelling vessel, she hopes to preserve the song's emotional resonance by maintaining the stripped-down level of production with which it was first created.
Emphasizing the importance of emotional resonance, Wood said she holds similar goals for her Spring Sing performance and future as an artist with her hope to offer a distinct perspective through her narrative style and rawness. In addition to her current folk style, she said she hopes to explore other genres and soon begin recording some of the songs she has written. With early memories of her mother playing Joni Mitchell, Wood said folk artists have shown her the healing power of music, something she hopes to emulate with her work and in her Spring Sing performance.
"My hope as an artist is that with my unique perspective and voice, I can contribute to this collection of music that exists in the world that helps people make it through or provides some sort of sanctuary for people in the way that my inspirations have done for me," Wood said.
Paxton is the 2022-2023 music | fine arts editor. She was previously an Arts contributor from 2021-2022. She is also a third-year psychobiology student from Morgan Hill, California.
Paxton is the 2022-2023 music | fine arts editor. She was previously an Arts contributor from 2021-2022. She is also a third-year psychobiology student from Morgan Hill, California.