Student-developed social media platform Cobble supports creative collaboration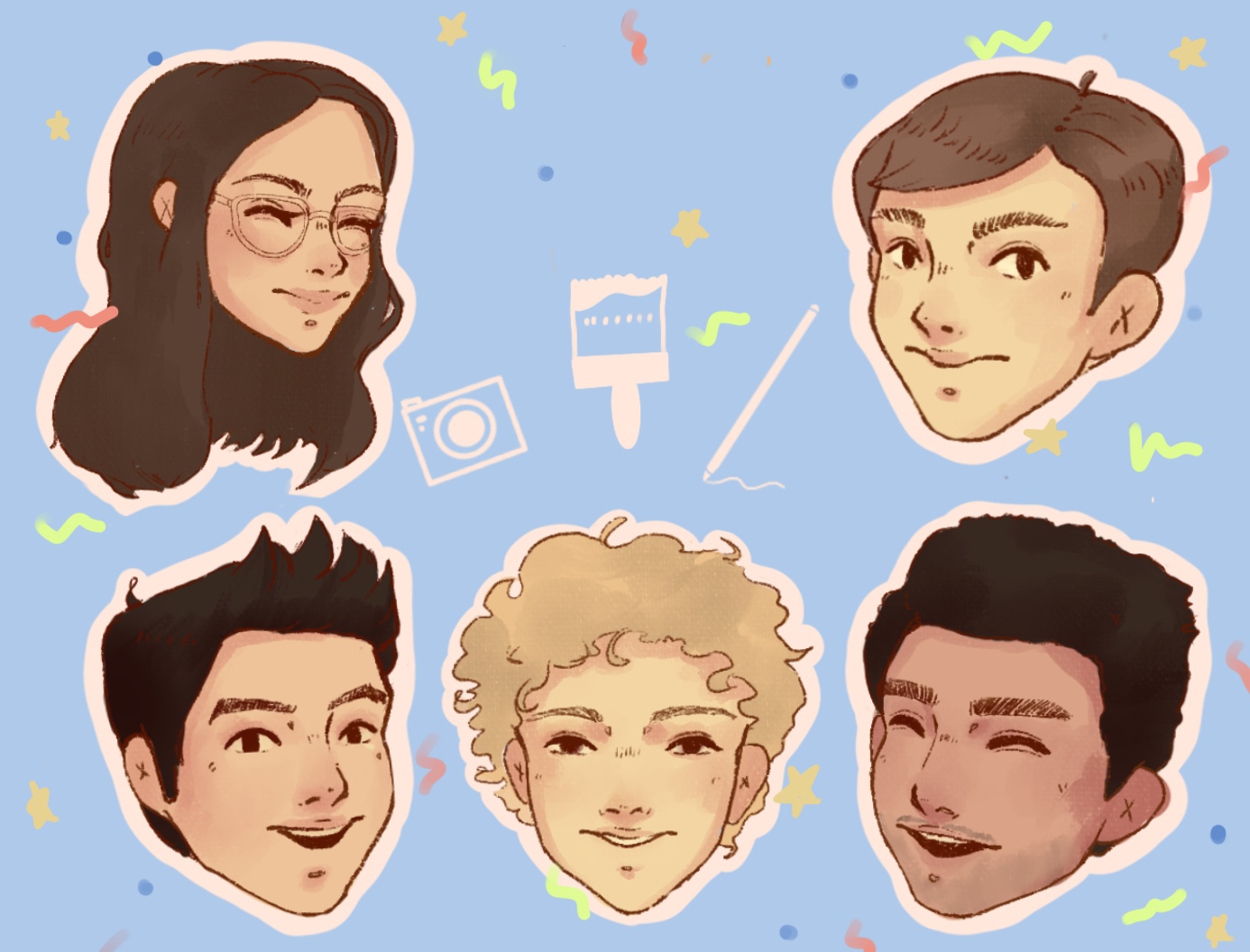 (Jade Emiko Ichimura/Daily Bruin)
Correction: The original version of this article incorrectly stated that George Owen was a third-year student. In fact, Owen is a fourth-year student. The original version also incorrectly stated that Carson Kim is head developer of Cobble. In fact, Oliver Melgrove is head developer and Kim is a co-founder. The original version also incorrectly stated Melgrove hosted events for Cobble. In fact, these events were hosted by the event team. The original version also incorrectly stated that Cobble has been working with the Arts Engagement program to eventually host events in the UCLA MakerSpace. In fact, Cobble is working with the Arts Engagement program separately from plans to partner with MakerSpace.
This post was updated Jan. 27 at 4:31 p.m.
Five friends have cobbled together a social media platform designed specially for creatives.
First conceptualized by fourth-year film student Jawan Ali, cobble.page began construction in September 2020. Since then, the small project has grown into a roughly 20-person effort to improve accessibility options for artists looking to collaborate on and share their latest projects. Ali said the initial idea for the networking website came from his realization that UCLA has few spaces conducive to gathering people from all corners of the artistic sphere.
"Cobble was born out of the need for certain types of art or certain artists or certain projects that need exposure and a community," Ali said. "Artists across all disciplines can now all come together and work on more ambitious things."
At the startup's inception, fellow co-founder and fourth-year linguistics and computer science student George Owen said Ali first approached him with an offer to create Cobble together. After accepting, Owen said it took almost a year of development to build Cobble's skeleton and get it to the current state where the co-founders can add features as they see fit. Since Cobble's basic functionality has been successfully implemented, Owen said he has spent the past summer and fall quarter focusing instead on establishing a lively community on the site, mainly by growing Cobble's Discord channel.
[Related: Hiyo seeks to elevate sober experience as alternative to alcohol]
The community's growth has been partially aided by Cobble's format, which works like a social media feed where users can view posts of fellow creators looking to share their work or find collaborators. For example, co-founder of Cobble, Carson Kim, said he found a new bandmate through the site. The fourth-year linguistics and computer science student said he initially focused only on developing Cobble but now has the freedom to use the site for its intended purpose as well and will now be auditioning for Spring Sing with the drummer he met on the site.
In terms of reshaping UCLA's social landscape, Cobble's head of product, fourth-year linguistics and computer science student Shreya Chatterjee, said she thinks the site is also important for shutting down the widespread stereotype that STEM majors lack creativity. Chatterjee said she knows plenty of STEM students like herself who have creative hobbies and passions, and she is excited to see them congregate. She said she hopes Cobble can reject this assumption by revealing how everyone's disciplines and majors have creative roots in their own rights and ways.
"Even if you do your art for one minute a day or for five hours a day, it doesn't matter," Chatterjee said. "Everyone is welcome. There's no shame in how you express yourself in the creations you make."
To expand this accessibility, Cobble primarily relied on word-of-mouth when getting off the ground, said head developer and third-year statistics student Oliver Melgrove. Now, however, he said Cobble's community has expanded with a mailing list, club events and a corresponding Discord server.

Though Cobble is still in its infancy, Ali said he and his fellow co-founders are making plans for the site's continued evolution. Currently, Cobble is only available to UCLA students through the UCLA Logon system, but Ali said he envisions Cobble eventually being accessible to college students nationwide. He said UCLA is the best place to start such a project because of the accessibility of on-campus resources that have simplified the process of extending Cobble's reach.
"At our age as college students, you're concentrating on people who are in their creative and intellectual prime," Ali said. "(Expanding Cobble) would be extremely conducive to, in some ways, an artistic revolution."
[Related: UCLA student crochets for a cause by donating business profits to charities]
The co-founders' main priorities for Cobble are to keep improving site functionality, and Melgrove said a specific goal was removing the Duo Mobile unlock requirement currently in place whenever users log in. Melgrove said the team plans on pushing the ability to make user projects public to non-UCLA students as well so users can make shareable links to their portfolios. Kim said a calendar broadcasting upcoming creative events taking place across campus is also in the works.
When looking to the future, Owen said he and the other co-founders recognize that most of them are fourth-year students, so they will likely not be able to personally oversee a lot of their future plans for Cobble. To rectify this, Cobble is working with UCLA's Arts Engagement program and is hoping to partner with the UCLA MakerSpace. Ultimately, Chatterjee said she wants Cobble to be accessible to all college students who may be interested in art, regardless of experience level or time commitment.
"We want to create a space where anyone can be creative and anyone can come to our events or post on our site without any kind of prerequisites," Chatterjee said. "Anyone can join and everyone is welcome."