UCLA student crafts jewelry business Venitulz to sell handmade pieces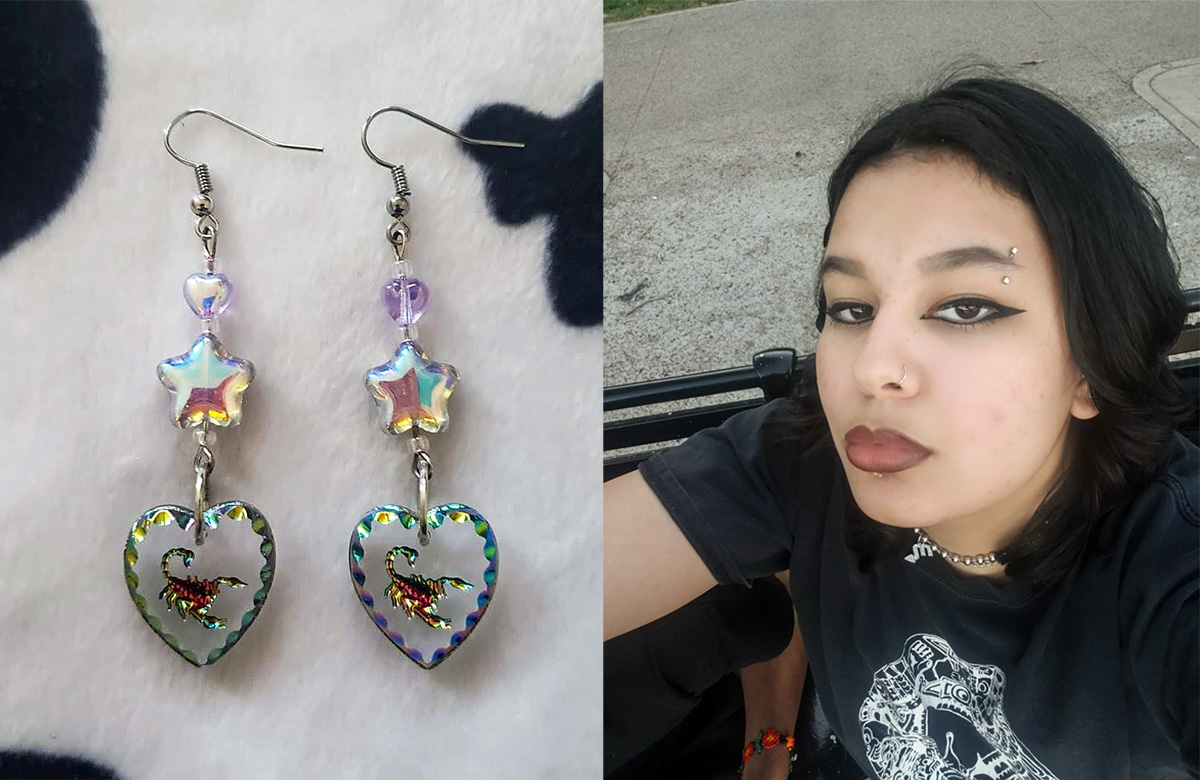 Fourth-year philosophy student Luka/Isa Gidwani (right) said they create eclectic pieces such as zodiac-inspired earrings (left) for their small business through trial and error. (Courtesy of Luka/Isa Gidwani)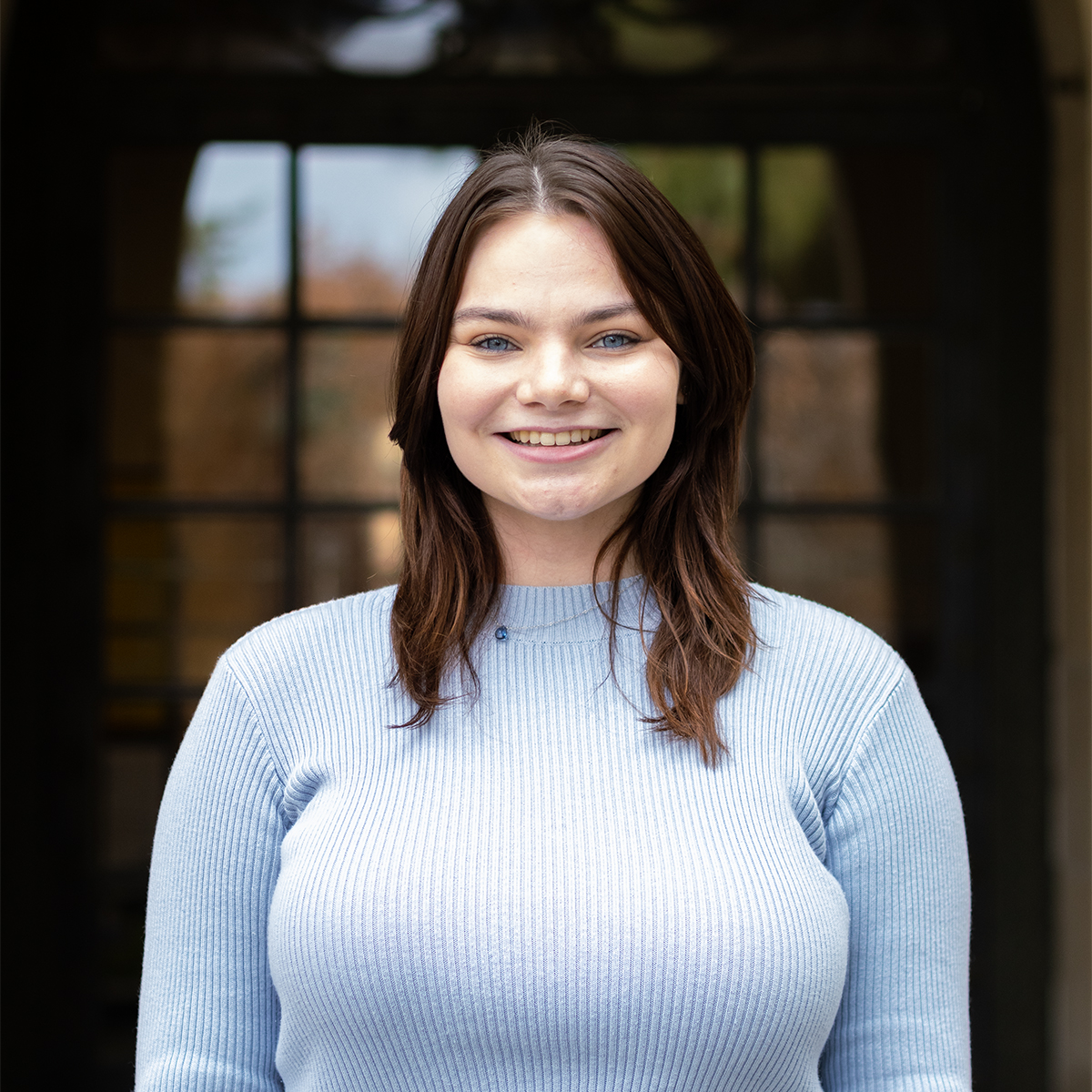 Luka/Isa Gidwani is forging their own bejeweled path.
As the owner and creator of Venitulz, the fourth-year philosophy student said they converted their brand from a secondhand clothing store exclusively on Depop into a jewelry business that sells their handmade pieces through their website, Instagram and Etsy. Frustrated with Depop's expensive fees and property laws, Gidwani said they had been meaning to make the transition and finally did so when the pandemic enabled them to pursue jewelry making for the first time.
"The reason I picked it up was because I finally had time and … the energy to try something new," Gidwani said. "I had actually been wanting to make jewelry, but I didn't ever really start. So this was the time when I was just like, 'You know, why not?'"
Inspired by friends who made jewelry and their own love for accessorizing, Gidwani said they learned how to create original items through trial and error. They said they strengthened their techniques by working with different-sized wire gauges, weaving them through glass beads without breaking such pieces and experimenting with different mediums. They said they also began recognizing which materials were of high quality, purchasing glass beads from the Czech Republic and wires that do not contain traces of nickel since they and most people are allergic to the metal.
[Related: UCLA student uses platform to cast authentic image of self, modeling industry]
However, growing a customer base has been a challenge for Gidwani because they have to craft jewelry that appeals to everyone's tastes and not just their own, they said. For example, Gidwani said their beloved Pokémon pieces were not as popular as their other anime-inspired trinkets. Though Gidwani tries to meet other people's demands by taking custom commissions, fourth-year sociology student and friend Jessica Magaña said the business owner has a strong idea in mind of what they wish to create.
"They know what they really want to put forward and what they want to sell, and I feel like sometimes nothing is really holding them back," Magaña said. "That's what keeps them growing consistently over time compared to when I saw them the first time. I always say they were so proud of what they did, but I feel like now they're just way more confident too in the things they produce."
With thematically eclectic pieces, Magaña said the beadwork stands out to her as the personal touch that unifies Gidwani's jewelry as their distinct brand of craftsmanship. Along with sparkly crystals, fourth-year Chicana and Chicano studies student and Gidwani's partner Pedro Gonzalez said the beads themselves reflect swirled patterns as part of Gidwani's designs, which are also characteristic of the brand's style.
[Related: Student expands new apparel, accessory brand one stitch at a time]
Other visual elements such as the color palette of purple, black and white – as seen with the cow print backdrops of photographed inventory – distinguish the aesthetics of Venitulz, Gonzalez said. In addition, Gidwani's earrings and necklaces often have a jewel attached at the end – which he said are sometimes an ode to their Mexican heritage, such as a Mexican Coca-Cola bottle charm for their favorite drink.
Gidwani said that aside from picking up a new artistic ability, running the shop has allowed them to acquire new skills, such as designing graphics on Canva for Instagram advertisements and navigating their social anxiety by networking with other small businesses. In the future, Gidwani said, they would like to expand their store by making and selling stickers as they move toward drawing more and learning how to tattoo.
"I've definitely seen a lot of growth in my shop since 2021," Gidwani said. "I've solidified my style a lot more. I really know what I want to make, and I know what I like to make. … I'm still experimenting sometimes, but I think I'm more solidified in my lifestyle at this point."
Jones is the 2022-2023 Arts editor. She was previously an Arts staff writer from 2021-2022. She is a fourth-year psychology student from Las Vegas.
Jones is the 2022-2023 Arts editor. She was previously an Arts staff writer from 2021-2022. She is a fourth-year psychology student from Las Vegas.