UCLA archive to host screening of works by Black TV pioneer Robert L. Goodwin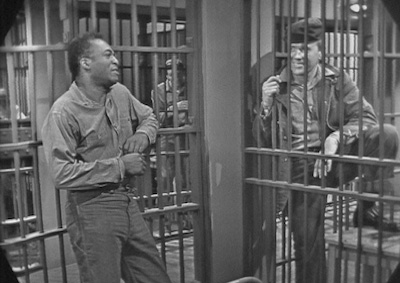 Prisoners converse in a scene from Robert L. Goodwin's "The Upper Chamber." The UCLA Film & Television Archive will screen the film on Saturday. (Courtesy of "The Upper Chamber")
"Lost African American TV: Robert L. Goodwin's "The Upper Chamber""
Nov. 19 
Billy Wilder Theater
Free
A chamber of works by Robert L. Goodwin will soon be screened in Westwood.
On Saturday, the UCLA Film & Television Archive will co-present two of Goodwin's works, "The Upper Chamber'" and "The Death of Simon Jackson" as part of "Lost African American TV: Robert L. Goodwin's 'The Upper Chamber,'" with the National Museum of African American History and Culture (NMAAHC). Goodwin's film will be introduced by Ina Archer, a media conservation and digitization specialist at NMAAHC, and television curator Mark Quigley. The TV movie will be followed by a conversation with Archer, as well as Goodwin's son, Robert Goodwin Jr., who said he hopes audiences learn about Goodwin's pioneering and lasting legacy as an African American filmmaker.
"Hopefully people gain more knowledge or information about my father or his works, his background … his contribution to the industry and as a Black artist, and people searching for other artists or lost works that are out there that people don't know anything about or are languishing in obscurity," Goodwin Jr. said.
[Related: UCLA Film & Television Archive celebrates 'nasty women' of 1900s film industry]
NMAAHC received a collection of films from the Goodwin family, including "The Upper Chamber" and "Black Chariot," another of Goodwin's films, Archer said. Quigley said he saw Archer's presentation at the Orphan Film Symposium, which included a short clip of "The Upper Chamber." After learning that it was local television shot in the 1960s, he said he contacted Archer to bring the history of the film back to Los Angeles by screening "The Upper Chamber" in its entirety for the public for the first time, Quigley said.
Although the story may seem like a simple one about men on death row, Archer said "The Upper Chamber" is complex, as each man's story is connected to the last days of Christ. As Goodwin was an ordained minister, Goodwin Jr. said his father included spiritual elements in this project and similarly used biblical names in other pieces. Meanwhile, "The Death of Simon Jackson" is socially conscious by dealing more with the Black experience, he said.
"The Upper Chamber" touches on themes of reflecting on one's life, while accepting past mistakes and choices, Goodwin Jr. said. Additionally, each person will interpret the film in a different way, he said, because of each person's distinct view of life. The story also includes the cyclical nature of history, the power of forgiveness when faced with terror, and humanism when people are incarcerated, Quigley said.
"This is a program that really challenges how people think about very complex issues, in terms of forgiveness, in terms of looking at the humanity in people that are incarcerated, and not just looking (at them as) objects in society," Quigley said.
When "The Upper Chamber" was produced, Quigley said there were few opportunities for African Americans in network television. After facing this lack of opportunity, Goodwin was one of the earliest pioneers to break through the color barrier in writing for television, Quigley said, as he funded, produced, wrote and co-starred in the film. The film survived as part of the UCLA Film & Television Archive to highlight underrepresented fragments of history, he said.
With a continuing legacy, Archer said "The Upper Chamber" still resonates today as the recirculation of the film allows people to understand the relevance of his ideas. She said the work continues the legacy of Black artists from when the film was made, with audiences being able to see it in a more accurate historical context. The purpose of working in media and film conservation is to recirculate art in order for people to understand that ideas from the past can be refreshed and still have resonance, such as the ability to continue to explore Goodwin's vast collection, she said.
"It really is beautifully made, beautifully acted," Archer said. "It's technically very inventive, and the story is very involving, and personal … even though it goes into the world of biblical stories. (It is) a very simple story that opens up into a complex story that is easy to become compelled by."
[Related: Film experts discuss Black experience, history in entertainment industry]
By screening "The Upper Chamber," Goodwin Jr. said his father's broad range, development and progress between "The Upper Chamber" and "The Death of Simon Jackson" will be on display. The two projects show that Goodwin's work holds the power to not only fit into one genre but to also entertain while telling a story, he said. Ultimately, he said he hopes that audiences will learn about Goodwin's contributions to the industry and his legacy.
"He was driven by the art and bodies of work," Goodwin Jr. said. "It inspires other people that even when they feel that they have not succeeded or … have not gotten the public recognition or blockbuster exposure that they still can be a success."