Film experts discuss Black experience, history in entertainment industry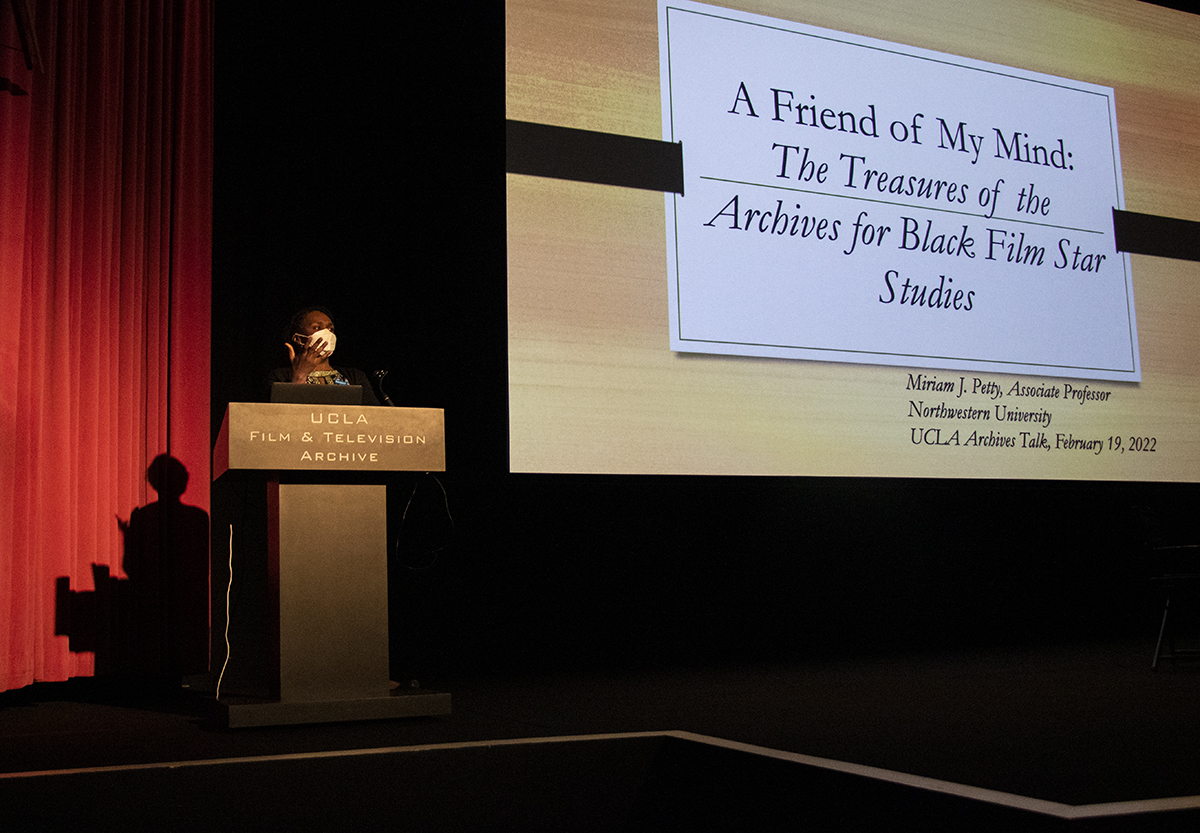 On Saturday, Miriam J. Petty, an associate professor at Northwestern University, gave a guest presentation on her research at an Archive Talk organized by the UCLA Film & Television Archive. (Finn Chitwood/Daily Bruin)
This post was updated Feb. 23 at 10:46 p.m.
"Stormy Weather" has hit the Billy Wilder Theater.
On Saturday, the UCLA Film & Television Archive presented an Archive Talk, which consisted of a presentation given by special guest Miriam J. Petty, followed by a screening of the 1943 film "Stormy Weather" and an onstage conversation between Petty and Philana Payton. The Archive Talk's goal was to provide new insights on films from experts such as Payton, an assistant professor of film and media studies at UC Irvine, and Petty, an associate professor of radio, film and television at Northwestern University. Petty is also the author of "Stealing the Show: African American Performers and Audiences in 1930s Hollywood."
"There's a surplus of Black talent, then and now, that rarely gets spotlit in ways that are equitable and certainly not in ways that make space for Black talent," Petty said. "'Stormy Weather' provides a space for (Black talent) to happen."
To emulate the ambiance of the film, 1930s jazz music filled the theater as audience members filed in. At center stage were two chairs set up for the postscreening Q&A session, illuminated by a spotlight. To start off the night, film programmer Paul Malcolm introduced Petty to the audience and played a clip from the 1935 musical "Hooray For Love," which features Bill "Bojangles" Robinson, who stars in "Stormy Weather."
The program then began with a talk from Petty about Black stardom in the 1930s and 1940s. She said she wrote about "Stormy Weather" in her book because of its all-Black cast – something hard to find in Hollywood then. Petty said "Stormy Weather" was distinctive in the sense that it was a big-budget production in Hollywood, as opposed to the indie "race films" that were being made at the time. These indie films provided commentary on race relations but did not have the same level of distribution as Hollywood films such as "Stormy Weather," Petty said.
[Related: 'Love, Laugh, Doom, Tears' examines graduate student's experience with sexual assault]
The black-and-white musical comedy showcases the artistic talents of the Black cast, from tap dancing to singing. "Stormy Weather" primarily relies on physical and slapstick comedy, lively dance numbers and exaggerated physical expressions – techniques that characterized the films of that time – in order to tell the story of an aspiring dancer, Bill Williamson (Bill Robinson), who falls in love with a famous dancer, Selina Rogers (Lena Horne).
Although it features a remarkable cast, Malcolm said the actors were never able to reach the full potential of their careers, which is something that is still true today for Black actors because of institutional barriers in the entertainment industry. Working in a predominantly white industry meant the types of roles Black actors were allowed to take on were limited, Malcolm said.
While doing research for "Stealing the Show," Petty said she found Black actors were never truly independent in terms of their careers. For instance, she said Bill Robinson often appeared alongside white stars such as Shirley Temple and Will Rogers, which required her to study white actors to learn how these Black actors rose to fame. Although these Black actors reached stardom, they were still relegated to the sidelines because their careers were boosted by, and were partially dependent upon, the success of white actors, Petty said.
Although times have changed dramatically, these issues brought on by systemic racism still remain, Malcolm said. Nonwhite actors must portray themselves in certain ways in order to get roles or appeal to audiences because as the minority, they must fit into the narrow scope of personas that are expected of them, severely limiting their careers, Petty said in the postscreening Q&A session.
"There's an inability to see what might be possible for someone beyond the stereotype that frames them," Petty said.
[Related: Students embrace absurdity, foster arts community with their production company]
At the end of the program, audience members gave Petty and Payton a resounding round of applause. Outside of the theater, some stayed to discuss among themselves or approach Petty and Payton to ask more questions. The program helped provide a new perspective of Black history in the film industry, attendee Joel Dishman said.
"I don't come from a place that's forward-thinking in terms of race relations," Dishman said. "(The program) was a fascinating opportunity to gain insight into a part of cinema I wasn't exposed to much growing up."
Additionally, attendee Em Jackson said "Stormy Weather" was an important film to show, especially during Black History Month. They said the film was an important celebration of Black excellence and resilience, considering the various racial injustices that Black Americans faced in the 1930s and 1940s.
During the Q&A, one audience member pointed out that, despite the relative inclusiveness and creativity in "Stormy Weather," there were still racial stereotypes in the film, such as a scene showing blackface minstrelsy. In regard to this comment, Petty said for the movie to be made in that time period, there had to be some concessions. In the modern-day entertainment industry, Petty said Black characters must challenge the white fantasy of Blackness and the act of co-opting Black actors into stereotypical narratives.
"(One way out) is for there to be a real revolution of values and aesthetics … in Hollywood, so that we don't have this kind of talent being scuttled and wasted," Petty said.