UCLA student starts food blog centered around dining hall delights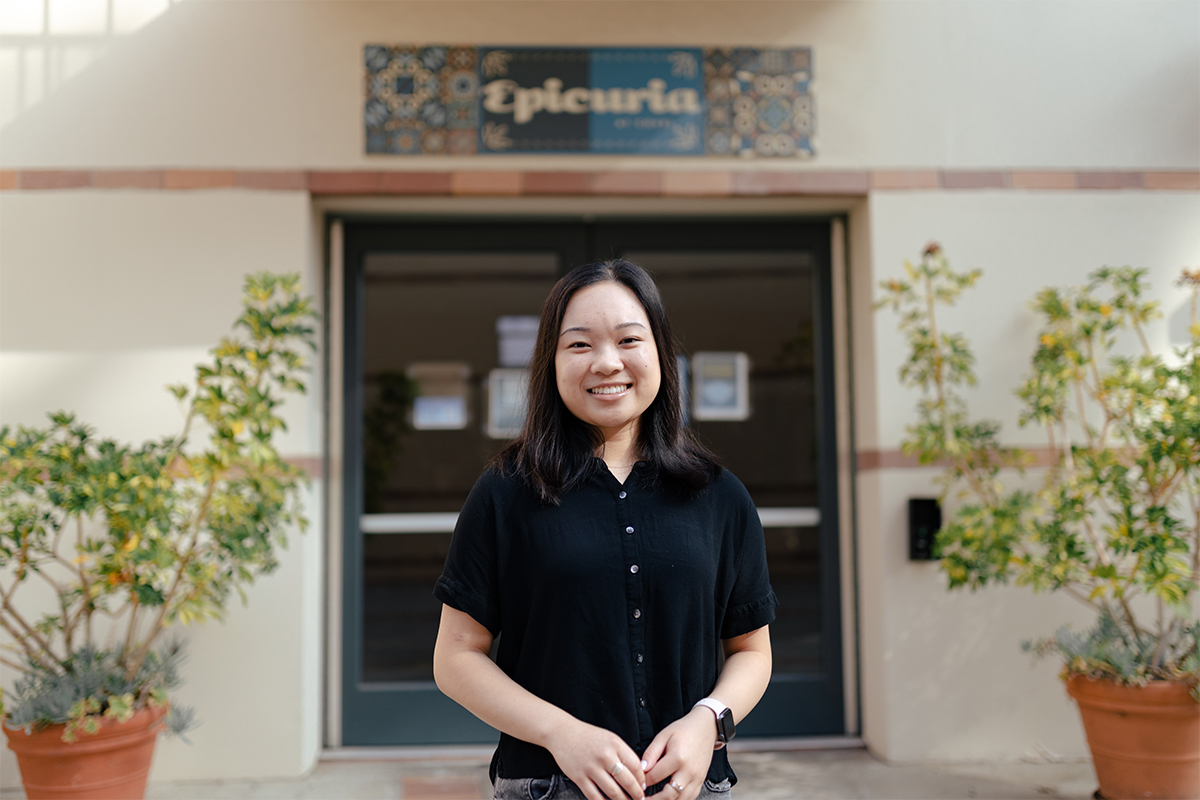 Katie Lee smiles in front of Epicuria. The third-year Asian studies student said her popular UCLA food blog, @ucla.swipes, helps students make decisions and take advantage of all of the dining options on campus. (Shengfeng Chien/Daily Bruin staff)
This post was updated Oct. 6 at 11:00 p.m.
With a camera and a swipe, Katie Lee is satisfying Bruins' appetites.
Dedicated to documenting the various foods available to UCLA students living on the Hill, the third-year Asian studies student said she created her Instagram food blog @ucla.swipes in September 2021. The platform began as an amusing pastime to show family members her daily meals, but it quickly gained traction among other students and amassed over 3,000 followers, she said. After receiving encouragement from the Instagram accounts of UCLA and UCLA Housing, who reshared her posts online, Lee said she decided to take on the role as the unofficial campus food blogger.
"When I got into UCLA, I always heard about the food, but there was nothing on Instagram or nothing online I could find about the food," Lee said.
In order to effectively gather content for the account, Lee said she begins every morning by checking the online dining hall menus and working her daily schedule around her meals. After finding seats with good lighting, she then works on presenting appetizing plating and snapping quality photographs, she said. While she has her own personal preferences when it comes to food, Lee said she prioritizes looking for new dishes that may be appealing to anyone so she can review them for others to consider sampling.
[Related: Bruin cooks up plan to promote culinary skills through meal kit, social media]
For Lee, UCLA's reputation for having the No. 1 dining halls in the nation stems from the wide range of dining options available to students, so she said she prioritizes helping others navigate the often overwhelming variety. Taking pride in uncovering hidden gems at each cafeteria, Lee said one of her most popular posts featured Bruin Cafe's acai bowl, an item most were unaware existed on campus.
"I like when someone will comment, 'Oh, I didn't know that.' Or someone will come back to me and say, 'Oh, I tried what you posted, and it was really good. Thank you for telling me about that,'" Lee said. "That feedback makes me happy."
With food trucks on the Hill and chain restaurants on campus accepting meal plan tickets, Lee said she began to expand her content to accommodate these changes. From filming Reels to assembling Instagram guides, Lee said her goal was to help students take advantage of their options and show what they could get for one swipe at each of these establishments. Lee's friend, third-year human biology and society student Jenna Tam said she was inspired to look for the Creamy Boys and Salpicon food trucks after seeing photos on @ucla.swipes.
As someone who tends to stick to the same cafeterias every day, Tam said she found the Instagram account useful in learning about themed dinners at dining halls she does not usually venture to. Special events such as Bruin Plate's "Garlic Fest" or Epicuria's "Taste of Italy" are not widely advertised, which makes it difficult for students to know what they are missing out on, Tam said.
With her belief that UCLA's food is vital to the campus culture, Lee said she is motivated to cultivate student camaraderie through mutual enjoyment of food by always maintaining an upbeat atmosphere on her platform. Whether about B Plate's salmon or The Study at Hedrick's long lines, @ucla.swipes tunes students into a niche but relatable dialogue about the food on campus, Tam said.
[Related: Head in the Clouds 2022: Diverse food options bring savory, sweet flavors to festivalgoers at a sour price]
Lee's roommate and frequent mealtime companion, third-year psychobiology student Irene Chang, said she has observed how the self-proclaimed foodie has improved her food photography skills throughout the year. In admiration of Lee's resourceful use of dining hall ingredients to curate aesthetically pleasing plates, Chang said her favorite posts are the ones in which Lee uses B Plate's various fruits and jams to decorate slices of toast with designs such as hearts or the school logo.
"There was one (post) where she made a drink in a dining hall and then she got all the ingredients (and a) step-by-step (on) how she makes her final product," Chang said. "I just think stuff has more of a more personal touch from her."
Moving forward, Lee said she hopes to continue spreading positivity through her passion project and engaging students through Instagram's interactive features such as story polls. Upon graduation and leaving the dorms, she said she plans to further her food blogging pursuits on her second food photography account, where she will nurture more of a personal identity as a content creator.
"I just like how photography can capture that moment, and when I look back at that moment, I can remember the feelings I was having, and it brings me happiness," Lee said.