Bruin cooks up plan to promote culinary skills through meal kit, social media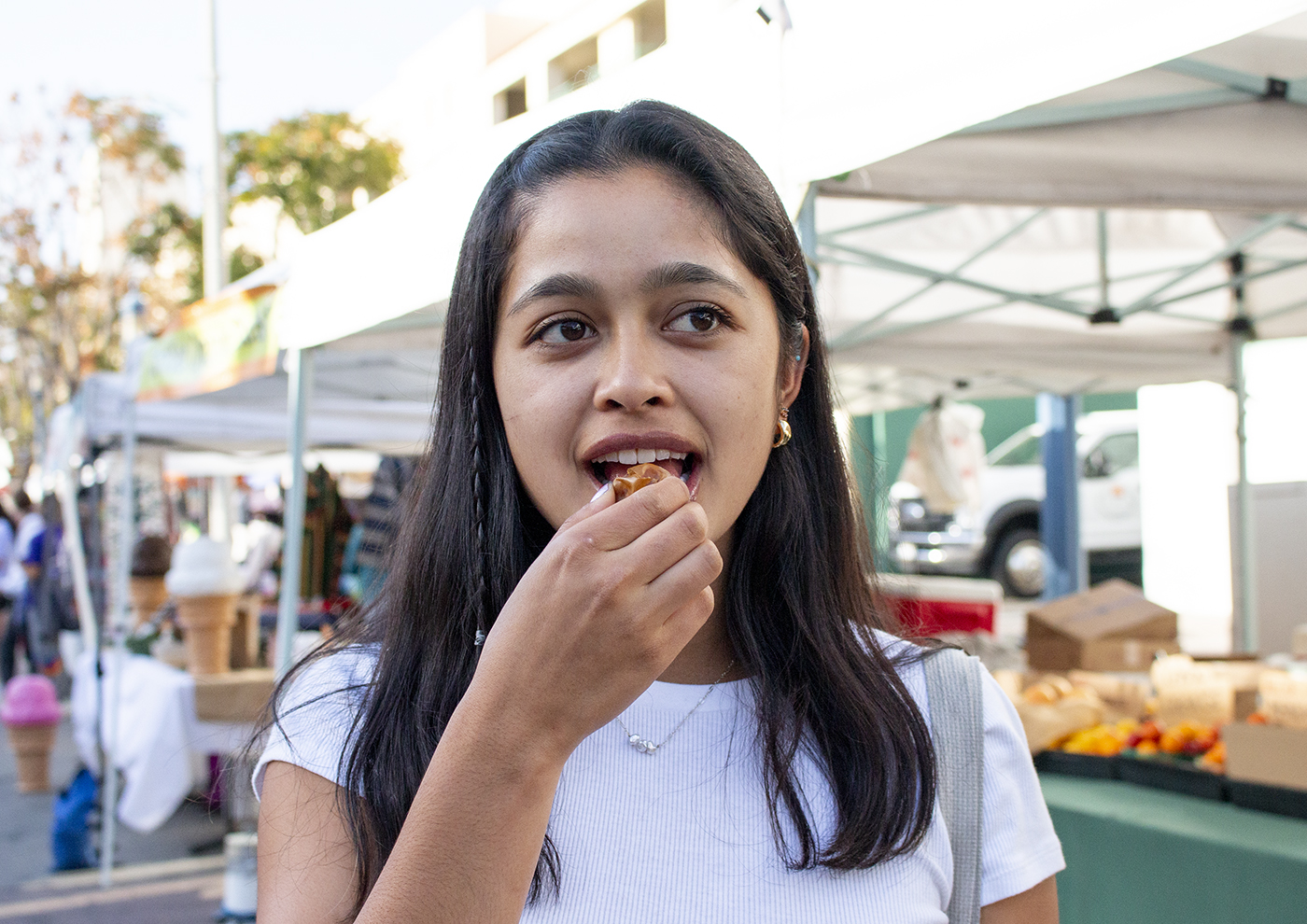 Laila Adarkar takes a bite of food at the Westwood Farmers' Market. The third-year student shares her love of food through hand cooked dinners and colorful meal kits. With a mission to encourage creativity in the kitchen, she said she aims to inspire students to eventually cook on their own. (Megan Cai/Daily Bruin)
March 30, 2022 10:17 p.m.
Laila Adarkar paints a colorful palette of flavorful dishes.
The third-year global studies student became a food influencer through her food Instagram account and established a meal kit that is distributed at the Farmers Market at UCLA. Adarkar originally posted photos of local cuisine to her food Instagram account but shifted her focus to sharing homemade dishes at the onset of the pandemic. Documenting the meals she concocted turned into holding dinners as a supper club, the contents of which also appear on her page, she said. The positive feedback of her foodie content recently led to the installment of a meal kit, which Adarkar said aims to highlight that anyone can cook.
"COVID was a really big re-centering for people," Adarkar said. "I just (had a) re-centering of values and priorities – I love cooking and what's going to create the best output in (my) work or whatever (I) do is the things that (I) love."
In her personal life, Adarkar said cooking became an opportunity to use food as a way to connect with friends and family by sharing meals together. The supper club, held on Sundays with Adarkar's eight roommates, removes the formality of a restaurant experience and shifts the focus to an intimate gathering through the shared experience of food, she said. Adarkar's roommate Brynne Burrows said the supper club built a community between their roommates, as Adarkar cooked for everyone and demonstrated how to incorporate fresh ingredients into their daily meals.
"There's nine of us and there's not a lot of time where we get to sit around the table and talk about our day, our lives (and) what's going on in the world," Burrows said, a third-year human biology and society and Spanish, community and culture student. "(Adarkar) is really good at using food as a way of bringing all of us together."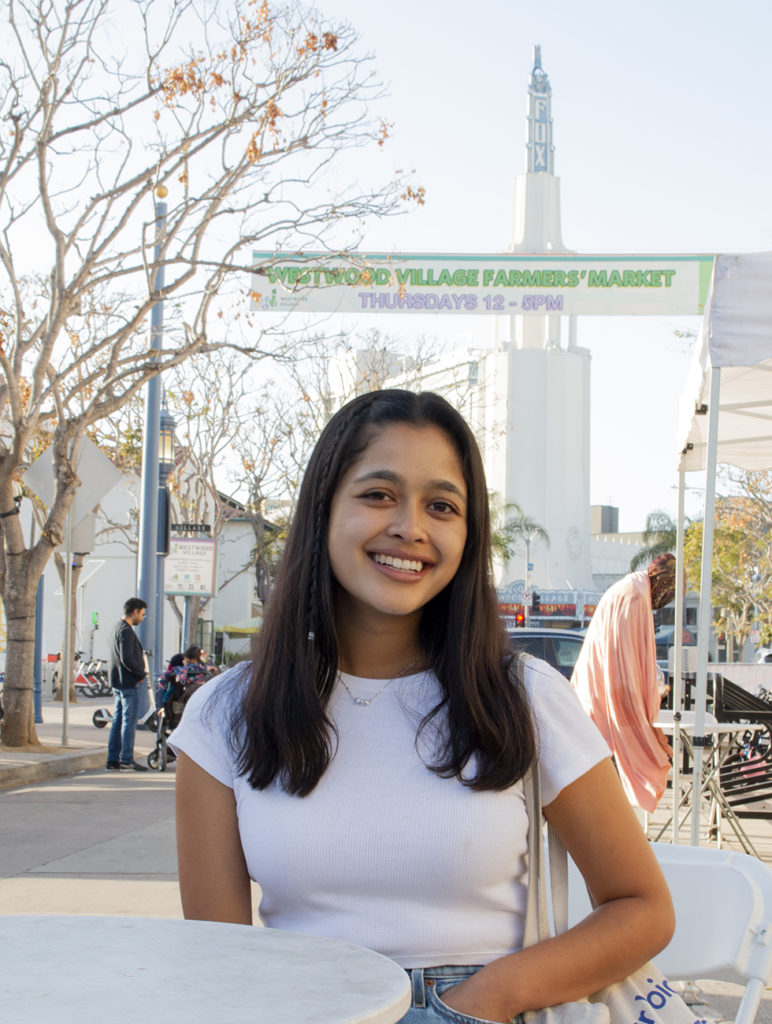 [Related: Student-hosted "The Brain Food Podcast" encourages people to listen to their gut]
Wanting to reach a larger audience, Adarkar said she began a meal kit subscription program, Cook This Kit, in collaboration with the Farmers Market at UCLA and Semel Healthy Campus Initiative Center at UCLA as a way to supply the building blocks a beginner cook needs to efficiently create meals. The idea behind the kit was to provide specific instructions and measurements for each recipe in hopes that all cooks would eventually adapt the recipes to their own liking and learn enough to orchestrate recipes on their own, she said.
The first meal kit, which was distributed for free as a pilot, featured a rainbow carrot and red onion couscous with mint, pomegranate seeds and almonds, Adarkar said. The array of colorful ingredients in the kit was to encourage fun with meal prepping, she said, and the kit will ultimately allow the cooks to show love for themselves with an aesthetically pleasing meal.
"Taking the time to eat for yourself and nourish yourself is a way to show love for yourself," Adarkar said. "You're (saying), 'Let me make something that is pretty for myself or that tastes really yummy.'"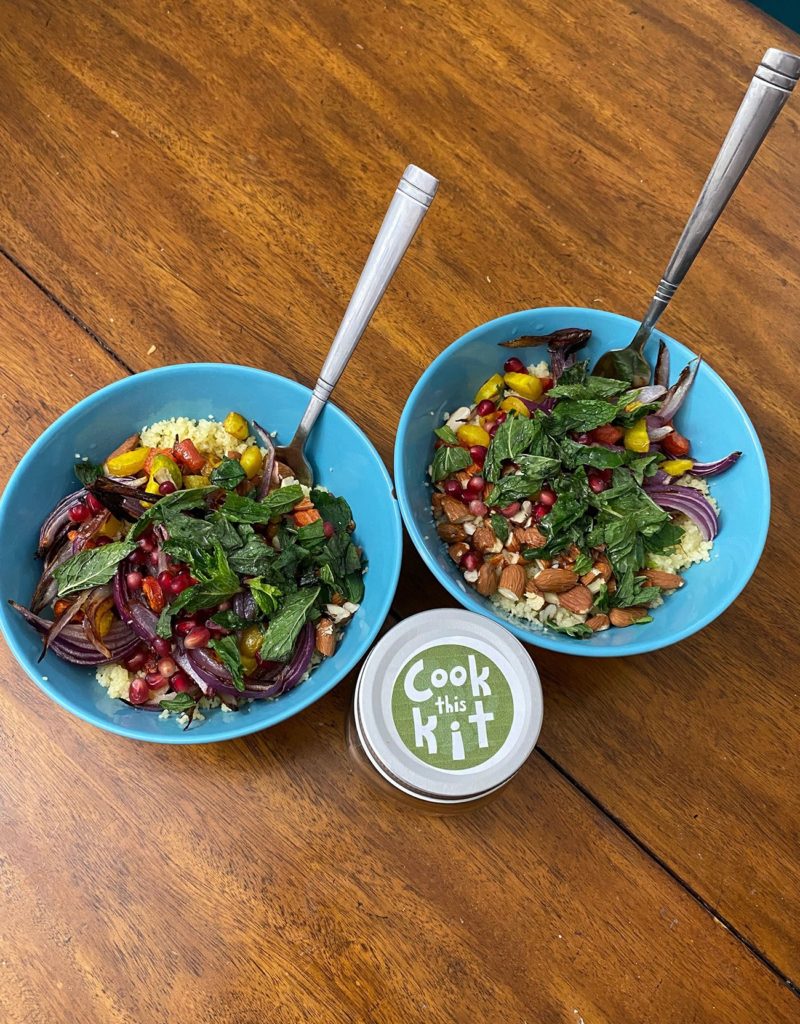 [Related: Bruins' 'bootleg' dining experience brings haute cuisine feel to apartment scale]
Cook This Kit also provides an opportunity for consumers to obtain affordable, healthy food resources and serves as a tool set to learn how to cook, said Julia Rhoton from the UCLA Teaching Kitchen. The meal kit is not meant to transform anyone into a master chef, but it instills the opportunity to be more intentional in preparing meals, she said. Learning how to cook includes more than the mechanics of cooking, Rhoton said, as knowing when and where to source ingredients adds to the idea of incorporating sustainability and making ethical food choices.
"(Those who use the kit) are actually taking the time to learn something, so (the kit) is not only providing people with needed sustenance, but lifelong skills," Rhoton said.
The ultimate goal with the meal kit is to provide a baseline of knowledge so that one will eventually not need the kit, Adarkar said. By honing their cooking skills, the meal kit subscribers will have the built-in confidence to move away from depending on the kit and rely on themselves, she said.
"My ultimate goal – at least (with) the kits and supper club – is (for) more people to be able to … eat more delicious food (and) more nourishing food," Adarkar said.