Alumnus Maddie Park lets go of rigid expectations in healing musical journey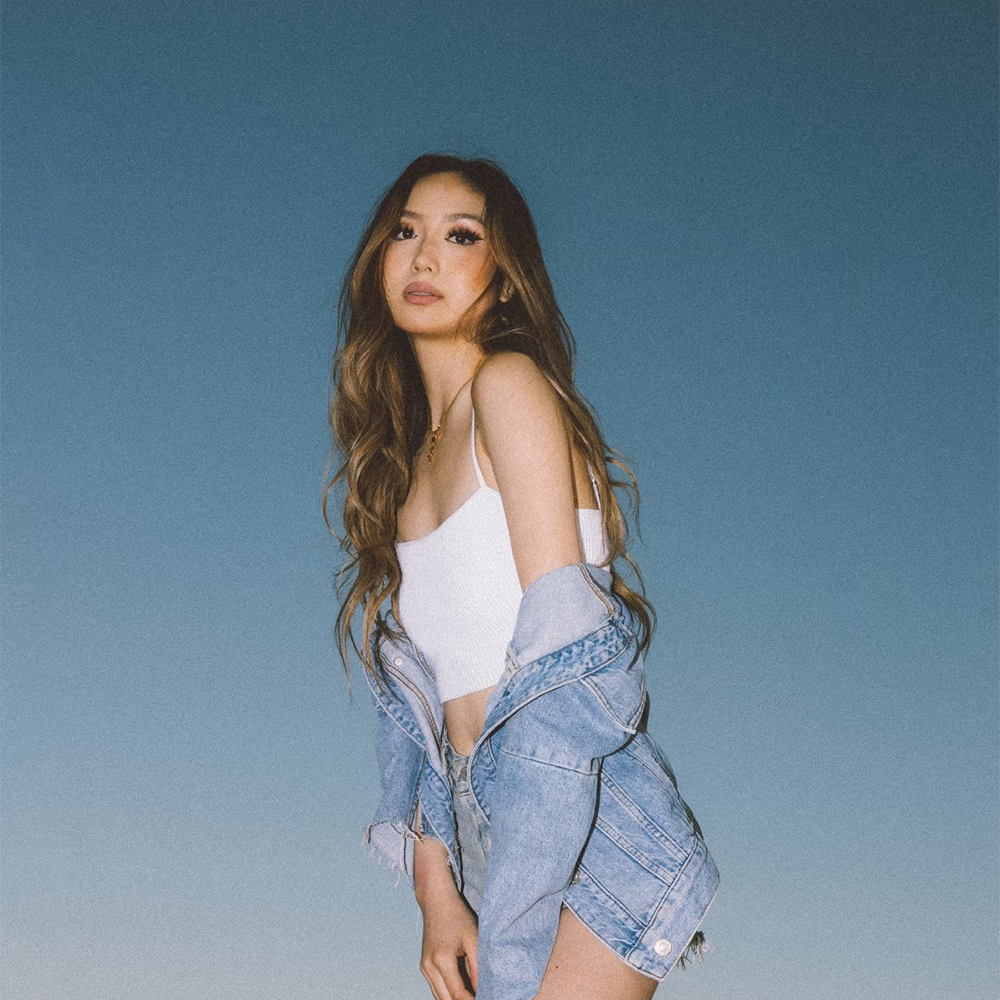 Alumnus and singer-songwriter Maddie Park stands in front of a blue background in the cover for her latest single, "i'll call you back." (Courtesy of Maddie Park)
This post was updated Sept. 5 at 9:25 p.m.
Maddie Park is singing her way through tangled feelings.
After graduating in June 2021, the alumnus said she utilized the past year to pursue her passion for music, writing seven singles tackling conflicting romantic feelings. Although Park said she has found her creative energy through expressing herself in these tracks, navigating her musical journey has been difficult because of challenges related to both personal and familial pressure and the level of uncertainty associated with being successful in the music industry.
"Growing up Asian American, … they (Park's parents) were definitely like, 'Okay, well, music is not a real job,'" Park said. "We'd watch 'American Idol' on TV and it'd be like, 'That's a one in a million, right?'"
As a child, Park said she found joy through singing at an early age, especially when singing along to "The Sound of Music," as she re-created scenes from the film and eventually broke the tape by watching it too many times. She said her passion for music continued into high school and college through singing competitions and small gigs, but she never saw herself pursuing it as a career.
[Related: UCLA student Jack Drinker strikes a chord with authentic songwriting skills]
Park's brother Brett Park said he was always impressed by his sister's ability to identify how minute differences in an artist's breathing or background rhythm contribute to a song's overall sound. Through her ability to pinpoint nuances in a song, Maddie Park was able to refine her own craft by learning from accomplished artists with a level of enthusiasm greater than that of an average listener, Brett Park said.
After a discussion with her mother at the start of the COVID-19 pandemic, Park said she decided to dedicate a full year to pursuing music and soon saw herself experiencing more fulfillment and joy through making music. In establishing her sonic aesthetic, Park said she aims to create an emotionally resonant R&B-pop style similar to music by Ariana Grande, SZA, Jhené Aiko and NIKI by blending a soft vocal style with major seventh chords to add R&B's soulful elements to her own sound.
Park's friend from high school Joseph Kuo said Park's musical passion manifested in her adoration for Ariana Grande, whether it was dressing like the pop star or decorating her room with the singer's merchandise. As a fellow musician, Kuo said he and Park collaborated together when she entered a songwriting competition in high school and asked him to provide an improvised piano accompaniment.
Continuing to write her own lyrics after that competition, Park said her songs are thematically based on whatever is on her mind at that moment, rushing to start writing lyrics when a feeling becomes mentally overwhelming. In her most recent song, "i'll call you back," Park said she continued her theme of romantic uncertainty and vulnerability by elaborating on her tangled thoughts surrounding a fading relationship.
"The last song that I just wrote was really based around the one lyric, 'I don't think you understand me anymore,'" Park said. "It's such a basic lyric, … but I think that was just the feeling behind everything. … It's really about a relationship where you feel like, 'I love this person, and there's nothing wrong, but I still don't feel connected anymore.'"
Throughout the journey of transforming her brainstormed lyrics into fully developed tracks, Park said the process's creatively fulfilling nature has brought her peace and allowed her to heal her mind. Her exposure to competitive environments growing up and the pressure she placed on herself to do well in school pushed Park to acknowledge that her progress in the past year was a product of being less harsh on herself, as she said she realized putting less pressure on achieving success helped her enjoy making music.
"Part of being an artist I didn't really realize was being free," Park said. "I think I definitely grew up with that rigid mindset of, 'If you just work really hard, it'll pay off.' … So much of the progress that I've made in this past year has been because I had to just let go a little bit more. I had to figure out (that) you don't have to write a perfect song, just write what comes to you."
[Related: Student Allie Schulz finds voice with self-produced EP 'Flash Fiction']
To expand her online presence, Park posts short clips detailing her musical journey on TikTok, recently reaching 10,000 followers. In a recent TikTok, Park said she narrated her story of feeling unfulfilled after graduating from UCLA and received overwhelming support from other recent graduates who were experiencing the same challenge. She said she was grateful for a more personal connection to her listeners through the platform, as she became less afraid to be vulnerable after realizing many of her listeners could relate to her postgraduate journey.
With seven singles currently available to stream, Park said she soon plans to release an EP with four to six songs tackling themes related to her past discography. Hoping to continue performing her own music to create a more personal experience for her, Park said she wants to move from playing small gigs to larger shows. In addition to making music with the hopes of performing as her own headliner, Park said she will keep progressing mentally by relaxing her rigid expectations for herself and growing from criticism online as an artist.
"I had to learn how to go out and have fun with friends again," Park said. "You can't write if you don't have experiences to write about."