Student Allie Schulz finds voice with self-produced EP 'Flash Fiction'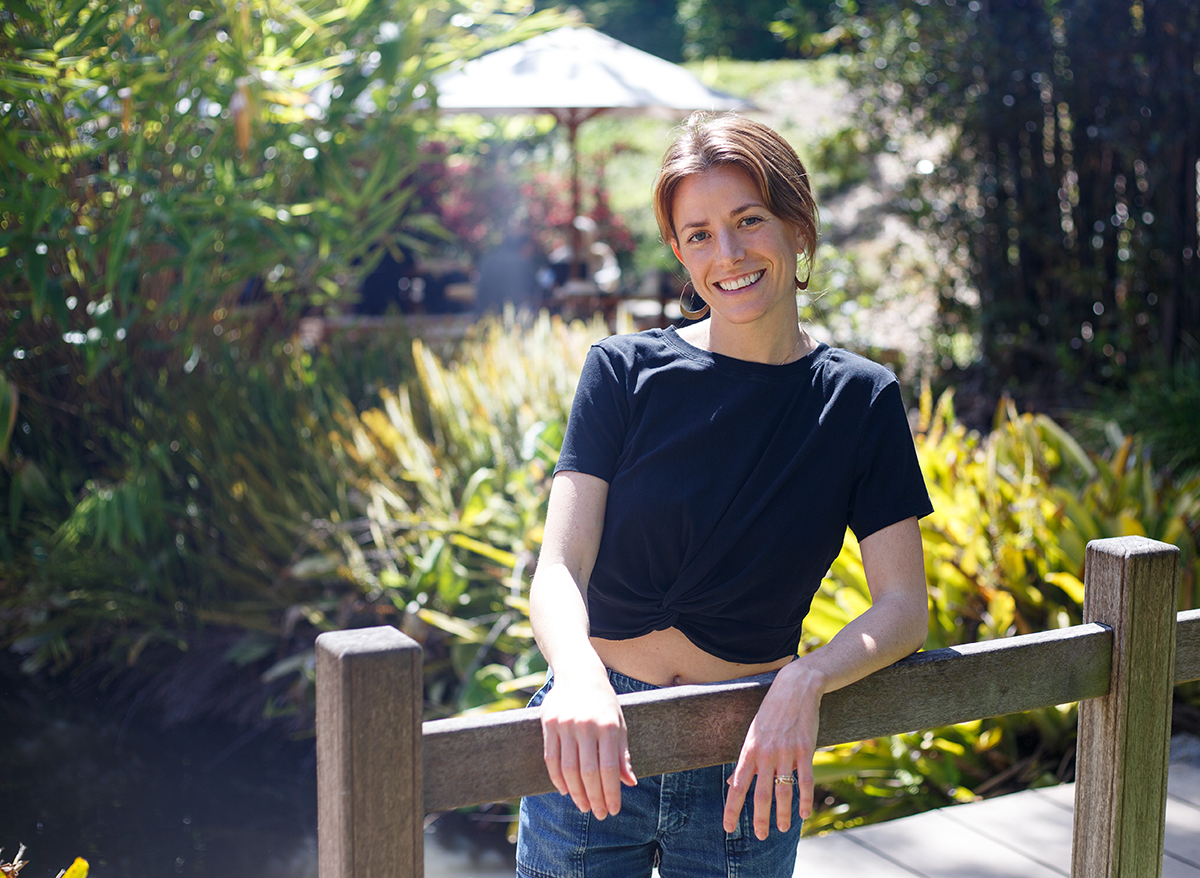 Fourth-year ethnomusicology student Allie Schulz stands at the Mildred E. Mathias Botanical Garden. Schulz released her first self-produced EP, "Flash Fiction," on Friday. (Jenny Xu/Daily Bruin)
Allie Schulz has found strength in her gentle sound.
After first gaining musical experience through musical theater, the fourth-year ethnomusicology student said her extended play, "Flash Fiction," released Friday on Bandcamp, is her first time releasing self-produced music. Schulz said she previously released songs under the moniker LAE but would have other musicians produce her music. But she realized how overproduced her LAE projects were, she said she decided to take her music into her own hands.
"I said, 'I don't care how long it takes. I'm going learn how to produce my own stuff, and I'm going to write the next chapter of my music for me without meddling voices,'" Schulz said.
Growing up, Schulz said she lived in a musical family, joining choirs and playing piano in Nashville. She said she frequently came up with her melodies on bike rides and harmonized with her mom while she was singing around the house. Her mother's former career as an actress in New York City motivated Schulz to move and perform on Broadway, but she said she decided to go to Los Angeles and release her own songs after becoming burnt out with musical theater.
[Related: UCLA student follows musical instincts, releases self-produced debut single]
Following the LAE project, Schulz said her decision to release songs under her own name reflects the intention to start centering her personal thoughts in her music. She said the EP is more meditative compared to LAE, inspired by folk artists such as Joni Mitchell and Suzanne Vega. Some of her more recent songs, for example, unpack what it means to have a child and the implications of motherhood on creative freedom, she said. The purpose of the record's title "Flash Fiction," a term Schulz said she learned from a poetry class at UCLA, is to show how each song functions as a story that is briefly lived yet complete.
Being behind the production board for the first time, Schulz said she viewed the EP's creation as an opportunity for her to figure out her style as a producer. While recording vocals, she said she became more confident about her voice's natural qualities, such as her tendency to scoop – or slide the pitch of a melody – like a country singer. The EP was also an opportunity to push her sound in a more gentle direction compared to the brash music of LAE, she said, drawing from '90s artists such as Portishead and Sade.
"Climbing into how powerful production can be as part of the storytelling and mood – it's been fun, mostly challenging … but then really rewarding," Schulz said.
As her husband and co-producer, Alex Lemire Pasternak said he was not surprised by Schulz's decision to start producing her own work. The couple has produced music together before for her yoga classes and their collaborative project Florecer, he said. For "Flash Fiction," specifically, Pasternak said Schulz created her own demos, recording the melody with guitar and piano before he added other instruments like bass.
During the EP's conception, which started two years ago with Schulz's songwriting, she said her husband introduced her to Balearic beat music, a subgenre of electronic dance music that then influenced the relaxing atmosphere of her songs. As the project developed, however, Pasternak said what makes Schulz's music distinct is her eclectic blend of sound. With Schulz's diverse musical history, he said she seems to draw from theater and country music for her sense of melody, while her production takes cues from their shared experience making ambient music.
"She reaches across all of her musical backgrounds from different textures and timbres without being too derivative of any specific style," Pasternak said. "(It's) a good amalgamation of her past."
[Related: Student draws upon poetry background to inform lyricism as rapper Young Scotto]
Acting as a marketing advisor for the singer, Lauren Park said she enjoys the chameleonic qualities in Schulz's music. To determine the artwork for singles such as "Water's Rising," Park said she discussed the personal significance of the songs with Schulz to figure out how to reflect those qualities visually. Schulz then collaborated with other designers and searched through past photos looking for single artwork, Park said, as she wanted to reflect the light and airy feeling of listening to the songs.
With "Flash Fiction," Schulz said she hopes her songs put listeners in a blissful mood, as if they were taking a road trip. One of the main goals of making the EP was to create a space where any listener, specifically women, can be empowered by their tenderness and desires, she said. While her past was defined by the work of other producers and co-writers, Schulz said these songs mark a time when she is finally able to give voice to her thoughts and judgments.
"In the past, I was just so afraid to give voice to these things," Schulz said. "Now, it's like I can feel these, and it doesn't need to be anybody else's approved set of feelings."