Moral questions spring up in student superhero short film 'The Grasshopper'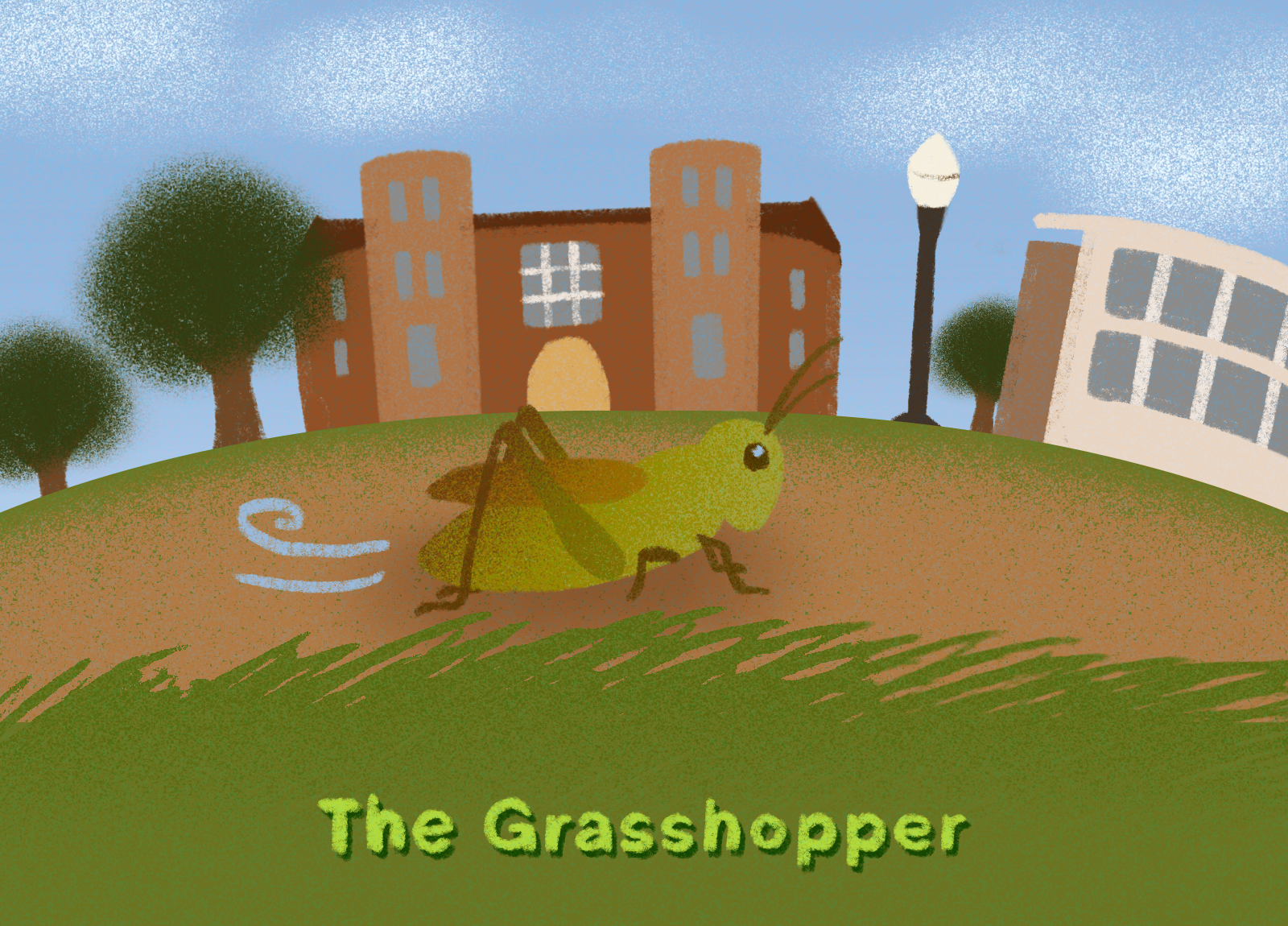 (Isabella Lee/Illustrations director)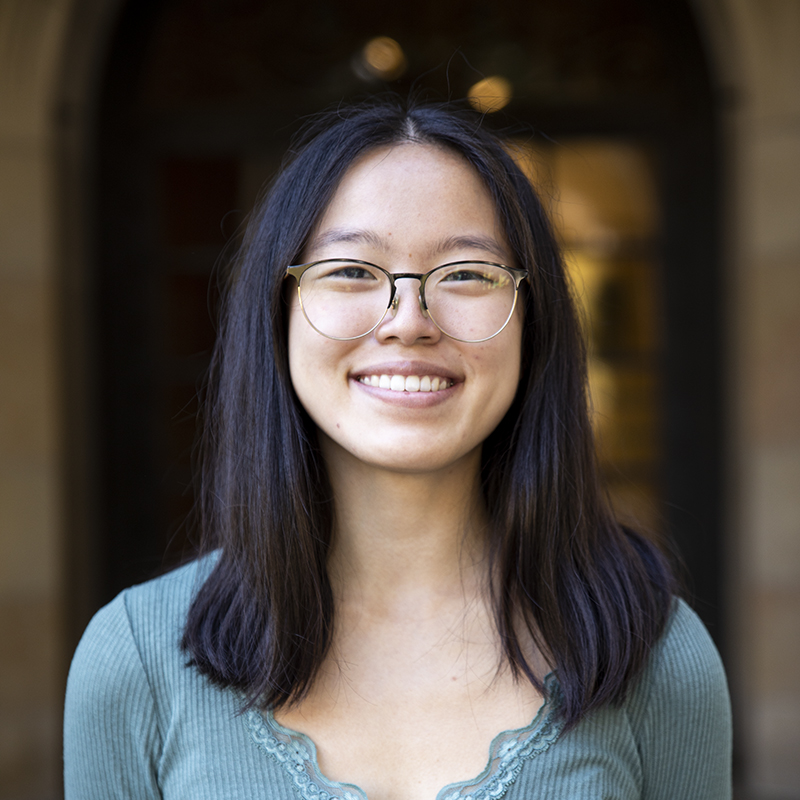 One larger-than-life insect is taking over a college campus.
The insect in question is Grasshopper, a novice superhero at the center of fourth-year mathematics of computation student Rohan Bansal's short film "The Grasshopper." Produced by the Film & Photography Society, the film follows the story of a civilian vigilante, who is a college student by day but a superhero-in-training by night, Bansal said. By utilizing a mockumentary style, writer and director Bansal said he could infuse comedy with the endearing naivete of the lonely main character to investigate the line between what constitutes right and wrong.
"I've always toyed with superhero stuff, at least in the last few years," Bansal said. "I realized I've never seen a superhero on a college campus. You see high school superheroes, you see adult superheroes, but you don't find that in between."
[Related: Graduate student premieres personal short film 'The Blessing']
Once he had settled upon the idea of a superhero film, Bansal said he consulted his father for funny superhero name ideas, which yielded the suggestion of Grasshopper. With the somewhat silly moniker and innocent connotations of the title, Bansal said he fully fleshed out the idea into a 12-page script. The narrative chronicles the adventures of a college student with a rigid moral compass who attempts to make friends by enforcing order on his campus, all in a grasshopper costume, he said.
Rather than making the piece into a short film, Bansal said he opted for a smaller episodic piece and whittled down the project into a six-page script. However, he said the film still featured the same mockumentary style and focuses on the quotidian life of Grasshopper, underlaid with thought-provoking questions of morality and righteousness delivered with the eagerness of a college freshman.
"I wanted that (the message) to come out and apply itself," Bansal said. "There's no overarching story. It's like 'The Office.' If someone were to ask you the plot of 'The Office,' it's people going out in the office. It's just a day in the life of this guy who's a superhero."
As Grasshopper roams around campus, Bansal said the character does his best to enforce what he considers to be the correct moral ground. His vigilante endeavors include tackling a painter whom he thinks is vandalizing property with graffiti, as well as ripping away bird feed from a civilian to abide by animal feeding restrictions, he said. Third-year political science student Aryaan Gupta, who plays the main character, said he sought to walk the line between childish naivete and grounded seriousness in his portrayal.
"He (Grasshopper) just wants to do good for people," Gupta said. "He may not be intellectually very bright, but the emotional quotient is high. I can relate to that – the sensing of, 'Somebody's in trouble,' or, 'Somebody's not doing well.'"
As for the production, Bansal said the piece was shot in one 12-hour day on North Campus, primarily in the Sunken Gardens. The cinematography features the camera as an active participant in the film itself, Bansal said, serving as an omniscient character. For instance, in one particular scene, Gupta said the camera gestures behind Grasshopper to point out a potential criminal, to which the superhero immediately takes off running.
In addition to the active role of the camera, Bansal said the cinematography consisted of the classic shaky camera signature to mockumentary style as well as interjected scenes in which the characters speak directly into the lens to break the fourth wall. During particularly frenzied or heated scenes, he said the camera rapidly panned back and forth between characters to induce a frantic atmosphere.
To further underscore the tactical nature of the superhero, Bansal intended for Grasshopper's costume to give off a makeshift attitude akin to Spider-Man's first hodgepodge spider suit in "Spider-Man: Homecoming." Though the costume featured a green mask with antennae sticking out, he said the rest of the outfit consisted of mundane sneakers, green pants and shirt, complete with a green accented vest to resemble an insect thorax.
With the short film's holistic sense of comedy, Bansal said he did not strive for the film to appear too didactic or heavy-handed in hammering home a takeaway message for the audience. In particular, producer and third-year economics student Sam Sparks said the project delivers a subtle message on questioning one's values through Grasshopper rather than a plotline with an overt moral.
"He's (Grasshopper) a really want-to-do-good guy," Sparks said. "But he's just misguided and misdirected. For example, he obfuscates morality with the law – just because something is illegal, it must be bad, and just because something is legal, it must be good. It's a lesson in morality."
[Related: 'Beast Beast' explores themes of humanity, coming of age in the digital era]
Ultimately, Bansal said he intends for the short episodic to be the first of many in a series on the Grasshopper that can be continued after Bansal's graduation, expanding with a greater focus on themes such as religion and cultural heritage. As for now, he said he wishes for audiences to relate to Grasshopper's desire to form human connections despite his somewhat awkward attempts to do so.
"The stuff that people think about is always the stuff that people resonate with emotionally," Bansal said. "I just hope that this idea of loneliness or wanting to connect with people – which is a more appropriate synopsis for what this is about – resonates with people."
Xu is a senior staff writer for Arts & Entertainment. She previously served as the Arts editor from 2021-2022, the Music | Fine Arts editor from 2020-2021 and an Arts reporter from 2019-2020. She is a fourth-year neuroscience and anthropology student from Philadelphia, Pennsylvania.
Xu is a senior staff writer for Arts & Entertainment. She previously served as the Arts editor from 2021-2022, the Music | Fine Arts editor from 2020-2021 and an Arts reporter from 2019-2020. She is a fourth-year neuroscience and anthropology student from Philadelphia, Pennsylvania.