Duo's Spring Sing song to highlight importance of reaching out during hardship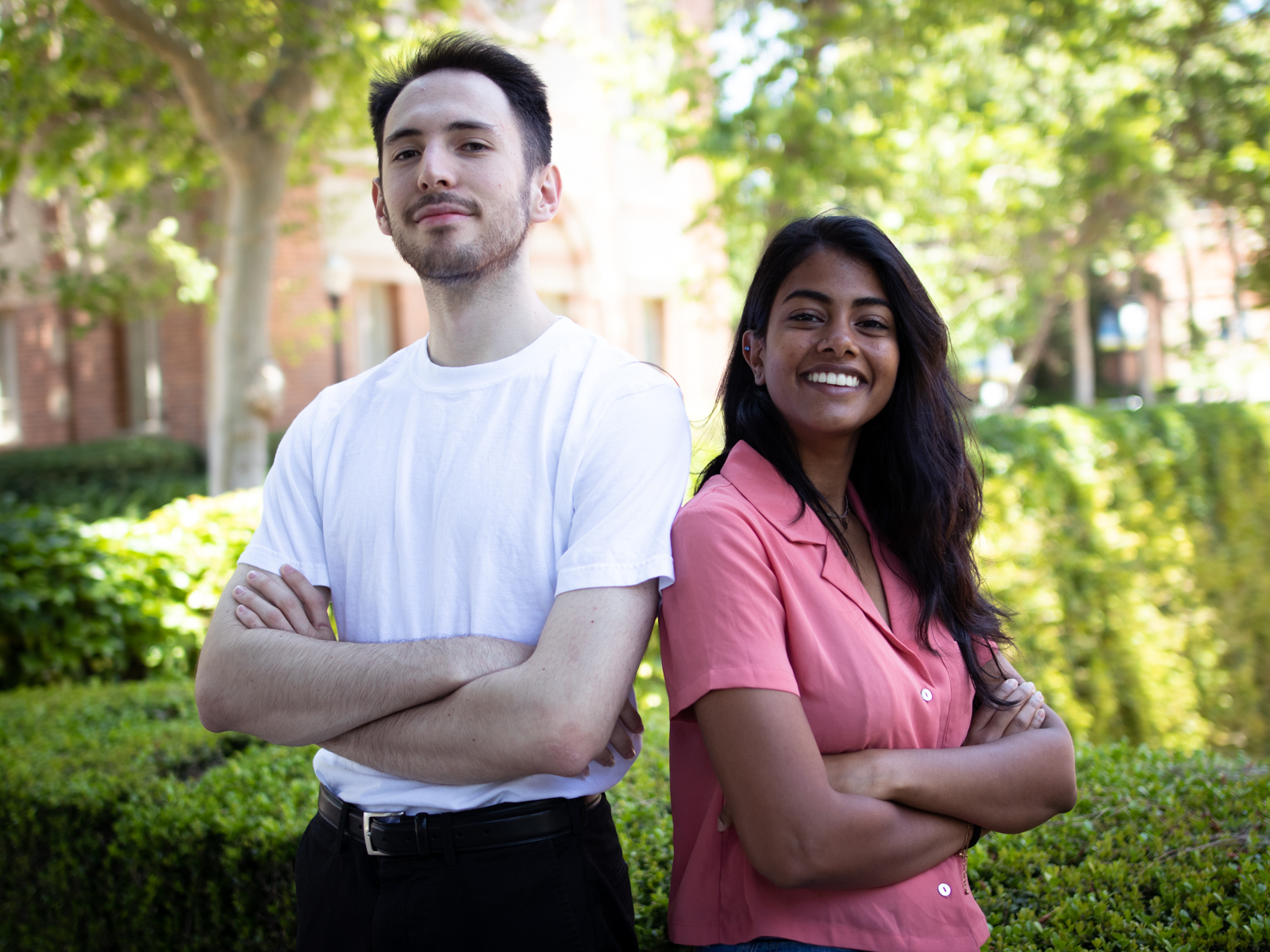 Matheus Gorski, a fourth-year electrical engineering student, and Jahanvi Srinivasan, a fourth-year psychology student, will perform as a duo. Hailing from Brazil and India respectively, they will bring their individual musical influences together for a song about reaching out for help. (Esther Li/Daily Bruin)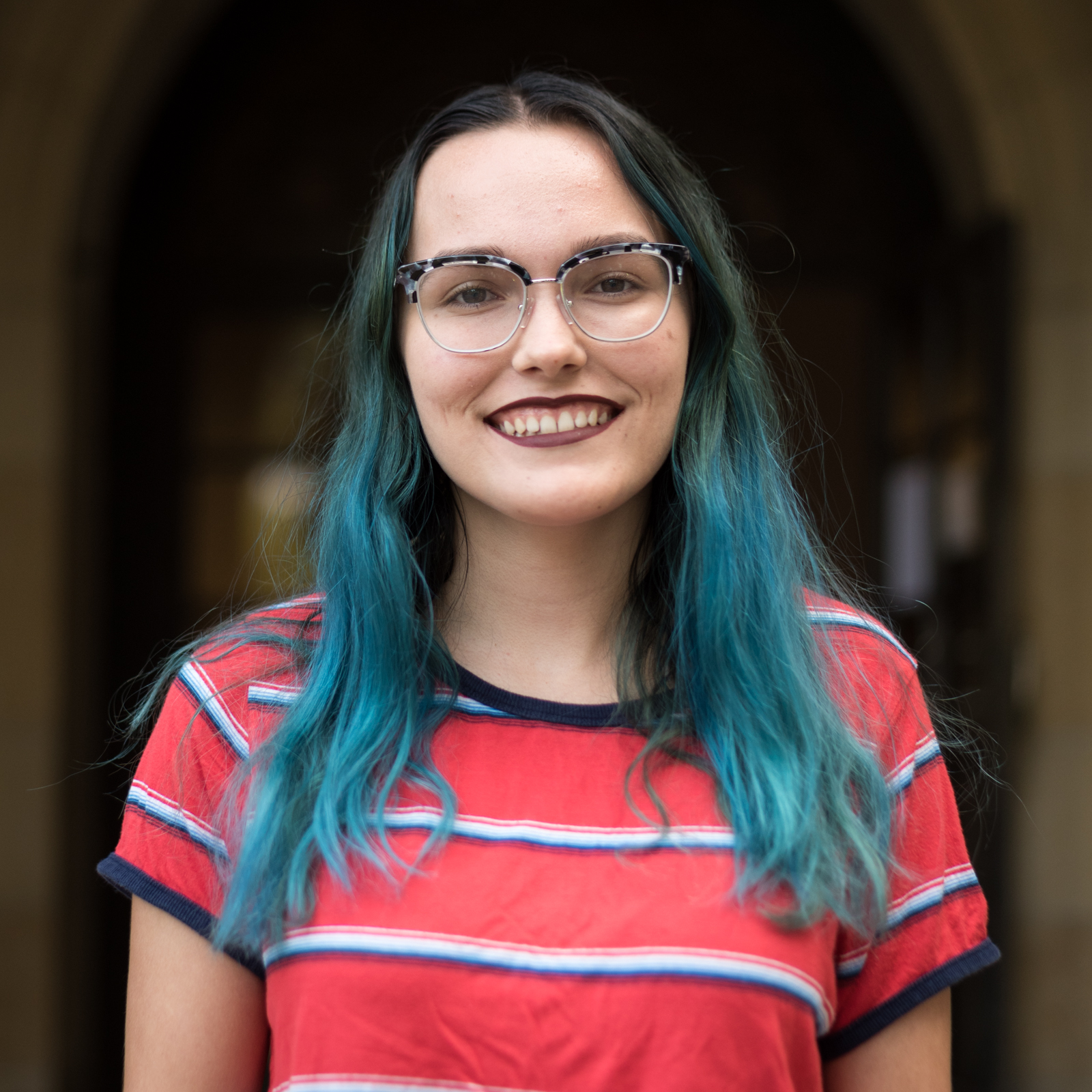 Spring Sing 2019
Friday, May 17
Pauley Pavilion
Prices vary
Jahanvi Srinivasan and Matheus Gorski said they want to convey a simple message through an uncluttered song.
At Spring Sing, the duo will perform "A Little Help." Srinivasan, who wrote the song, said it is about asking for help during times of struggle – a message she hopes other students can relate to. By utilizing unadorned instrumentals and a straightforward message, the fourth-year psychology student said she hopes the audience will relate to her message.
"It's not a super fancy song. It's a simple melody, it's a simple message," Srinivasan said. "But I think it's something that people don't talk about that much and it's something that is important to me and (Gorski)."
The pair met in a music ensemble class in session C in 2018, in which they were grouped together to compose a song. At the time, Srinivasan had been considering auditioning for Spring Sing, but said she wasn't a strong guitarist on her own. Gorski messed around on all the instruments available to them – piano, drums and guitar – while they were rehearsing for the project. After working with Gorski and seeing his talent on the guitar, she asked him to accompany her for the performance.
Gorski lived in Brazil until he was 10, where the fourth-year electrical engineering student said he was inspired by bossa nova music, a Brazilian style combining samba and jazz. His father and uncles taught him how to play guitar, and he said he applied a finger-picking style to match the song's simple theme.
Srinivasan, on the other hand, comes from a pop music background, having been exposed to the genre on English radio stations in India. She said Gorski's guitar style helped elevate her simple song without making it over-the-top, as he would suggest subtle chord changes.
Their song "A Little Help" was inspired by Srinivasan's personal experiences. She said she felt sad and anxious during her second year of college, which was exasperated by home being so far away. She set out to convey her feelings through music. She said mental health is important to her, and that she felt other college students could relate to what the song is about – feeling downcast and not knowing how to feel better.
"I think everyone goes through at least one sad period during college when you're trying to find yourself, you're away from home," Srinivasan said.
The pair also spent five hours in a recording studio laying down vocals and instrumentals for the song, and they plan to release the recording after their performance. There were a variety of extra production aspects they could have incorporated to modify the song, but Srinivasan said they still wanted to keep the song simple, and only added a few harmonies to the background.
Natasha Pasternak, a lecturer in the UCLA Herp Albert School of Music and Srinivasan's teacher in an advanced songwriting class, said she gave her suggestions about the lyrics after she approached her privately after class. In her class, Pasternak said she discusses the importance of the journey a song takes the listener on – finding moments of tension and honesty in one's work. Because listeners tend to be attracted to artists with defined personal styles, Pasternak said it's important to succinctly highlight one's message.
"I love clarity, I love it being poignant and I like to trim the fat," she said. "Just make sure what you're putting in your music serves a purpose."
To highlight such simplicity and help cultivate the feeling of intimacy during their performance, Gorski said he will not be strumming chords on his guitar. Instead, he will pluck the chords – similar to the way someone might pluck harp strings – to create an aerial vibe and leave empty space within the song.
"(The audience) gets the opportunity to watch us express something intimate as opposed to us going out there and shouting out a message," Gorski said.
Snyder was previously the 2019-2020 Arts editor as well as the 2018-2019 Theater | Film | Television editor.
Snyder was previously the 2019-2020 Arts editor as well as the 2018-2019 Theater | Film | Television editor.