Alumnus's show celebrates Auntie Sewing Squad's work to ease effects of COVID-19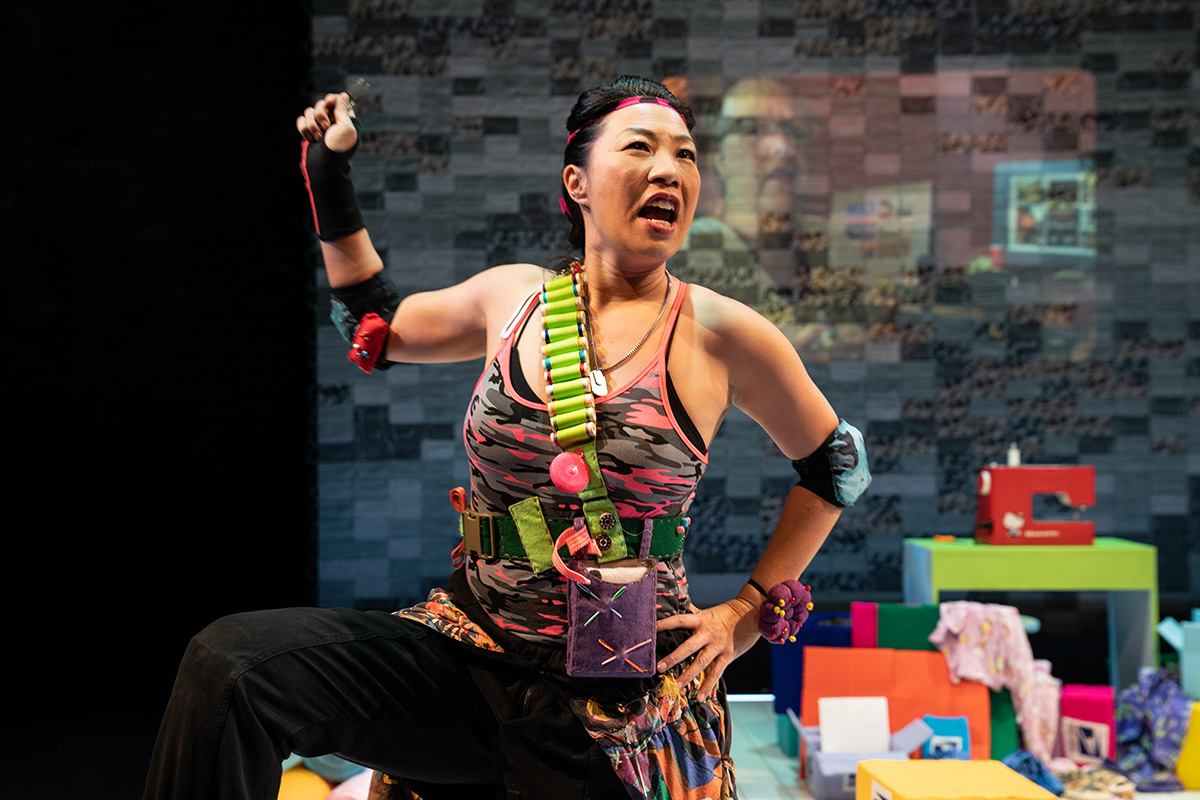 Created in 2020, Kristina Wong's one-woman play "Kristina Wong, Sweatshop Overlord" reflects Wong's experience throughout the COVID-19 pandemic. (Courtesy of Joan Marcus)
Kristina Wong is sewing change into the world.
The alumnus wrote and acted in "Kristina Wong, Sweatshop Overlord," the solo show for which she is the first Asian American woman to be named a finalist for the 2022 Pulitzer Prize for Drama. Inspired by Wong's own experiences, the premise of the play is centered on a real-life organization created by Wong named the Auntie Sewing Squad, which focuses on responding to the COVID-19 pandemic with sewing machines. Wong said the group concentrates their efforts on making masks for communities that have limited access to health care.
"It (the show) is a story of what my pandemic was like running a shadow FEMA (Federal Emergency Management Agency)," Wong said. "As we began to look at the communities that were still needing masks, they tended to all be communities of color that were hit adversely by structural violence and systemic racism and were the ones disproportionately getting hit the worst by the virus."
After her previous show "Kristina Wong for Public Office" was postponed in 2020, Wong said she began to use her resources and offer homemade masks to those who were in need, including the immunocompromised and frontline workers. In March 2020, Wong said she expanded upon this idea and created the Auntie Sewing Squad, a Facebook group made entirely of volunteers willing to craft and distribute masks. During the time of the organization's run, the community spanned 33 states with more than 800 volunteers and 250,000 masks made, she said.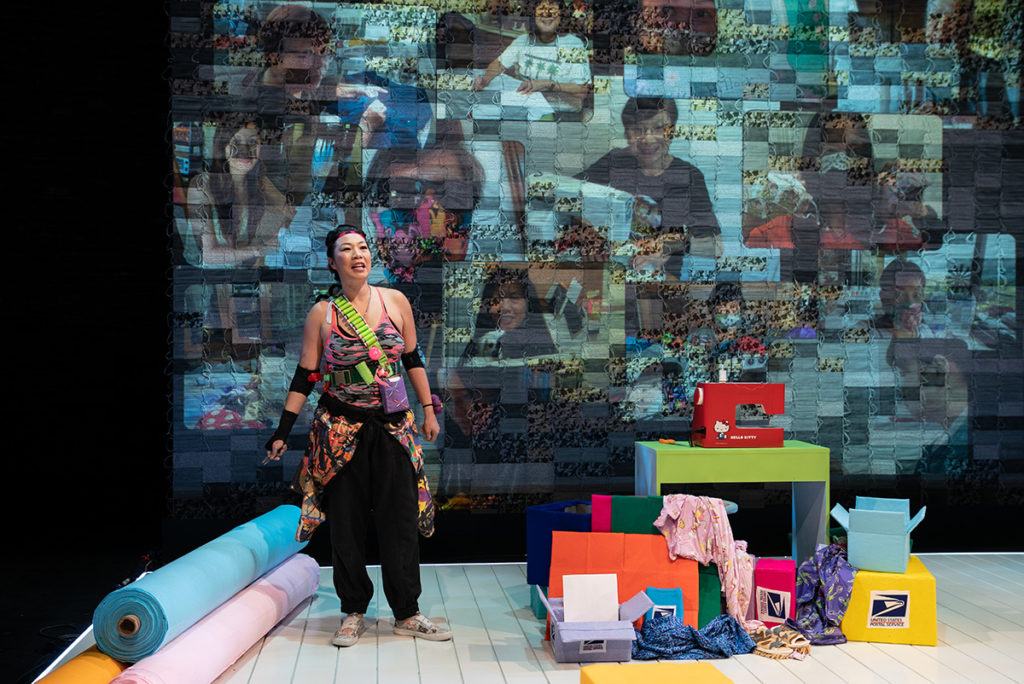 [Related: 'Lips' seeks to spark conversations on sexuality with student written monologues]
By using an analogy of war, Wong said she was the general of an army of sewers who fought the pandemic with fabric, thread and elastic. The Auntie Sewing Squad provided masks because local governments were too slow getting people the resources they needed in the wake of the pandemic, she said. However, whenever Wong said she would receive requests for masks that felt disrespectful or exploitative, it felt as though her labor as an Asian woman was invisible, perpetuating the notion that all she can do is sew. She said she needed to articulate that frustration and angst in "Sweatshop Overlord," where she used the platform to vent and let out her anger.
"It was not hard to see the irony that here we are – we fulfilled the dreams of our parents and grandparents by becoming college-educated professionals," Wong said. "And now we're doing the work they did when they got here for free because the country did not prepare us for this disaster."
Gayle Isa, community care coordination auntie of the Auntie Sewing Squad, said as the organization expanded, other types of services were also provided to communities in need, including a virtual workshop that taught Asian American women and allies self-defense. With the attention "Sweatshop Overlord" has garnered for the Auntie Sewing Squad, Isa said she hopes their mission teaches people the importance of providing mutual aid, support and care to the communities with which they are connected.
In terms of the show's creation, "Sweatshop Overlord" first came to fruition when the artistic director of TeAda Productions and fellow Auntie Leilani Chan reached out to Wong to commission performance pieces for an audience over Zoom, Wong said. Seeing this as an opportunity to pull from her current life experiences, she said she first developed the play's plotline by focusing on the stories she was encountering in her day-to-day life while running the Auntie Sewing Squad.
Eventually, Wong said she stopped performing virtually in May 2021, which was when New York Theatre Workshop asked if she would like to open its fall season live with "Sweatshop Overlord." Plot-wise, she said she wanted to capture what America had looked like for her over the past few months, especially in the wake of growing anti-Asian sentiment. Wong said she particularly wanted to highlight the work she saw in the Auntie Sewing Squad, where many Asian American women of her mother's generation were supporting vulnerable communities and being proactive in the face of the pandemic.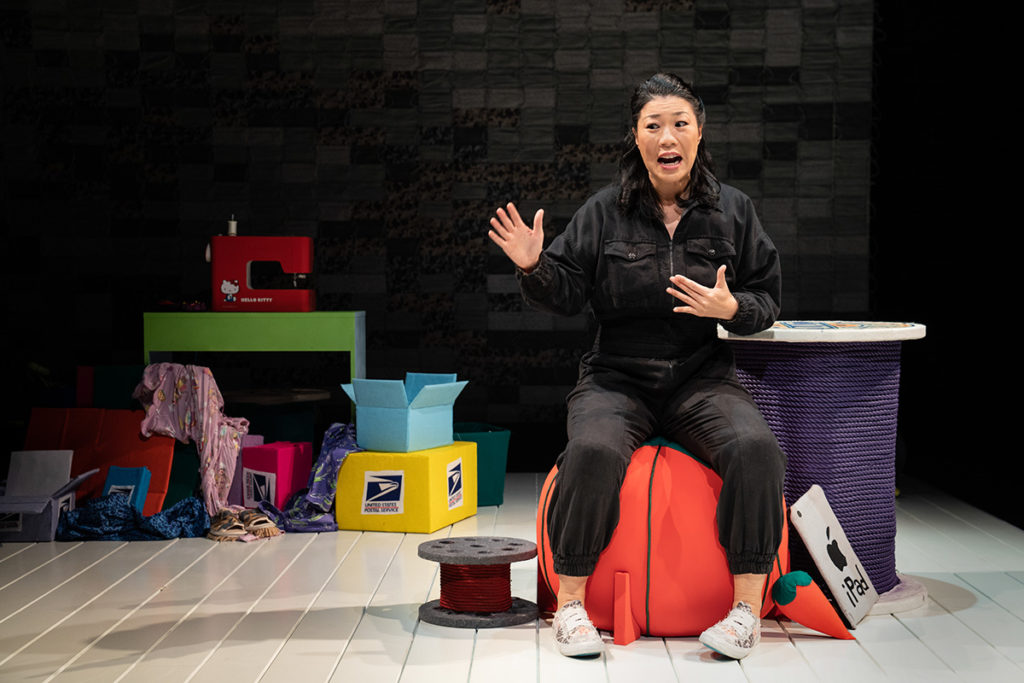 [Related: Q&A: 'Man of God' playwright discusses central themes of voyeurism, disillusionment]
On the production end, Dramaturg and Literary Director of New York Theatre Workshop Aaron Malkin said the theater was retransformed into a thrust configuration – where an open stage is used – so the audience could see themselves and Wong could engage with them directly. He said the restructured set design allowed the audience to collectively bear witness to Wong's experience navigating the events that had spanned the 18 months prior, including the murder of George Floyd, the Pacific Northwest wildfires, the election of 2020 and the uptick of anti-Asian violence in New York City.
"She's telling this story about tirelessly working for 18 months sewing masks and leading this mutual-aid organization," Malkin said. "Then to watch her and know that she's performing as tirelessly eight times a week to tell this story is deeply moving."
Inspired to welcome back live theater, Malkin said New York Theatre Workshop wanted to showcase a performance that did not ignore the pandemic but rather found a way to acknowledge it. Wong's story and sense of humor, he said, encouraged a return to theater that brought laughter and helped audiences work through their discomfort together. For Wong, she said the experience of writing and performing "Sweatshop Overlord" has allowed her to highlight her chosen family and the work they have done.
"I'm really proud of the way we were able to engage people who maybe were not familiar with racial solidarity (and) to express that in this specific way," Wong said. "Creating the show provided this space to celebrate and reflect."