'Lips' seeks to spark conversations on sexuality with student-written monologues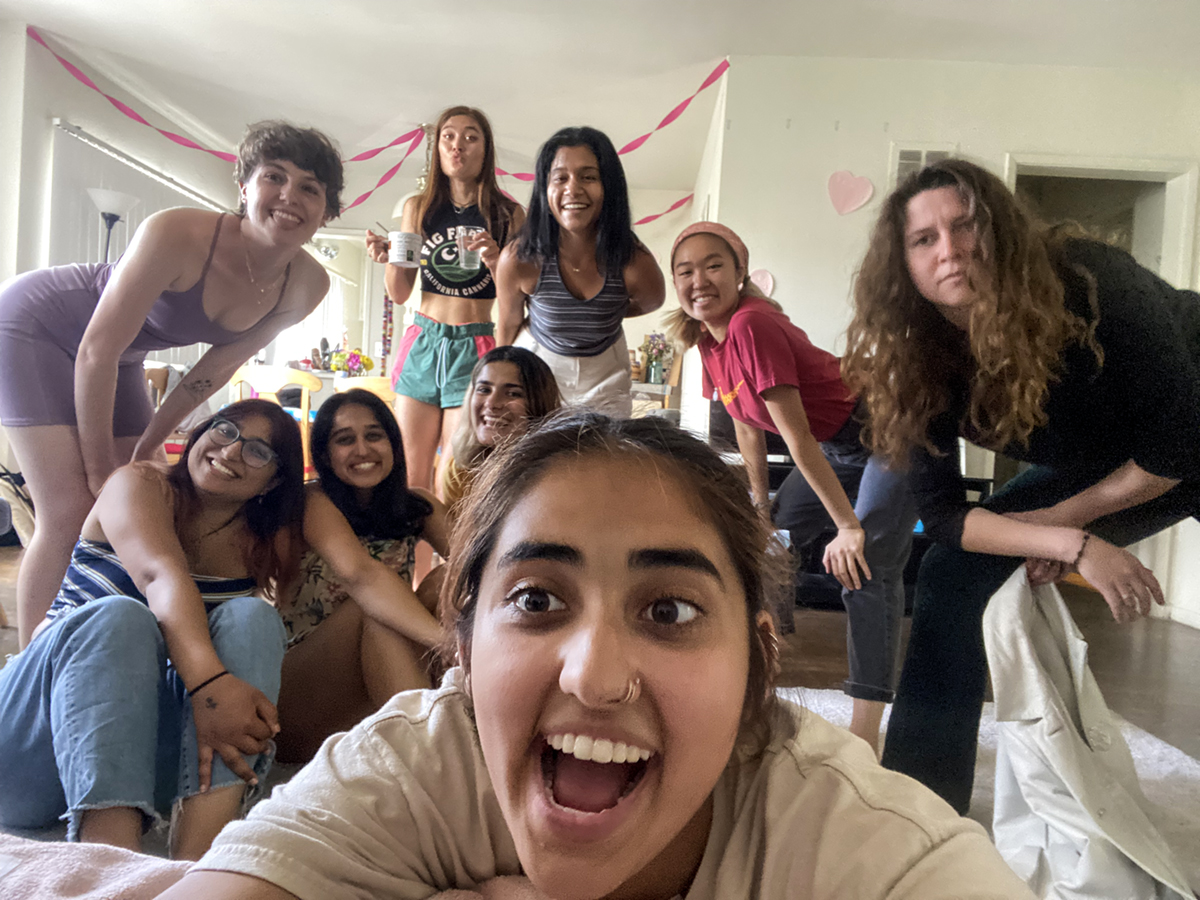 Rehearsing for their play "Lips 2022: A Play About Womanhood," the cast and crew will explore the diversity among womanhood through student-written monologues. (Courtesy of Zz Khan)
"Lips 2022: A Play About Womanhood"
May 20-21
Royce Hall Room 362
free
These lips are speaking up.
Organized by the V-Day Coalition at UCLA, "Lips 2022: A Play About Womanhood" will take place at Royce Hall on Friday and Saturday. Featuring student writers and performers in collaboration with the UCLA Sex Squad, the production will focus on themes of arts advocacy and the intersectionality of human existence and experience, director and third-year psychology and public affairs student Zz Khan said.
"It (the production) is (meant) to spark conversation and … cause self-reflection within people and help you understand the experiences of womanhood and listen to how diverse those (stories) can be," Khan said.
Specifically, actress and second-year anthropology and Chinese student Georgia Lewis said the production will feature student-written monologues and group pieces on the topics of womanhood, gender and sexuality. Lewis said the monologue she is performing retrospectively looks at femininity and dissects women's places in the world as children and as adults. Titled "Peacegirl," the piece uses the analogy of an apartment as a parallel to the character's body, where she fears she will never feel like she owns her apartment.
"She (the character) feels like other women she sees in the world are doing so many things with their womanhood, but she's stuck," Lewis said. "At its core, it is about feeling unremarkable but learning that that's okay. In feeling unremarkable, you find that there's so much to be proud of and so much that is exceptional in these apartments – in our bodies and our minds."
[Related: Student-directed play drives home consequences of suppressed emotions]
Performers like Lewis are first interviewed and then eventually assigned a monologue, Khan said. The club has a database of various student-written monologues and based on the year's themes, Khan said they pick and choose which ones to use. This year, they said they wanted to focus on showcasing diversity, and in particular, one of the pieces they performed two years ago will be showcased again this time around.
As director, Khan said they worked on getting to know the cast personally, so they can help actors relate to their pieces. With both humorous and serious monologues, they said they hope audiences not only experience the dichotomy between such pieces but understand the similar impact of both. The goal is to assign monologues the actors can perform well and feel genuinely connected with, which is why actors are given the choice between both humorous and serious pieces, Khan said.
Thematically, the production will cover a wide range of topics, including stories on generational trauma and coming-of-age as a woman of color, Khan said. Though the monologues are all distinct, Lewis said the production is pieced together through a shared message of collectiveness, as it is imperative to build a community centered on empathy and mindfulness – especially among women in this world.
"We're getting there together," Lewis said. "It (the play) has different stories but (with) similar veins of struggles and (finding) beauty in that struggle."
[Related: 'The Women's Project' explores powers of perspectives, theme of womanhood]
For fellow performer and third-year computer science student Hiya Gupta, "Lips" highlights femininity and communicates the diverse experiences of womanhood through art. Although there is not much collaboration between writers and actors, Gupta said she imagined herself in the writer's shoes in an effort to properly uphold their thoughts and particular worldviews. Performing "A Study in Playing the Fool," Gupta said her monologue will hopefully help audiences understand that the labels people assign for themselves and others are not helpful, especially if they are rooted in surface-level impressions.
On the topic of womanhood and women's rights, Lewis said "Lips" ultimately provides an opportunity for audiences to realize the world is bigger than in one's own mind. The play brings a voice to the topics that viscerally affect people, sharing these nuanced stories when the current political climate does not necessarily respect them, Khan said. As UCLA's version of "The Vagina Monologues," Khan said the production enables audiences to sit down and take the time to internalize the performances.
"(For) a lot of these actors, this is their first time (acting)," Khan said. "So it's really a place for everyone to support and love one another. … The amount of conversations that it (the production) will spark is what I'm excited for."