Stagecoach 2022: Stagecoach provides satisfactory food but falls flat on drinks, vegan alternatives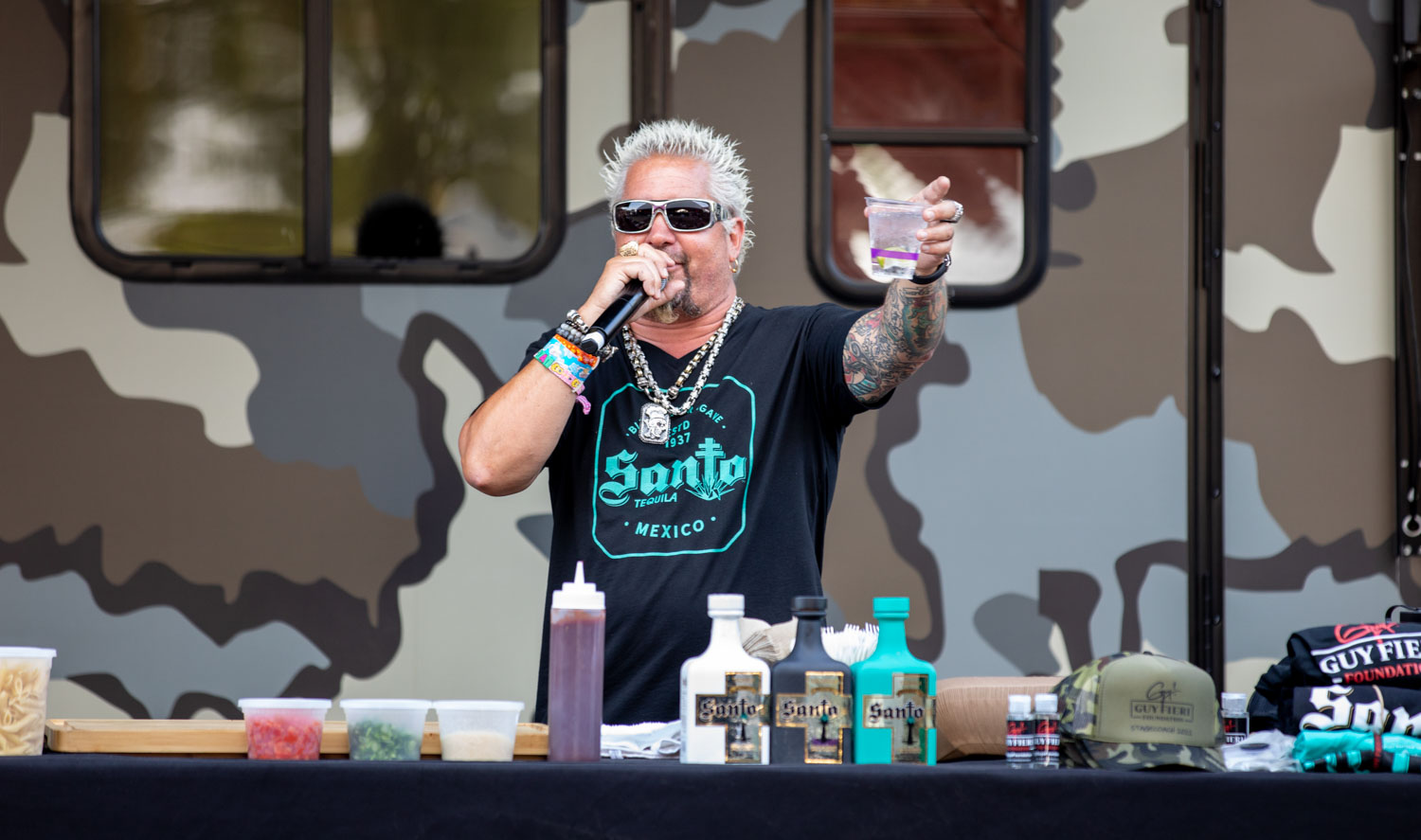 Celebrity chef Guy Fieri raises a cup of water toward the crowd as he speaks into the microphone. Fieri's Stagecoach Smokehouse was one of the larger food tents of the festival and featured assorted barbecue dishes. (Anya Yakimenko/Daily Bruin)
Stagecoach Festival
Indio, CA
April 29 - May 1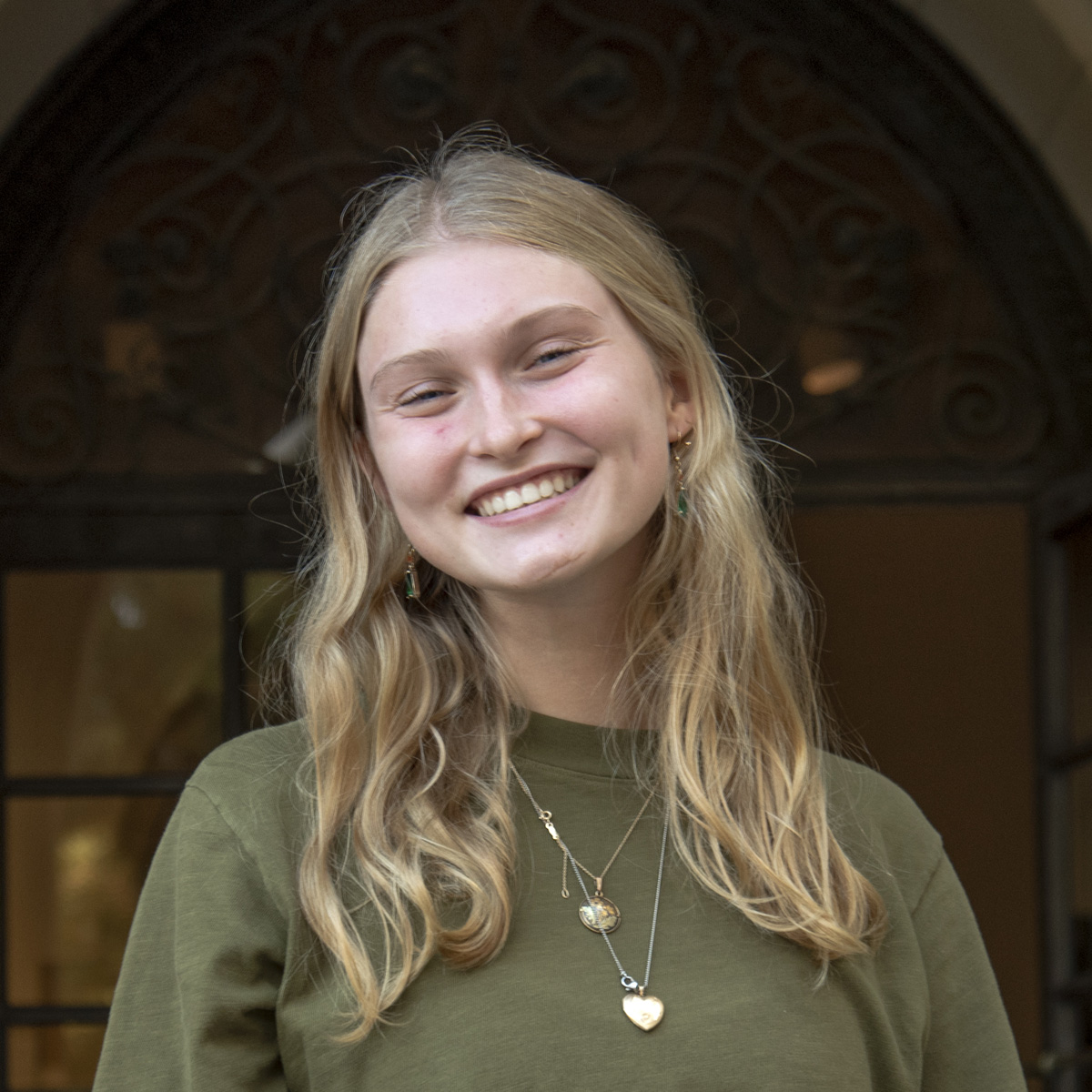 The hot desert sun isn't the only thing cooking at Stagecoach.
As the third and final weekend of Goldenvoice's festivities in Indio, California, Stagecoach Festival has also been the hottest, with temperatures hitting 99 degrees Saturday. Festivalgoers attempting to beat the heat and refuel ran into a wall trying to find food that would not amplify the constant warmth, as most options were meat-centered. Despite celebrity chef Guy Fieri being attached to the main food tent, Stagecoach's spread was ultimately more appropriate for the event in theory, not in execution.
In terms of setup, rows of food stands offering staples such as burgers and pizza lined several of the main walkways to get in and around the venue. Although each focused on one item, such as fries or Tater Tots, many of the stands seemed to be duplicates of each other with a slight twist of the name and font on the sign. In particular, the macaroni and cheese stands were the most perplexing, as they were some of the most common setups yet all appeared to be serving the same items.
But with no shade for customers, many festivalgoers instead took their daytime appetites to Guy's Stagecoach Smokehouse. Stationed in between the two stages, the large tent featured every imaginable barbecue offering, such as a whole rack of ribs for $40 and pork belly tacos for $21. The vast majority of the vendors were not Fieri-affiliated, despite being under both his literal and figurative umbrella and instead represented barbecue kitchens from across the country. Los Angeles-originated Bludso's Bar & Que brought various sizes of ribs, robustly smoked brisket and a $3 side of thick, crunchy pickles, as well as its chef, Kevin Bludso, who was out from Compton for a Saturday afternoon demonstration.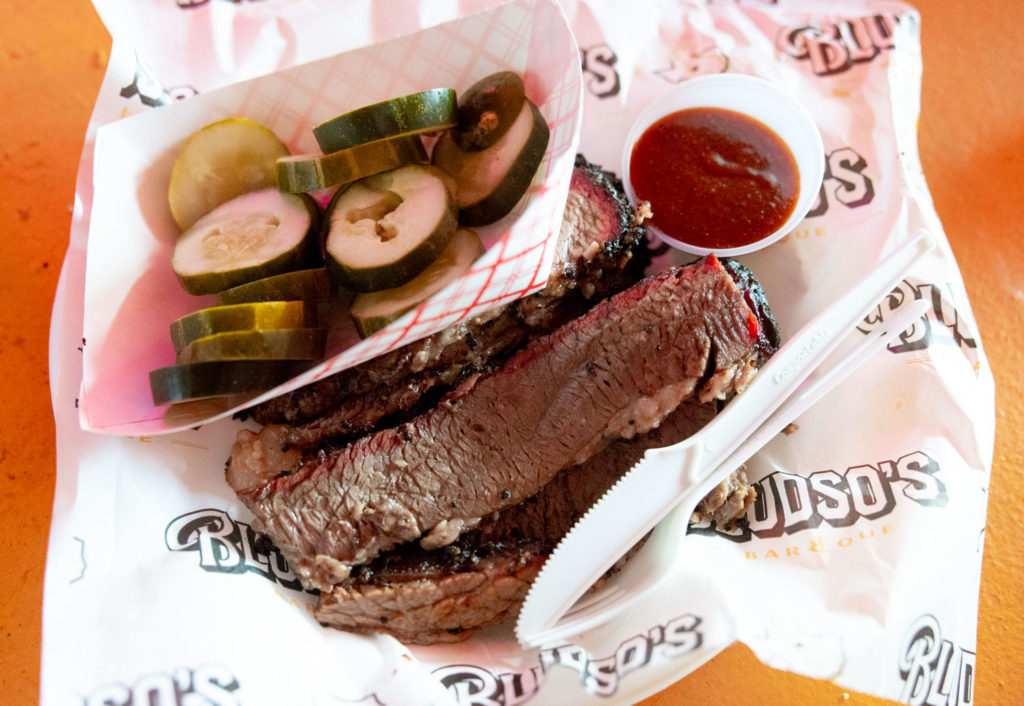 Each day of the festival featured two live barbecue demonstrations at the Smokehouse, the first of which spotlighted chefs and the second of which involved Fieri and Stagecoach artists Midland, LOCASH and Luke Combs. The presentations occurred behind the far back of the tent, where viewers could line up against a fence and wait for Fieri to appear. In actuality, though, the situation felt more like watching a talk show, as festivalgoers were corralled away to prevent any disturbances. Fieri and the two members of LOCASH appeared 10 minutes late to their scheduled 15-minute-long demo, and spent a painful amount of time promoting the band and telling long, drawn-out stories about Hank Williams Jr.
Many festivalgoers opted to leave the demonstration after catching a glimpse of Fieri and were slightly distracted from the unpleasant nature of eating hot meats in the sweltering desert with swirling dust, hay and grass by the chef's background chatter. A step away from the drone of Fieri simultaneously encouraging excess drinking while insulting rowdier members of the crowd still watching was Guy Fieri's Flavortown Kitchen, which sold fried chicken and cheesy meals in heavily branded boxes.
"The Chicken Guy," a fried chicken sandwich, featured a large piece of uniformly breaded chicken on a slightly sweet, fluffy roll. Topped with all the usual fixings, the sandwich was worth the $16 price tag as both one of the cheaper options at the festival and for its sheer size – but if not eaten quickly enough, The Chicken Guy got soggy, fast.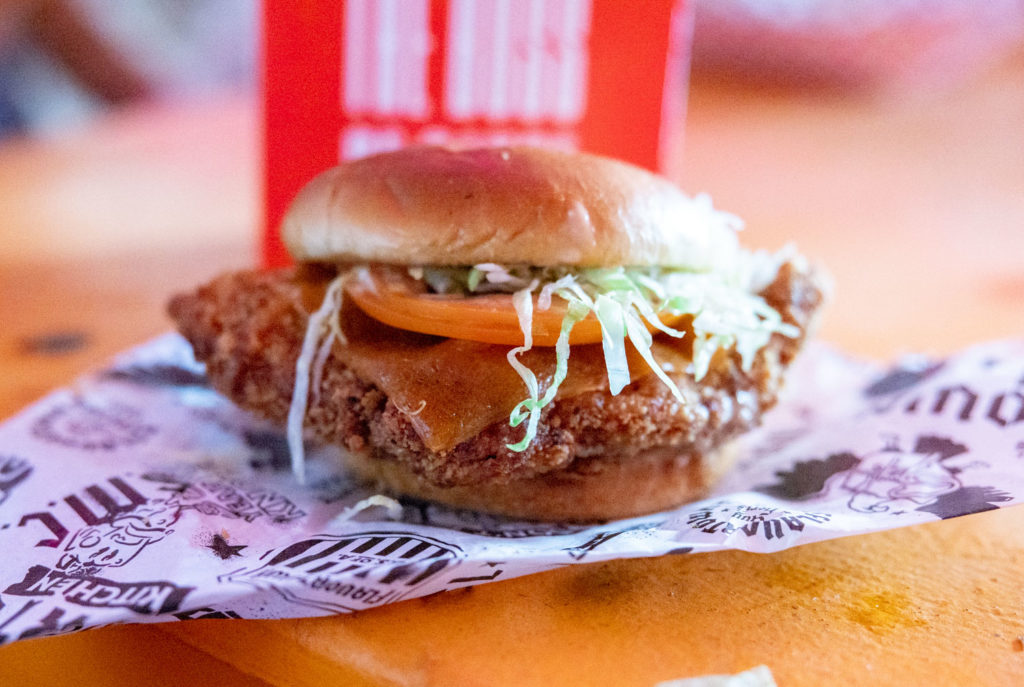 Both in and out of the Smokehouse grounds, vegan options were difficult to find. Despite the Stagecoach website listing vegan or vegetarian options for a whopping two-thirds of the 43 total vendors, the unfortunate reality was that viable meal options that were both meatless and cheeseless were a rarity. Most stands offered some carb-loaded side dish – primarily fries – that were often vegetarian and rarely vegan, and poorly managed lines along with large crowds made getting close enough to scan menus for sustenance difficult.
As for trying to cool off, attendees were mostly limited to buying $2 bottles of water at the food vendors or splurging on $13 lemonades at scattered stands that had no prices listed. No water refill stations were obviously available near the Mane Stage or main attractions, a dangerous decision on Stagecoach's end considering the intense heat, dry climate and abundant alcohol consumption by its patrons.
With a few exceptions, the food was solidly tasty for what it was, but Stagecoach missed out on what it didn't offer. More transparency about where vegan and vegetarian options were located, perhaps in the style of Guy's Stagecoach Smokehouse, would have helped expedite the meal-search process. Free access to water and food that didn't sit so heavily in sweating fesitvalgoers' stomachs would have helped prevent heat stroke, dehydration and the attention of emergency medical services for those who only consumed alcohol as a liquid.
But even if festivalgoers were struggling to stay on their feet, at least the music and the food had soul.
Durgin is a senior staff writer for Arts & Entertainment. She previously served as the Music | Fine Arts editor from 2021-2022 and was an Arts contributor from 2020-2021. She is a third-year English and geography student from Meridian, Mississippi.
Durgin is a senior staff writer for Arts & Entertainment. She previously served as the Music | Fine Arts editor from 2021-2022 and was an Arts contributor from 2020-2021. She is a third-year English and geography student from Meridian, Mississippi.