Cinematic Culture: Rom-coms offer aspirational but unrealistic view of relationships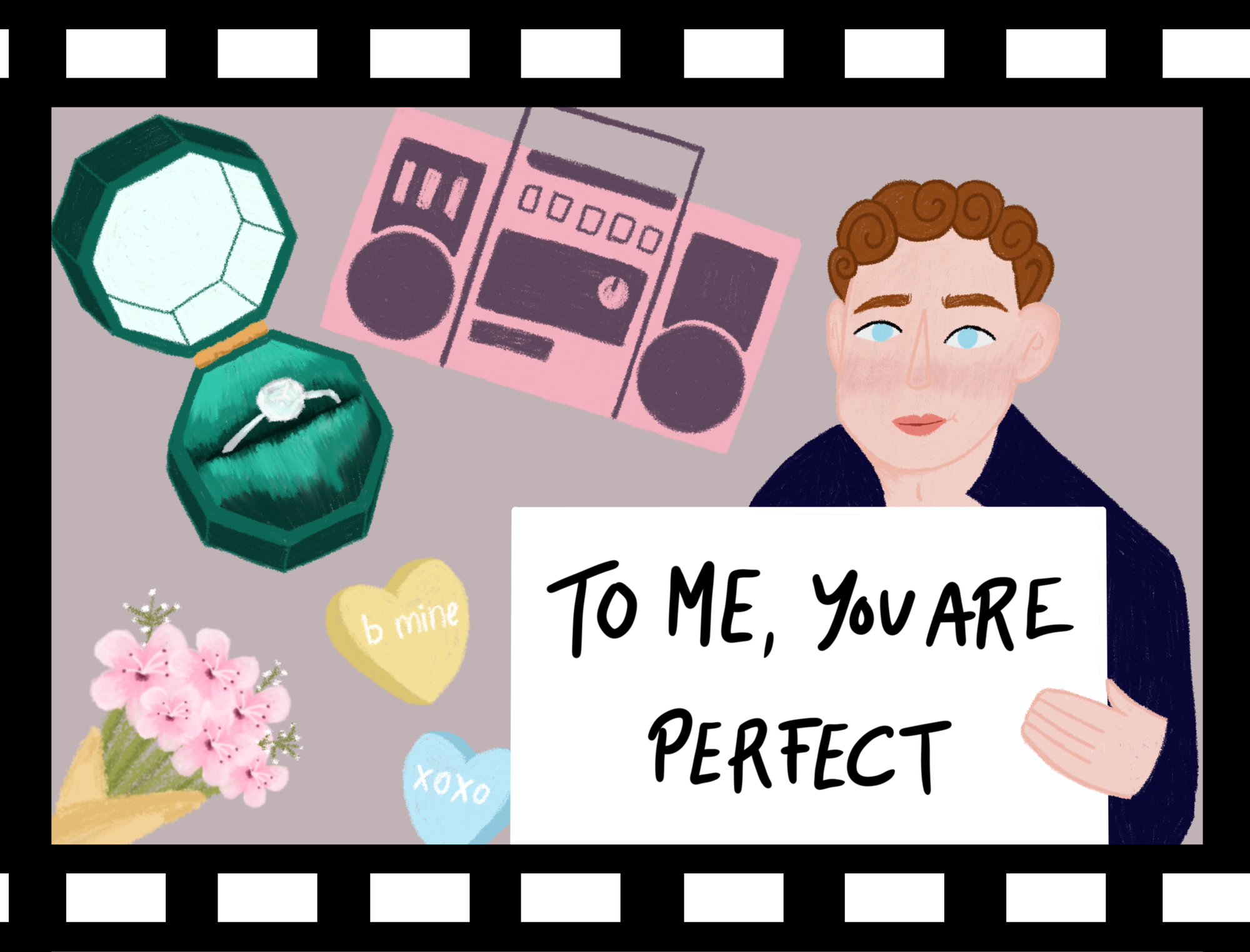 This post was updated April 10 at 9:10 p.m.
From lighthearted rom-coms to blood-curdling horror flicks, movies tend to follow a formula for storytelling made successful by the predecessors of their genres. Given the recurring character and narrative archetypes that characterize each genre, people have come to know and identify with these tropes by relating them to their own lives. In "Cinematic Culture," columnist Alexis Jones breaks down the conventions of different film genres and explores their social and psychological impact on pop culture.

Grand romantic gestures might not be as grand as people think.
With the likes of "Pretty Woman" and "When Harry Met Sally…," romantic comedies have become a staple in the film industry because of their idealized depiction of love. Although most are based in fiction with the goal to entertain, audiences aspire to model their love lives after these picture-perfect couples despite the real-world discrepancies. As a scholar in interpersonal relationships, Benjamin Karney, a social psychology professor and social area chair, said romantic comedies are popular because they are a fantasy to which almost everyone can relate.
"What's great about love stories is that they really are virtually universal, which means that we can recognize a love story no matter what they look like," Karney said. "That's how universal these emotions are. It's very easy to identify with love stories."
While every romantic comedy is different, the genre typically follows a well-known pattern for how a love story unfolds. Lecturer of Film and Television 222: "Film Genres: Love and Laughs: Exploration of Romantic Comedies," Karen Bowdre said romantic comedies generally have a meet-cute, which is the first time the two main characters are introduced to each other. Even though she said audiences expect them to fall in love, there is usually some antagonistic force specific to the female and male love interests that drives them apart. After they overcome such roadblocks over the course of the film, Bowdre said the happy couple is finally brought together by a grand romantic gesture, signifying a happy ending satisfying to most audiences.
[Related: Film preview: Spring movie release buzz brings promise of engaging action, comedy]
From observing these conventions time and time again, several narratives throughout the genre have become common, such as the "enemies-to-lovers" and "friends-to-lovers" tropes. Karney said romantic comedies play to these clichés that are unrealistic in actual relationships. For instance, he said the enemies-to-lovers storyline does not happen in real life as often as it does in film since people who initially dislike each other tend to maintain those feelings.
For second-year psychology student Sophie Zener, her least favorite trope of the genre is enemies to lovers because of its inaccuracy and drastic glorification. Although she watches such films through rose-colored glasses, Zener said the romantic comedies she has seen have impacted her view of love and romance, as she compares them to her own relationships. Though she was more impressionable when she was younger, Zener said rom-coms have influenced her personal experiences because of their inauthentic portrayal of sexual and emotional intimacy.
"I've actually noticed that right after I've watched a rom-com, I have texted my significant other and been like, 'Why don't you do this? … Wait, I wasn't mad about that before,'" Zener said. "I've even had insecurities, and my partner has said, 'Where did you see that? A movie?'"
Another fault Zener said she finds with romantic comedies is the big climactic fight that breaks the couple up, only for them to reunite and live happily ever after. She said through witnessing her parents' relationship and experiencing her own, most couples engage in smaller arguments where frustrations have built up over time. Because of this realization, she said she believes the pivotal outburst between the two main love interests shows an unhealthy, ineffective means of communication.
Most couples in romantic comedies fight as a result of the obstacles thrown their way for the purposes of delivering dramatic conflict and propelling the story forward. However, Karney said he finds these obstacles to be contrived since the implicit idea is that the relationship would be easy if not for these barriers, which demonstrates writers' difficulty in understanding the drama of a real relationship. Zener said these films do not provide much background information on characters, so audiences cannot understand the depths and intricacies of their relationships.
[Related: Second Take: Studios fail to uplift people of color in true crime miniseries]
By valorizing the grand romantic gesture, Karney said the genre can be problematic because it fails to consider who the audience is. Since everyone has different desires, he said grand romantic gestures risk prioritizing the needs of the audience over that of a partner who may not enjoy a huge spectacle. Such gestures only work if they respond to a partner's preferences but are an imposition otherwise, he said.
Despite the criticisms, Zener said romantic comedies are positively impactful as a whole because they encourage the audience to believe they can find love. Given how close to home the films are, Karney said audiences arguably identify with them more strongly than they would with any other genre. While such films offer a reality that feels attainable, Karney said he would want audiences to treat romantic comedies the same way they would movies of other genres, in that they are fictional and designed to be aspirational.
"We would want people to understand the limits between fantasy and reality," Karney said. "Watch love stories, but recognize that your own love story's likely to be a little more complicated than the love story that you see (because) people are more complicated."