Graduate student explores grief, illness with levity in play 'Still Harvey Still'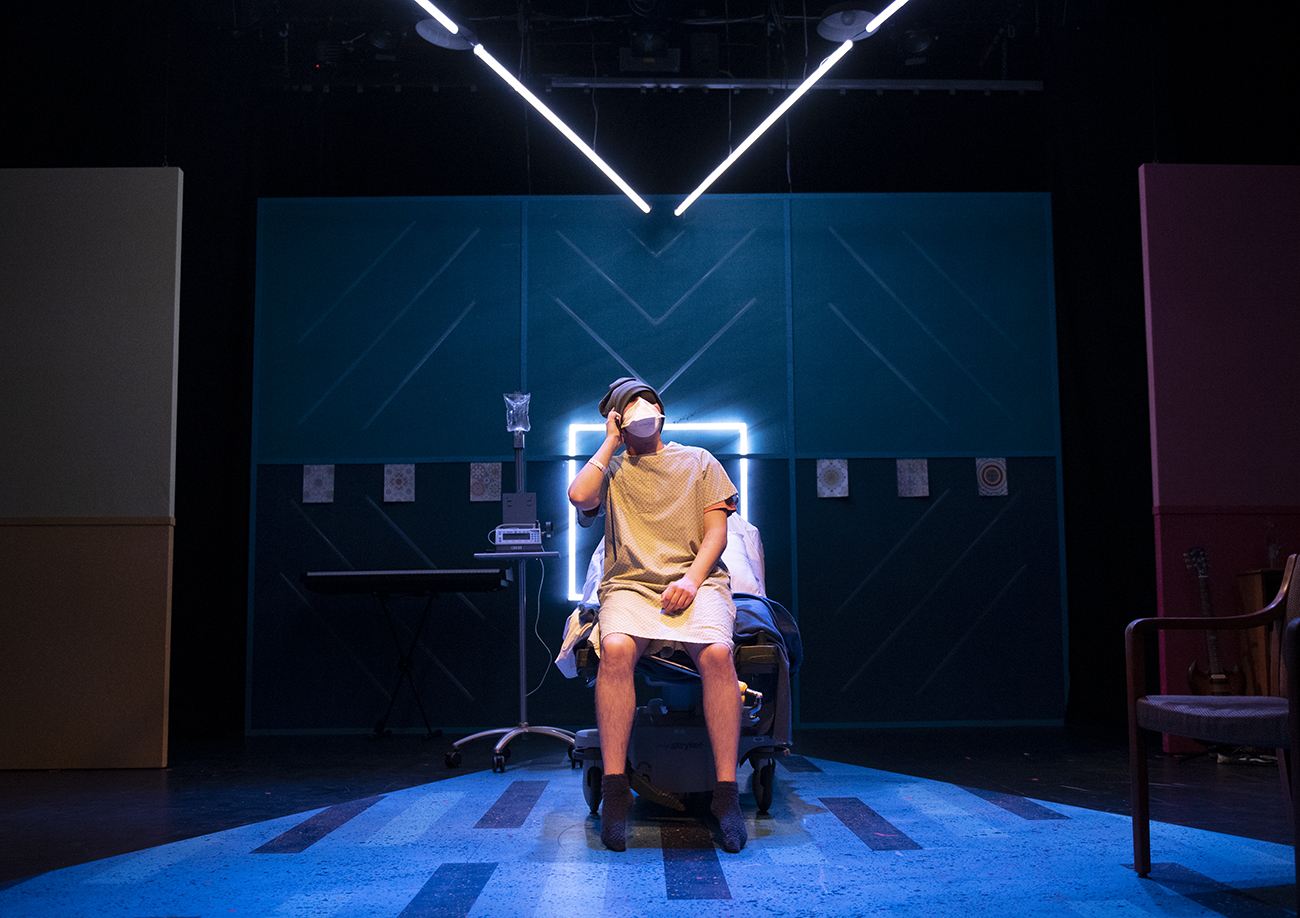 Focusing on themes of grief and loss through comedy, the play "Still Harvey Still" will open on Feb. 17. (Lauren Man/Daily Bruin senior staff)
"Still Harvey Still"
Feb. 17-19
1340 Macgowan Hall
$25
Brianna Barrett is swapping bodies and shaking up expectations in "Still Harvey Still."
Opening Thursday, the theater graduate student's full-length play focuses on two former childhood best friends, Harvey Still (Luca Filiz), a musician dealing with addiction, and cancer patient Evan (Ian Cardamone). The two come together for the first time in years in this body-swap comedy that centers on themes of grief and loss. Barrett said much of her writing touches on illness, especially as it relates to young adults with cancer since she is a cancer survivor herself.
"I was really interested in examining the cancer experience as an out-of-body (one), where suddenly you're thrust into this life where you don't recognize yourself and your body doesn't play by the same rules that it used to," Barrett said.
For "Still Harvey Still," she said her influences for the script stemmed from having had good friends die from cancer, one instance of which spurred her to return to this particular project after writing the initial draft in her first year with UCLA's graduate program. She said she originally had another play in mind for her thesis project but felt called to return to "Still Harvey Still" and find a way to make it work after unsuccessfully trying to turn the story into a television pilot in her second year.
Though the performance deals with serious subject matters, the comedic tone of the play works to disarm the audience, Barrett said. For her, it is easiest to access the hearts and minds of an audience through lightness with material that is funny and inviting. Barrett said being in a rehearsal space where there are emotionally upfront conversations happening about vulnerable topics, such as addiction and cancer, is often taxing.
"Comedy is a comedic refuge that we all need (in order to) get through difficult times," Barrett said. "In my own experience, I've survived the worst moments (of) my life (by) finding levity in them."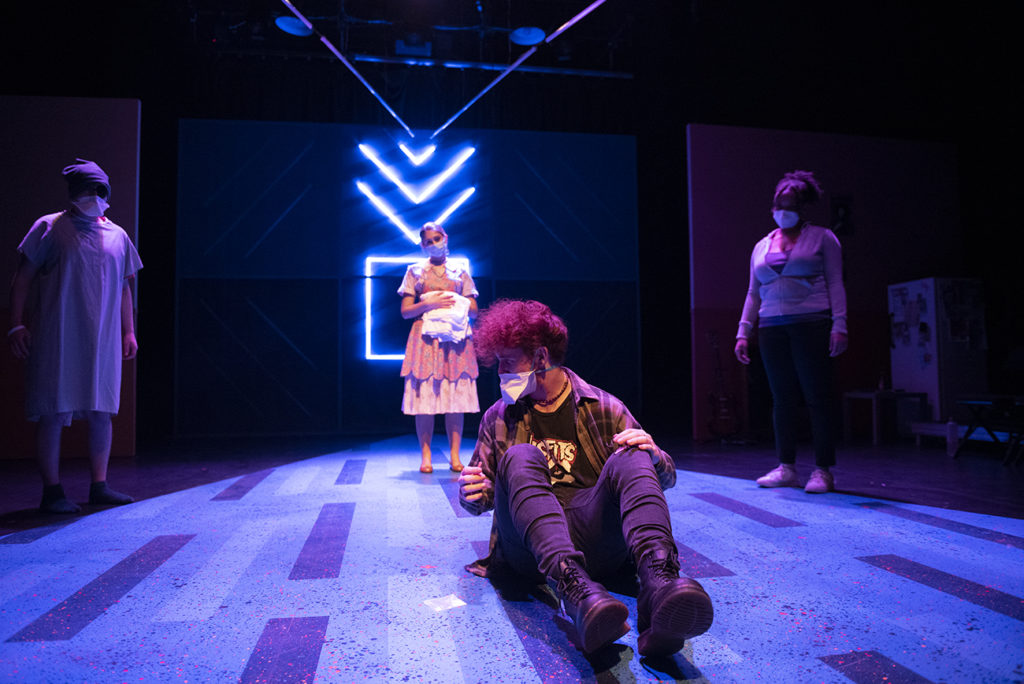 [Related: 'Power of Sail' challenges perspectives, examines white nationalism in academia]
Though playwriting is a solitary experience, Barrett knew that she wanted this production to be a collaborative effort, with the cast and crew sharing their own lived experiences, she said. Second-year theater student Luca Filiz said he leaned on his lived experience as an avenue for inspiration, having had friends who are affected by addiction. These personal insights shape "Still Harvey Still" as a play that focuses less on Barrett's own experience with cancer and more on the people she knows who have had difficult patches in their lives, Barrett said.
First-year theater student Ian Cardamone said the body-swap performance aspect affected the ways in which the lead actors developed their characters onstage. In particular, Cardamone said he had to remain cognizant of Filiz's mannerisms and inflections so that he could mirror them when Harvey and Evan swap bodies. He said guest director Alana Dietze introduced movement-based acting work to them, which allowed them to work on their physicality and distinguish their characters from one another.
The body-swap genre of "Still Harvey Still" stems from Barrett's fascination with duality and identity, she said. Many of her past plays dwell on questions of the self, she said, particularly in relation to what it means to be conscious and human. Barrett said she examines the physicality of multifaceted identities through mirrors on stage, body swaps or holograms. As a writer, she said she has always been interested in protagonists who are torn between worlds.
As undergraduate student actors, both Filiz and Cardamone are acting above their age. Cardamone's character Evan is 27 years old in the play, which Cardamone said means he has to be wary of how he delivers certain lines. In one instance, he said Evan speaks philosophically about what it is like to have one's mind separated from one's body, presenting a serious tone that does not reflect Cardamone's real-life 19-year-old persona. Thus, he pulls inspiration from his older brother and cousins to embody the maturity and wisdom necessary to portray Evan, he said.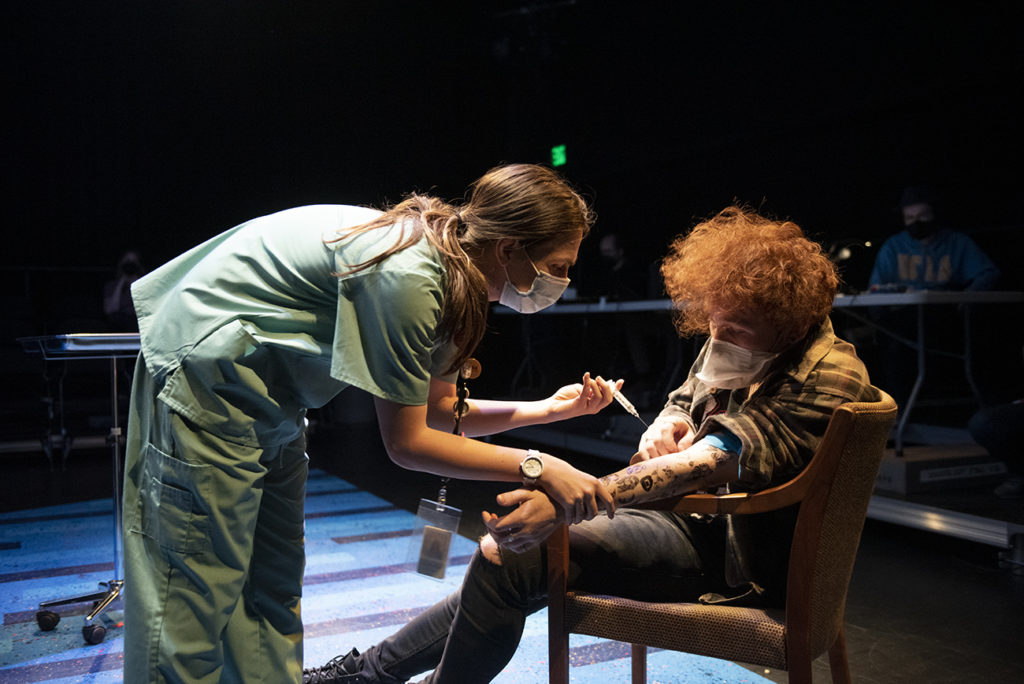 [Related: Student-directed play drives home consequences of suppressed emotions]
Collaborating with Barrett and the cast, Dietze said the production process is a developing one, which means she approaches it differently than she would a play that has already been established. Dietze does not come in with a set vision, but she said she looks for ways the production can best serve the text. Barrett said she rewrote the script throughout the rehearsal process, coming to rehearsal to actively listen and change lines based on what she felt worked or not.
"We feel the energy in the room," Barrett said. "I can tell (when) there's something missing in the text that's preventing the director from being able to give the direction that makes sense for the theme. After we do a full run-through, … I notice things from the macro-perspective that I wasn't seeing in the micro-perspective of individual scenes."
As her third play surrounding the topic of cancer, writing "Still Harvey Still" was a very emotional experience – one that would have been harder to get through if the play weren't a comedy, Barrett said. Pulling inspiration from those around her, she said the process has felt even more vulnerable than if it had been about her journey with cancer.
"I write from a place of hoping that (I) can make the world a more empathetic place," Barrett said. "I think often about leaving the audience in a better place than I found them. I want people to experience seeing other people being more resilient than they thought they could be."