'Power of Sail' challenges perspectives, examines white nationalism in academia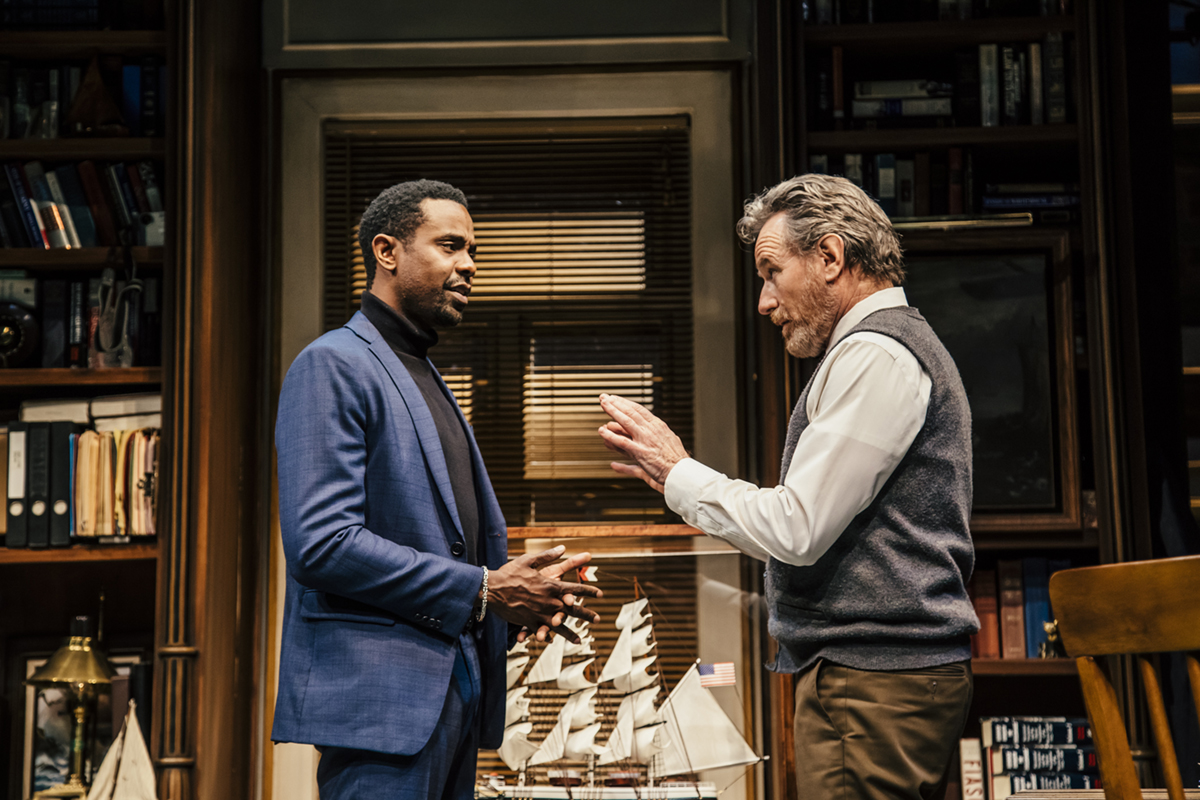 Brandon Scott (left) and Bryan Cranston (right) play Baxter Forrest and Charles Nichols in "Power of Sail" at Geffen Playhouse. The play tackles issues with free speech in an academia setting. (Courtesy of Jeff Lorch)
"Power of Sail"
Feb. 8 – Mar. 13
Geffen Playhouse
$30-149
A white nationalist, protests and a professor caught in the middle of it all – "Power of Sail" explores chaos in the world of academia.
After opening Tuesday at the Geffen Playhouse, the play stars Bryan Cranston as Harvard professor Charles Nichols, who receives backlash after inviting a white nationalist to campus to speak at his annual symposium. The story follows Nichols, his colleagues and furious students as they each try to navigate the controversial situation. Playwright Paul Grellong said he began writing the play in 2002 before putting it away until 2017, when he was inspired by a friend to revisit the narrative for today's political climate.
"I had to completely deconstruct the play and put it back together to rebuild it for the present, changing essentially everything about the play except for the structure and the main character," Grellong said.
One aspect of the story that remains the same is its message about people who distort history and their own narratives, Grellong said. The play is structured in one timeline from two different perspectives, he said, moving forward and then back in time to fill in missing details. By distorting the narrative storytelling itself, the play will challenge the audience to rethink what they thought they had understood from the first perspective of the play, Grellong said.
[Related: Alumni discuss performing in musical production 'Marry Me A Little']
Furthermore, the play tackles various relevant topics in academia today, such as free speech, he said. Shown through conversations in which the characters have defensible points about Nichols' action, the piece also touches on the limitations on who is allowed to participate in discourse about what they see as the truth in politics, Grellong said.
One such character who challenges Nichols' perspective throughout the play is his Black mentee and former Harvard student Baxter Forrest, played by Brandon Scott. As well as being the voice of reason to Nichols, Scott said he believes his character's career success is instrumental in bringing more seats to the table for people of color. In addition to seeing his character navigate the transactional and often inaccessible world of academia, he said the play analyzes the different ways characters must fight for what they believe in.
"There's a generational aspect to the play about the different ways in which each generation tries to handle these struggles," Scott said. "The play asks the question about how we should go about holding feet to power and how we should use our voice."
Moving outward from the play's dialogue, Scott said he believes it facilitates a conversation about how individuals can start speaking to one another about ideological differences rather than refusing to engage in conversation with those with contrasting opinions. Another detail Scott wants the audience to notice is the ego each character holds, he said. There is great strength and vulnerability in letting go of pride and instead hearing one another, Scott said, and he wants the audience to take away the possibilities of what could arise when individuals do so.
Similarly, actress Tedra Millan, who plays Harvard doctoral candidate Maggie Rosen, said the play at its core is about power – who has it, who wants it and what it costs to receive it. Her character is attempting to take risks to receive power, Millan said, as Maggie tries to move beyond the textbooks and take initiative to correct Nichols' actions. While her character symbolizes a voice for the students protesting, Millan said Maggie finds herself caught between appealing to the students and appealing to the institution, exposing the blind spots in education.
"The play covers a lot of questions about how institutions work and how a patriarchal white-favored society has run its way for a very long time," Millan said. "Now we're at a point finally where other voices are being heard and acknowledged – the play is about the shifting of that power."
[Related: Student-directed play drives home consequences of suppressed emotions]
With this in mind, Millan said she wants college-student audiences to see how they are the future and the change-makers of the world. Millan said the portrayal of gender roles in the play was important to her as well, as she encouraged Grellong to add lines about what her character was studying and teaching at Harvard.
As for Grellong, he said he wants audiences to take away the ability to formulate their own opinions about Nichols' complex character. While there are many bad faith arguments made in the name of free speech that pose direct threats to society, he said he believes the play should also reflect a series of discussions where disagreements are welcome.
"White nationalism in this country is a problem worth attacking and rooting out in many places," Grellong said. "To write a play that is set in academia was never meant to be an all-encompassing overview of this problem but rather a very specific examination of how that problem is manifesting in one specific point. There's value in coming together to confront it."