Quarter in review: Students face long lines at dining halls, UCLA football overtakes USC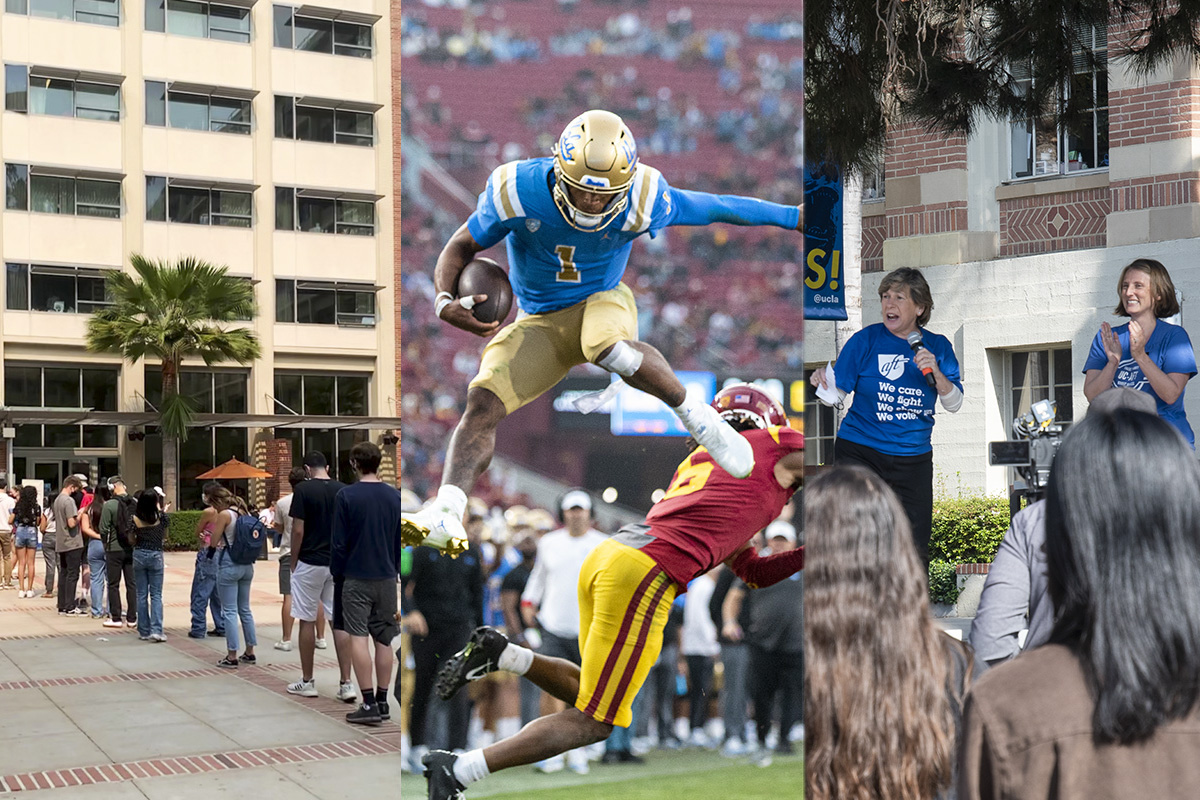 Left to right: Students wait outside Rendezvous, senior quarterback Dorian Thompson-Robinson scores a touchdown, and lecturers lead a celebratory rally after negotiating a new contract with the University of California. (Left to right: Constanza Montemayor/Daily Bruin senior staff, Ashley Kenney/Photo editor, Kyle Kotanchek/Daily Bruin)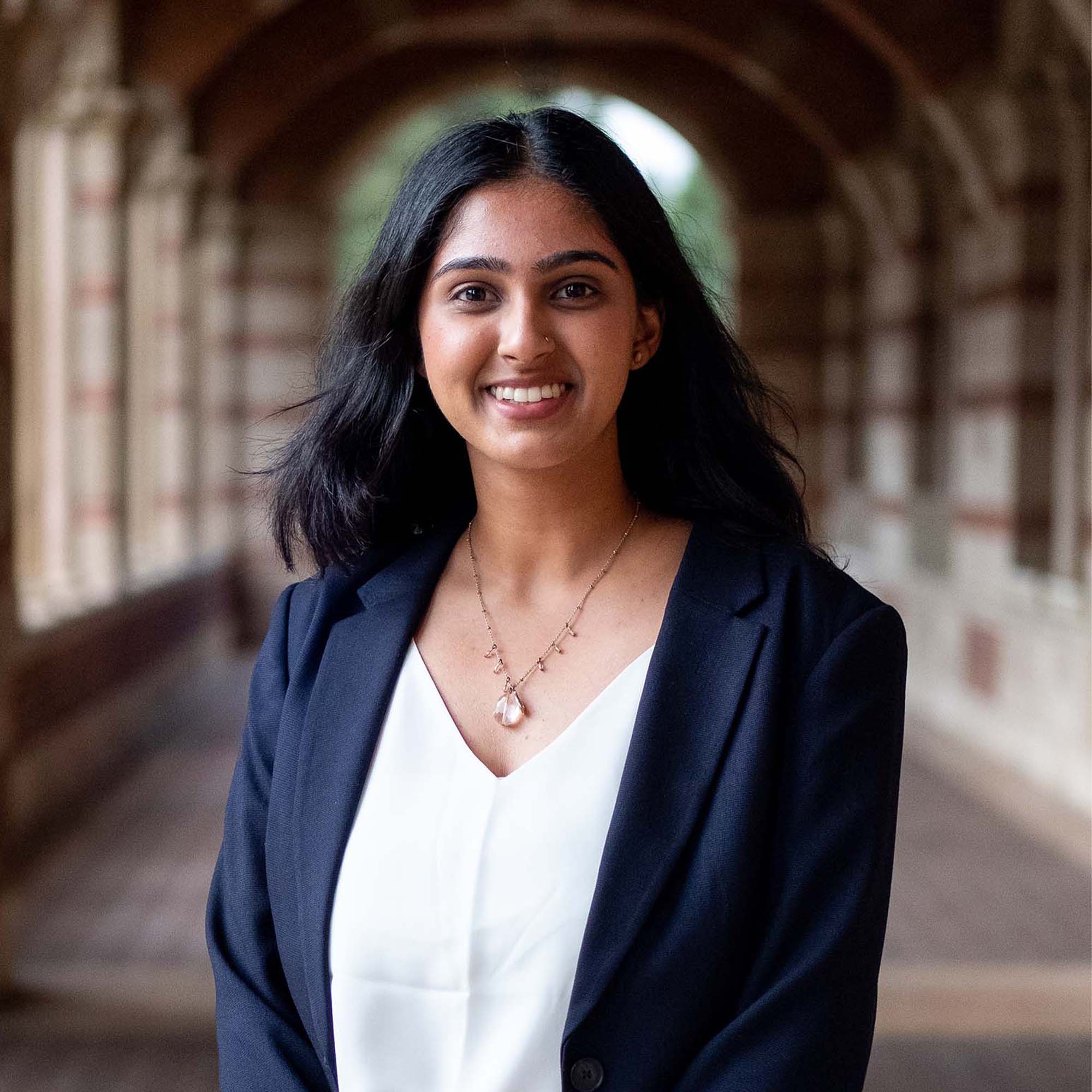 Correction: The original version of this article incorrectly stated that UCLA football's win over USC kept UCLA in bowl contention. In fact, the Bruins had already secured bowl eligibility.
This post was updated Dec. 8 at 5:19 p.m.
UCLA's first quarter back in person since the start of the COVID-19 pandemic has demonstrated its fair share of trials and triumphs. From symptom surveys to strikes, the past 10 weeks gave Bruins a taste of the school year to come. Join The Quad as we recap some of UCLA's biggest fall 2021 headlines.
Some Bruins were unhappy with UCLA's lack of COVID-19 accommodations amid their return to campus. The Disabled Student Union called upon administrators to offer more hybrid learning options to ease the transition back into in-person learning.
The petition that has now received over 28,000 signatures calls for UCLA to livestream all in-person lectures, remove attendance requirements, offer class recordings for permitted students, and utilize closed captioning for livestreamed and recorded lectures.
The Academic Senate also published guidelines for instructors on how to handle COVID-19-related absences.
Administrators launched the UCLA symptom monitoring survey in April 2020 for staff, faculty, students and visitors to gain access to campus facilities. The survey asks students if they have been exposed to anyone who has recently tested positive for COVID-19 or are experiencing COVID-19 symptoms.
Dr. Peter Katona, an epidemiology professor and member of the COVID-19 Response and Recovery Task Force, said the survey encourages students to get tested for COVID-19 faster.
However, some Bruins say the survey is not properly enforced by administrators.
Fourth-year musicology student Ariel Adelman said relying on the honor system makes it difficult to accurately track symptoms and may put immunocompromised students at risk because it is easy to lie about symptoms on the survey.
Second-year undeclared student Ashley Fumar said her professors did not enforce survey completion before attending lectures and have not mentioned it beyond the first day.
Afghan Bruins expressed concern over Afghanistan's future after the Taliban took control of the government Aug. 15.
Susan Kadir, a third-year political science and psychology student, said thinking about her family in Afghanistan and comparing her privileges in the U.S. gave her a sense of guilt.
Other Bruins said they experienced sadness and disbelief over family members stuck in Afghanistan.
Adam Ali, a second-year geography/environmental studies student, said he believed the U.S. military would not leave Afghanistan without ensuring the Afghan government would have governance over the nation.
Women and minority groups in Afghanistan also continue to face attacks across the nation. While Taliban leaders openly promised amnesty for former Afghan government officers, their actions say otherwise, according to the Australian Broadcasting Corporation.
Some students attended public protests to show solidarity with the Afghan people and urge governments to take action in aiding refugees.
A new agreement between The University Council-American Federation of Teachers and the UC led to raises, an expansion of health care and greater transparency of the hiring process.
Nearly 6,500 lecturers planned on striking against the lack of secure employment and poor pay Nov. 17 and 18.
Caroline Luce, ​​UC-AFT communications chair and a labor studies lecturer, said the credits system that previously determined which lecturers would continue working created job insecurity, especially for younger lecturers who may have just begun their careers.
Lecturers are now eligible to receive new contracts and continuing appointments after six years of employment at UCLA. A UC-AFT press release said first-year hires are guaranteed a 3% raise, and at the end of a lecturer's third year, they may be eligible for another 3% pay raise if they receive positive feedback.
Nearly 14,500 Bruins returned to the Hill after a year of Zoom university. However, with that transition came a serious staffing shortage.
While dining halls such as Feast at Rieber opened up later in the quarter, options such as Café 1919 still remain closed. UCLA Housing invited food trucks and offered coupons for ASUCLA restaurants on campus in response to long dining hall lines.
Wilbert Garcia, an assistant cook at The Study at Hedrick, said staff resignations during the pandemic have played a significant role in the wait times of dining halls.
Third-year economics student ​​Angelo Sanchez said the long wait times force him to plan his day around food.
While many students are unhappy with the dining halls, UCLA staff have also had to make accommodations amid the staffing shortage. For instance, senior custodian Bernard Racaza said he was assigned more work because of the staffing shortage and worries about how much energy he will have for his second job.
On Nov. 20, UCLA football marked its first victory in the Los Angeles Memorial Coliseum since 2013. After losing to the Trojans in two consecutive games, the Bruins set a record of 62 points – the most UCLA has ever scored against its rivals.
Despite USC scoring on back-to-back possessions in the third quarter, it was not enough for the Trojans. Senior quarterback Dorian Thompson-Robinson received praise for his performance, putting up six touchdowns, the second most of his career.
UCLA will go head-to-head against North Carolina State for its next game Dec. 28.