Lecturers' union celebrates new contract with UC after canceled strike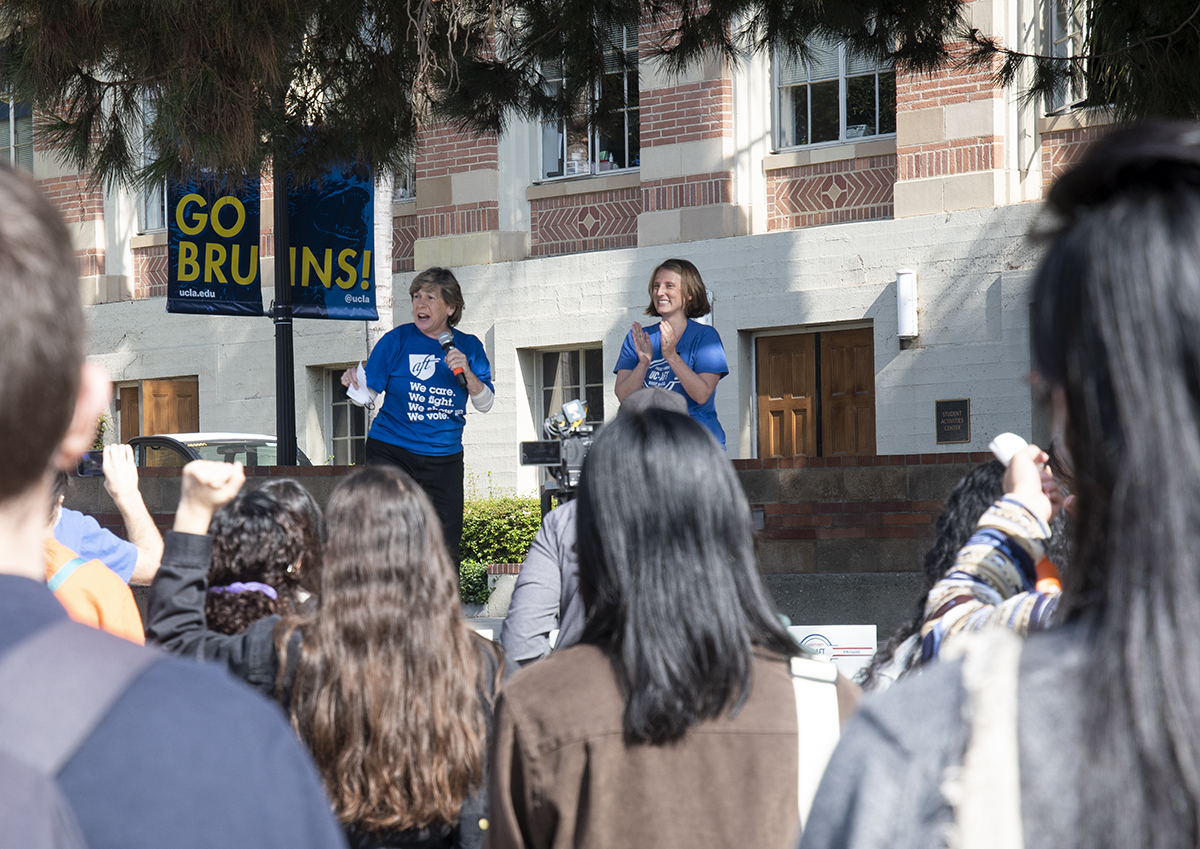 AFT President Randi Weingarten and UC-AFT President Mia McIver stand on stage together during the union's rally Wednesday. (Kyle Kotanchek/Daily Bruin)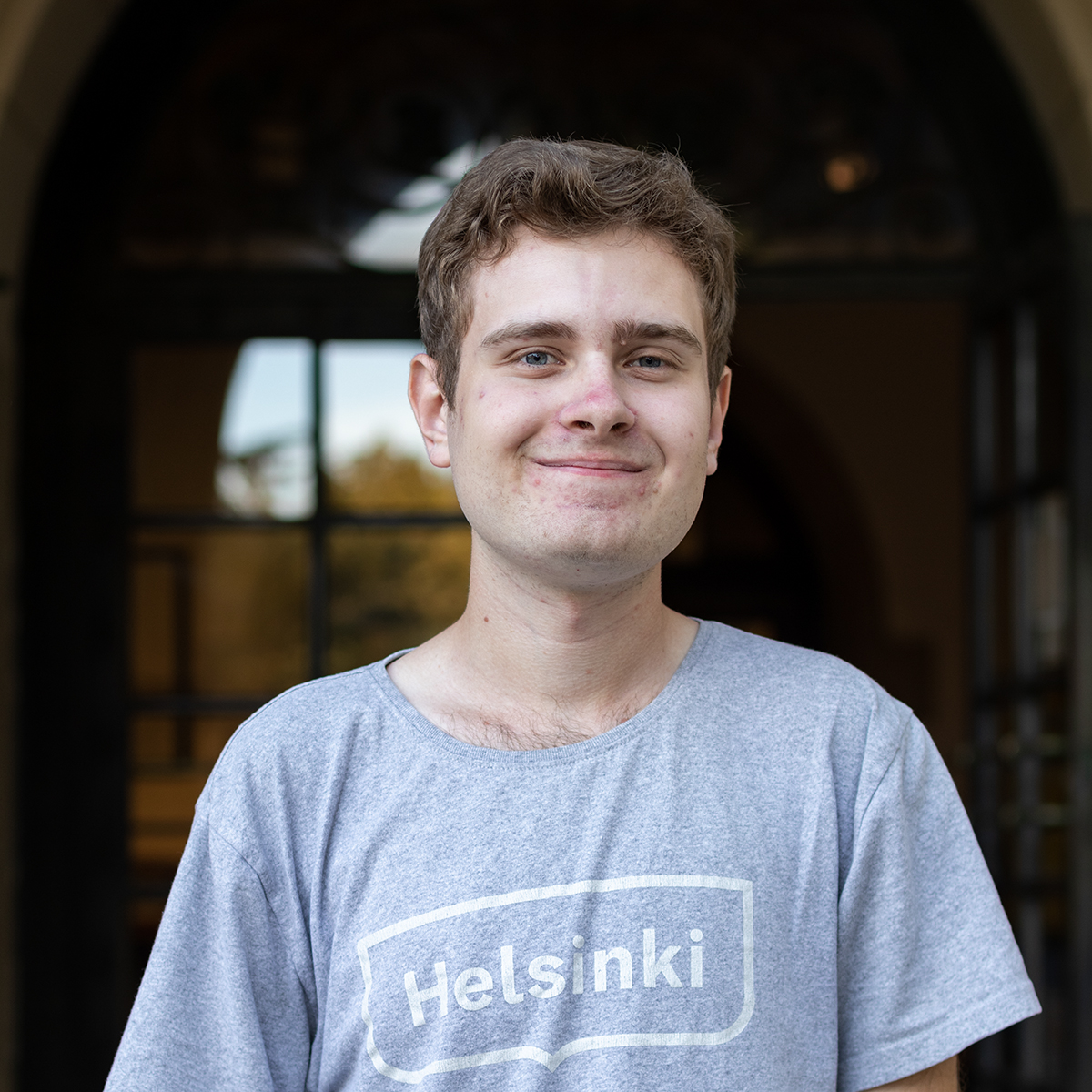 Pizza, music and smiles crowded Bruin Plaza on Wednesday afternoon, hours after the University of California announced its new contract with the lecturers' union.
The University Council-American Federation of Teachers and the UC came to a tentative agreement Wednesday morning on a new five-year contract, hours before the union was scheduled to begin striking across all campuses in demonstration of its demands.
[Related: UC lecturers cancel planned strike after reaching new contract agreement]
The new agreement includes provisions such as pay raises, an expansion of paid leave and health care and greater transparency in hiring decisions, a UC-AFT press release said. This comes after two years of discussions with the UC regarding the union's contracts.
Speakers in Bruin Plaza spoke of the new contract as being progress for lecturers' working conditions.
AFT President Randi Weingarten made an appearance at the rally to congratulate UC-AFT.
"What you have done is taken a giant step – not a little step but a giant step – to eliminate precarity and a giant step to create decency," Weingarten said.
Mia McIver, the UC-AFT president and a lecturer in writing programs at UCLA, said she was hoping negotiations with the UC would conclude before a strike began.
"A strike is a sacrifice for a lot of people involved," McIver said. "For teachers (and) for students, it's sometimes necessary to disrupt the normal way of doing things when the normal way of doing things is unsustainable. But ultimately, this is better for us all."
According to UC-AFT, nearly 6,500 lecturers were prepared to strike Wednesday and Thursday.
Mary Entoma, a third-year labor studies and political science student, said lecturers are teaching most of the classes she is taking this quarter and added that she planned to go on strike to support the UC-AFT.
"That's why I showed up today, in solidarity," Entoma said. "I've been fighting alongside them because I believe that they deserve dignity and respect, and I'm glad that they got that today."
Caroline Luce, the UC-AFT communications chair and a labor studies lecturer at UCLA, said that the deal's provisions on job security were its most important changes.
Luce said the UC had a system of continuing appointments that gave lecturers guaranteed courses and better pay after working full time for six years. However, the credits system used to determine which lecturers are given continuing appointments left the careers of many younger lecturers uncertain because of the lack of secure employment, she said.
"I've been teaching for six years, and I am nowhere near accruing that many credits," Luce said. "If you're teaching different departments and if you don't teach a full-time load, it takes you years and years and years and years to get to that milestone."
Under the new agreement, lecturers can get continuing appointments and multiyear contracts before they have reached six years at the university, according to a UC-AFT press release. These contracts also include new pay increases attached to these appointments.
"To see how our building our momentum and our collective power paid off, and we actually won most of what we wanted on job security is just, it's like miraculous," Luce said. "We thought we were aiming too high. Turns out if we just stood together, we could get what we wanted."
Kent Wong, the director of the UCLA Labor Center, said that UC-AFT's success may have ramifications in higher learning institutions across the country.
"This was a huge victory for UC-AFT, and it has national resonance," Wong said. "So what happens here at the University of California will be heard and hopefully will be followed by lecturers and part-time adjunct faculty across the country."
Greamo is a 2022-2023 assistant Opinion editor. He was previously an Opinion columnist. He is also a second-year history student from Washington, D.C.
Greamo is a 2022-2023 assistant Opinion editor. He was previously an Opinion columnist. He is also a second-year history student from Washington, D.C.