Afghan students at UCLA fear for safety of family amid crisis in Afghanistan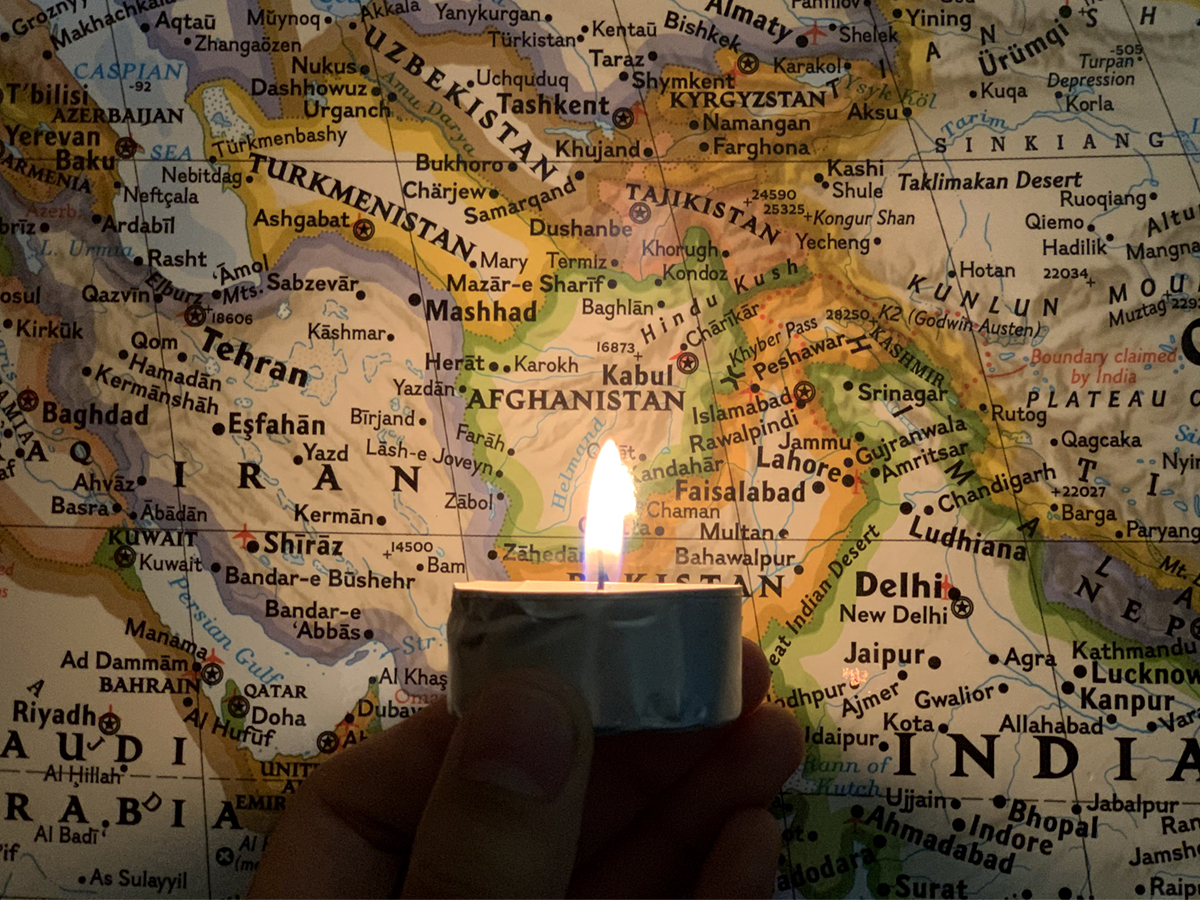 Members of the Afghan community at UCLA expressed worry for their family members now trapped in the country under Taliban rule. Many hope more people will join protests to call for other countries to provide greater assistance in ensuring the safety of the people of Afghanistan. (Constanza Montemayor/Daily Bruin)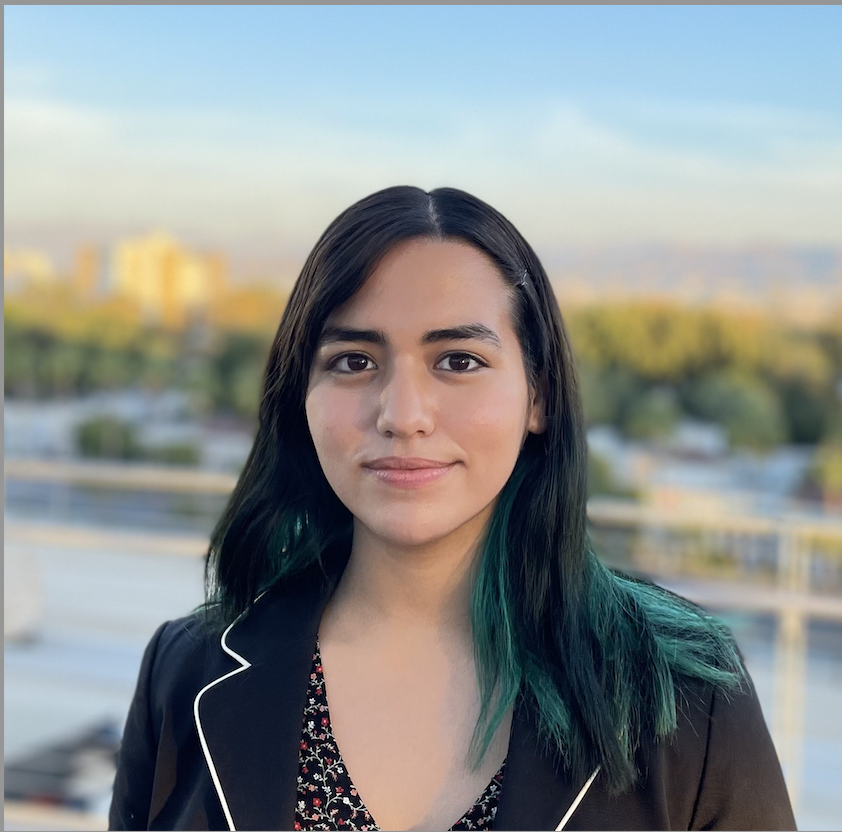 This post was updated Sept. 23 at 12:34 p.m.
Members of the Afghan diaspora and Afghan students at UCLA are anxious for their families caught in the Afghanistan crisis and are disappointed by the global response.
On Aug. 15, Taliban leaders overtook the capital city of Kabul and with it, the presidential palace. Afghan President Ashraf Ghani and tens of thousands of people fled the country as the Taliban took control of Afghanistan.
On Aug. 30, the United States ended its 20-year military occupation and left the country after originally announcing in April that all American troops would leave the country by Sept. 11, according to the Associated Press News.
More than 100,000 people have been evacuated through Kabul Airport since the Taliban took power, along with about 6,000 U.S. citizens and permanent residents. Yet, many Afghans and U.S. citizens, as well as their families, remain trapped in the country, according to National Public Radio.
Many students said they are fearful about their own families still in Afghanistan without a feasible way to flee.
Sarah Aziz, a fourth-year molecular, cell and developmental biology student, said she was worried for her cousins and distant relatives in Afghanistan who have been trying to leave as soon as possible.
Aziz added that she struggles with feelings of guilt that she is safely continuing to pursue an education and career while other Afghan women fear Taliban retaliation for doing the same.
When the news broke that the Taliban had overtaken Kabul, second-year environmental studies and geography student Adam Ali was in disbelief. Up until then, he had been hopeful that Afghan forces would be able to hold out in Kabul with the remaining U.S. forces.
Ali now feels anxious to watch the news and wonders if his family is safe, he added.
"Seeing news come up, about killings that are happening or atrocities that are happening, you're wondering, 'Is that my cousin? Is that my uncle, my grandparents, brothers or sisters?'" he said.
Susan Kadir, a third-year political science and psychology student, held similar feelings of guilt. Although her more immediate family lives in Germany, many of Kadir's cousins and extended family are still hidden in their homes in Afghanistan. Her family has been speaking with lawyers to try to find them a path to the U.S., Kadir added.
Women, in particular, are facing grave oppression from the Taliban and stand to lose their rights to work, pursue education and even leave the house by themselves, she said.
According to the Council on Foreign Relations, despite the Taliban's pledges otherwise, they are likely to threaten civil rights and target women, minorities and those affiliated with the U.S. Since taking control, the Taliban have brutalized journalists, violently shut down protests and reestablished restrictions on activities deemed un-Islamic, according to the council.
"Women have just been erased from society," Kadir said. "So there's a lot of survivor's guilt that comes with it right now because it's like, 'Why me? Why did my parents get to leave? Why did I get to leave this life of immense privilege compared to the women in Afghanistan right now?'"
Zarsanga Parwiz, an alumnus who grew up in Afghanistan, said she was particularly fearful for her sister, who she said previously headed an international nongovernmental organization for women's rights that could make her a target for the Taliban. Her sister remains hidden and trapped in the country, Parwiz said.
"Especially people who were affiliated with Western powers and (the) U.S., they [not only] can't work, but also the Taliban can execute them if they find out," she said. "And now most of them, since their organizations are taken over by Taliban and also all documents – everything that now (the) Taliban has – they might have everyone's information, so if they want, they can easily find them."
Watching the news coverage of Afghan people facing violence from the Taliban has been difficult and often brings her to tears, Parwiz added, whose parents remain in the country.
Students have also participated in public protests to draw attention to the crisis in Afghanistan and press governments to evacuate those in danger and accept more refugees.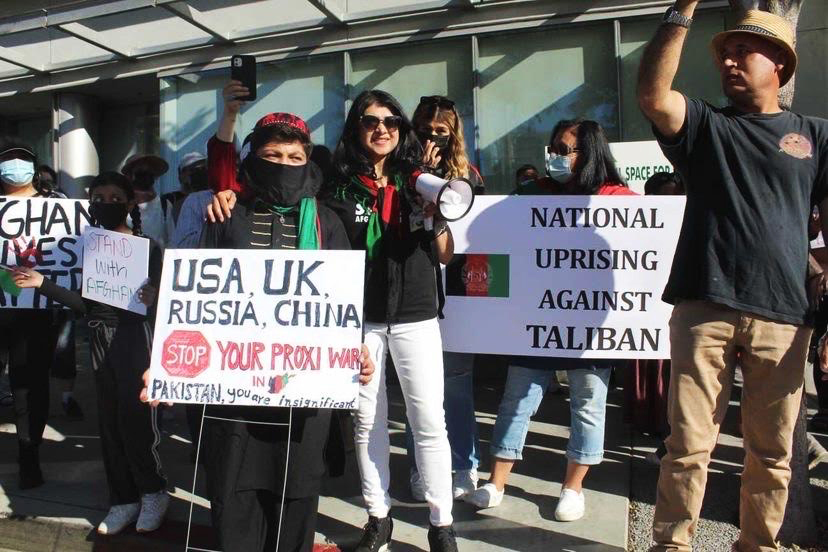 Parwiz recently attended a peaceful protest in Long Beach, California, and said she hopes more people will hear about the situation in Afghanistan and join them to stand up for the people suffering under the Taliban.
Kadir said other countries should open their borders and allow more refugees to evacuate – especially the U.S., given their involvement in the war and current crisis.
She and her family have been attending protests to call for more support and spread awareness for the people of Afghanistan, Kadir added.
Many of the protests have involved fellow Afghan Americans and Iranian Americans hoping to show support, Kadir said, but she hopes more people will come to attend the protests to lend their voices and resources to help.
"I'm absolutely terrified that the Taliban is here to stay, but I'm trying to still have hope that they'll fall, and then somebody will help and that the Afghan people will rise up with support from other superpowers and that Afghanistan might become the absolutely beautiful country that it was once again," she said.
Contributing reports by Emily MacInnis, Daily Bruin Staff
Montemayor is the 2022-2023 News editor. She was previously the 2021-2022 features and student life editor, a News reporter, Photo contributor for the news beat and Arts contributor. She is also a third-year global studies student at UCLA.
Montemayor is the 2022-2023 News editor. She was previously the 2021-2022 features and student life editor, a News reporter, Photo contributor for the news beat and Arts contributor. She is also a third-year global studies student at UCLA.