Students face long lines, wait times at dining halls amid staffing shortage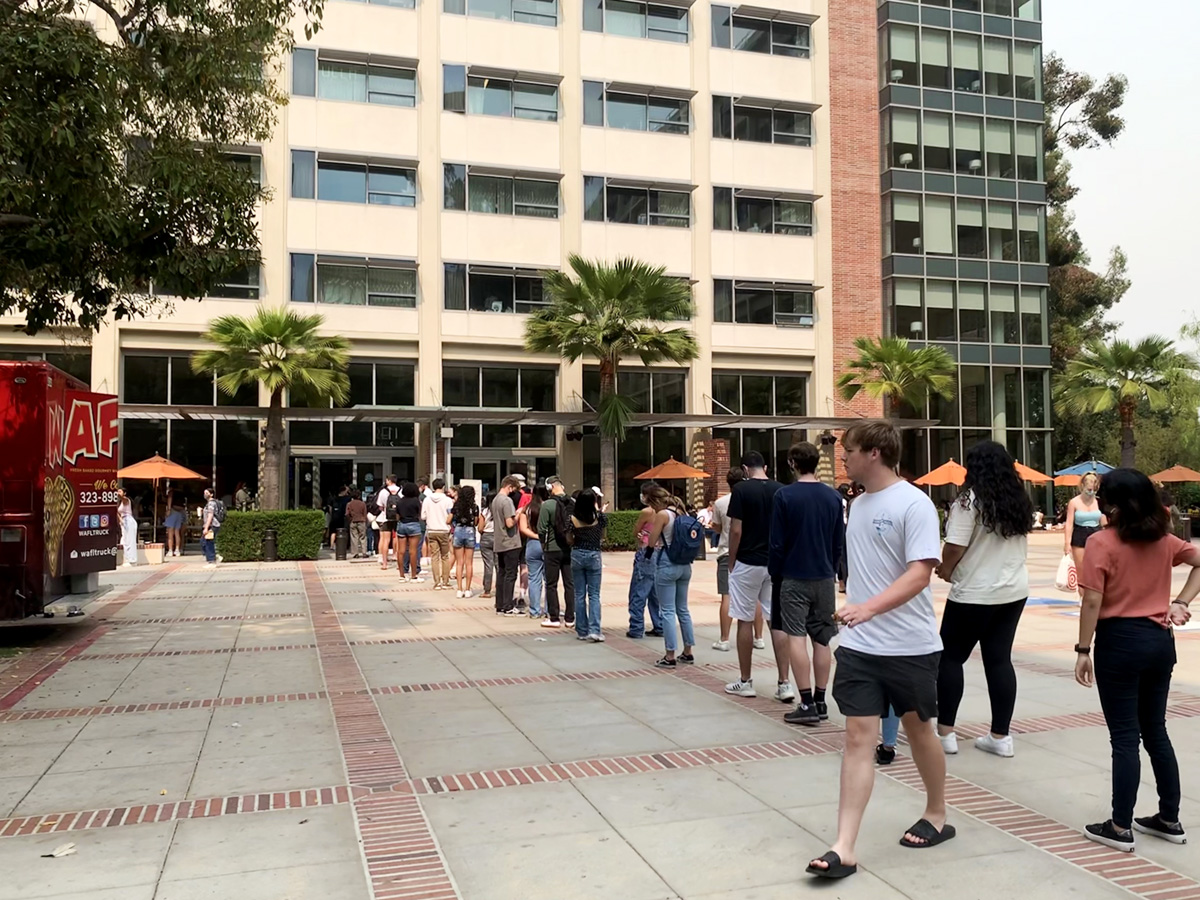 As a result of short staffing on the Hill, students have been encouraged to exchange their swipes to be able to purchase food from food trucks invited to help reduce the long lines. (Constanza Montemayor/Daily Bruin)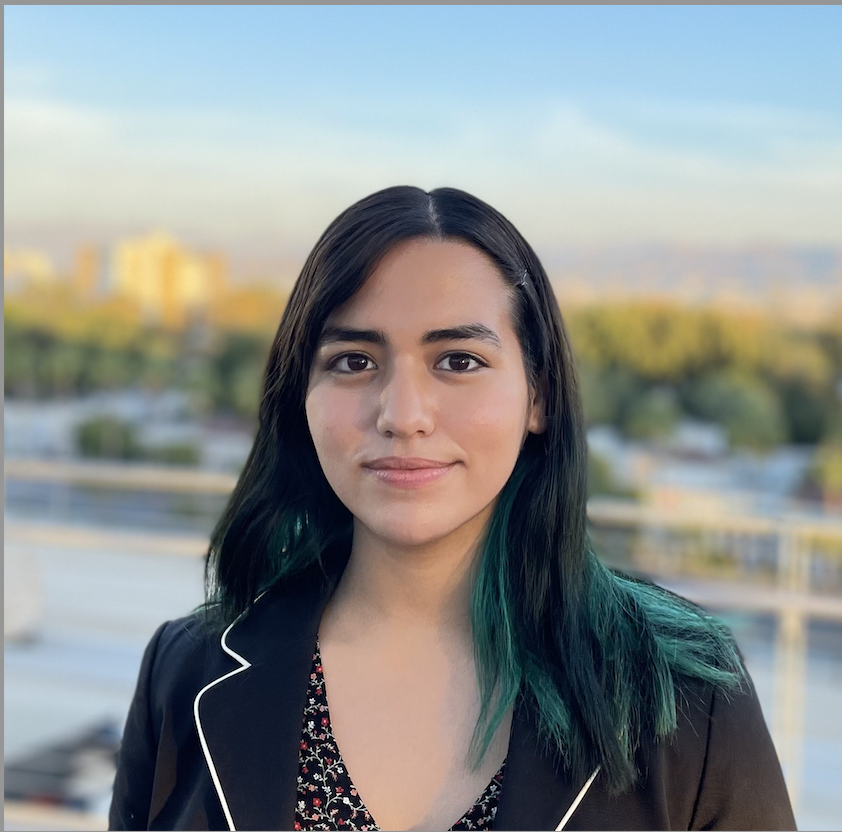 This post was updated Sept. 26 at 11:52 p.m.
A staffing shortage has led to long lines and extensive wait times in dining halls around campus as students move back onto the Hill.
About 14,500 students moved into full capacity on-campus housing for a hybrid fall quarter, yet some dining halls remain closed, including Feast at Rieber and Café 1919. Other dining halls are open with limited operations, including Epicuria and Bruin Café, which opened Wednesday.
In an effort to mitigate the long wait times at dining halls, UCLA Housing has invited food trucks from the Los Angeles area to campus and offered students the option to exchange a meal swipe for a coupon for a food truck or ASUCLA eatery.
Food trucks visiting campus include Kogi, a Mexican Korean fusion food truck; Flamin' Hot Chicken, which serves spicy fried chicken; Beyond the Bowl, which serves Hawaiian- and Japanese-inspired bowls; Bison Burger, a burger truck; Belly's, which serves chicken sliders and wings; and Wafl, which offers fried chicken, waffles and fries.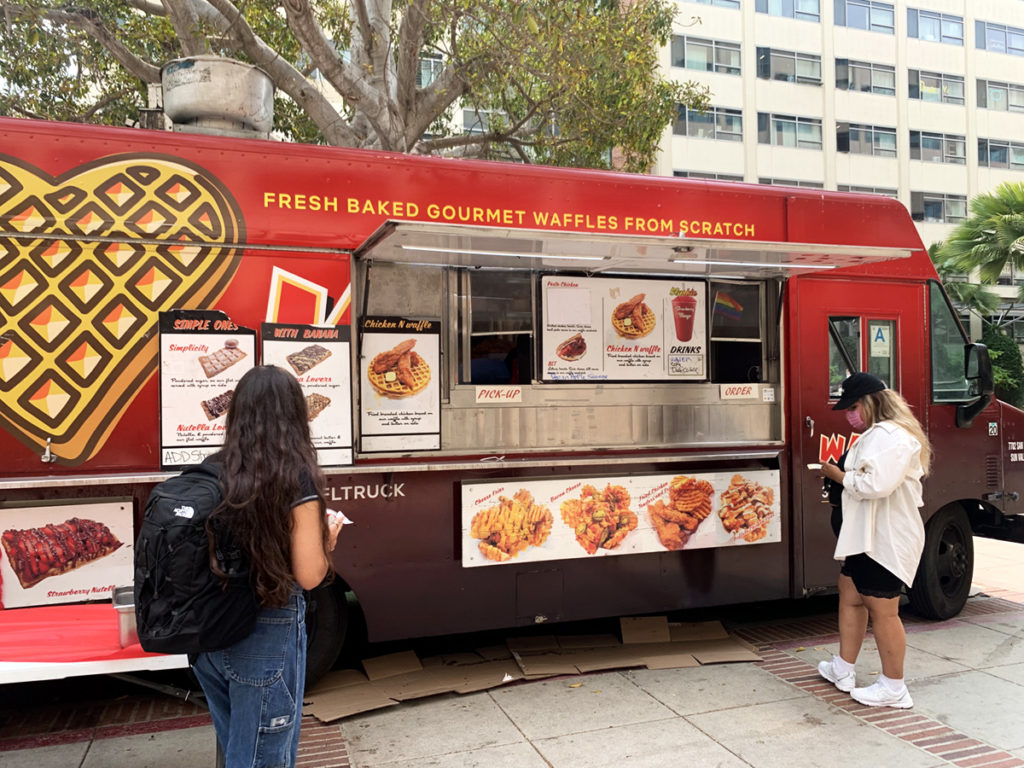 Dining staff said they felt the strain caused by the sudden influx of thousands of students after staff resignations throughout the COVID-19 pandemic.
Wilbert Garcia, an assistant cook at The Study at Hedrick, said although he was glad to be back in the dining hall, he felt stressed working in the eatery because of the rush to serve the crowds.
However, he added that he can work with the stress and is not worried about other dining halls being unable to open in order to help lessen the crowding.
"That's what we're used to. We missed it," Garcia said. "I try to work with it."
The university staffing shortage was likely worsened by resignations during the pandemic, he said.
Bernard Racaza, a senior custodian who worked at The Study and recently moved to Rieber Hall, said he was assigned more work because of the shortage of staff.
"It's just kind of time management for me because I'm from a different place; I work in a different area," Racaza said. "I'm going to get used to it, even little by little."
Racaza added that he works two jobs and worries about saving some energy for the second.
Additionally, the long wait times at the dining halls have affected staff's access to meals as well.
Racaza said his manager instructed him to only go to the dining halls between 1 p.m. and 3 p.m. because of the traffic, but his lunch break usually falls at noon, leading him to have to seek food at the Hill Top Shop instead.
Some students felt frustrated by the long wait times and said the wait often influenced when and where they would choose to eat.
Angelo Sanchez, a third-year economics transfer student, said although he's happy to be on campus for the first time, some of the dining halls have not met his expectations with regards to quality and speed of service. He often waits 30 minutes standing in line to order, Sanchez said.
"I never really had to worry about it the last week because there's nothing going on, so like, 'Oh yeah, I have an hour to kill. I can go wait if I really want something,'" he said. "But now you always have that in the back of your mind. You have to optimize your whole day around eating."
Kenneth Park, a third-year mathematics of computation student, said he avoids Epicuria because of consistent long lines to enter the restaurant as well as at the food stations inside.
"For the takeout places, I feel like it's worth it because even if you're waiting long, you can still take your food and leave if you want to," Park said as he waited in line to enter Rendezvous. "I feel like it definitely influences (the choice of where to go)."
Sanchez and Park said they had not tried the food trucks because they hoped to try the UCLA dining hall food for its well-known high quality and ranking.
Sara Ohannessian, a second-year undeclared student, said she has been trying to go to meals at less busy times, such as just before the eateries close, to avoid the long wait times. She is excited to be able to experience the dining halls with her fellow students this year and loves the food but is disappointed that Feast at Rieber remains closed, she added.
"I haven't tried the food trucks, … but I still see long lines with that one too," Ohannessian said. "I heard someone waited like an hour and a half for the food trucks."
Lauren Ashmore, a first-year biology student, said she is concerned about the long lines to eat in the residential restaurants as well as possible COVID-19 exposure in the crowds.
Ashmore's wait for meals is usually around an hour, and she tries to eat earlier and closer to her dorm to beat longer lines, she said. The food trucks are a quick and good option, she added.
"I really hope they (open more restaurants) because I feel like the long lines could affect sometimes getting to class on time and gauging when you can leave and how early you should be," Ashmore said.
The food trucks did help decrease student traffic, Garcia said. Despite the long wait times, he said he is hopeful that the situation will improve further soon.
"It's a little too long, but it's going to work. (Students) are waiting there because the food is really good," he added. "I think they don't mind for now because they're new, but managers in the team are working to fix that."
Montemayor is a News senior staff reporter for the Bruin. She was previously the 2022-2023 News editor, the 2021-2022 features and student life editor, a News reporter, Photo contributor for the news beat and Arts contributor. She is also a fourth-year global studies student at UCLA.
Montemayor is a News senior staff reporter for the Bruin. She was previously the 2022-2023 News editor, the 2021-2022 features and student life editor, a News reporter, Photo contributor for the news beat and Arts contributor. She is also a fourth-year global studies student at UCLA.