Coterie Couture: On Wednesdays, we wear absurdist meme fashion as social commentary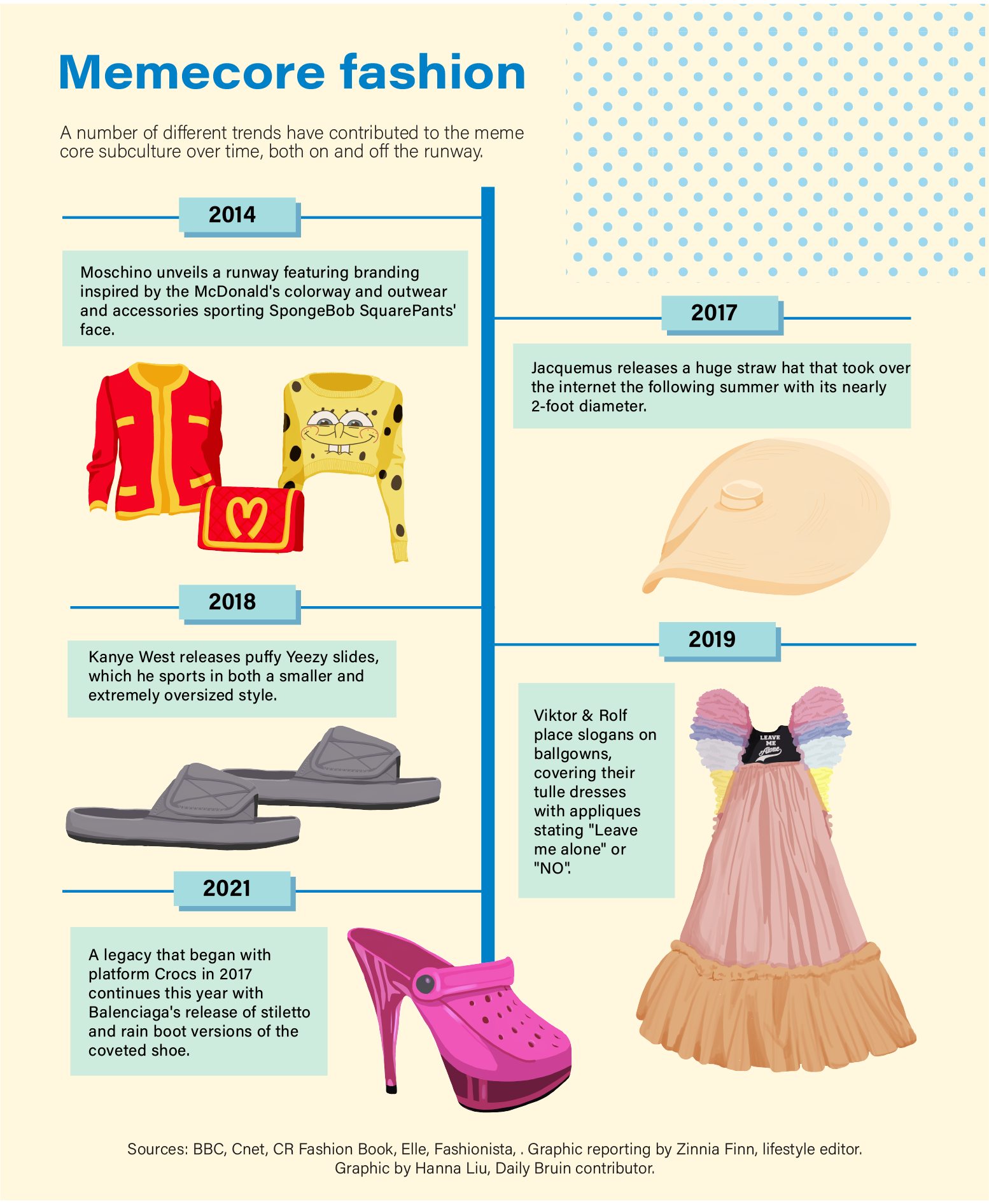 What someone wears speaks volumes about who they are as a person, and the same can be said for the styles associated with various movements and cultures. As a cyclical art form, fashion – and its attached politics – almost always reemerges from the past. Follow columnist Natalie Brown in "Coterie Couture" as she chronologically explores the impact of different subcultures and their corresponding fashion each week.

The fashion industry's latest trend is internet memes.
From Balenciaga crocs to Y/Project denim underwear, meme fashion has been on the rise for the past decade. The absurdist movement is not a new one, however, and it encapsulates ideas of self-reflexivity and originality that are integral to the history of the fashion industry, said fashion journalist Marc Richardson. Though eccentric pieces from brands like Balenciaga and Y/Project may seem like marketing ploys at times, he said they offer a greater understanding of the human condition through their mass consumption, reflecting a lens on society's greatest needs today.
When people think of the term "meme," they often picture funny images spread around on Instagram and Twitter such as the "ermahgerd girl" or captions preceding Will Ferrell's infamous "Anchorman: The Legend of Ron Burgundy" line, "That escalated quickly." There is, however, an important difference between the application of the term meme in Internet circles versus in the fashion industry. In fashion, memes, or absurdism, are more about designs that make a commentary on the fashion industry itself, Richardson said.
"(Absurdist fashion) is funny, provocative and really offers commentary on the industry that the clothes themselves are a product of," he said. "It's something that has probably been around longer than the last five or six years, but it was just done with a more delicate hand."
[Related: Coterie Couture: Metrosexuality challenges mainstream male fashion with ties to femininity]
In the past five years, a perfect storm of graphic-driven streetwear, online meme culture and a rapid dissemination of information came together, creating an exceptional environment for meme fashion to flourish in today, Richardson said. Coming at a time of oversaturation in the fashion industry, where every element of design is inspired by something from the past, absurdist fashion is the only way to come up with a truly original concept that simultaneously offers poignant commentary on the fashion industry and politics, he said.
Specifically, the rise of brands like Y/Project and Vetements contributed greatly to the idea of absurdism in fashion through pieces such as platform Crocs. Moving to the forefront of the fashion scene in 2014, these brands embraced the socio-cultural movements of internet communities that were passionate about fashion and were willing to be experimental in their designs with their unconventional collaborations and consistent use of futuristic colors, he said.
Vetements' collaboration with shipping company DHL, for example, offered commentary on the importance of rapid worldwide shipping in the global fashion industry, Richardson said. It featured a collection of t-shirts and other garments plastered with the company's signature yellow and red colors and logo. It is styles like these that appeal to the early niche meme fashion communities, he said. Many buyers from these groups purchased the DHL collection because they could relate to receiving many orders from online fashion giant Net-A-Porter and other international sites – resonating with the collection's ideas of global consumerism.
"Many of the references … (in meme fashion) are (things) that only the people in those hyper-specific communities will understand," Richardson said. "But those people find them funny and they're willing to pay money for it."
Despite its capitalistic qualities, fashion is certainly a means of self-expression. Absurdist fashion plays a huge role in that expression, said costume design professor Deborah Nadoolman Landis. Meme fashion delivers a certain shock to those who consume, distribute and wear pieces that embody its ideas, as has been done throughout fashion history in subcultures like punk, whose characteristic spikes and piercings stand out visually. The shock that absurdist fashion, in particular, delivers is something that is becoming increasingly necessary during the pandemic, she said.
"There are a lot of people trying to take control of their lives and the future – it's a global anxiety," Nadoolman Landis said. "How does that tie into shock and clothing? Well, what can you really control in your life? You can control what you wear. … You can control how you want to be seen."
[Related: Coterie Couture: Lolita fashion combines European elements with Japanese flair]
Innovative pieces from brands like Y/Project, Vetements and Balenciaga aid the modern-day fashion consumer in making them feel confident in who they are, empowering them, she said. This empowerment however, may be overshadowed by the almost rote social commentary, exposing the fashion industry, Richardson said. Over the past five years, what was originally a playful jadedness that aimed to expose the wrongdoings of the industry has turned into something that comes off as trying too hard and being too cynical, he said.
Absurdist fashion's original intent was for people to reflect on the darker side of the fashion industry, Richardson said. With many problems like sustainability, racial discrimination and sexism in the fashion industry's foundations, meme fashion provided an outlet for designers and their pieces to be creatively self-reflexive. However, he said this trope might be overdone today.
"Instead of wallowing in self pity about the industry, (designers need to) do something else to change it," Richardson said. "(They need) to make beautiful clothes again instead of just making stuff that is made to make people laugh in snarky, cynical ways."