Bruin expresses artistry through boutique, nail art business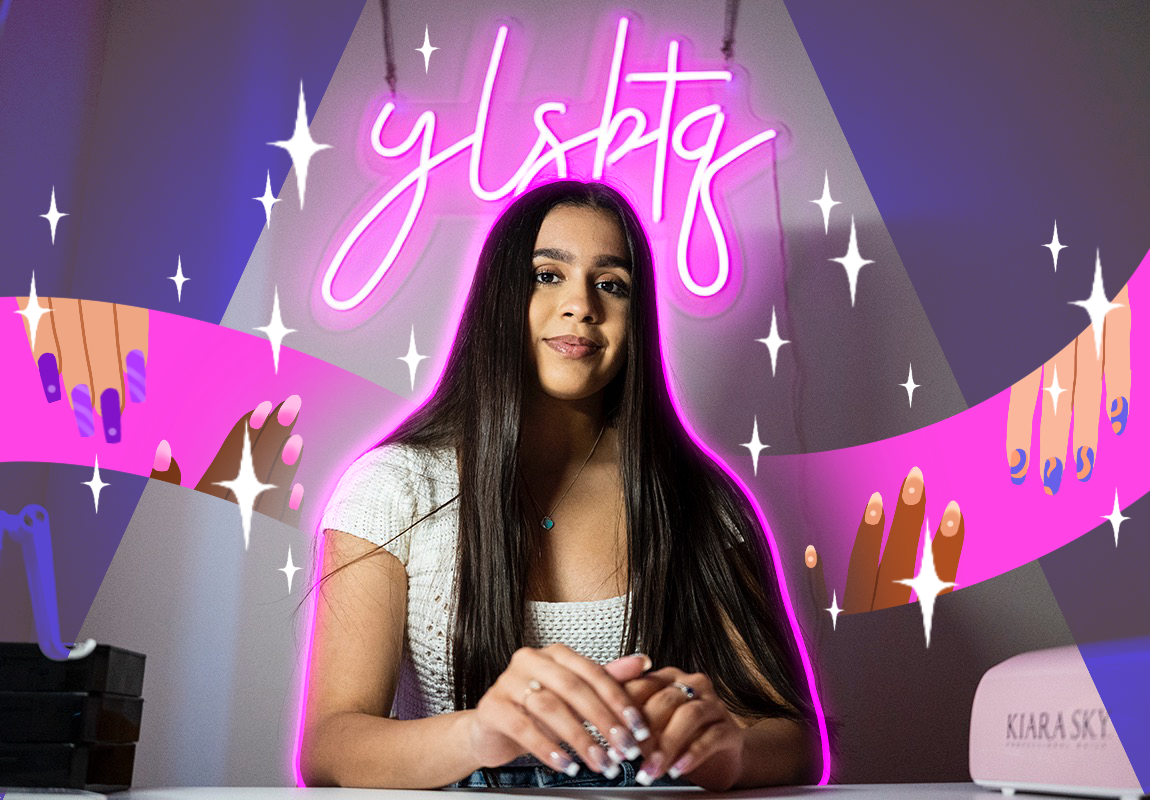 Third-year psychobiology student Yanet Lopez started her boutique and nail business earlier this year. With a goal to spread messages of self-confidence and individuality, she said one of her main business philosophies is to focus on what is right for her and build her brand off of that. (Photo by Nina Morasky/Daily Bruin. Photo Illustration by Isabella Lee/Daily Bruin)
Correction: The original version of this article's photo caption misspelled Yanet Lopez's name.
This post was updated Nov. 12 at 1:33 p.m.
When brainstorming her business, Yanet Lopez found ideas at her fingertips.
After losing her campus job because of the COVID-19 pandemic, the third-year psychobiology student said her wish to remain financially independent took a new form in her two small businesses, YLSBTQ and nailsbyyls. Lopez now operates these businesses through separate Instagram and Shopify pages, where she sells personally-picked and designed items. While she only started her businesses this year, Lopez said her interest in design was already established before then.
"In high school, my friends and I would always tie-dye anything that we could. We wanted to be matching and have our own personalized clothing, and that's where I first got the idea," Lopez said.
Her boutique venture started in June, she said, with the making of 100 custom tie-dye hoodies. Being the sole operator of the business meant her hands were always dyed, and it was then when she realized doing the job by herself was no longer possible, Lopez said. From there, Lopez said she transitioned the clothing job into a more professional boutique, including processes such as coming into contact with vendors, obtaining and creating designs, and testing fabrics.
[Related: Student expands new apparel, accessory brand one stitch at a time]
As for nails, Lopez said she has been doing them for herself for around two years now but just as a hobby. She also enjoys witnessing and examining the designs people around her have, and to her, nails are a form of art, Lopez said. Like YSLBTQ, it was also around June when doing nails became a business, Lopez said.
"I feel like the first thing (I do) whenever ever I see anybody with their nails, I'm like 'Let me see (them),'" Lopez said. "It's just something really exciting for me."
Although they are separate businesses, Lopez said YLSBTQ and nailsbyyls are intimately tied together by a customer base that goes back and forth between the two. Appointments for nails are booked through direct messaging on the nailsbyyls Instagram page, while the boutique operates as an online shop one can browse through that also takes custom orders in the form of tie-dye and accessories.
A piece central to her boutique is a crewneck called "dos banderas," Lopez said. The crewneck comes in tan, flint blue and white, with the words "dos banderas, un corazón" just below the neckline on the left side, which is near the location of the heart. The meaning of "dos banderas, un corazón" – two flags, one heart in Spanish – comes from the experience of living with a binational identity and the pressure to conform to multitudes of expectations, Lopez said.
While making the crewneck, Lopez said she realized that she wanted to incorporate an uplifting message into not just her boutique but anything she creates. Natalie Benitez, Lopez's friend and third-year psychobiology student, said Lopez's "dos banderas" piece stands out the most to her. Many Latinx students can resonate with the piece in addition to other students who aren't from one specific place, Benitez said.
While Lopez maintains a consistent creative philosophy with both her businesses, there are differences between making nails and working on her boutique, she said. Specifically, there is a novelty and individuality to every set of nails, she said, because everything occurs at a one-on-one level. Nails are also completely customizable, in contrast to clothing, where there may be certain factors like fabric, medium and size that make it difficult for the item to be fully specific to a shopper, Lopez said.
"Even if (a nail design) gets recreated, or if it's inspired by somebody else, it's still going to be different," Lopez said. "It's never going to 100 percent be the same – just like a signature is one way, and nobody else can do the same exact signature even if they try their hardest and practice all the time."
[Related: Alumnus reflects on journey from student-athlete to style influencer]
Lopez's business has traveled through word of mouth, with customer and third-year global studies and Latin American studies student Katherine Castro being referred through Lopez's roommate. Castro said she came into contact with Lopez to get her nails done for Halloween and enjoyed the natural flow of conversation between her and Lopez during the process.
At the end of the day, Lopez said what is important is to not conform to other people's standards and do what one thinks is best – a central philosophy that guides her life but also helps her navigate both of her businesses. If the sellers themselves don't love the product, then nobody else is going to, Lopez said. And as long as she appreciates the quality of the product, then other people will too, Lopez added. In the future, Lopez said she wants to continue growing her businesses and is planning an experience where customers can get their nails done and shop at the same time.
'I've always loved my job (as) something that I am happy to go to everyday," Lopez said. "Whether it's with my nail business or boutique, being able to talk to (customers) one-on-one and seeing them excited and seeing them happy – that's the most rewarding part."