Student expands new apparel, accessory brand one stitch at a time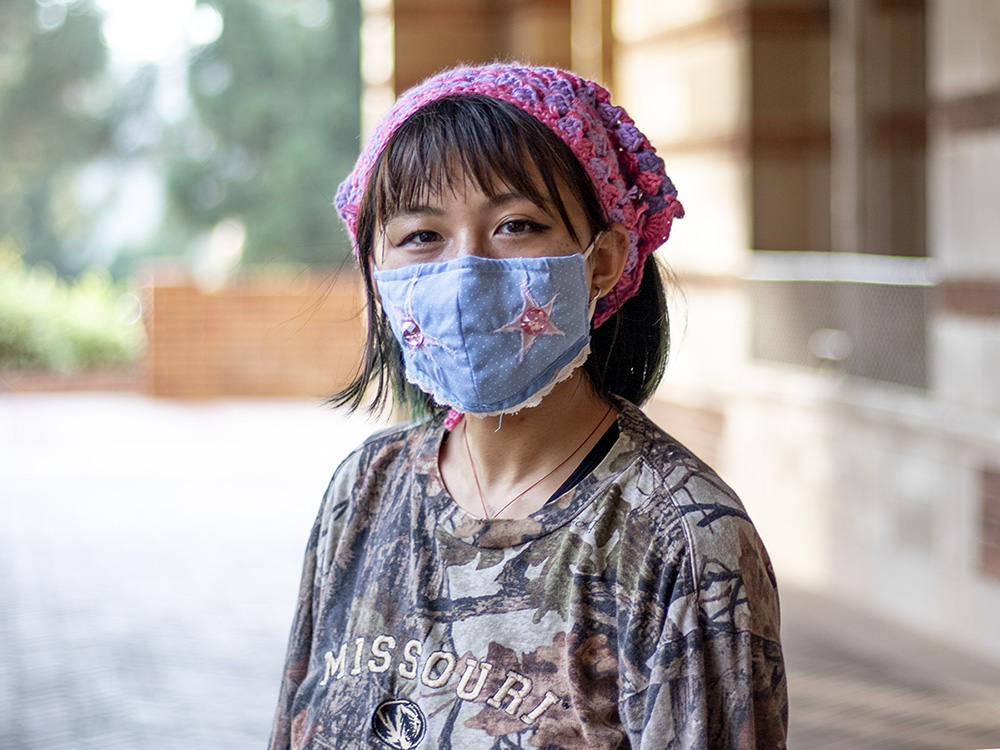 Third-year art and architecture student Sofia Chang started her business Shleggwear in October, and uses her platform to sell whimsical fiber art creations from hats to masks to belts. (Mattias de los Rios Rogers/Daily Bruin)
Shleggwear is weaving novelty into wearable accessories.
Inspired to create her own free-spirited style of clothing, third-year arts and architecture major Sofia Chang started her small business and Instagram account in early October. Chang had a childhood passion for knitting and said she picked up crocheting during quarantine because she wanted to learn a new yarn craft. Now, her business revolves around crocheted, knitted and sewn accessories that she designs herself, such as hats, masks and keychains.
"(Shleggwear) is a really organized method of expressing my creativity," Chang said. "With Shleggwear, I like having this very consistent brand for my work that I can upkeep."
Before Shleggwear, Chang said her journey with knitting began in elementary school when she checked out a library book with patterns of miniature animals. She became enthralled with them and said she eventually began developing her own patterns. When she was 12 years old, Chang started her first business, Solely Sofia, where she sold these miniature knitted toys. Chang said she took custom orders from people in her town through Facebook and also sold her creations at flea markets but eventually stopped during her sophomore year of high school as her schedule grew busier.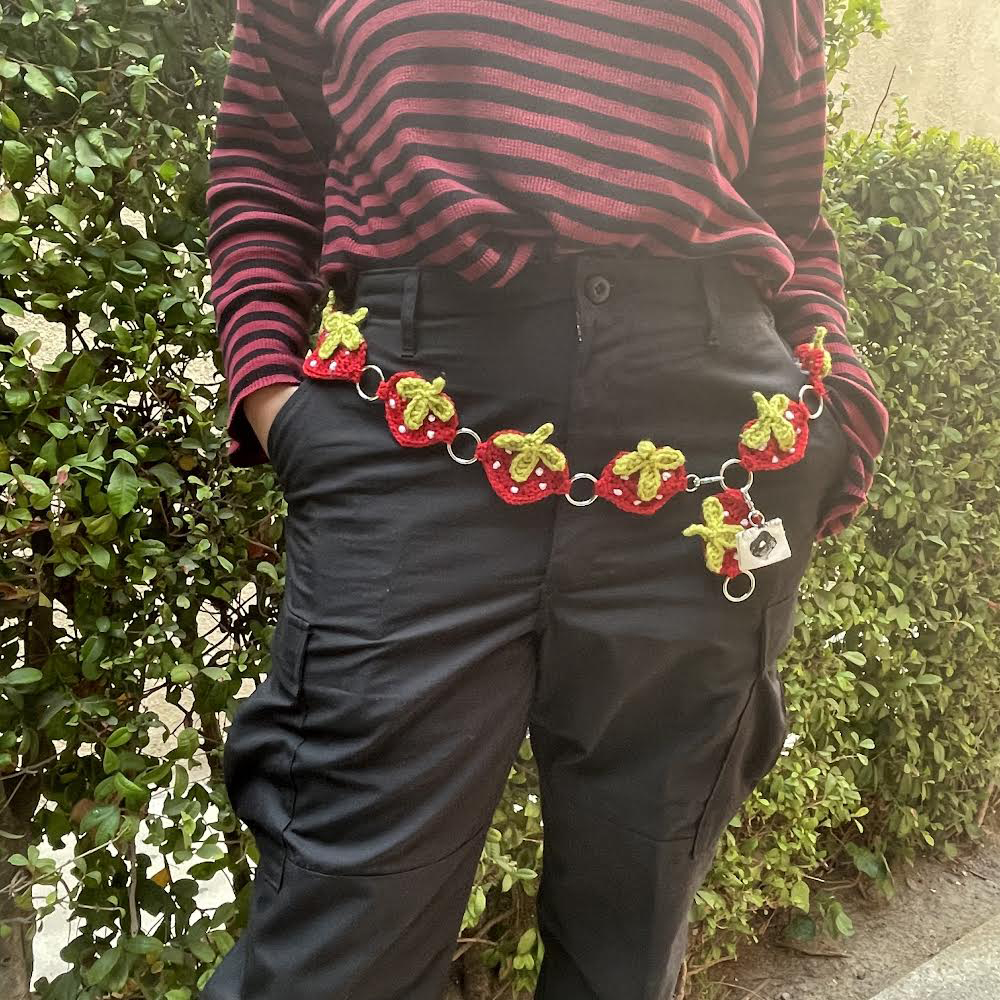 [Related: UCLA student tailors creative outlet into embroidery business]
Although she no longer runs Solely Sofia, Chang said she drew inspiration from her former business venture for her collection with Fashion and Student Trends at UCLA last year. She said one of the pieces from the showcase was a strawberry belt, which she sold as a different iteration in Shleggwear's first drop after adding more hardware for durability. Chang said her experience with Solely Sofia and FAST has culminated in her work for Shleggwear.
After noticing a whimsical style of accessories and clothing that isn't available in stores, Chang said she started Shleggwear to make pieces with a mixture of patterns, colors and embellishments that embodied her playful style. While it can be intense or stressful at times, she said she enjoys making art for Shleggwear and sharing it with her followers so running the business acts as a nice break from other responsibilities.
"I really enjoy making things that people can wear and show off," Chang said. "There's still definitely that same fun, playful quality to them that I really like to incorporate."
As for her artistic process, Chang said the journey to design an item is spontaneous and starts when an idea sparks in her head, which she then draws in her sketchbook that she carries everywhere. She said she is inspired by the work of tattoo artists, specifically their motif-based art, and aims to incorporate elements such as a bunny or star into future Shleggwear items.
After the initial sketch, she said she then plans out what colors to use and finds a pattern that works for the accessory. Chang said for her past designs that included elements such as a bow or eyeball, she sketched out the placing of each stitch into a pixel graph before she started crocheting. She said it can take between an hour and six hours to complete crocheting, knitting or sewing her products by hand. Chang said she aims to drop items at least once a month, which requires a month to coordinate since she designs and makes her products herself.
Prior to the launch of Shleggwear, alumnus and Chang's friend Lisa Sumiko Steward said Chang sent her a crocheted granny square hat with flowers on it. Because of the enthusiasm she received from Steward and other friends, Chang said she felt supported and encouraged to start Shleggwear. Steward said she always receives compliments on her hat whenever she wears it and loves that she is able to wear Chang's artwork on her head.
"Her art is fun and playful and cute and accessible, and I think it matches her personality," Steward said.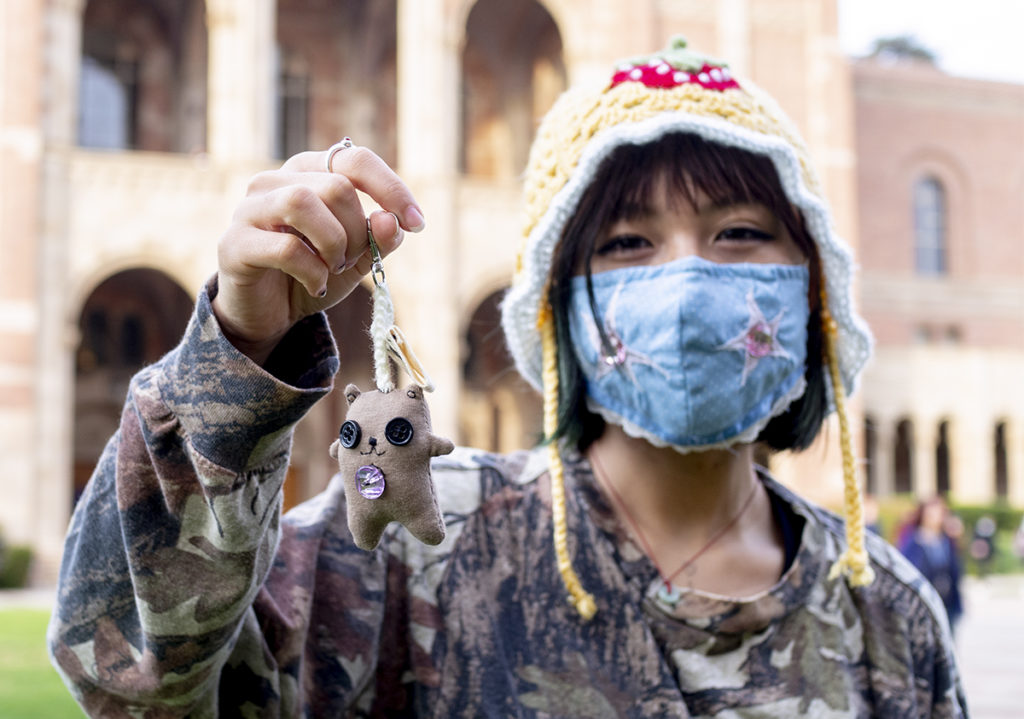 [Related: Student spreads joy making crocheted hats for close-knit friends, family]
As a fellow small business owner, Chang's friend and fourth-year design media arts student Lauren Cramer said she appreciates having this shared experience with Chang, and that they are able to motivate each other because of it. She said she enjoys watching Chang grow as an artist and seeing where her inspiration comes from.
"She's become more confident in building out her style and she is better at making patterns and just creating her own designs that aren't based off of anything else," Cramer said. "If there's something she has in mind, she can create it and that's really impressive to me."
Going forward, Chang said she would like to make a website and convert her Instagram account into an archive for her art. She said she also designed and printed stickers with a cartoon drawing of herself to incorporate into her packaging, adding artistic flair to her orders. In terms of her art on Shleggwear, Chang said she is looking to expand beyond accessories to build her brand.
"I like the idea of Shleggwear becoming a style, like how fashion labels have their own style," Chang said. "I want people to say, 'Oh, that's so Shleggwear.'"